In the third week of September, I was invited to speak at a conference on intellectual property organised by the Technical University of Kielce, a city in Poland which I had never visited. The nearest airport with connections from Alicante is Kraków, a city that I do know and like, and so I arranged my trip to have a night there too.
38_1
I flew to Kraków on Sunday morning, was met at the airport by a friend of the conference organiser, and driven the 130 km to Kielce. After lunch, my new friend Grzegorz (Polish version of Gregory) showed me around the city. The main pedestrian street was relatively empty on a Sunday afternoon, with almost all the shops closed: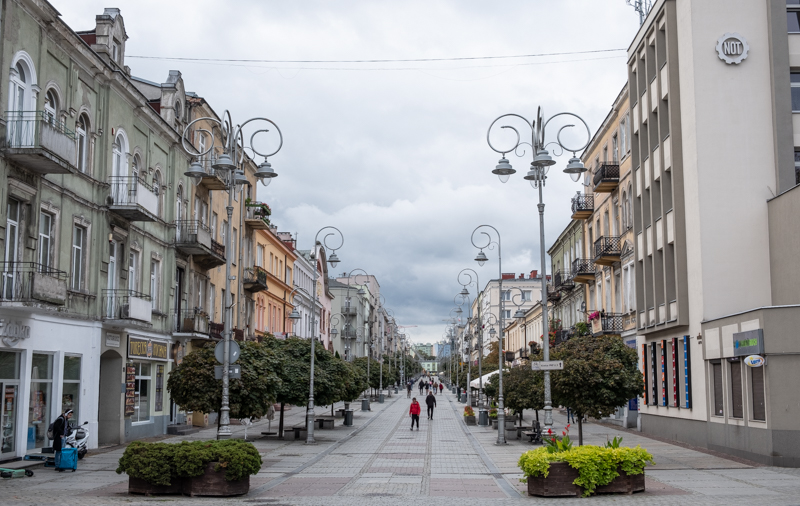 38_2
Colours and Solidarity: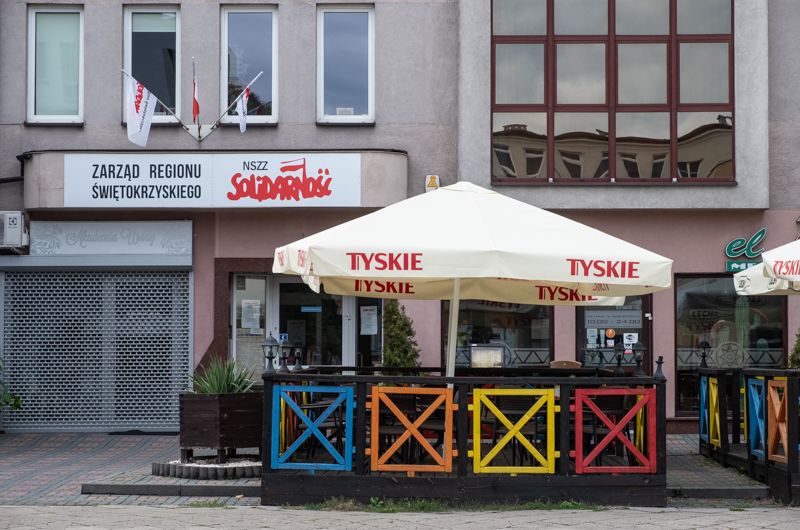 38_3
Kielce, a town of around 200,000 people, is relatively nondescript and certainly not part of the typical tourist itinerary. It is best known for a terrible event that happened there in 1946; about 40 surviving Jews were murdered in a pogrom, probably carried out by people who had taken up residence in their homes during the war. As Grzegorz (who has lived in Kielce his whole life) said, it makes him sad that his town is known only for this. A memorial stands close to the river: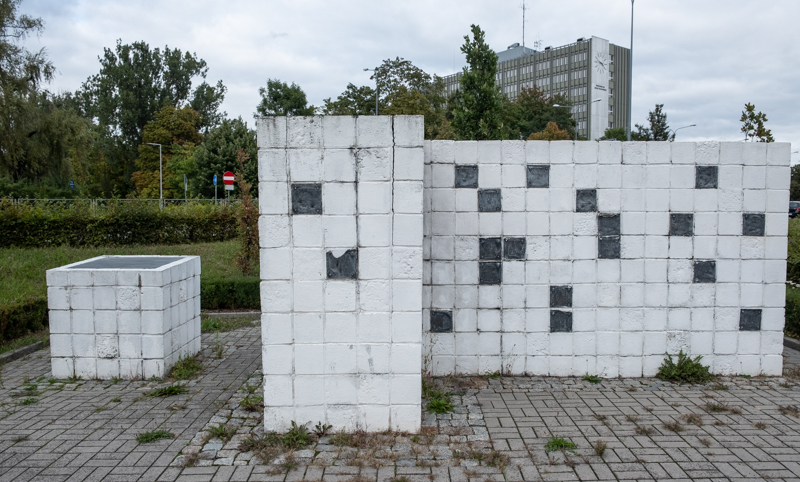 38_4
Nearby, names of the victims in the sidewalk outside the Jewish community centre: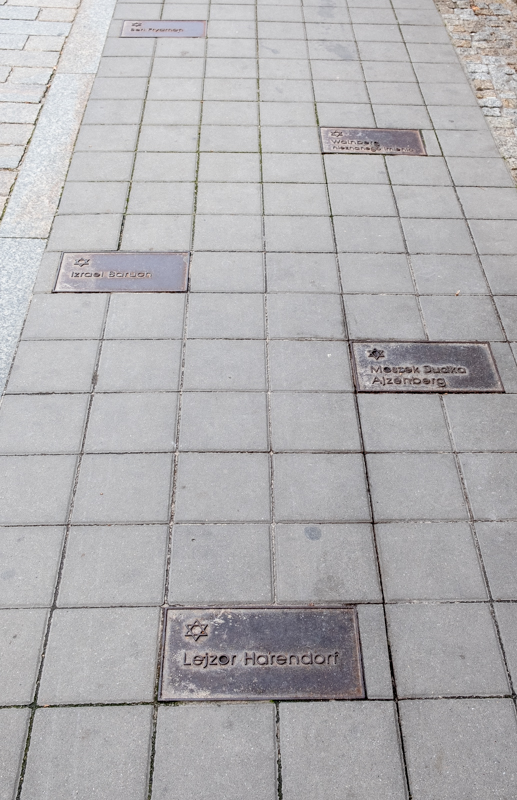 38_5
Kielce used to be a major centre of open air mining, mainly various types of stone quarries. Most are now closed, and like this one, converted to nature preserves and parks: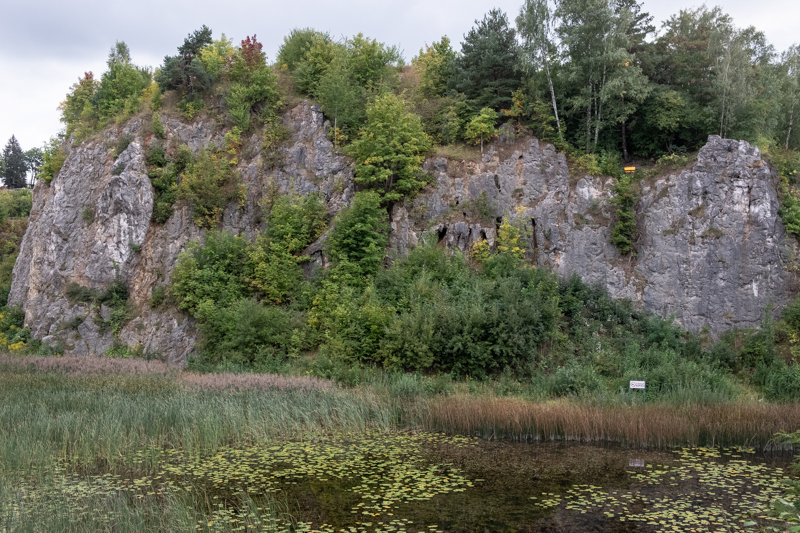 38_6
I was struck by these huge tablets with the Ten Commandments: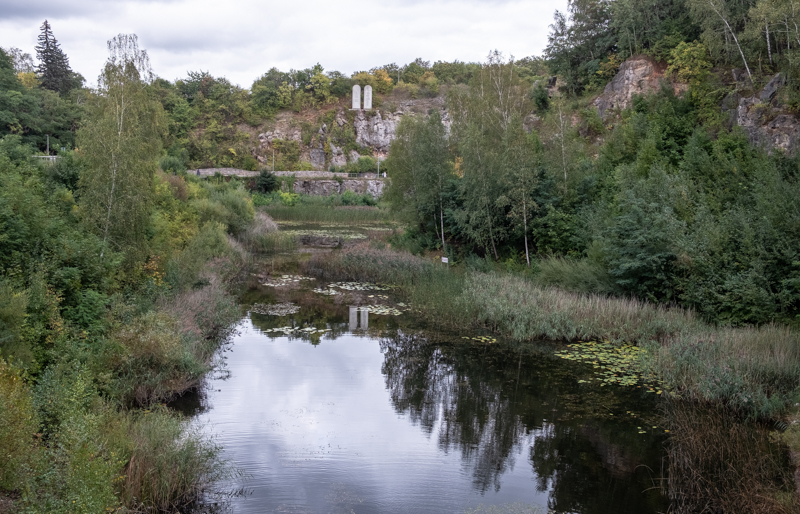 38_7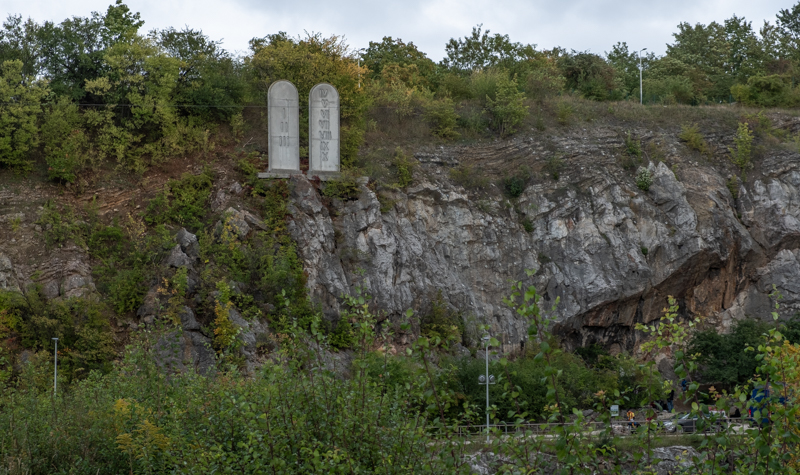 38_8
We continued our walk, passing the bishop's palace bathed in the late afternoon sunlight: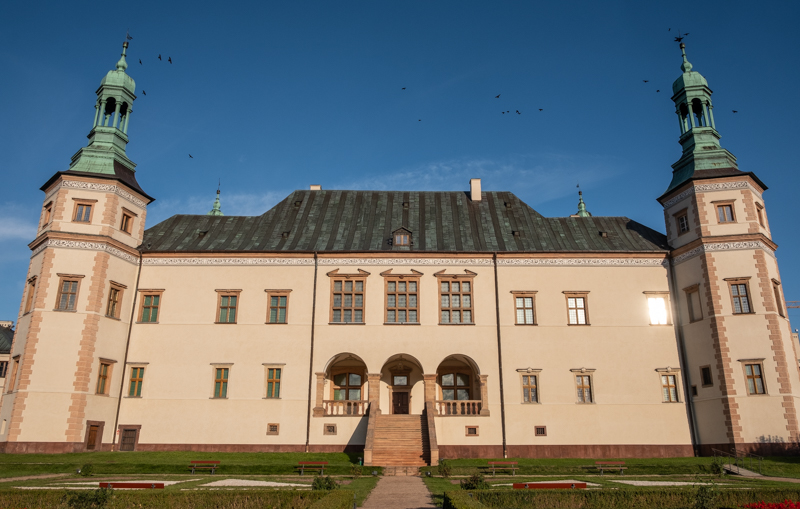 38_9
On the central square, Rynek, two cyclists were photographing each other inside the outline of Poland put up there, a symbol of the nationalist ruling party Law and Justice, which would not look kindly on such irreverence: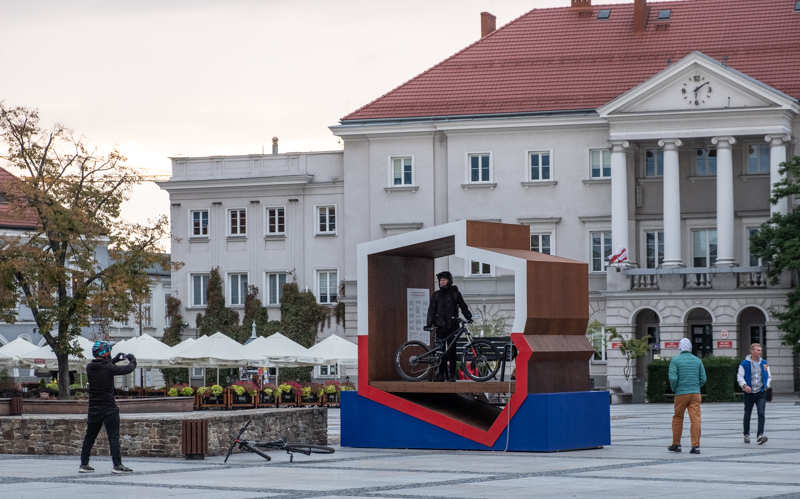 38_10
The conference I was attending was held at a hotel in a nearby village (really, a suburb of Kielce) called Cedzyna. This was the room in which I spent much of Monday and Tuesday: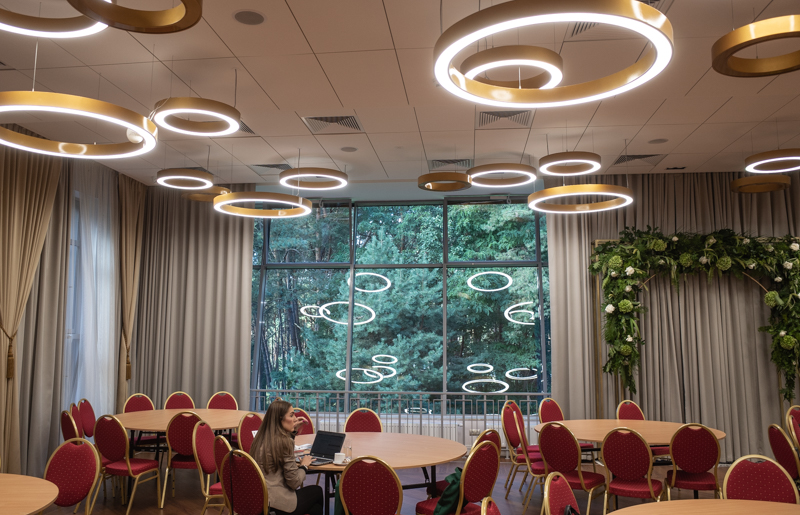 38_11
The hotel was in a wooded area near a lake, a place where people go for hiking and boating in the summer, fairly deserted on a cold September morning:

38_12
When you are several hundred km from the Baltic coast, this is the kind of beach with which you have to make do: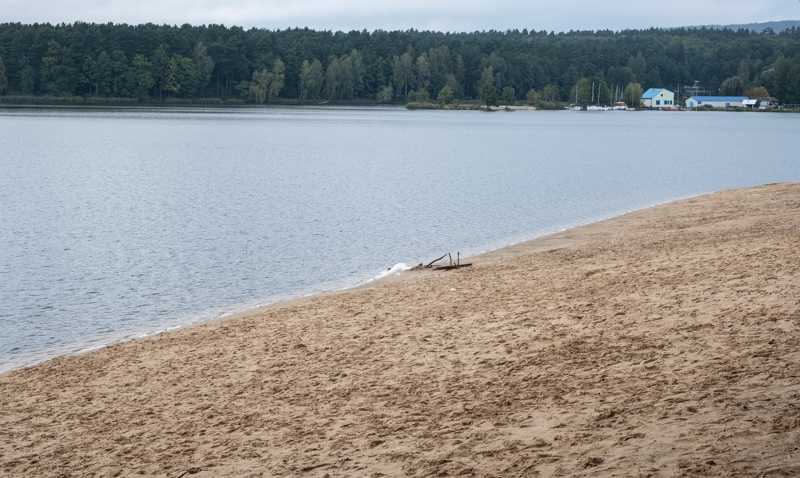 38_13
I went for an early morning walk in the village, stopping by this roadside shrine. Poland is probably Europe's most Catholic country, and the cult of the Virgin is very strong, especially in the countryside:

38_14
I loved this sculpture near my hotel–a local artist turned a dead tree into something beautiful: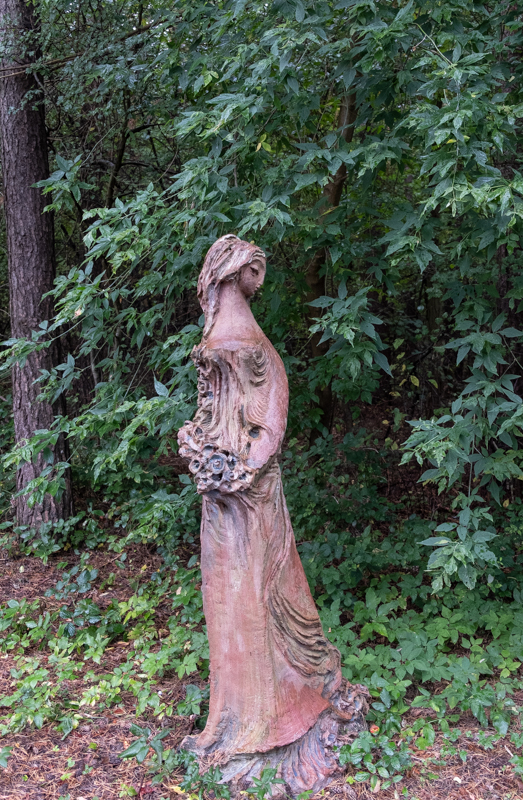 38_15
On Tuesday afternoon I took the train to Kraków from where I was flying home on Wednesday evening. After checking in at my hotel, I went out on foot to explore Poland's most beautiful city, its capital until the late 16th century. Just a few steps from the hotel, I had a nice view of the old royal castle, Wawel, on the shores of the Vistula river: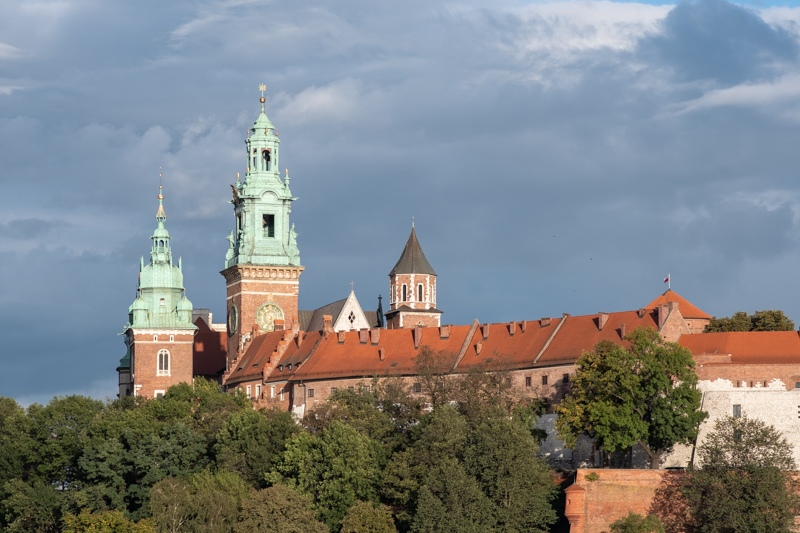 38_16
As always, walking around a Polish city means passing memorials to the country's painful history, attacked through the centuries by Germany from the west and Russia from the east. This particular memorial is to the resistance fighters during the German occupation: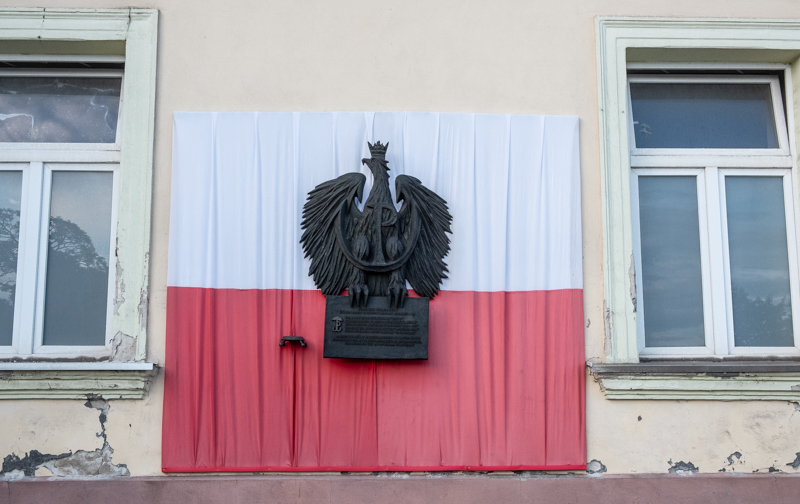 38_17
And this, commemorating Poles who perished in Russia's Gulag in the 1930s: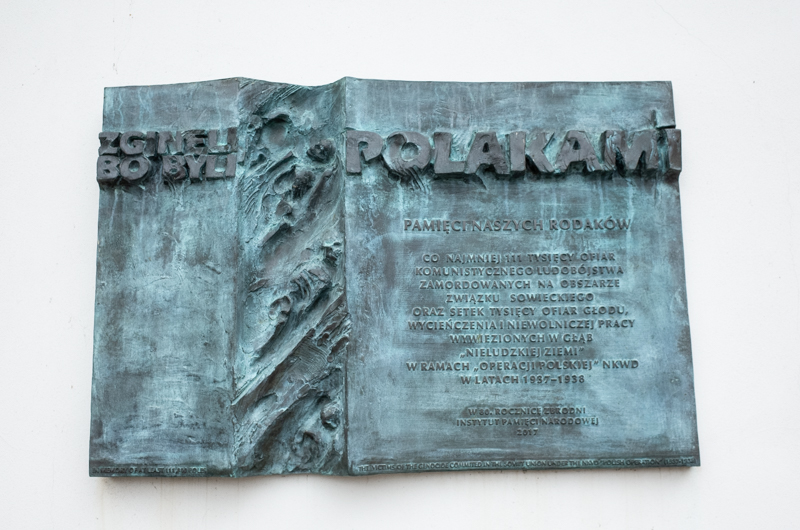 38_18
I continued walking towards Rynek, the central square, along Zwierzyniecka Street. Like everywhere in Poland, solidarity with the Ukrainian neighbours is everywhere: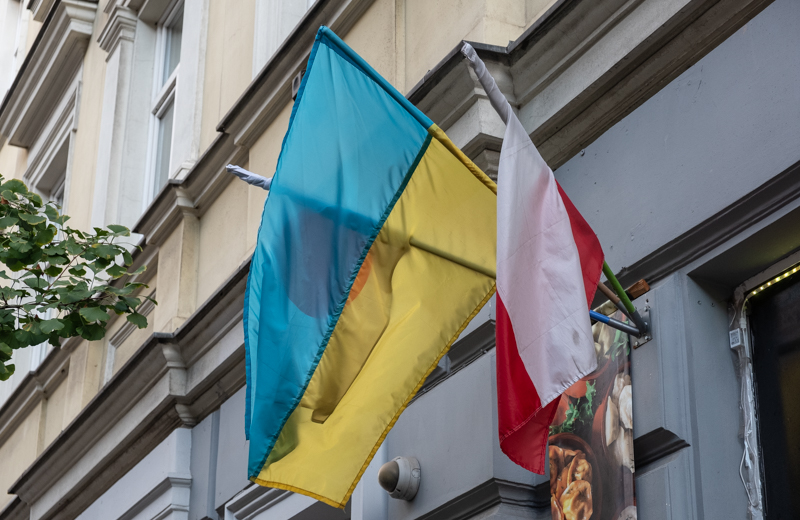 38_19
I am not fluent in Ukrainian, but I can read it, and this is about peace and love. One can always hope: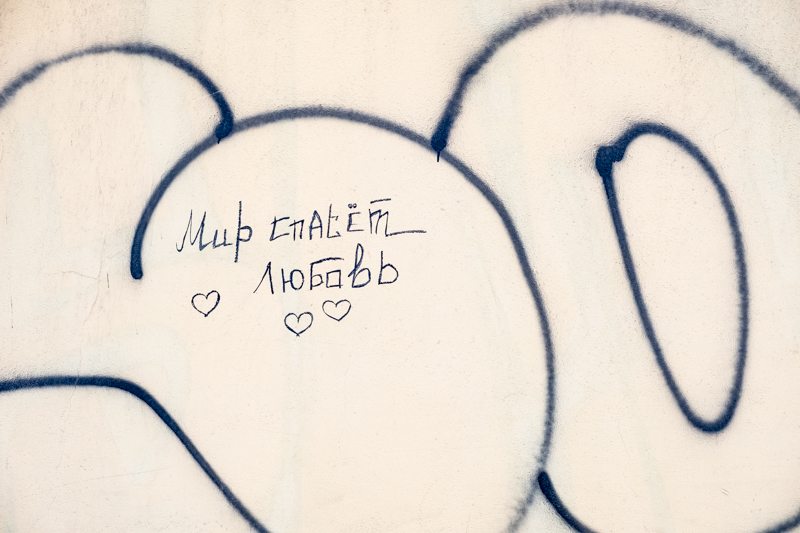 38_20
A bit further, I was on Franciszkańska Street, passing the "Papal Window". This is the residence of the archbishop of Kraków, where the newly elected Pope John Paul II stayed during his first visit to his native Poland as Pope, in 1979. Today it is a tourist attraction and a place of pilgrimage for the faithful: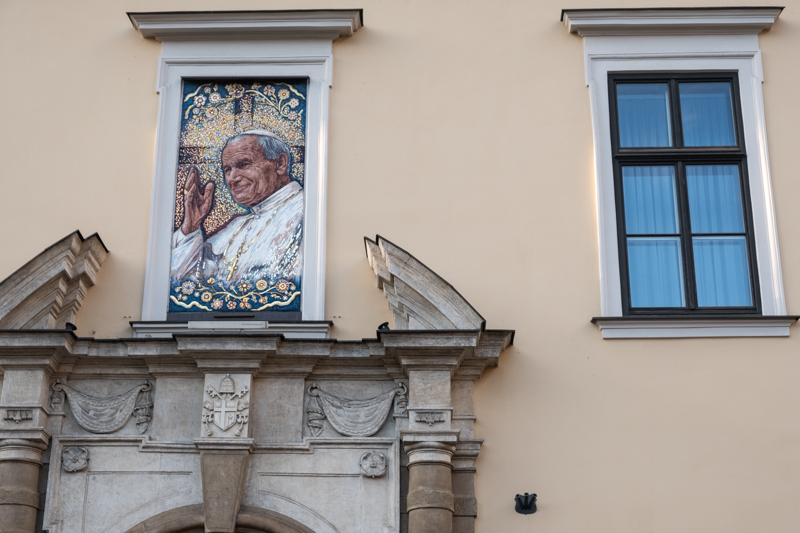 38_21
I arrived at Rynek and took in the beautiful evening view: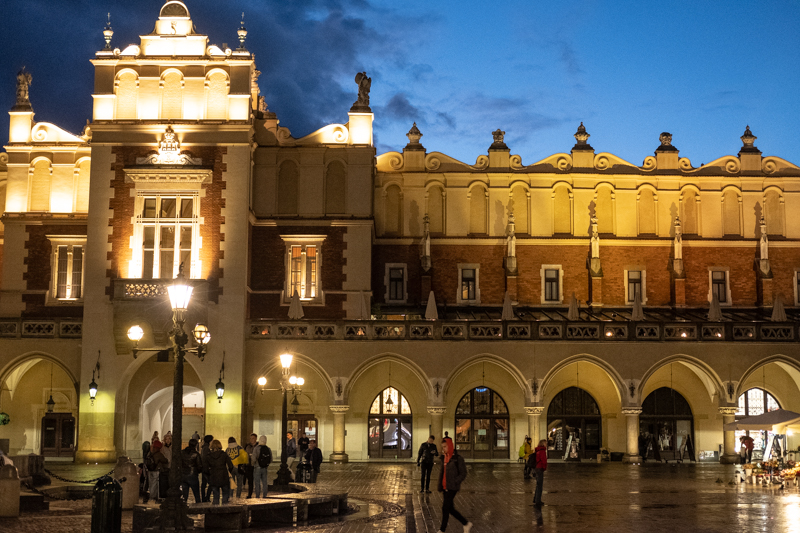 38_22
Walking back to the hotel, I had dinner at this excellent vegan restaurant on Bracka Street: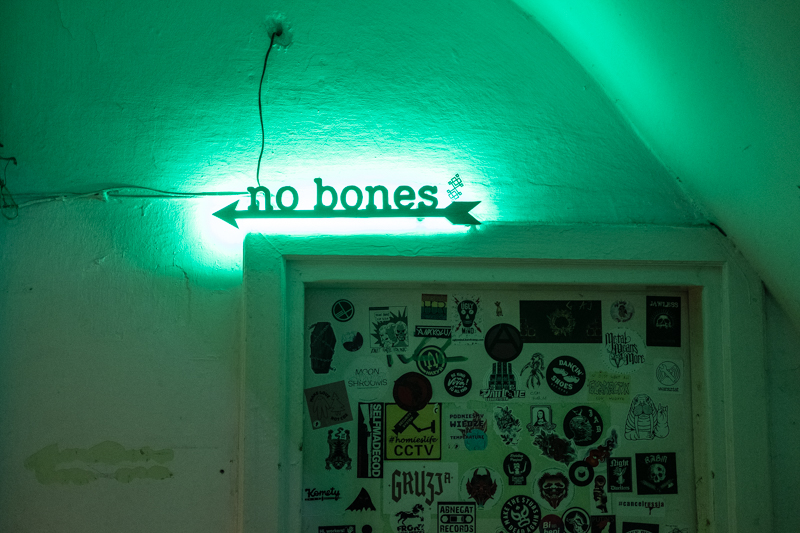 38_23
One of my favourite images of the evening, a couple inside a café on Bracka Street: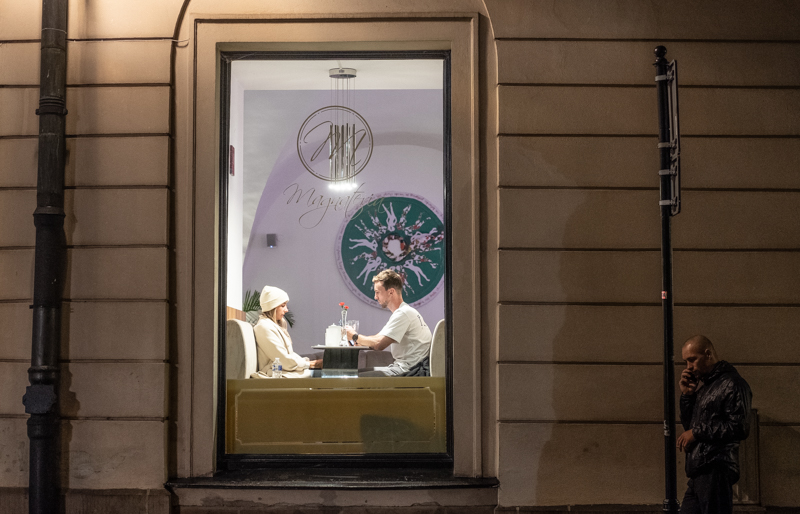 38_24
On Wednesday morning, I planned to visit Kazimierz, the Jewish quarter of Kraków. But first, I took a look at a small park across the street from the hotel, on the banks of the Vistula. It is called the Lajkonik Sqaure. Lajkonik is a mythical creature, half-horse, half-man, with roots going back to the Mongol invasions in the 13th century: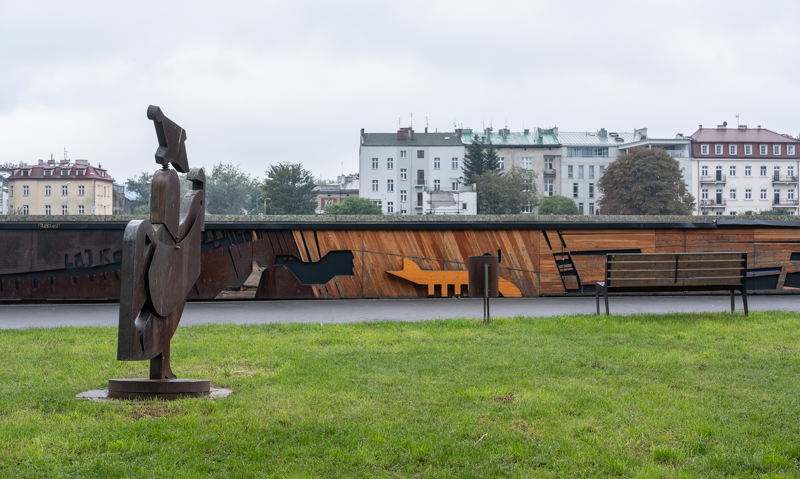 38_25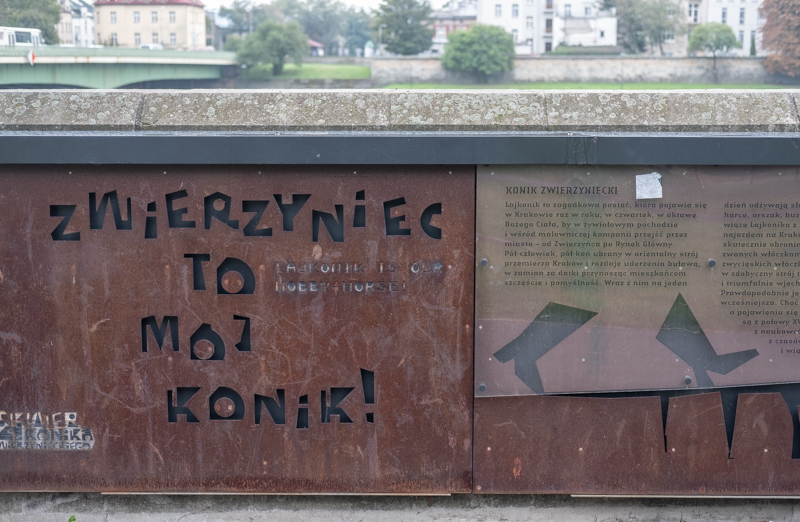 38_26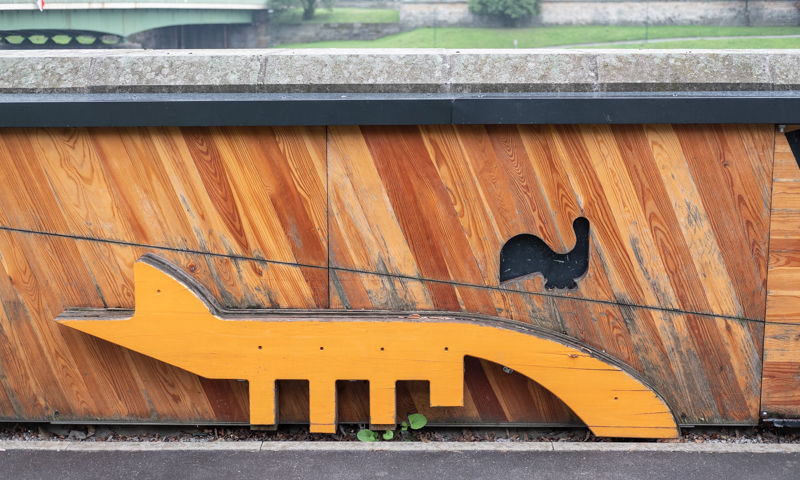 38_27
Further on, a little dog outside a grocery store, a motiv I like to photograph both at home in Alicante and when I travel:

38_28
I arrived in Kazimierz. My first stop was Kraków's oldest synagogue:

38_29
It is small but beautiful: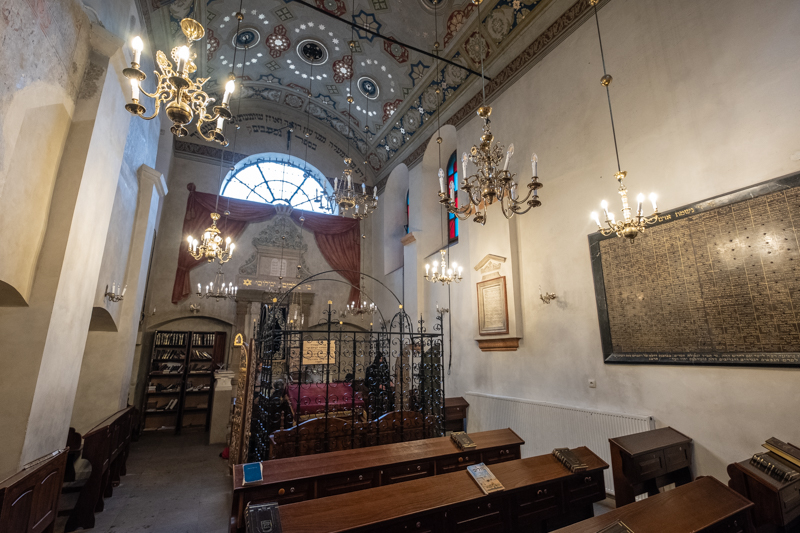 38_30
The adjacent cemetery with graves dating back to the 16th century: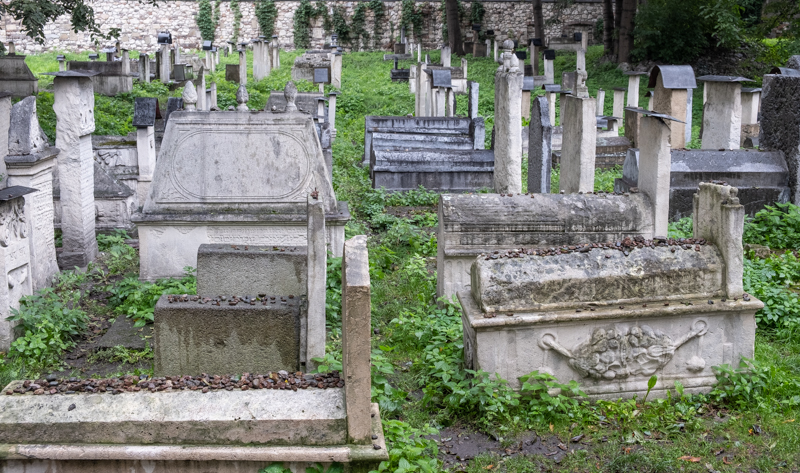 38_31
Elsewhere in Kazimierz, a Jewish community centre with a welcome banner for Ukrainian refugees: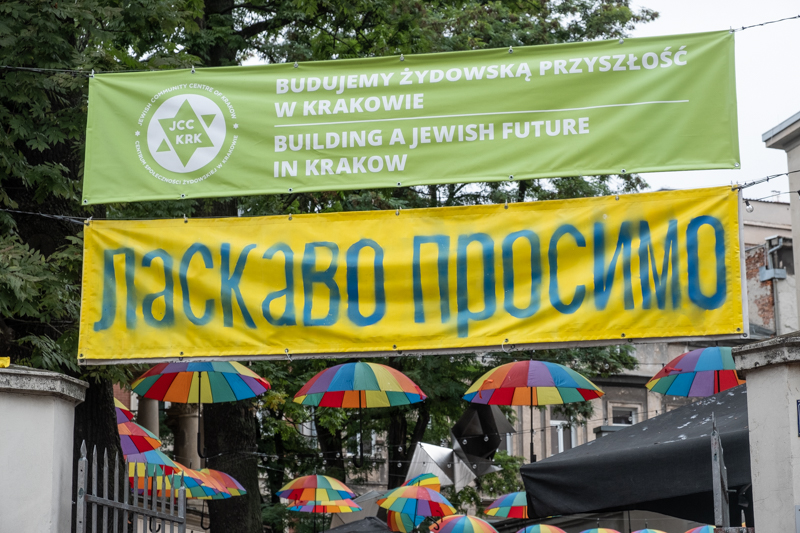 38_32
I continued to Plac Nowy ("New Square"), recommended by Lonely Planet as the best place to taste the traditional Kraków specialty, zapiekanka–basically a baked baguette with toppings, a distant cousin of pizza. On Plac Nowy there is a round building with several hole-in-the-wall places selling zapiekanki: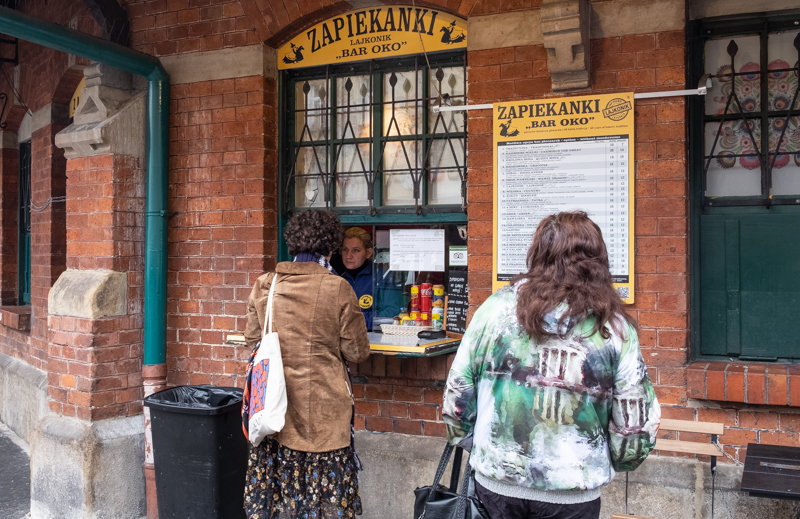 38_33
Of course, I had to try one, and it was delicious: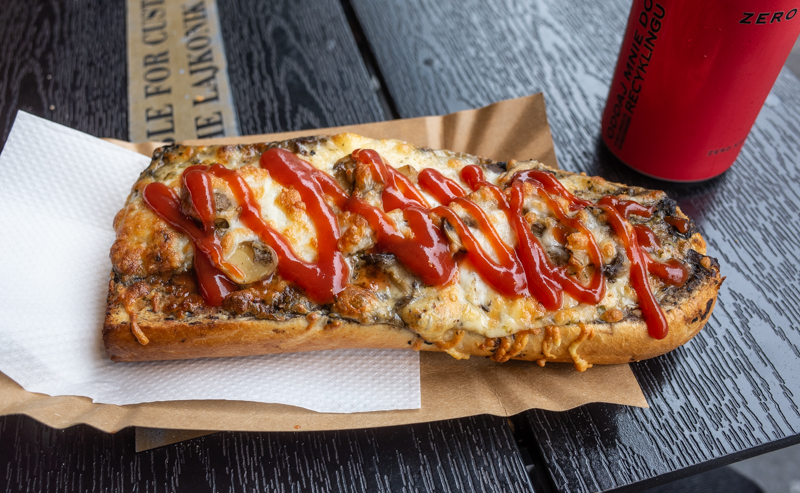 38_34
I walked around Kazimierz a bit more, taking in old advertising murals, some in both Polish and Yiddish: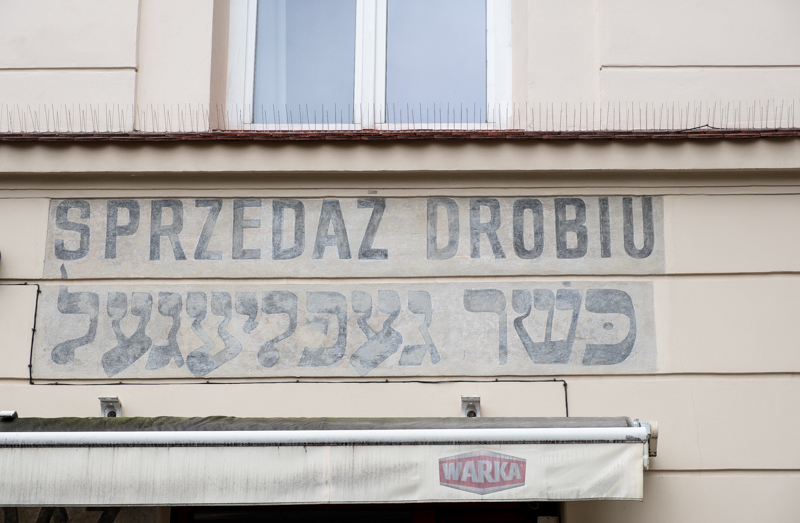 38_35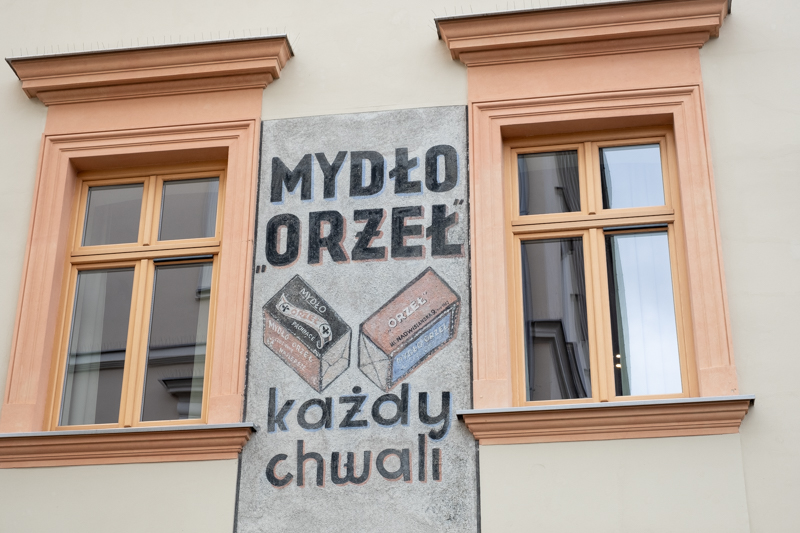 38_36
I walked back to Rynek. In the centre of the square is a monument to Poland's national poet, Adam Mickiewicz (whose main epic poem, Pan Tadeusz, confusingly begins with the words "Lithuania, my fatherland…"):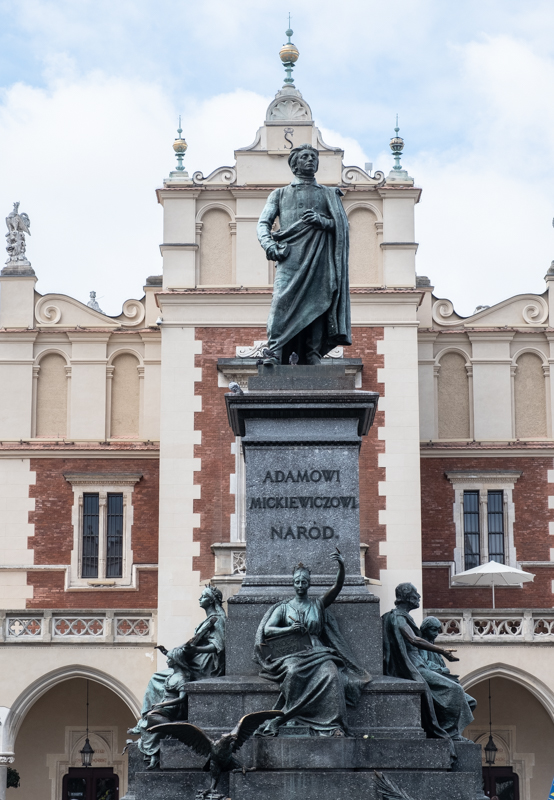 38_37
Every day, Ukrainians and their supporters rally in front of the monument to raise money for the fight against Putin's fascists: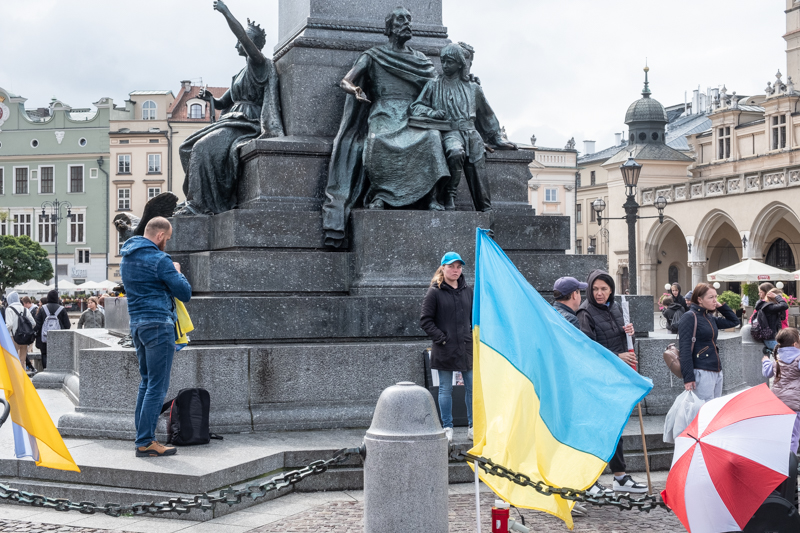 38_38
One of the landmarks on Rynek, affectionately referred to as 'The Head', the bronze body part's official title is 'Eros Bendato' (Eros Bound) and is the work of Polish artist Igor Mitoraj (1944 – 2014):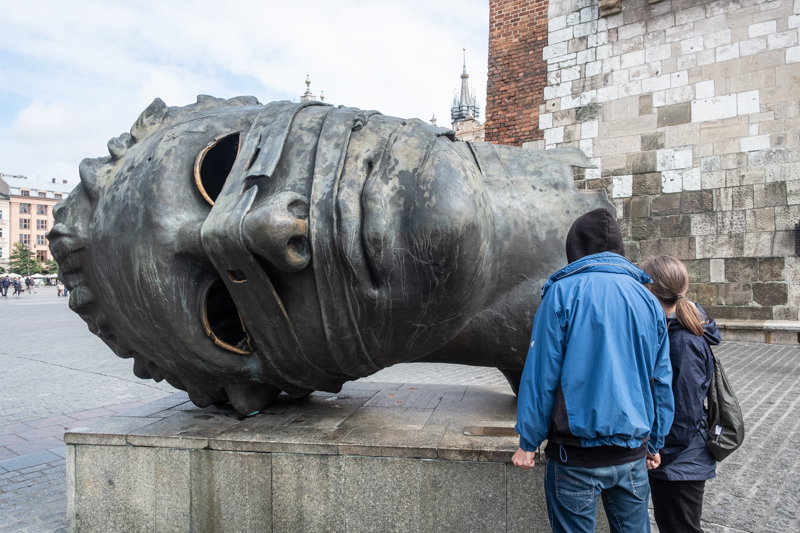 38_39
I don't know if this claim is true, but either way, it is impressive: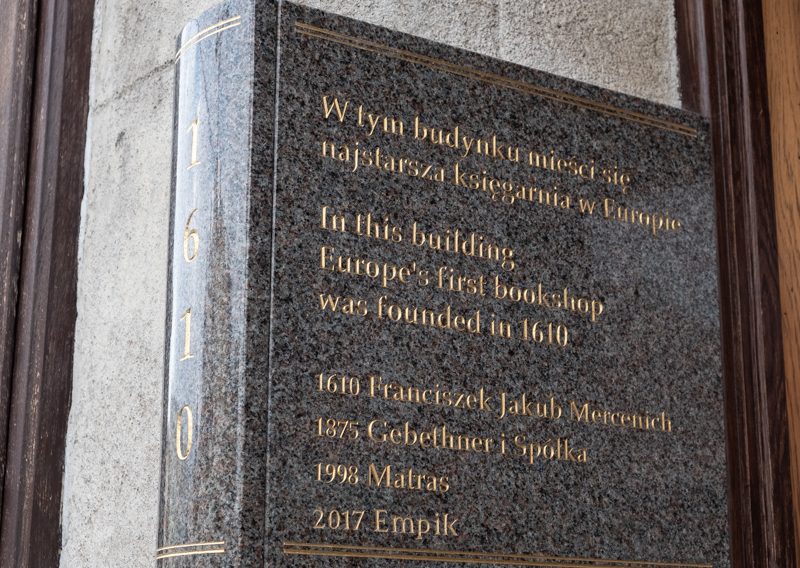 38_40
My last act in Kraków was to visit a great photo exhibition at the International Cultural Center, by Polish photographer Justyna Mielnikiewicz, documenting the war in Ukraine: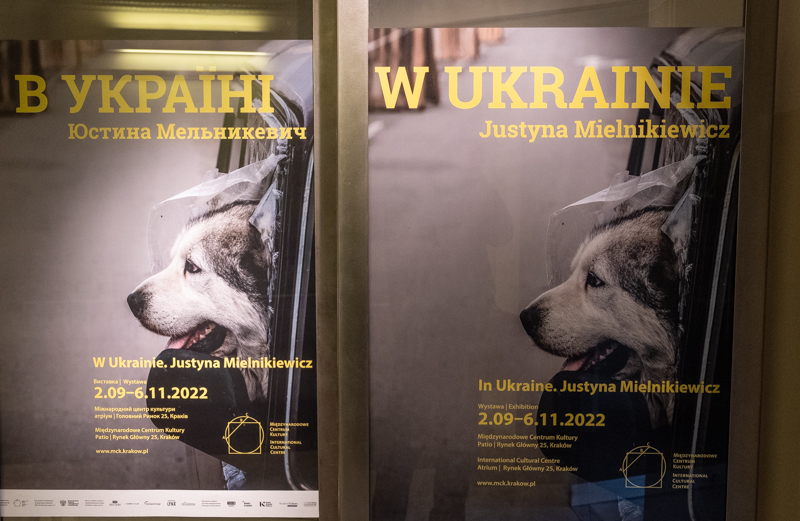 38_41
Just before arriving back at my hotel to pick up my bags, I had lunch at a "milk bar", the best food deal in any Polish town. For a few Euro, I got a delicious meal of pierogi, cabbage soup and salad: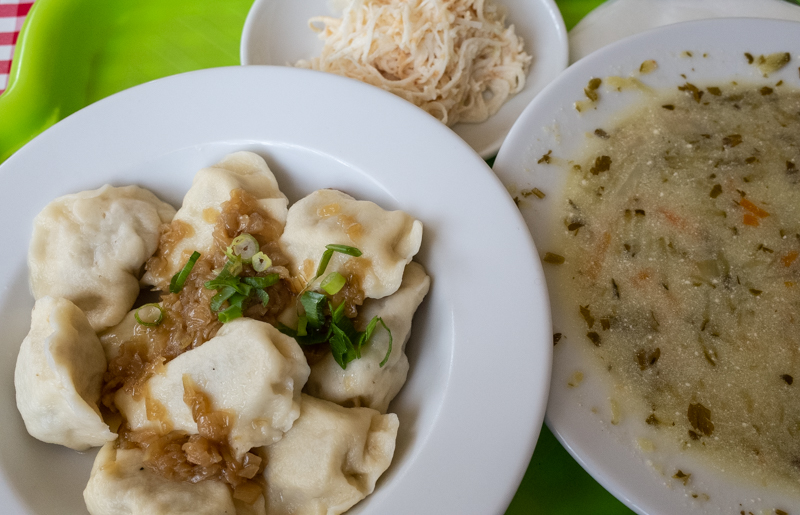 Lunch done, I picked up my stuff from the hotel, took a taxi to the airport and flew home.
38_42
Back home, it was time to get back on the bike. I cycled to Villajoyosa and as usual, took a break on Playa Bol Nou, enjoying the views of the beach and of Alicante in the distance: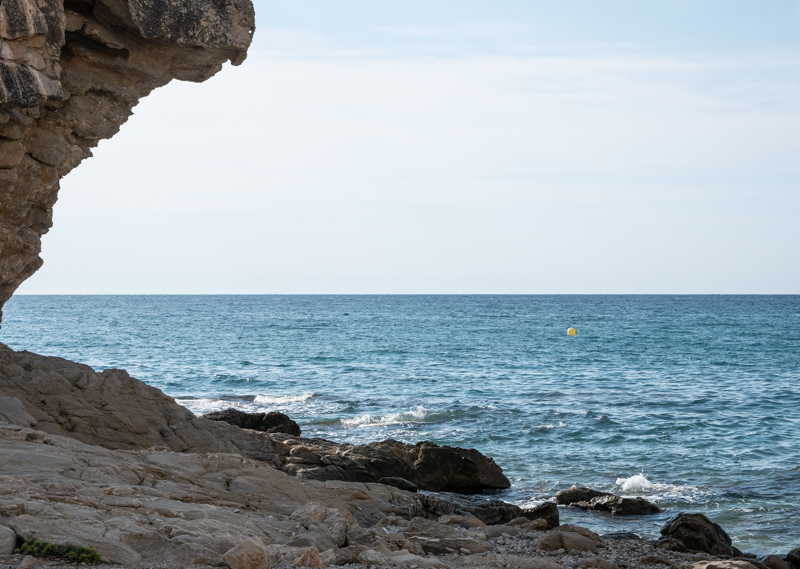 38_43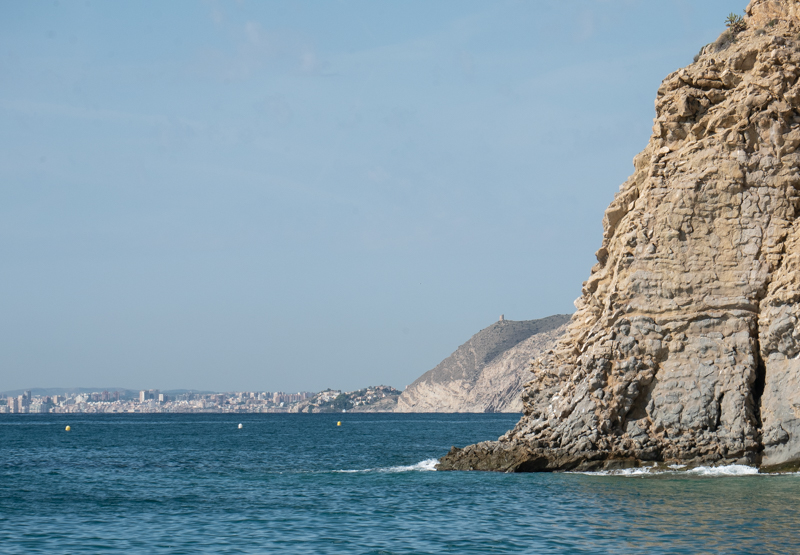 38_44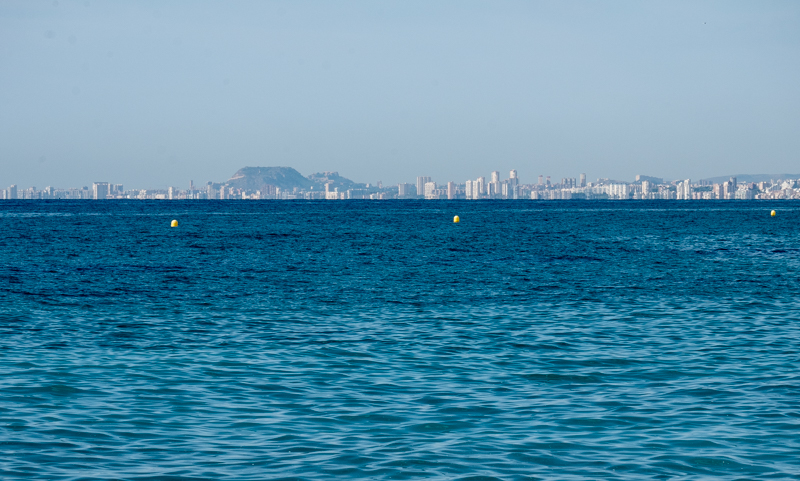 38_45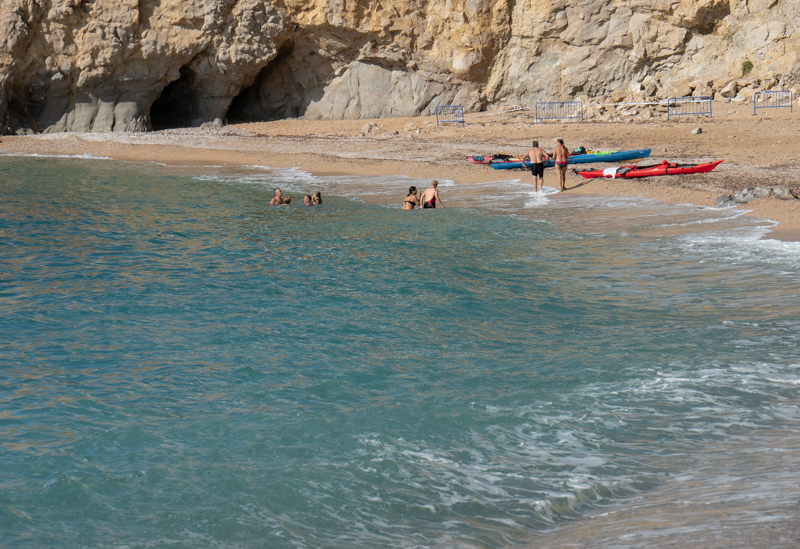 There are more photos from Kielce here, and from Kraków here.