Life in much of Europe, at least south of Scandinavia, slows down to a crawl in late July and August. Most people are on holiday, and so there are few meetings and usually no business trips. For those working July is the time to catch up on things that had been put off during the hectic months of May and June. But somewhat unusually for me, I had another trip to Brussels last week, just a quick overnight but with a Thursday afternoon and evening off, and with nice weather–so this is where the weekly pictures come from this time.
30_1
A picture from a place I know well, Alicante airport. A lady in blue/purple with matching suitcase. Actually, this is my colleague Carolina who was accompanying me on the trip, but she was unaware of me taking this picture: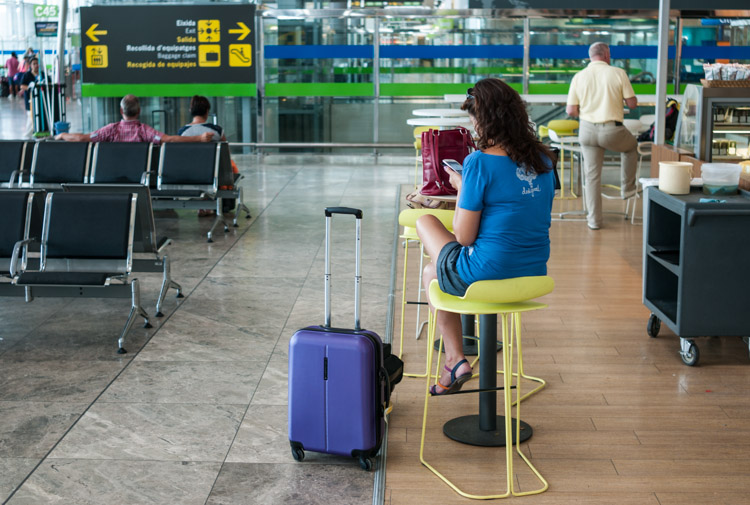 30_2
One of the places I wanted to see on Thursday afternoon was a Tibetan Buddhist temple my cousin had told me about. So Carolina and I took the metro to St Gilles and walked to the indicated address, in a residential neighbourhood, with just a sign on the building indicating that this is a temple. But once inside, the friendly lady in the bookshop showed us into a nice inner courtyard with the Buddha at its centre: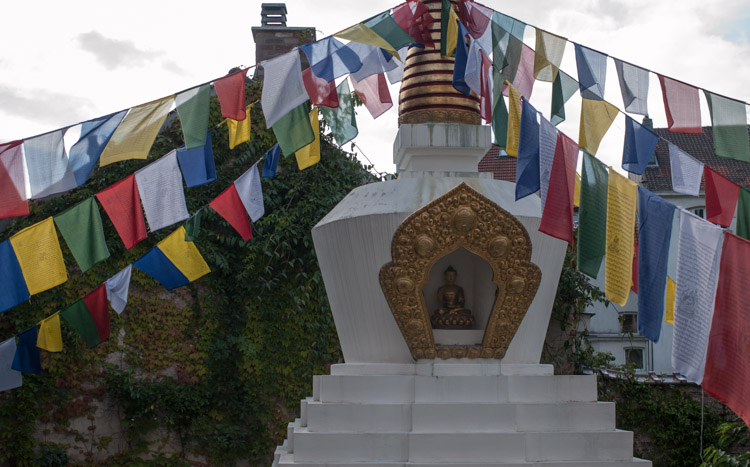 30_3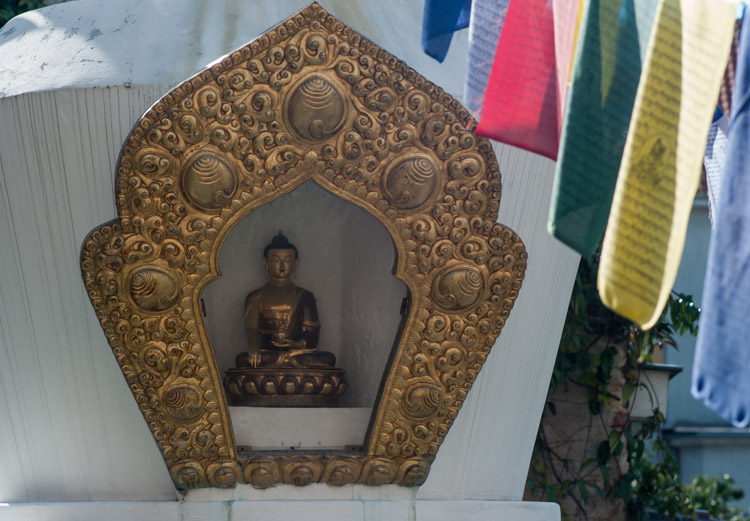 30_4
I am not sure what the writings mean, but I found them beautiful nonetheless: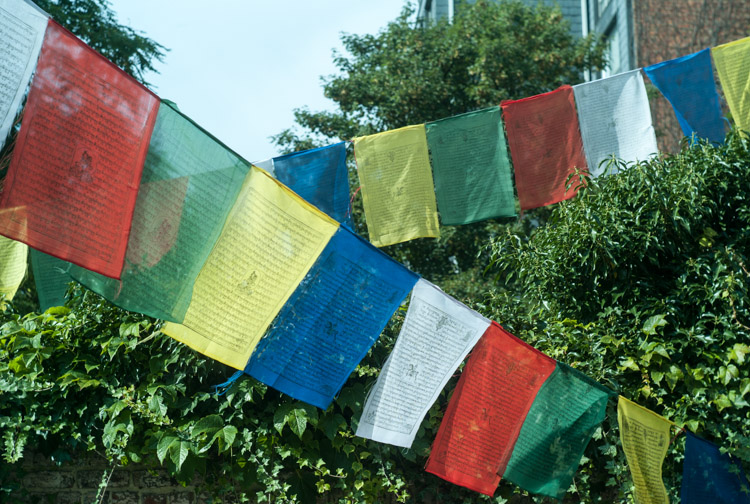 30_5

30_6
After our temple visit, we walked to Place Louise and took the street elevator down to the neighbourhood of Marolles, just inside Brussels' inner ring. It is not a part of town I visit often, so it was nice to walk around there. Every Brussels neighbourhood offers little details such as this monkey: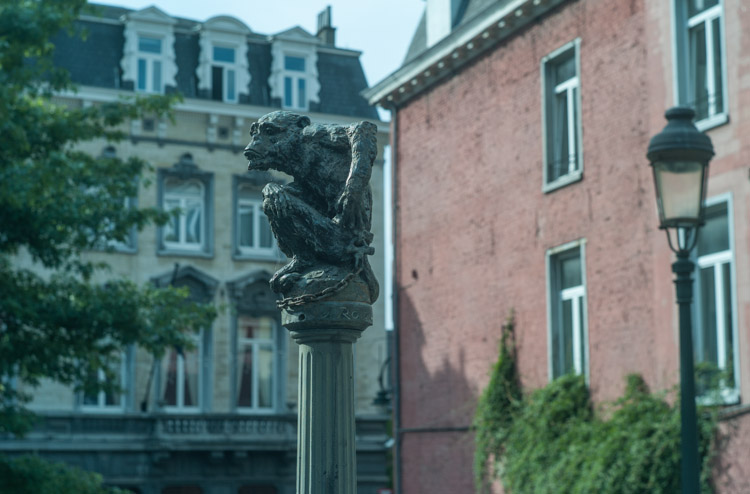 30_7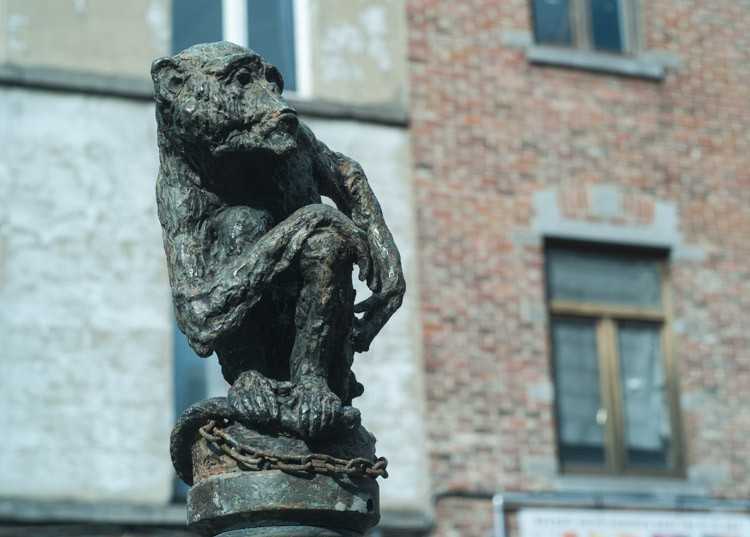 30_8
Circular bench: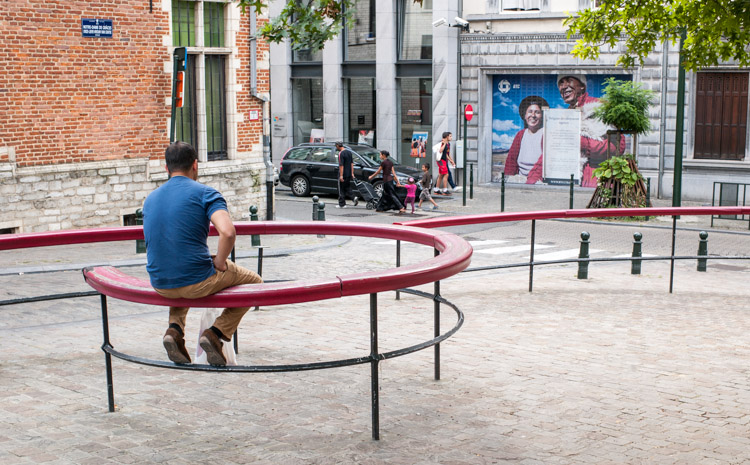 30_9
This shop was closed: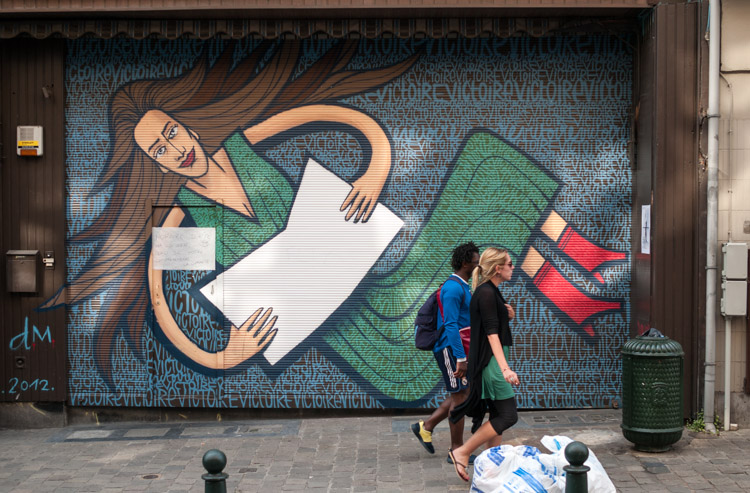 30_10
This shop was closing: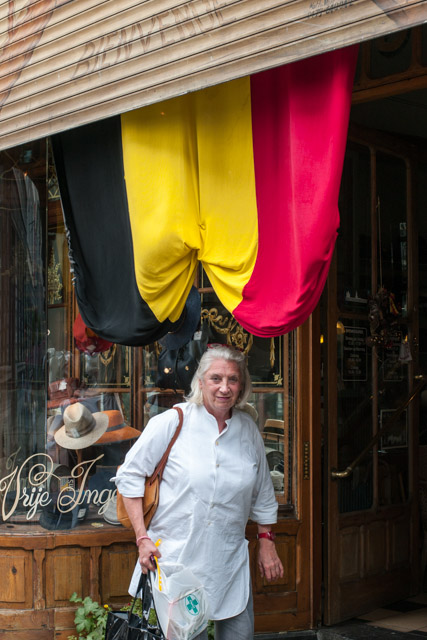 30_11
We then walked to Ixelles through Parc de Bruxelles, a large park adjoining the royal palace. This statue is still marked by the recently ended World Cup: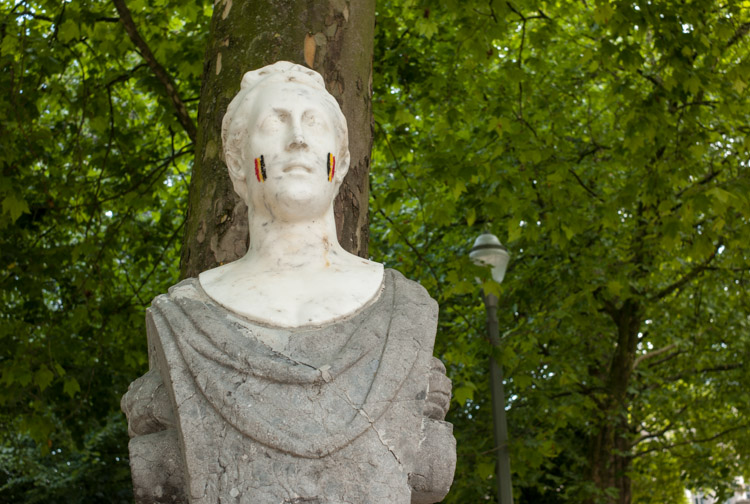 30_12
People were enjoying the good weather in the park. In the background are the many office buildings along the Inner Ring: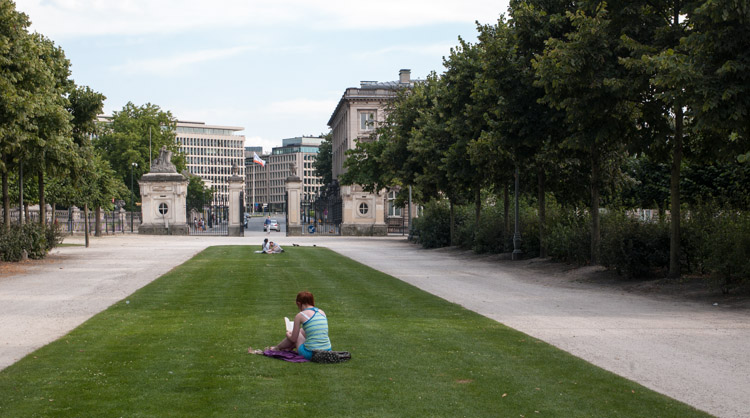 30_13
Once we got to Matongé, the African neighbourhood in Ixelles, we stopped at Librairie Hankard, a used book shop where I always stop in and (usually) buy a book. The statue on Place St Boniface had been embellished in a humorous manner: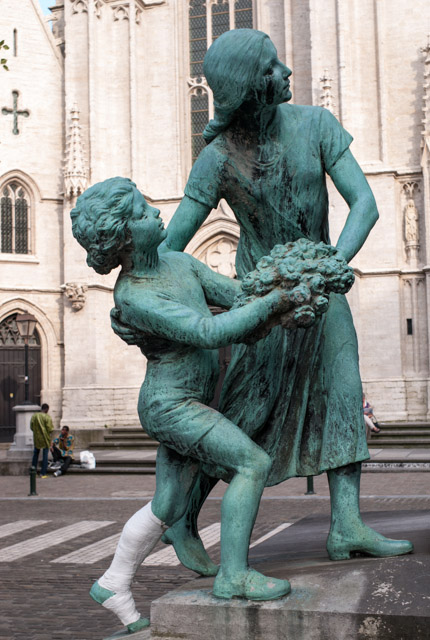 30_14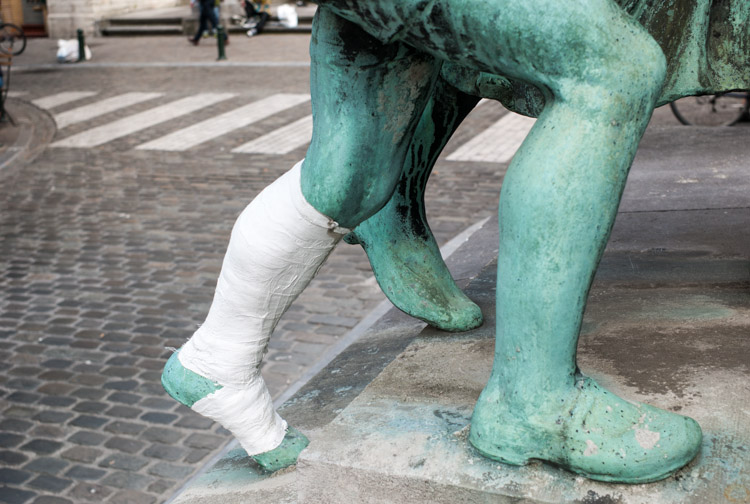 30_15
We then got down to the business of refuelling, first at one of my favourite watering holes, L'Ultime Atome. Many others had the same idea, so it was a bit difficult to find an outside table, but this kind man was just about to leave, and in addition agreed to a quick portrait: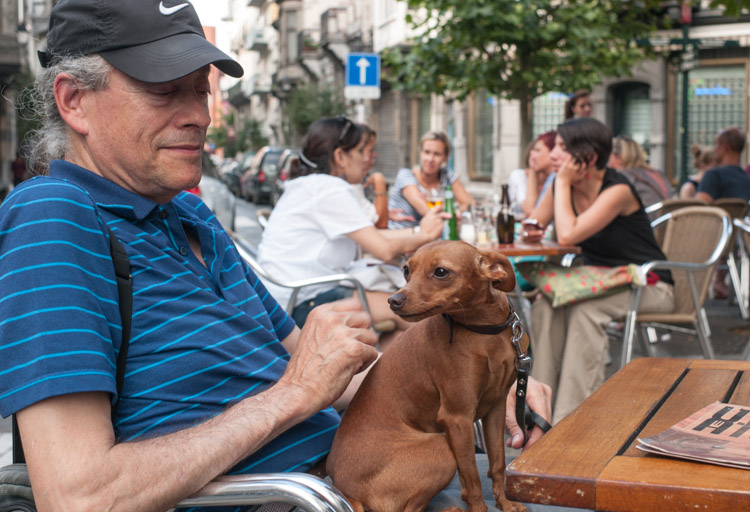 30_16
After a couple of beers, we moved on to Soleil d'Afrique, an African restaurant on the wonderfully named Rue Longue Vie (Long Life Street). This picture shows the restaurant opposite ours, but the setup is the same–long tables outside, good cheap food, everyone happy: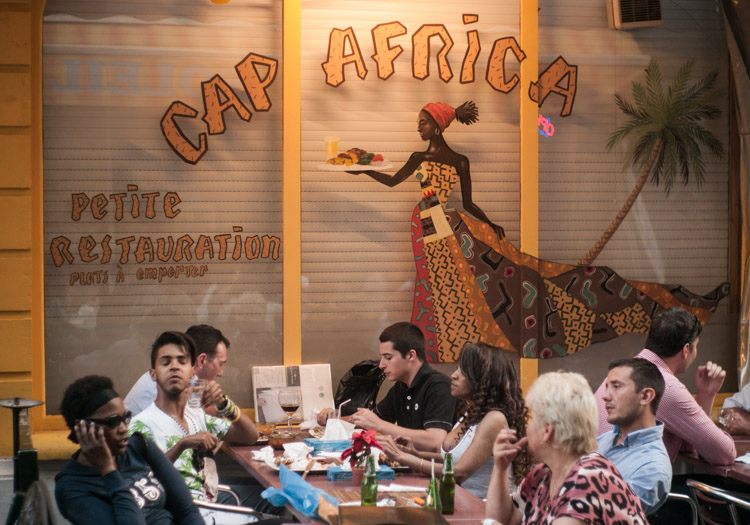 30_17
Finally, we walked back to our hotel, passing the European Parliament at dusk (which at this time of year in Brussels is around 10 pm):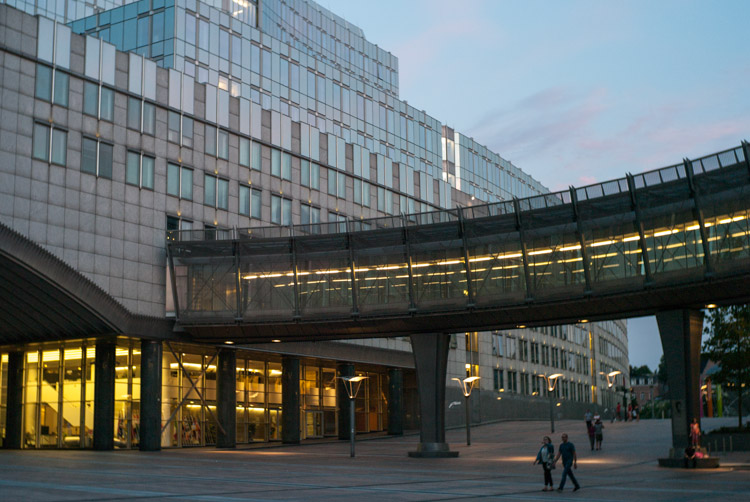 30_18
The next day we were invited for lunch at a restaurant near Merode, where I noticed this nice little detail:

Our flight home on Friday afternoon suffered a massive delay, so that instead of landing in Alicante around 8 pm, it was 2 am Saturday.
30_19
But on Saturday afternoon, I was back at Alicante airport, this time to pick up my daughter, now home for the summer: