Most of this week's pictures were taken during a very brief business trip to London. I went to attend a seminar at the Chartered Institute of Patent Attorneys on Monday afternoon, arranged by the UK Intellectual Property Office. So I flew over Monday morning, and back to Alicante Tuesday morning, spending about 22 hours in London. Still enough time to take some pictures in a city I love. It helps that the days are long and I have a habit of getting up early.
21_1
But first another portrait of my Cheeta, on her bed under the table in my home office, giving me a psychotic eye: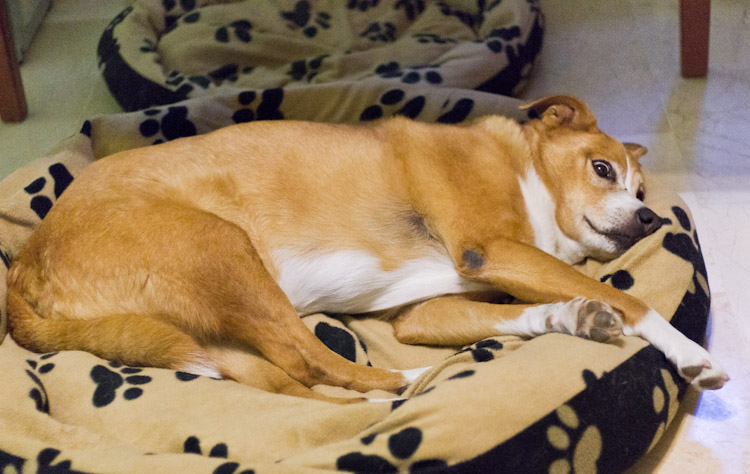 Then we move on to London. The pictures are presented chronologically.
21_2
I arrived at Gatwick just before noon, took the train to the city and checked into my hotel in Bloomsbury. Then I quickly walked to the Holborn station to get the Tube to my seminar. Just before descending, I spotted this couple in the crowd: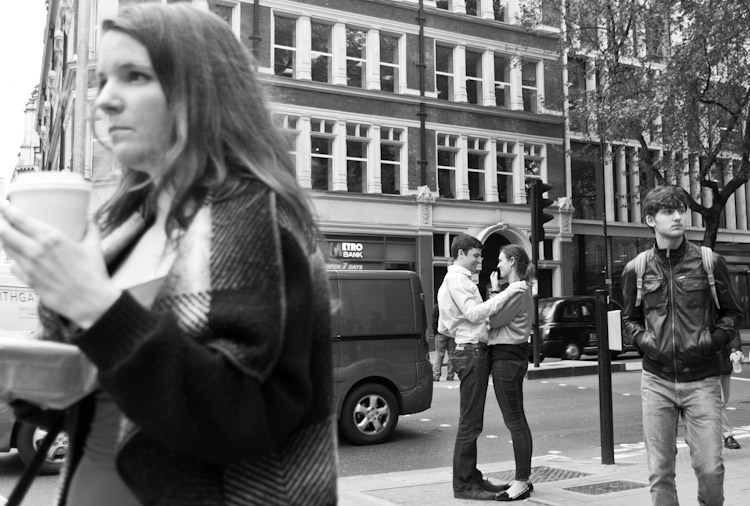 21_3
Chancery Lane, where CIPA is located: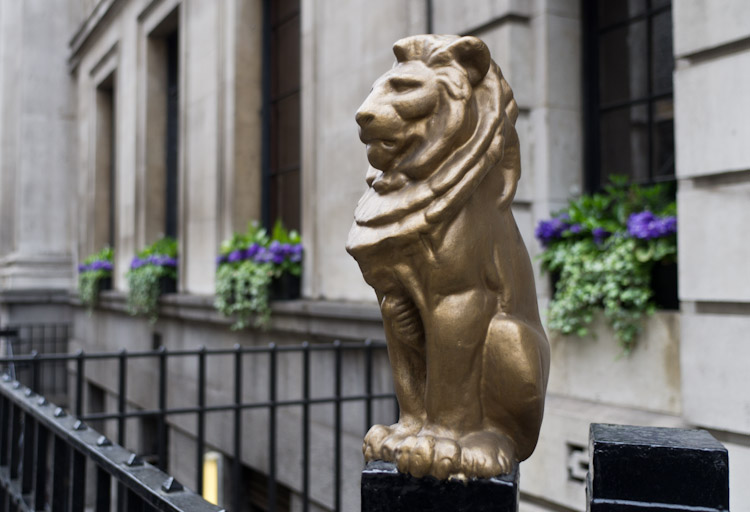 21_4
After the seminar, I went for dinner with several colleagues from the UK IPO. Along the way, we met these strange characters. Don't ask–I have no idea: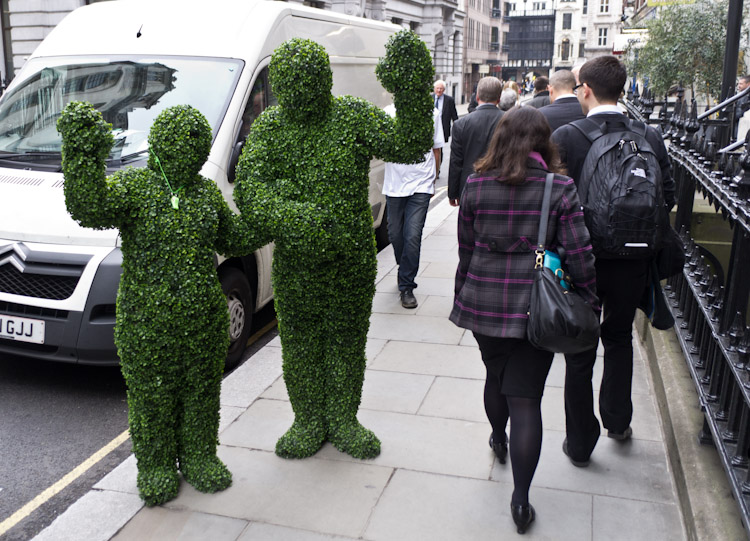 21_5
One of the things I like about walking around London are the little reminders of history and empire one sees everywhere. I found this one a must to photograph, given that I live in Spain, a country which wastes time and energy on its idiotic insistence on wanting to take Gibraltar back after ceding it to the UK 300 years ago: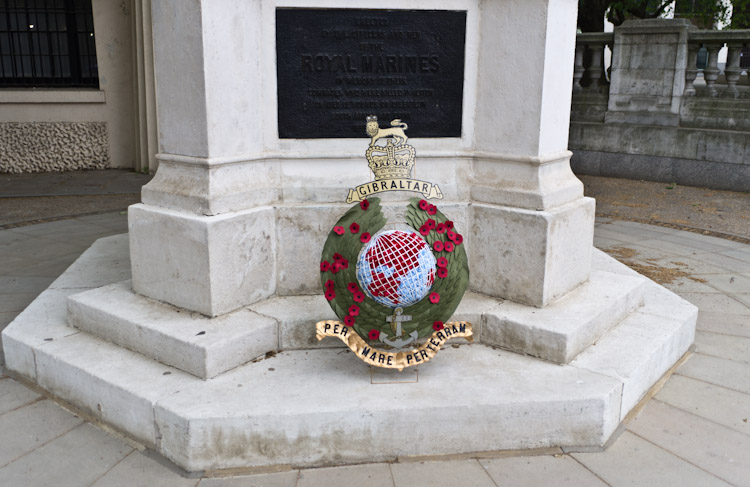 21_6
We ended up in a very nice restaurant in St James's Park. We had drinks outside before the chill took over, forcing us to move inside. Here is one of my UK IPO colleagues, an economist whom I met for the first time on this occasion: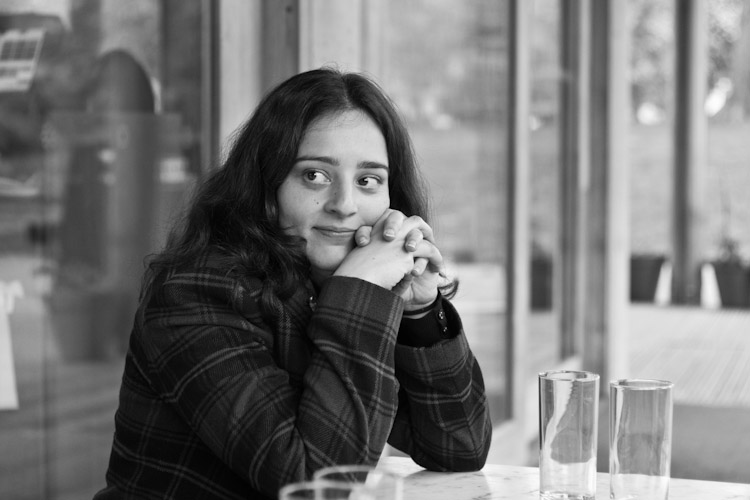 21_7
Afterwards, we walked towards Trafalgar Square, passing the Horse Guards Parade in the magic evening light: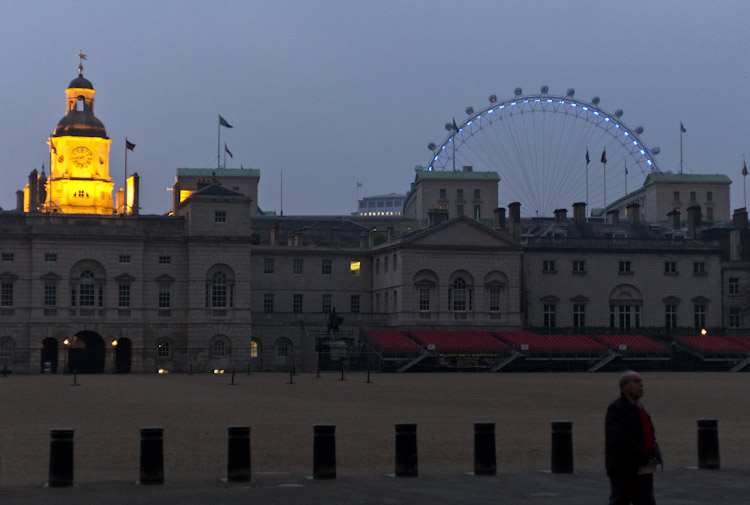 21_8
Nelson's column, sideways view: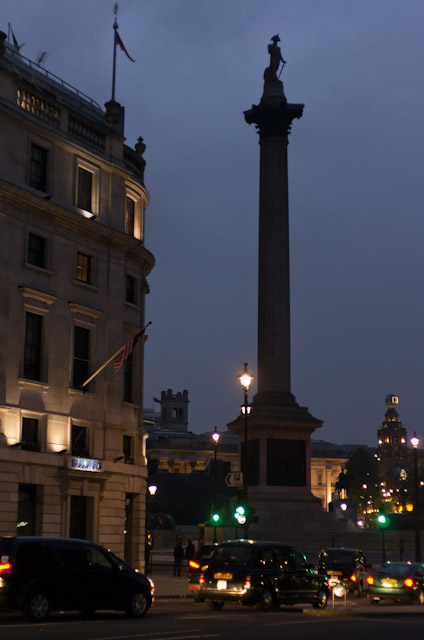 21_9
We ended the evening at the National Liberal Club, where the Chief Economist of the UK IPO is a member. It is a very traditional club, so of course no photography inside, but I took this picture of Gladstone looking out from the entrance: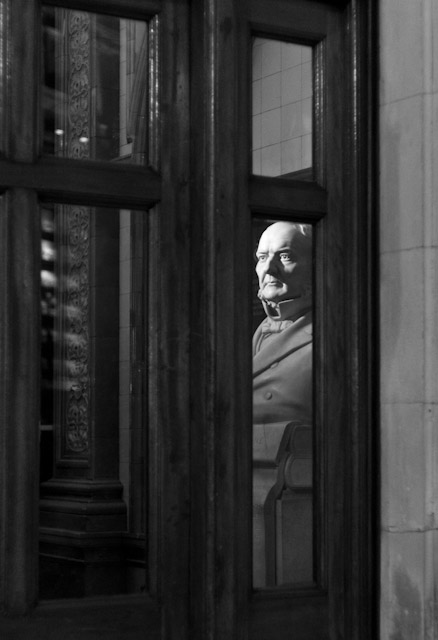 21_10
Before taking the Tube from Embankment, I took a few minutes to enjoy the view from the Hungerford Bridge: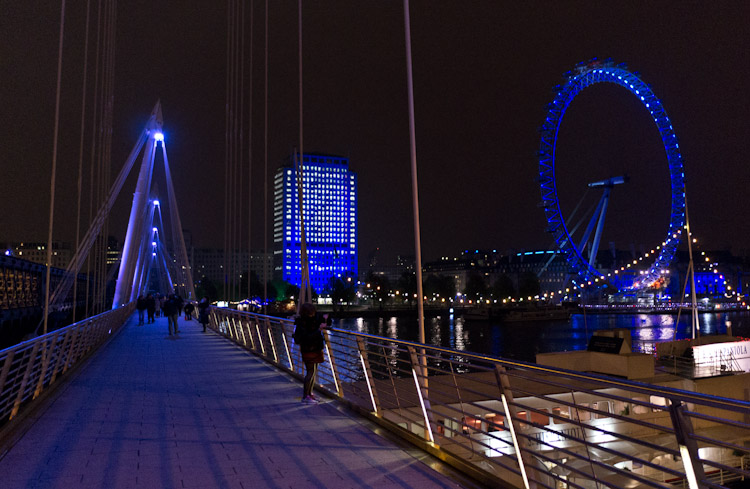 21_11
Others had the same idea: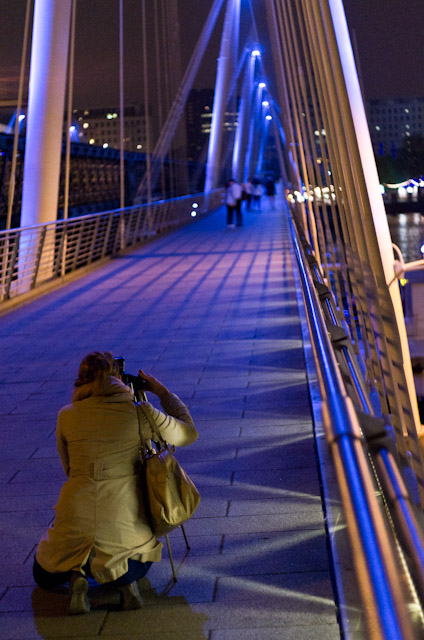 21_12
The next morning, my flight back to Alicante departed at 11:50, so I had time for a walk in the neighbourhood around my hotel. Having woken up early, by 7 a.m. I was showered and ready to go in search of decent coffee. I found it at a Costa Coffee on Southampton Row. Bicycle theft is a problem in London, so I guess this guy was playing it safe with his expensive bike: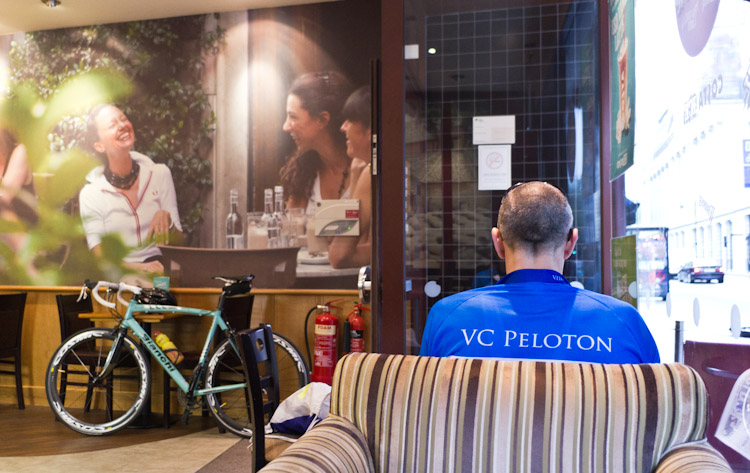 21_13
Thus fortified, I walked on, pausing to do my usual check of London phone booth traditions: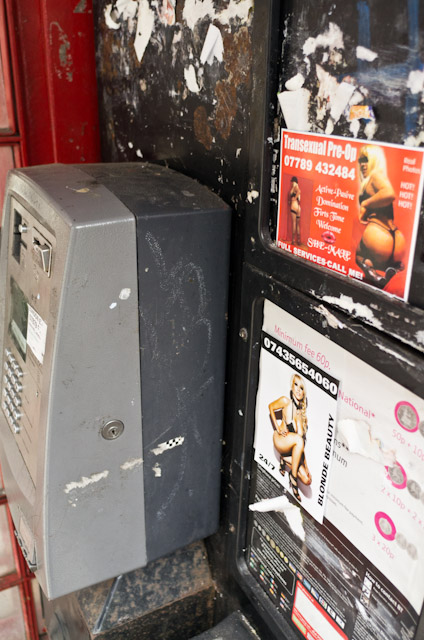 21_14
I walked back to the hotel through the delightful little park at Russell Square: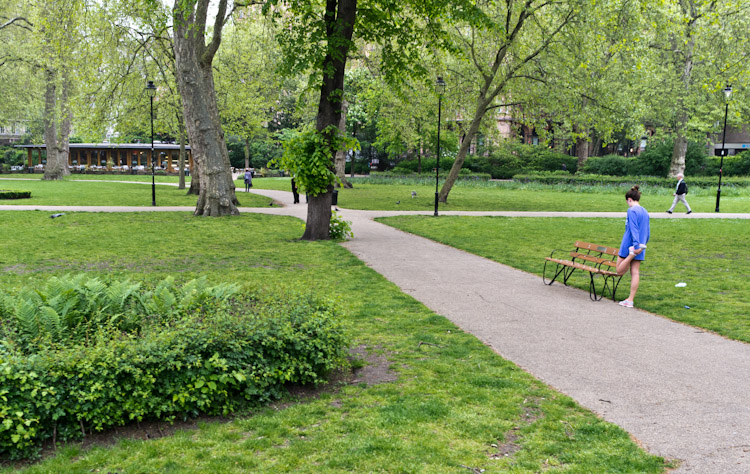 21_15
Memorial plaque on bench. A woman born in Gdansk in Poland (or Danzig, as was the city's German name until 1945) now is immortalized on a bench in London: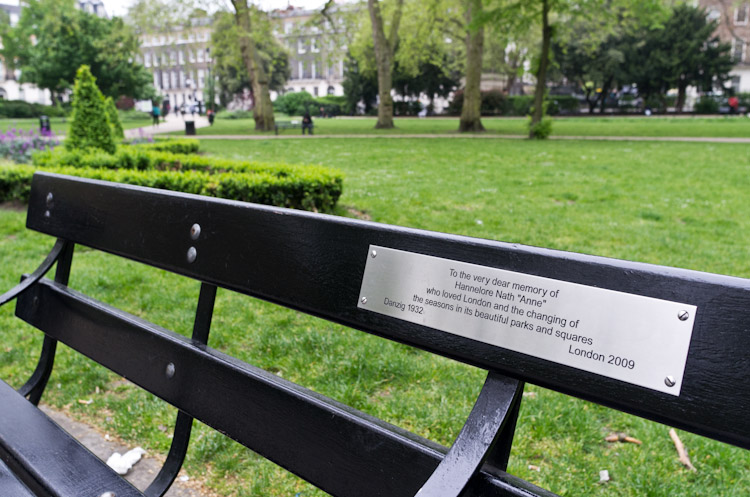 21_16
The neighbouring bench, something entirely different, courtesy Microsoft: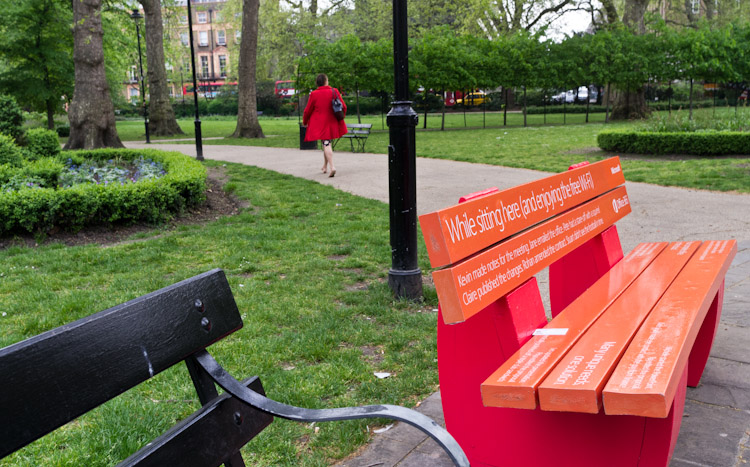 Back in Alicante, the rest of the week was just work, until Saturday arrived and I took a glorious, 81 km bicycle ride in the mountains, which yielded the last four pictures.
21_17
The road on which I cycled, leading from Aigües to Relleu. If you look hard, Alicante can be seen (just) in the upper right corner: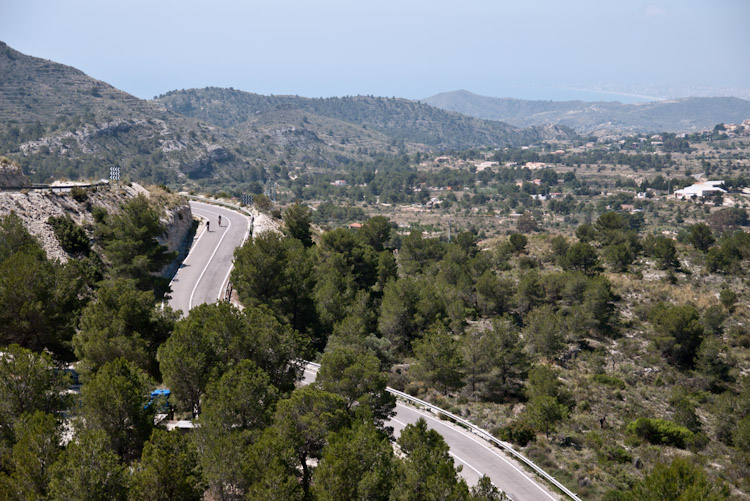 21_18
The cycling on this road is great. Pavement is good, there are virtually no cars, and the landscape is like in preceding picture, punctuated by almond groves and meadows: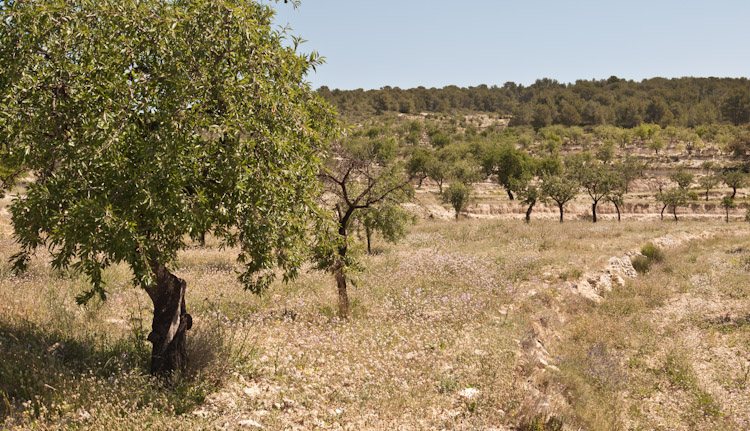 21_19
I don't often photograph flowers, but here I liked the combination of the plant and the rock face in the background: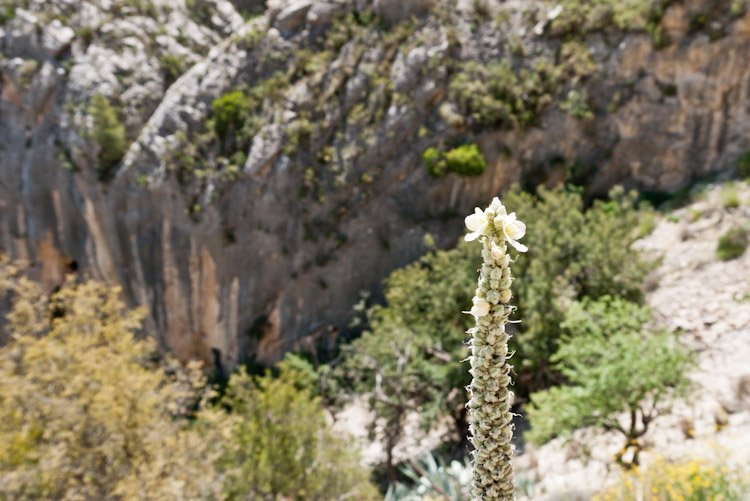 21_20
Mural advertising a restaurant in the village of Relleu. These inland small towns are the only places where the local dialect, Valenciano, is actually used. In normal Spanish (Castellano), the sentence would be "abierto sábados, domingos y festivos" (open Saturdays, Sundays and holidays):