This week marked yet another step in my recovery from the hospital stay at the end of April: the first trip and the first beer in a month. The images for this week therefore include walks in Alicante and in Brussels.
21_1
We start with a couple of dog walk pictures from my neighbourhood. These flowers grow just around the corner from my home. Usually the wind moves them around, precluding close-up photos, but this morning the weather cooperated: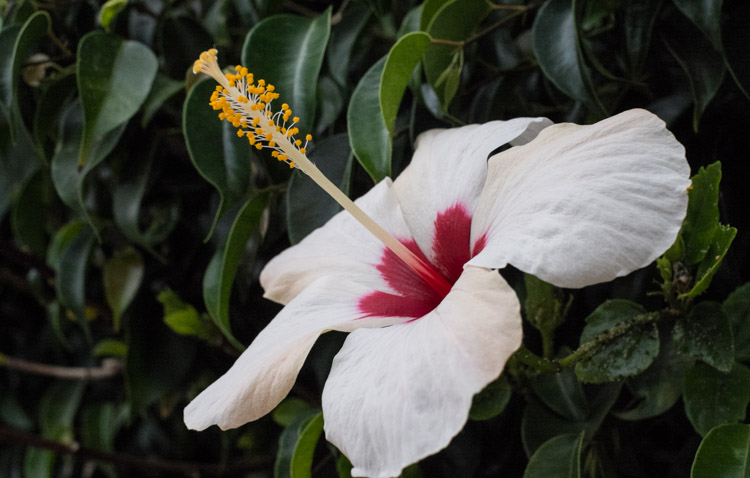 21_2
Yet another picture of one of "my" golf course cats, eating the food I left for them; the kitties are shy, and it is not easy to photograph them eating, especially since I have my dog with me: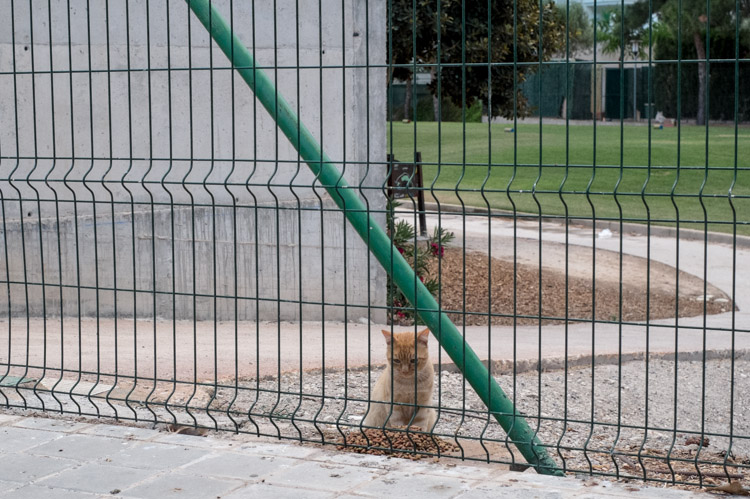 21_3
This and the next three pictures are from Sunday's bike ride south of Alicante. This is the terrace of a small convenience store near Elche where I usually stop for a short break. I like the way the outside is "filtered" by the plastic window: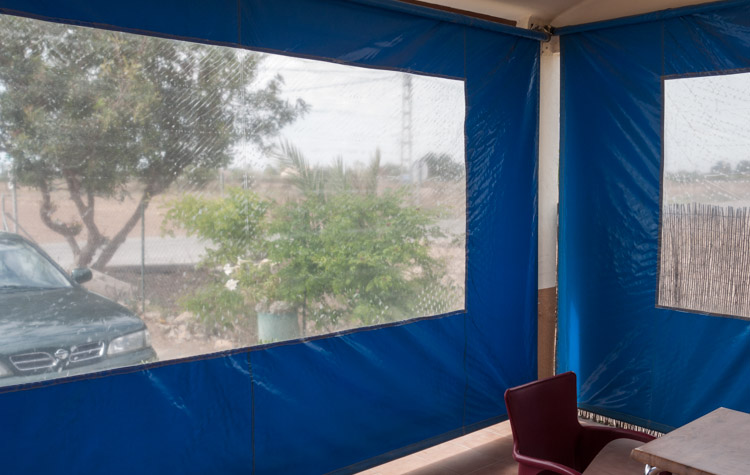 21_4
Playa Varadero, Santa Pola. This fast food kiosk has apparently gone out of business; at least, I have never seen it open. For some strange reason I am fascinated by the peeling paint and faded posters and signs: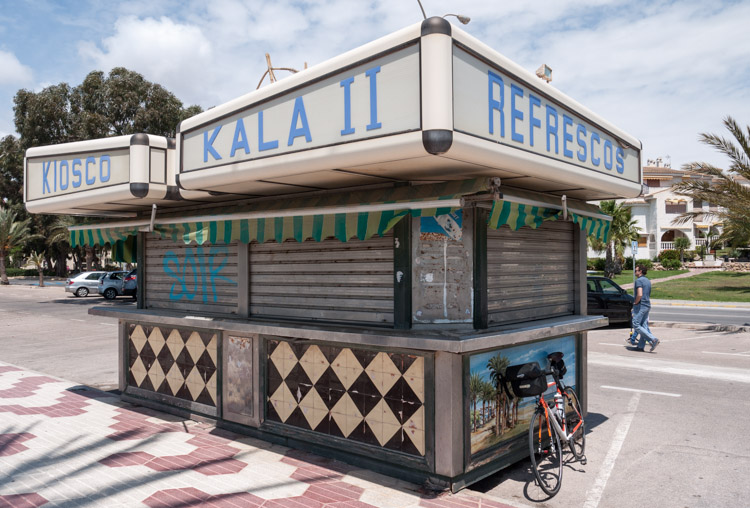 21_5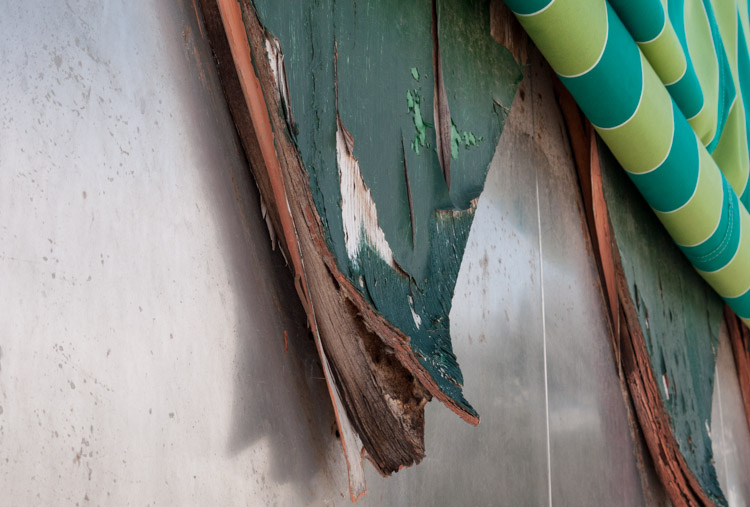 21_6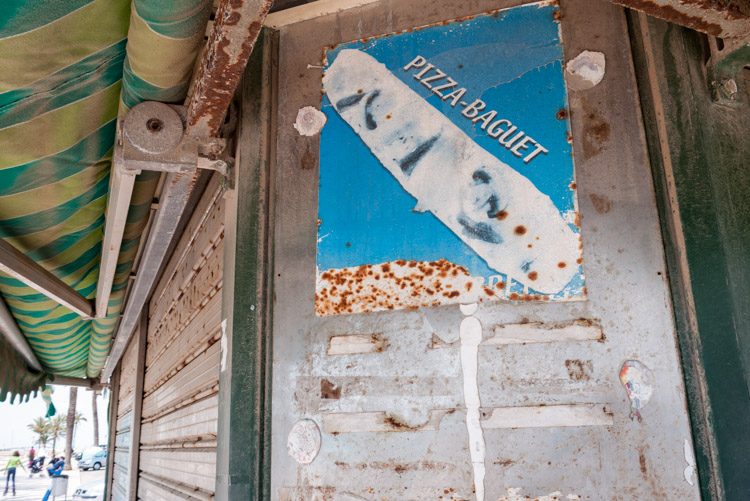 21_7
Sunday afternoon I went for a walk around the centre of Alicante. Most shops were closed, so only window shopping was on: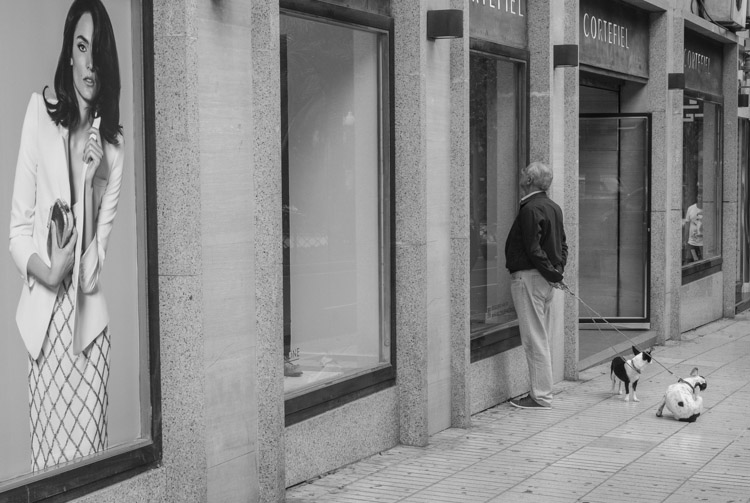 21_8
There are a few internet cafés left, especially in immigrant neighbourhoods: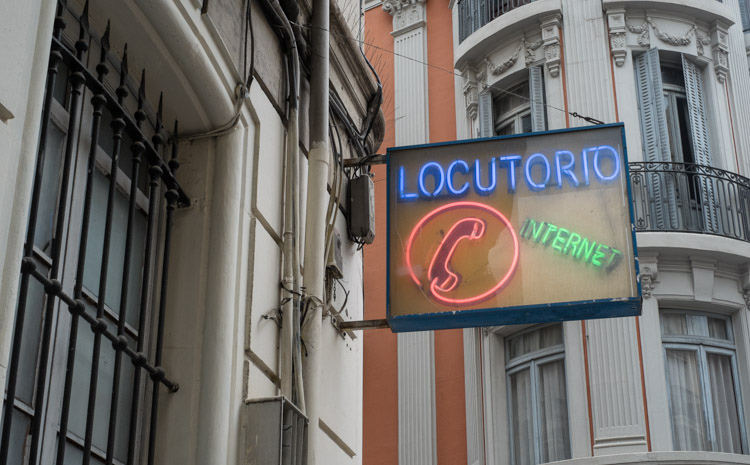 21_9
Parking garage: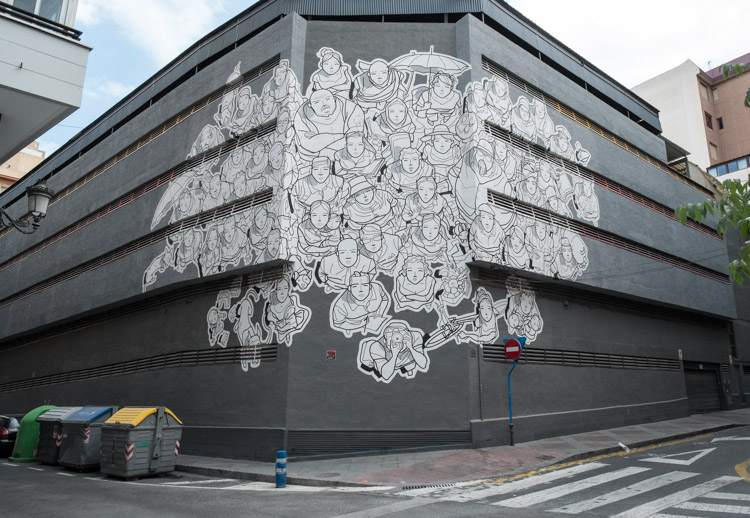 21_10
The "mushroom street", snail: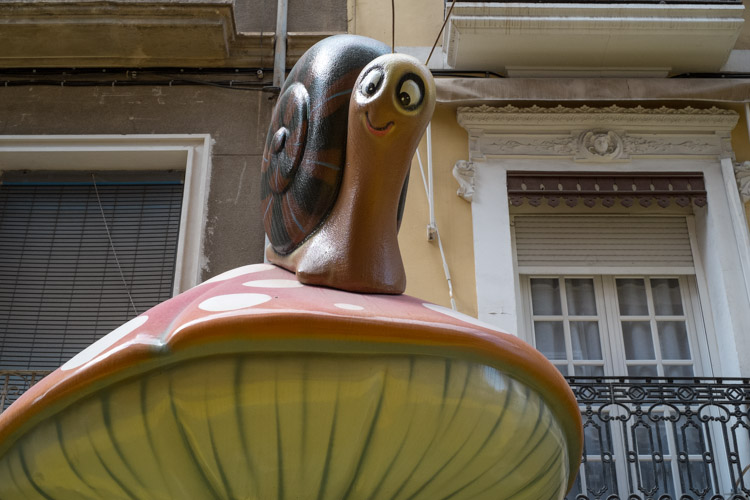 21_11
The "mushroom street", worm: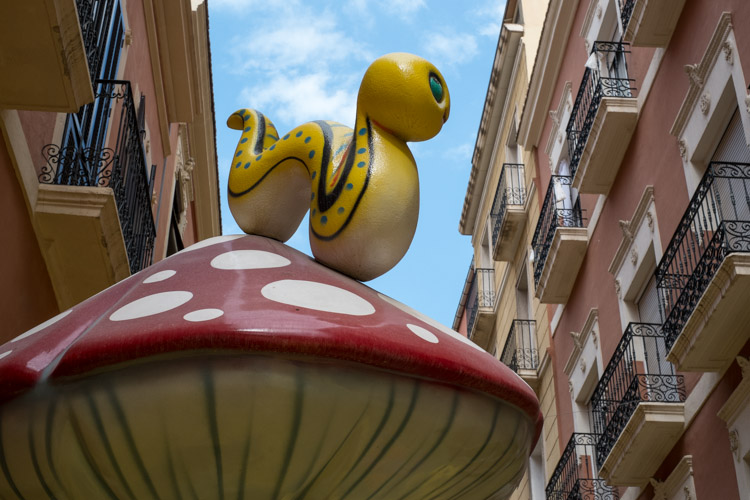 21_12
Health centre sign, very faded: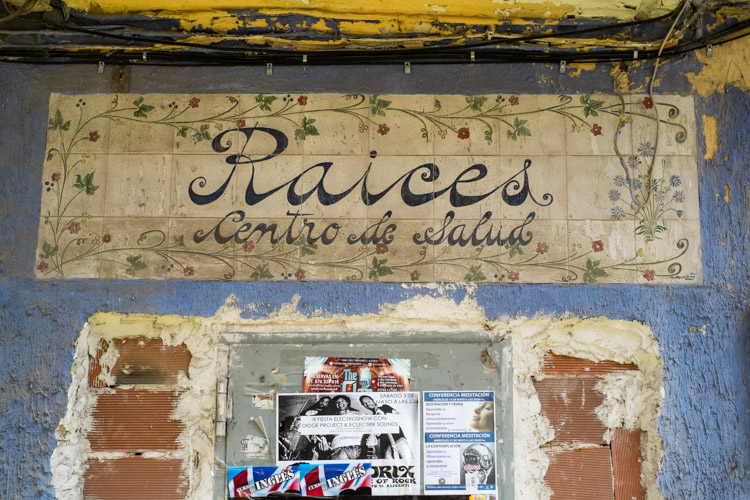 21_13
I have photographed this mural many times; it is one of those places I keep going back to in search of a better angle, nicer light and so on: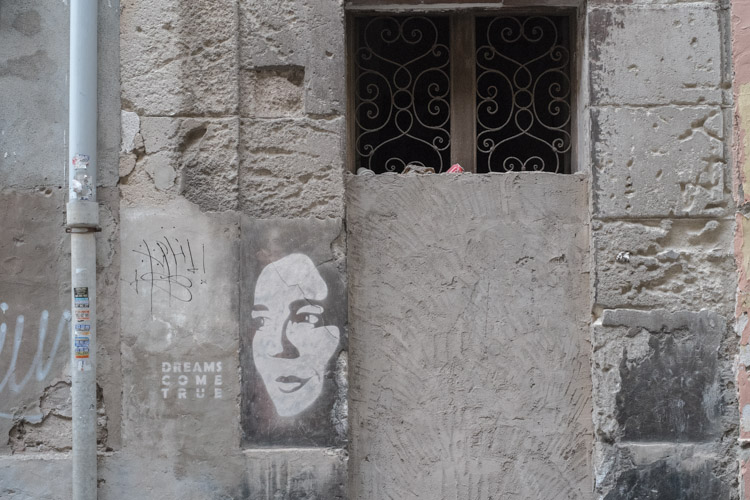 21_14
Alicante has many small, cozy squares, accommodating to both humans and beasts: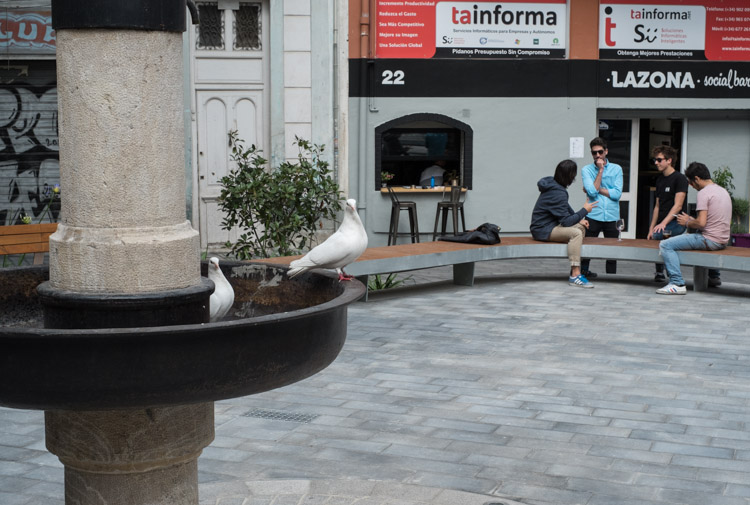 21_15

21_16
Another square, Plaza Portal de Elche: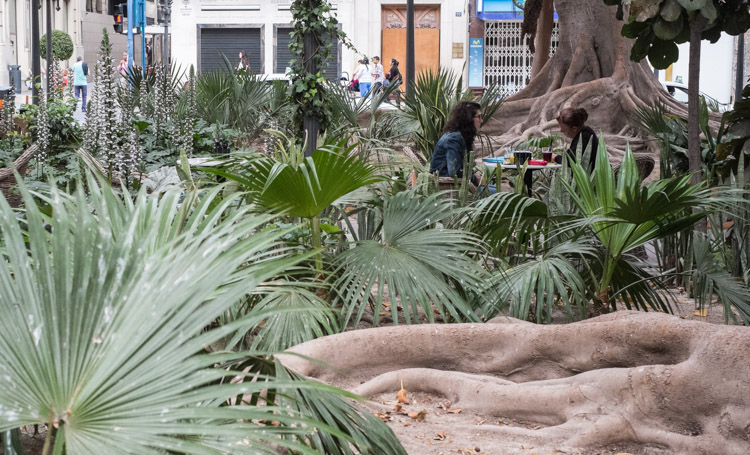 21_17
Now that the tourist season is in full swing, the main esplanade is full of various vendors hoping to capture their share of the tourist Euro. Most of them sell fake sunglasses or cheap trinkets; there are also the usual caricature drawings and such. But there is only one old-fashioned photographer. I am not sure what process he uses, but it is a real camera and you get a real print after 5 minutes or so. Here he is trying to close a sale with this couple: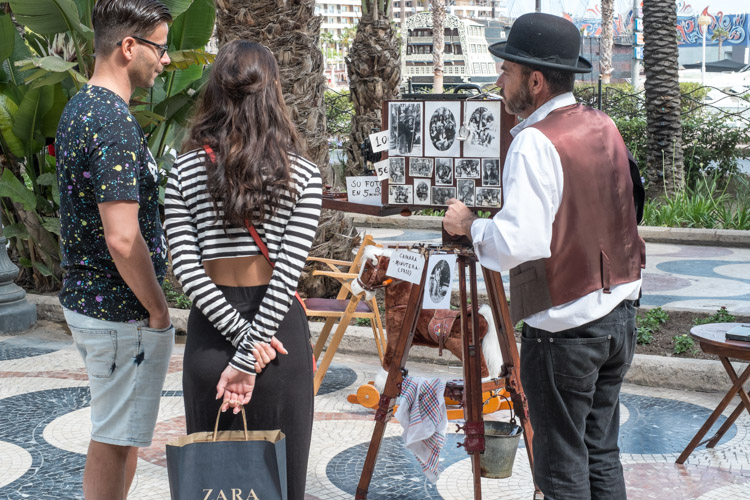 21_18
He did not have any luck with the couple, but later, these two women with a small boy went for it. The boy gets dressed in a period cap: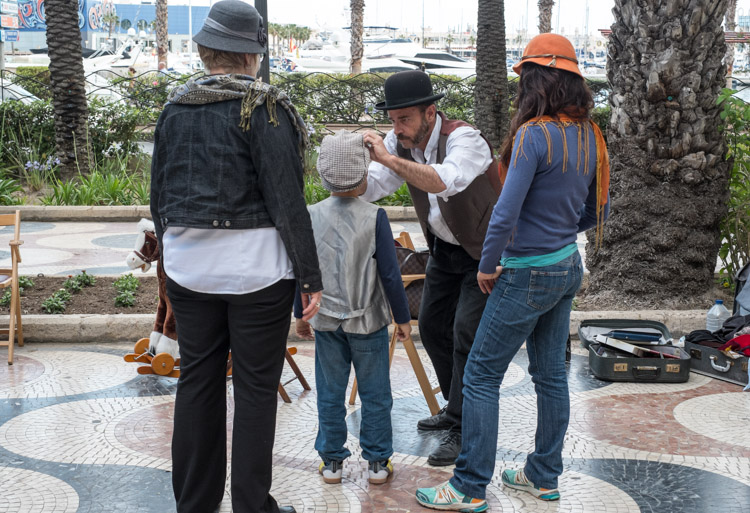 21_19
The decisive moment: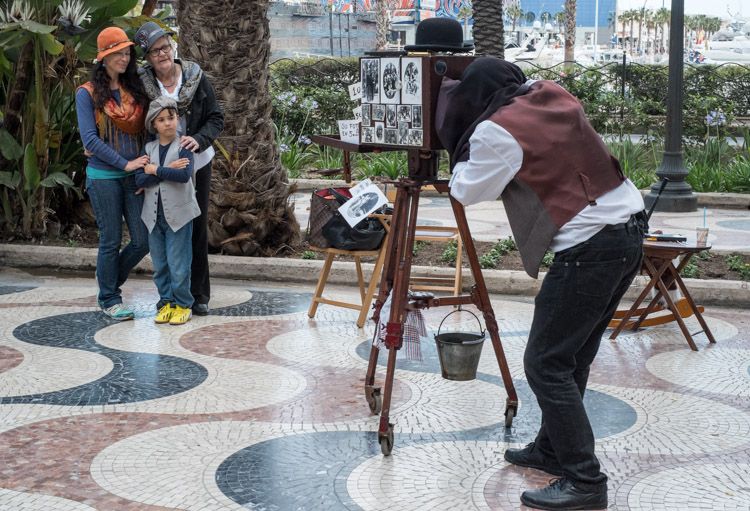 21_19a
Siesta on the Esplanade: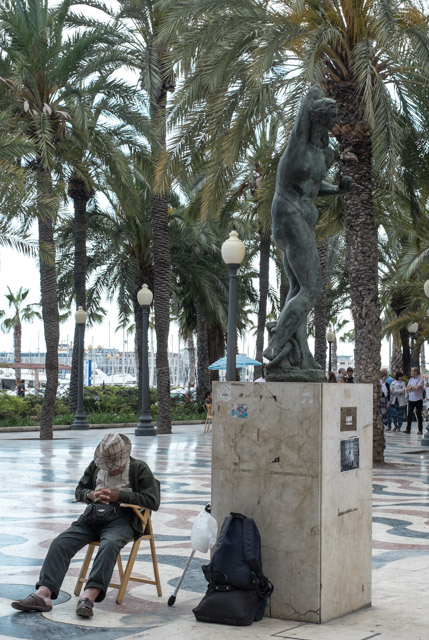 The rest of the pictures were taken in Brussels on Thursday and Friday.
21_20
My two colleages and I checked into our hotel and then walked across Parc Cinquantennaire, enjoying the good weather. The triumphal arch was built in 1880 to commemorate Belgium's independence from the Netherlands in 1880 (hence the name of the park):

21_21
Gymnastics: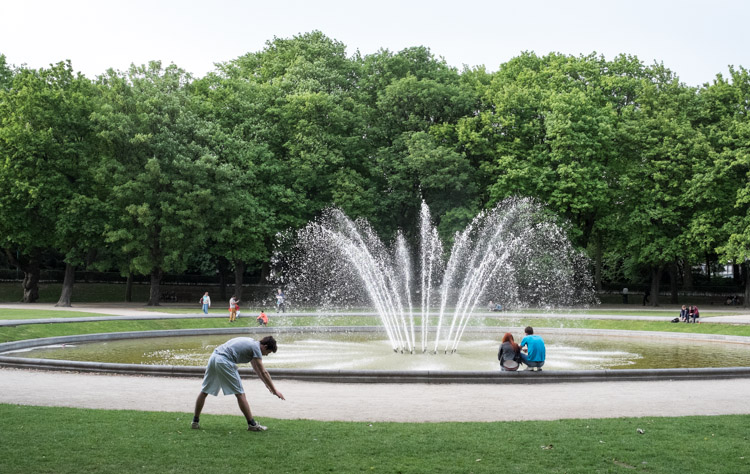 21_22
My two colleagues, Michał (Polish) and Carolina (Spanish). Carolina's teenage daughter is a good basketball player, and Carolina is always happy to show off pictures of her "niños":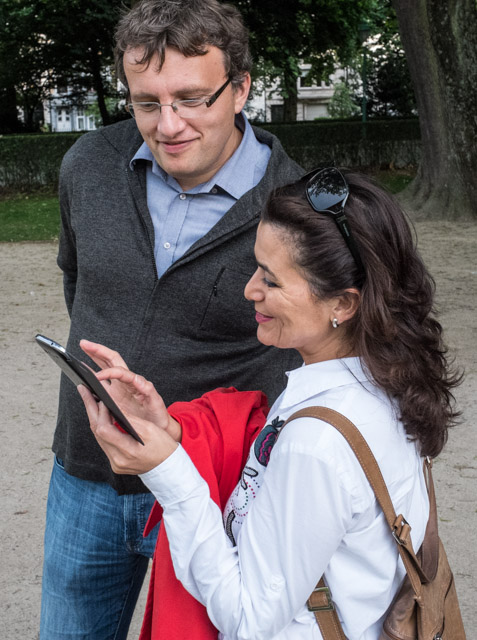 21_23
This was the destination of our walk, Brasserie Merode, where I was going to break my month-long beer deprivation with the good stuff: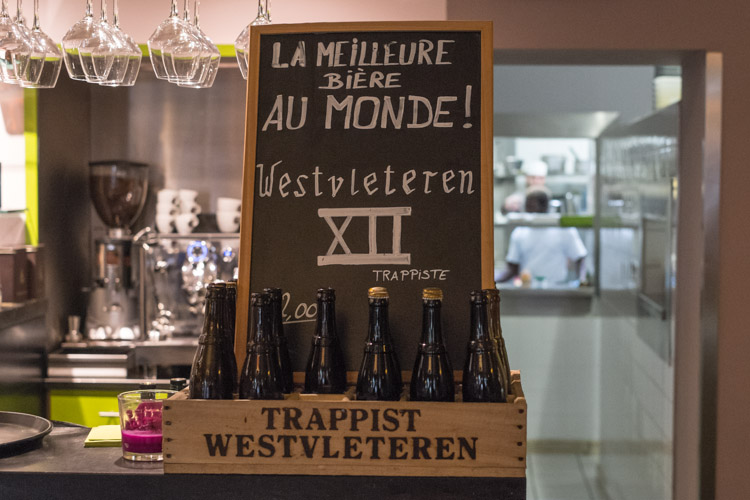 21_24
Westvleteren in the flesh and on my phone (to be uploaded to Facebook on the spot):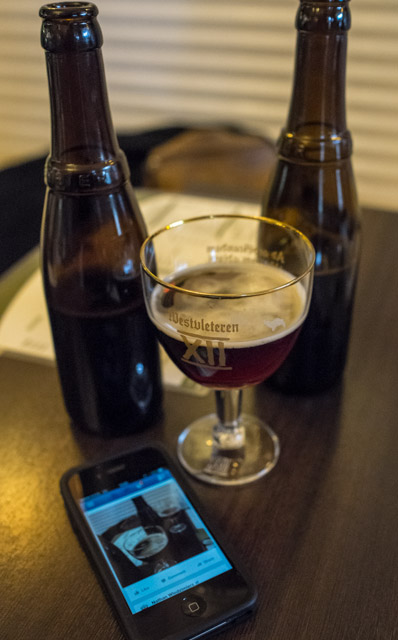 21_25
On the way back to the hotel, the sun was setting over the park: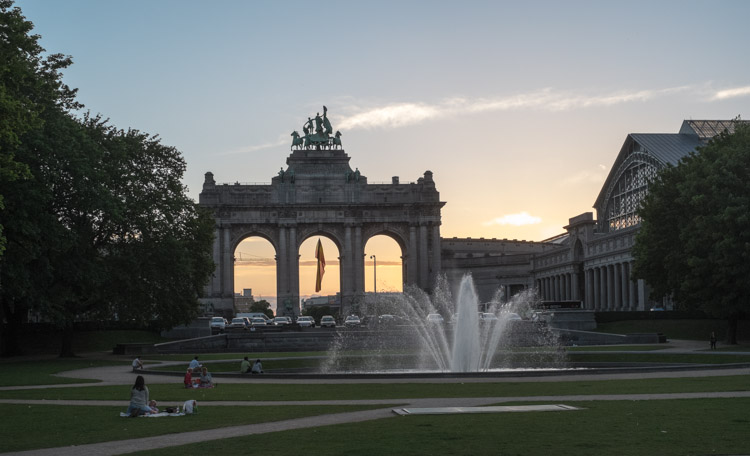 21_26
My meetings on Friday were starting at 11, so I had plenty of time for an early morning walk. I started in the nearby Parc Leopold: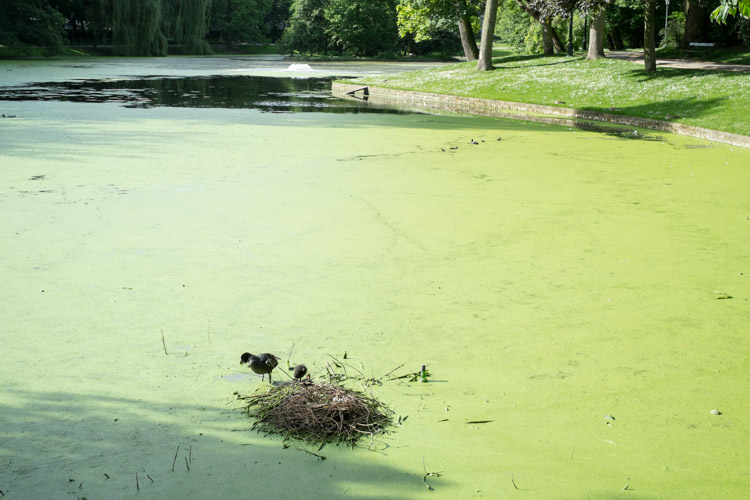 21_27
Babies: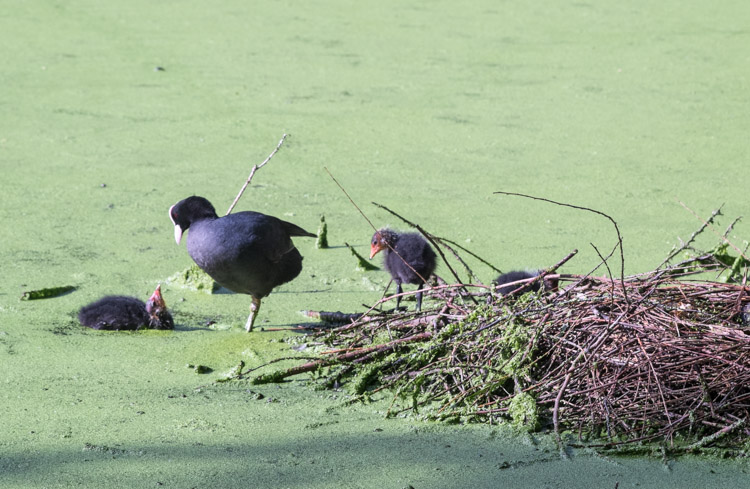 21_28
More fowl:

21_29
Morning light: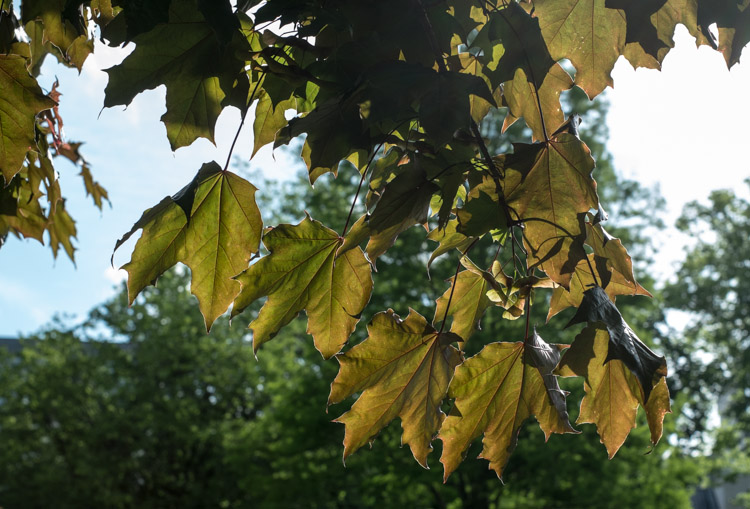 21_30
Red jacket, Place Jourdan: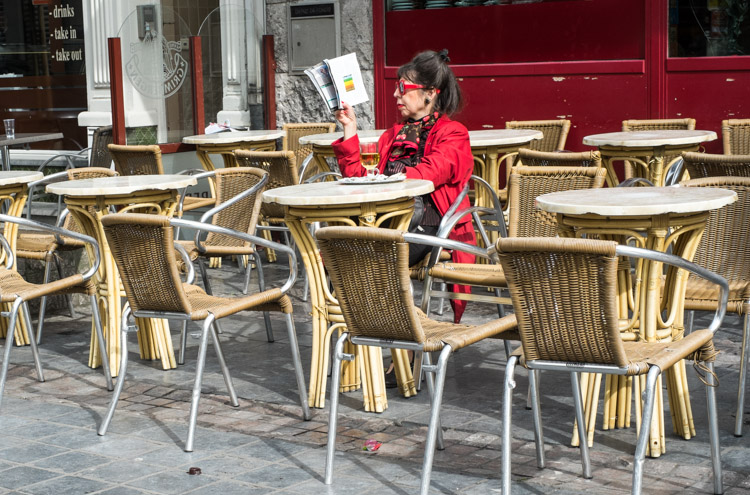 21_31
A Delhaize supermarket apparently has started putting out free food for the homeless (or anybody who needs/wants it, I suppose) at closing time. In the morning, nothing is left except trash: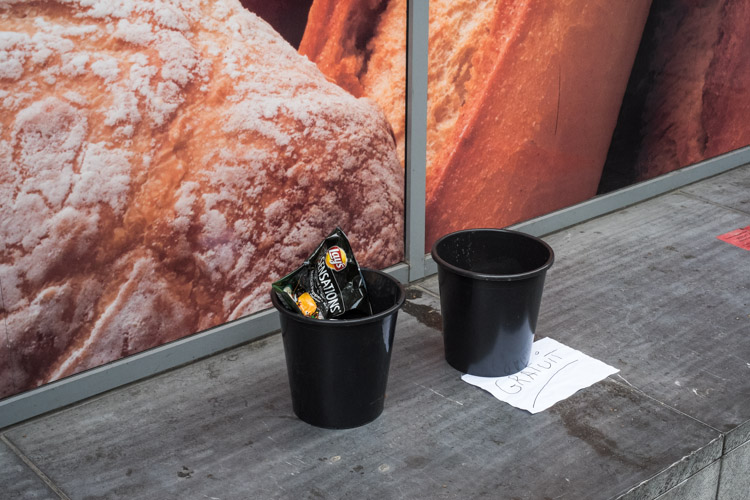 21_32
One of the reasons I like to walk around Brussels is that I always notice interesting details that I had not seen before: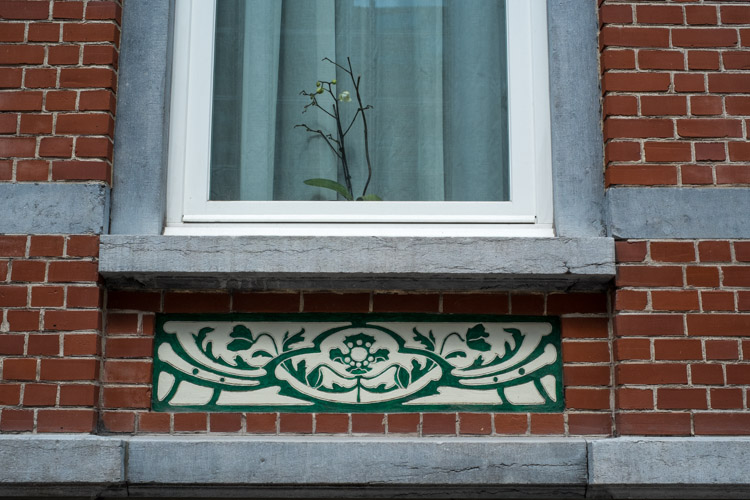 21_33
I have no idea who put this in the street and why, but I liked it: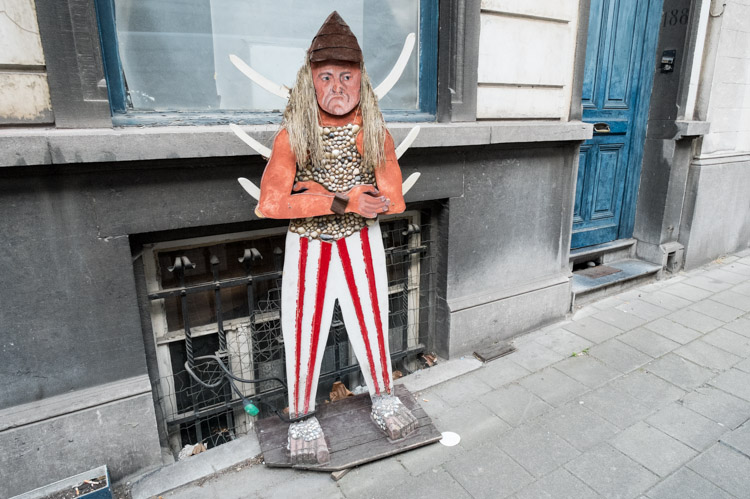 21_34
Cool bike I: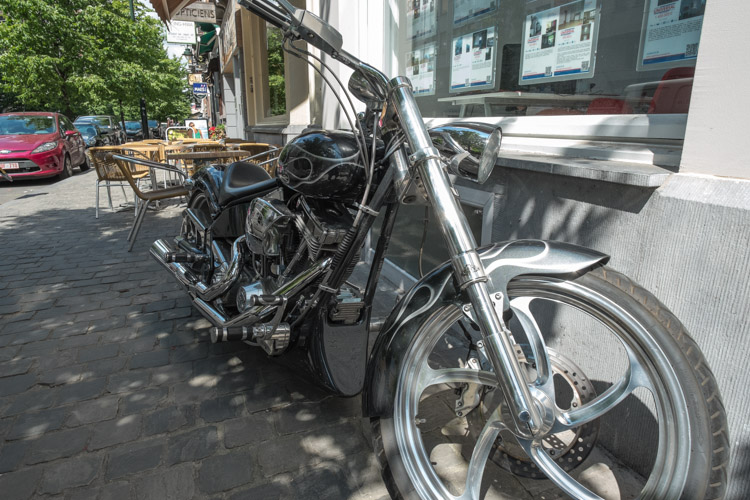 21_35
Cool bike II, and Giro d'Italia on the TV: