This week I was back in Brussels. When you are an EU civil servant based away from the "mother ship", trips like this are part of the deal. Fortunately, I love Brussels, having spent 5 happy years there, and I still have friends and relatives there. This time I had to be in meetings all day Tuesday, so I decided to take Monday off and fly up already on Sunday so that I could meet up with some friends. The Brussels trip provides most of this week's pictures but there is some Alicante stuff at the end.
8_1
I flew Ryanair to what they (but nobody else) call "Brussels South", i.e. Charleroi, at town about 50 km south of Brussels. There is a bus that takes you to Brussels main train station, Gare du Midi, so it is actually quite all right. I was going to take the train to Dendermonde, a town where a friend and ex-colleague from my years in Brussels lives. While waiting for the train, I had a beer at the Europa Brasserie across the street from the station. I was fascinated by the sleeping guy in the back. Once in a while he would wake up, take a sip of his beer, and go back to his nap: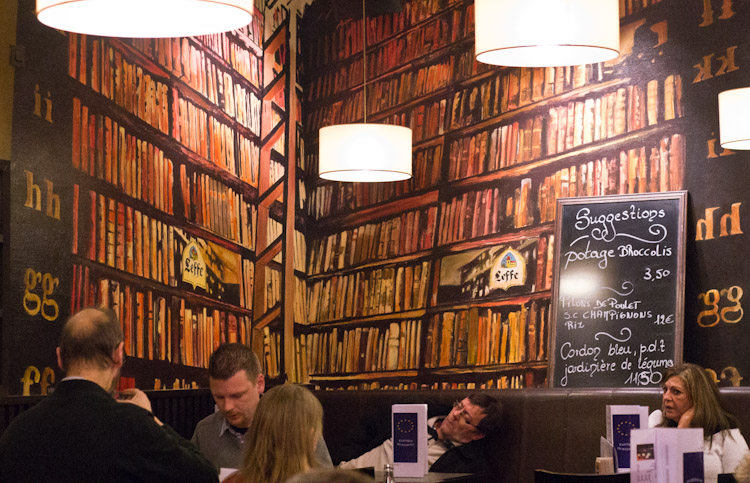 8_2
My friend Jan is American; we met when I came to Brussels in 1995. I was her boss then, but today she is a VP at T-Systems. She and her Flemish husband still live in the village of Grembergen, near Dendermonde. This being Belgium, the land of Eddy Merckx, there are bike routes to everywhere:

8_3
Jan has two cats: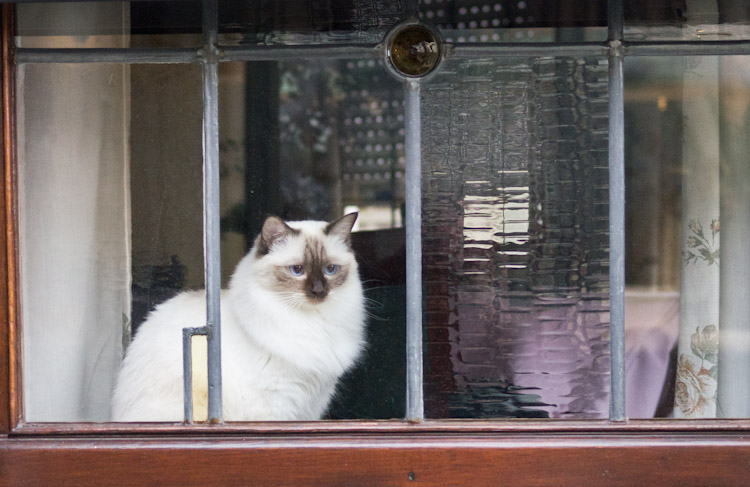 8_4
I stayed Sunday night at Jan's house. Monday morning was cold and foggy, and I went for a walk in the rural surroundings: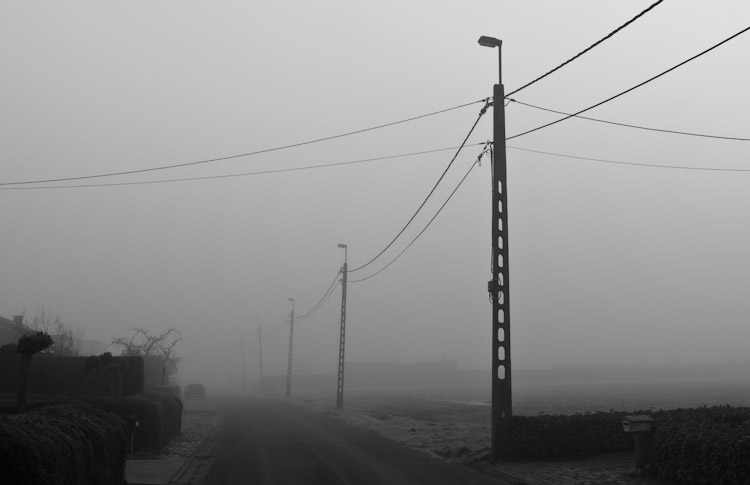 8_5
Living in a place where it never freezes, I was fascinated by this sight: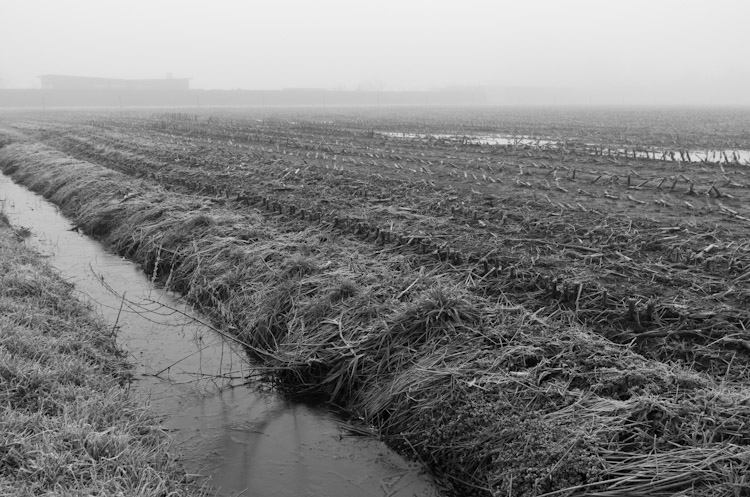 8_6
More fog, frost and tractor tracks: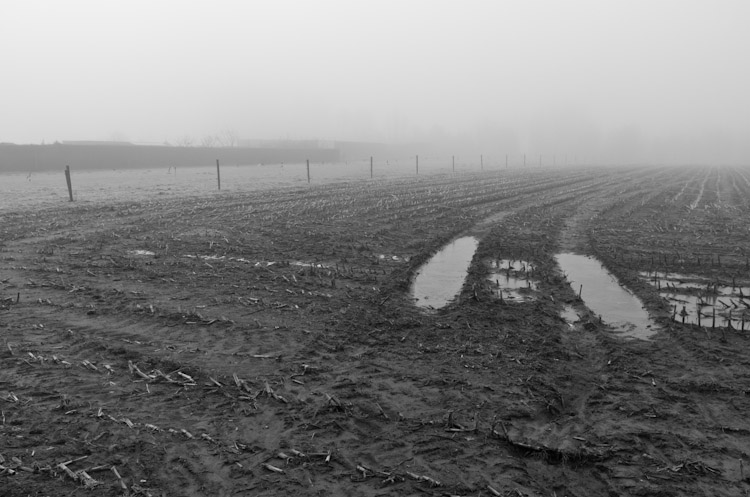 8_7
I find fog most attractive in B&W, but colour has its uses too: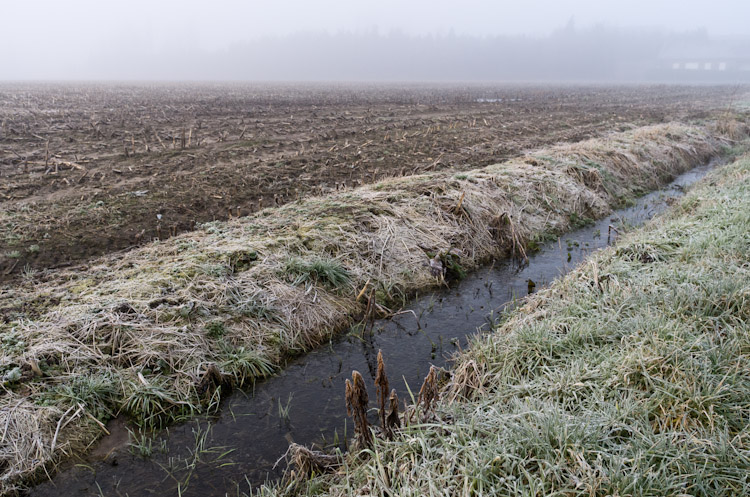 8_8
Later Monday morning, I took the train back to Brussels and checked into my hotel in the EU quarter. It was Aloft near the Schuman square. I had never stayed there before. Apparently Aloft is a chain characterised by modern design, good service and a certain quirkiness. I am certainly not used to seeing dog accommodations in hotel lobbies–but I liked it: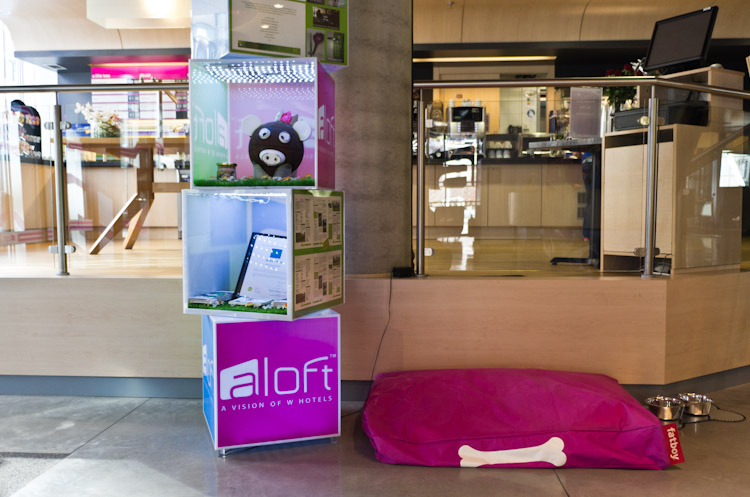 8_9
The exterior of the hotel is quite colourful, here reflected in the building across the street: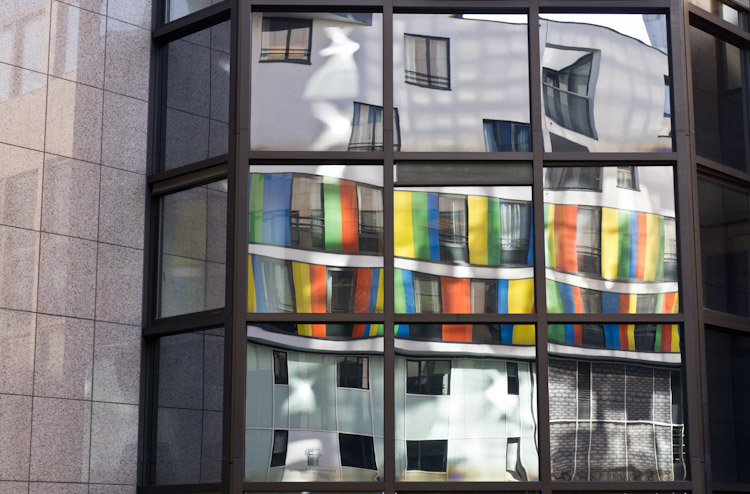 8_10
Having dropped off my suitcase at the hotel, I set out to enjoy a sunny (!) day in the city. On the way to the metro station I walked passed this amusing juxtaposition: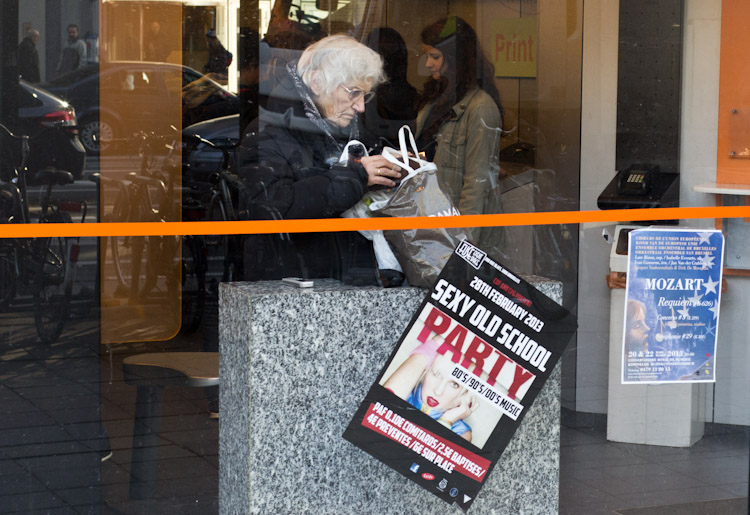 8_11
I took the metro to La Brouckere and walked around in that neighbourhood: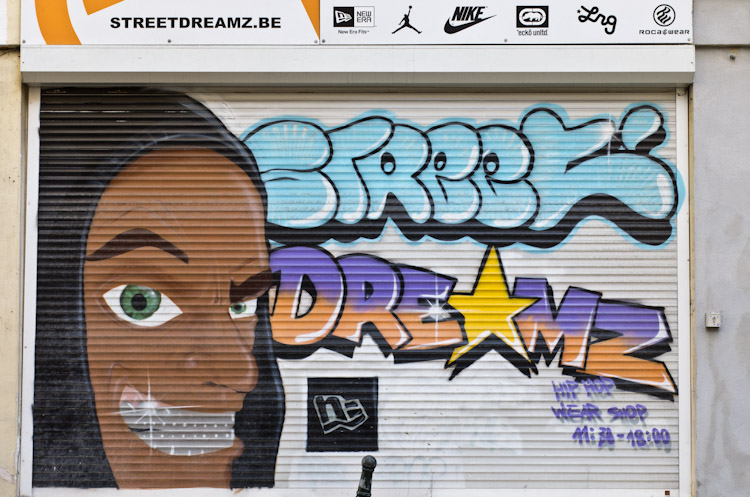 8_12
I indulged in some architectural abstracts photography: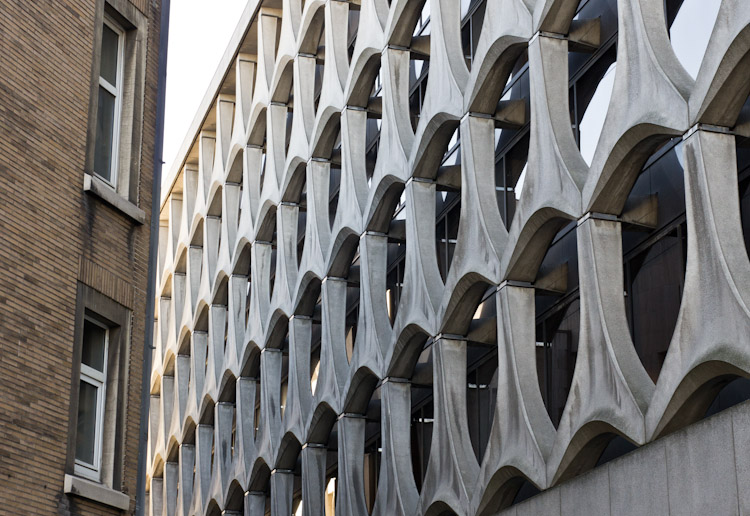 8_13
There is not a lot of patriotism in Belgium these days, but the monuments are grand: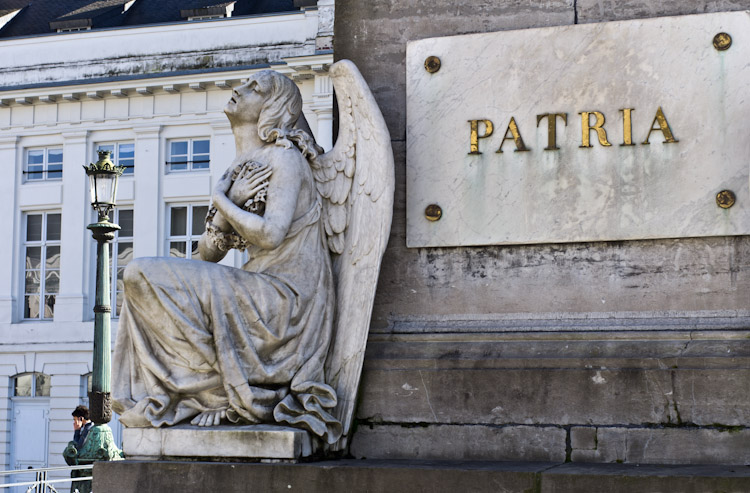 8_14
Here is another monument. Belgians take comics strips (bande desinée) very seriously and consider them to be an art form on par with cinema, literature etc.: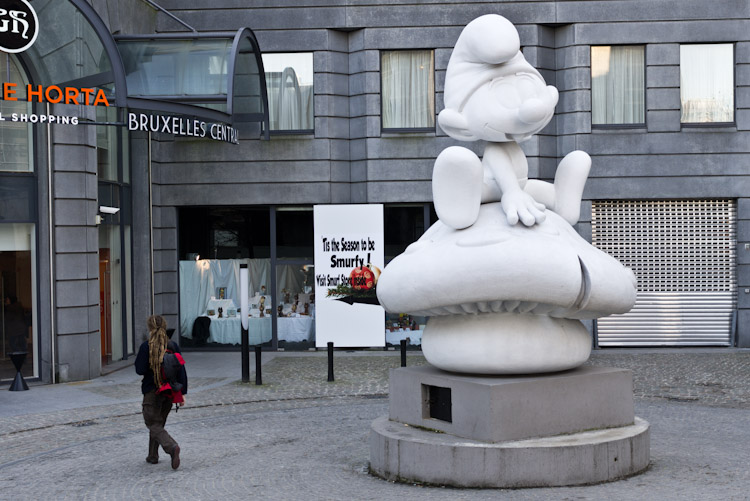 8_15
My walk continued to the Waterstone's bookshop where I had spent many hours when we lived in Brussels: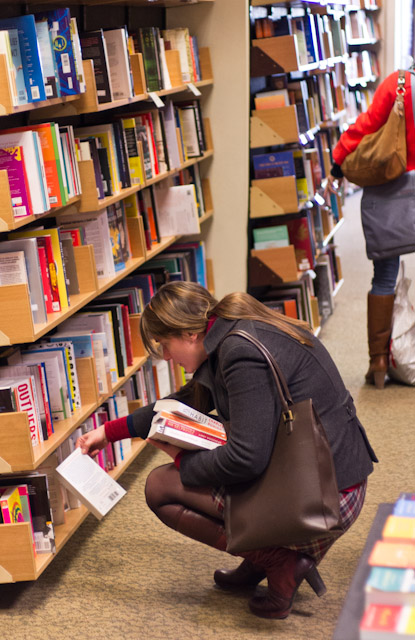 8_16
I met up with an English friend for lunch on Grand' Place. The sun was shining, and there were señoritas out and about: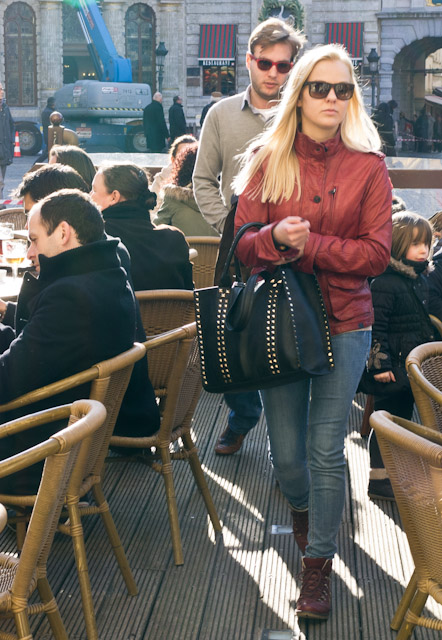 8_17
Tuesday morning I needed to be in the office around 9, but since I wake up early, I still had time for my usual walk. The neighbourhood around the EU institutions is not the most interesting part of Brussels but there are some nice spots, such as Parc Leopold: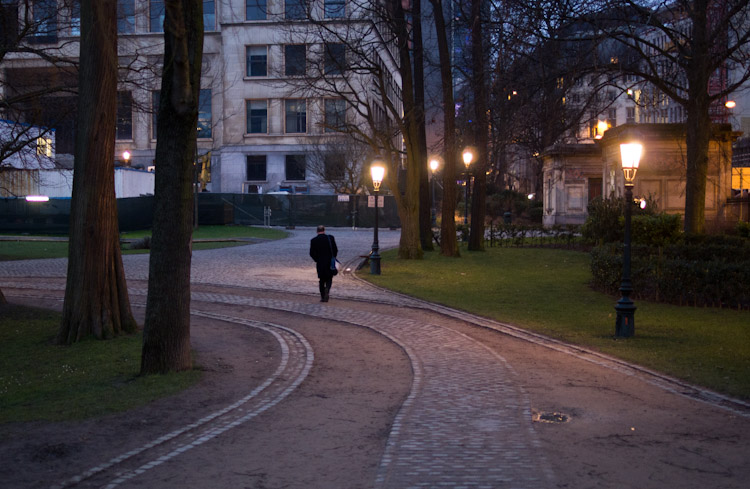 8_18
Pond, Parc Leopold: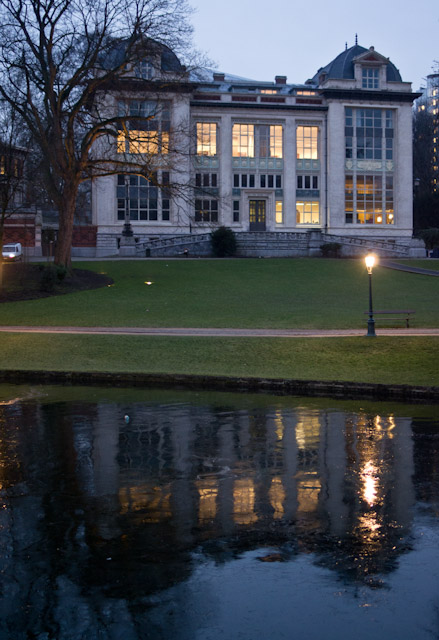 8_19
There is even some wildlife: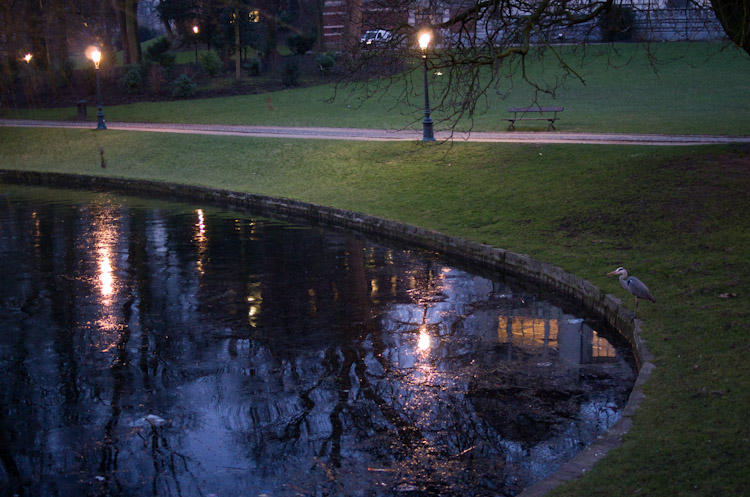 8_20
On the way back to the hotel, I spotted yet another juxtaposition of interest: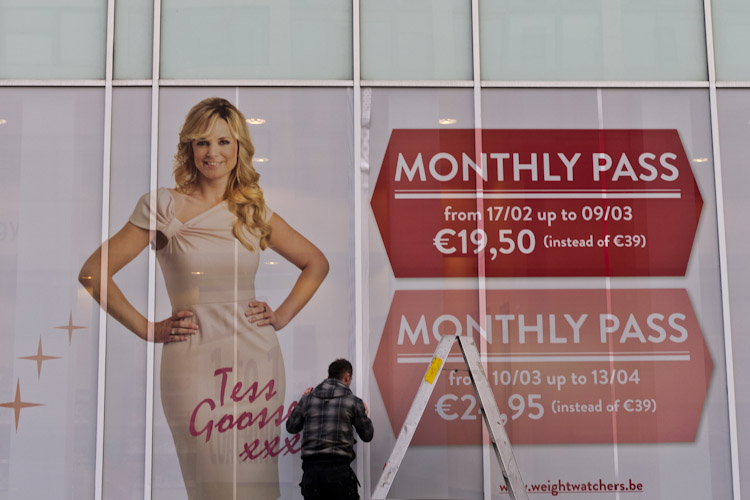 8_21
Tuesday evening I went to one of my favourite neighbourhoods in Brussels, Matongé in Ixelles, where I proceeded to have dinner and many good Belgian beers with a collague, a totally irresponsible act considering that my flight back to Alicante was departing at 6:10 a.m. Wednesday morning: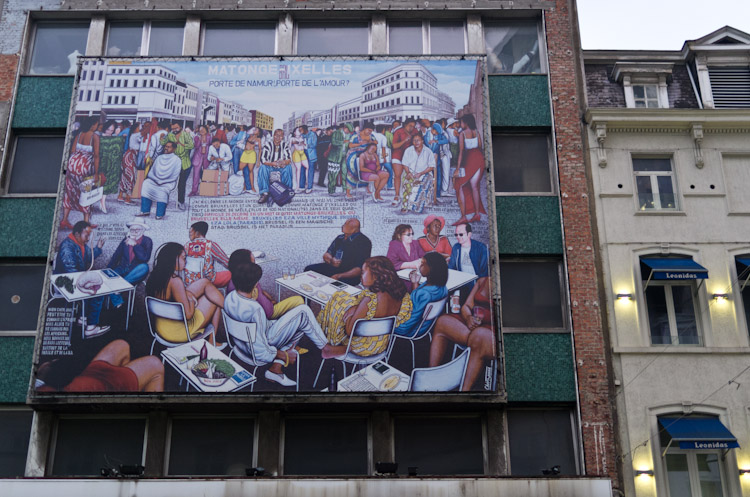 I got to sleep 3 hours that night, plus a nap on the plane. I was not that productive at the office that day…
8_22
Back at the office, I resumed my role as the unofficial photographer. Claire is very pregnant, and I photographed her on Friday, her last day at work before starting her maternity leave (she will be back in September):

8_23
Just as I was finishing the photo session with Claire, Inge came by, and I could not resist the lure of the contrast between the two women: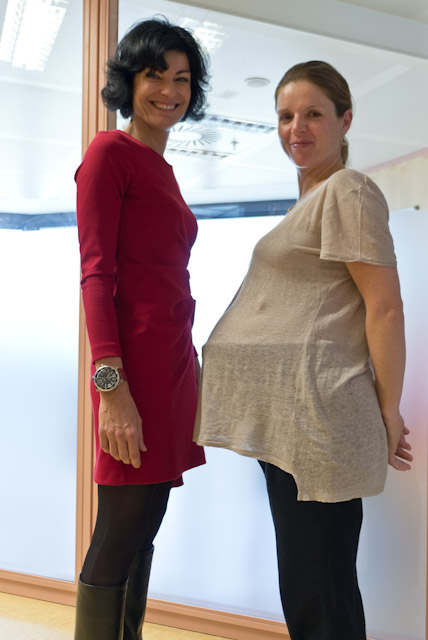 8_24
Back to daily life, I resumed my documentation of billboards disconnected from their surroundings. The mermaids here refer to the fact that the insurance company advertising its services is a sponsor of Spain's synchronized swim team: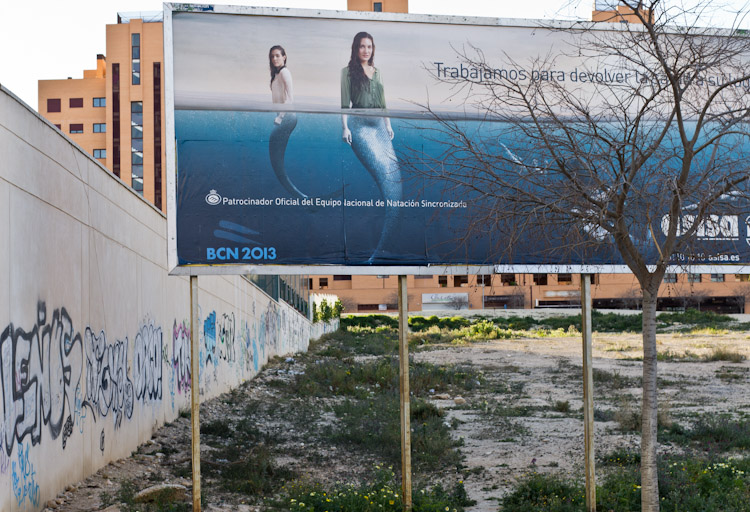 8_25
Another dog walk picture, a guard dog on duty, sort of: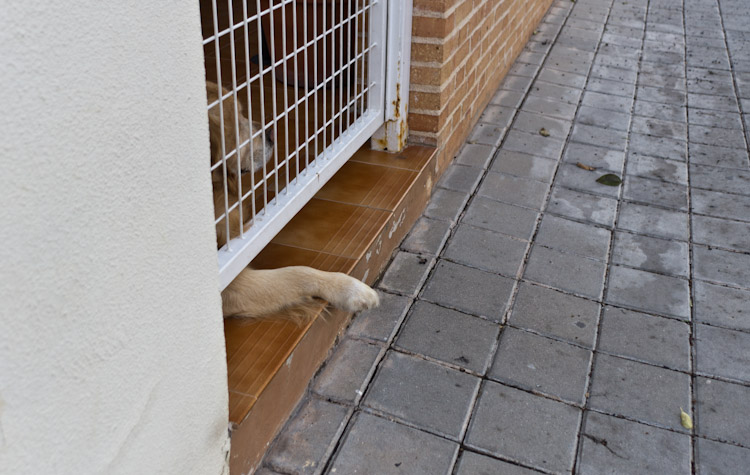 The remaining images are from Saturday's bicycle ride in the hills overlooking Alicante.
8_26
The road from Aigües to Busot: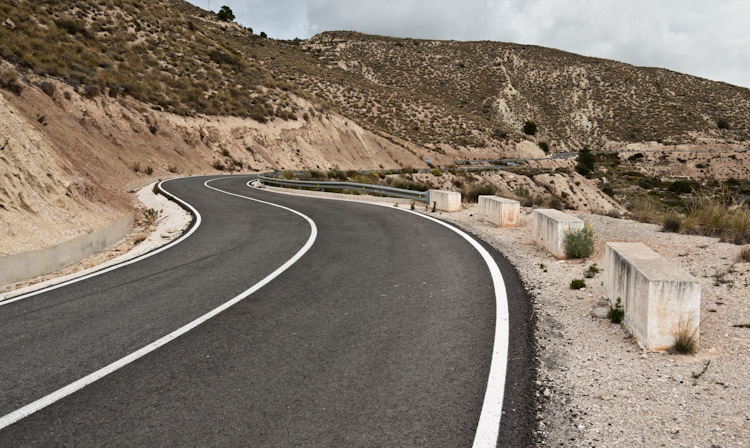 8_27
Blue tree near Aigües. Someone once explained to me why these trees are painted blue, but I frankly forgot the explanation: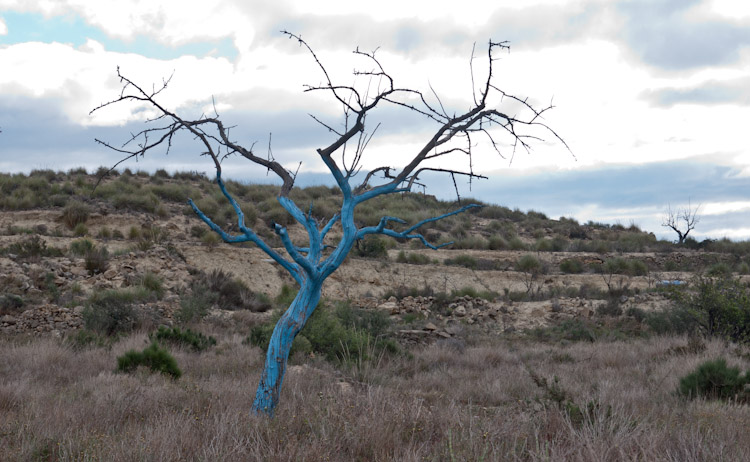 8_28
The hill overlooking Busot: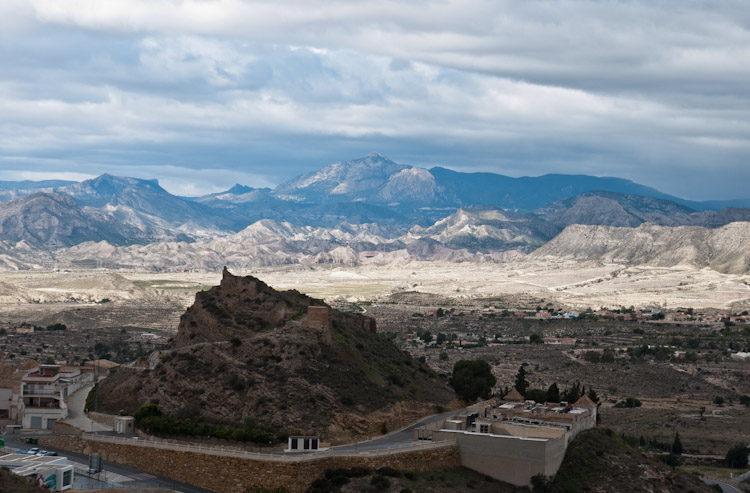 8_29
Looking down on the Mediterranean from the hills. The weather did not look promising, but at this point I was already on the downhill stretch towards Alicante: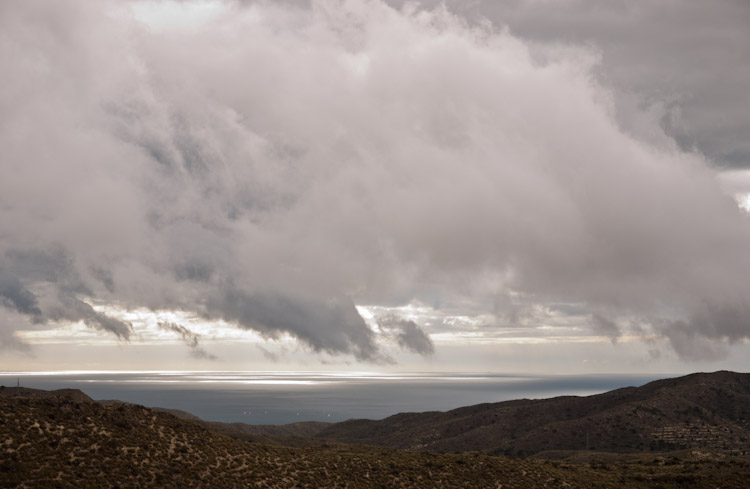 8_30
Just as I opened the gate to our house at the end of the ride, the rain started coming down–what perfect timing!: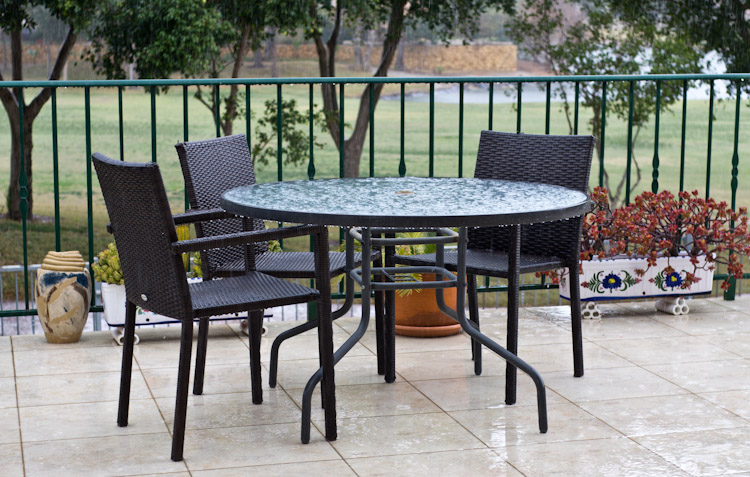 8_31
One last picture of raindrops, on a tree next to our front door: