The highlight of the week was a day trip to Madrid on Friday, and so images from there feature prominently. But there were also the usual days out cycling which provided me with some opportunities, we got to know our neighbours well over a paella, and there were also interesting things going on at the office.
34_1
I start with a picture from my local supermarket. Seeing a cute dog when I come in to shop always brings a smile to my face and makes me think of my late beloved Cheeta: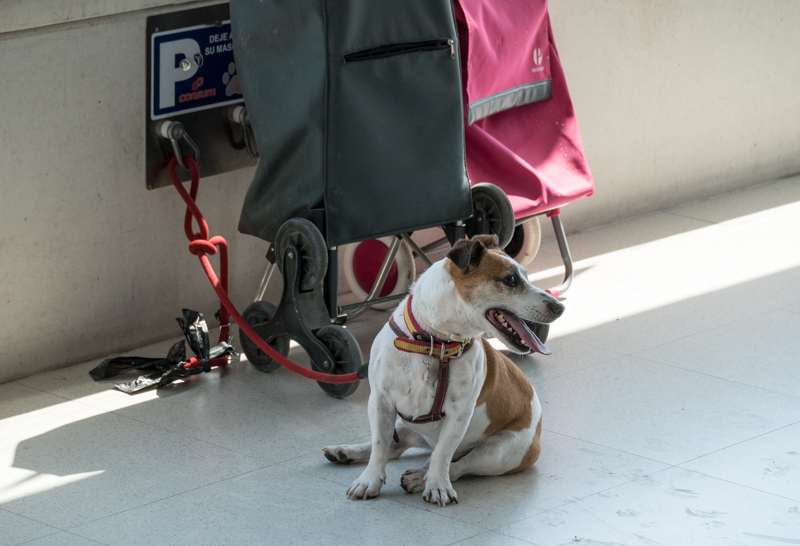 34_2
On Sunday afternoon, our neighbour Juan invited us for paella in his backyard. He prefers to make it in this very rustic manner rather than using a gas paellera as is more common. He is originally from Castilla La Mancha, and this is how they made rice in his village. Here Juan adds water to the caldo with chicken, vegetables and other good things: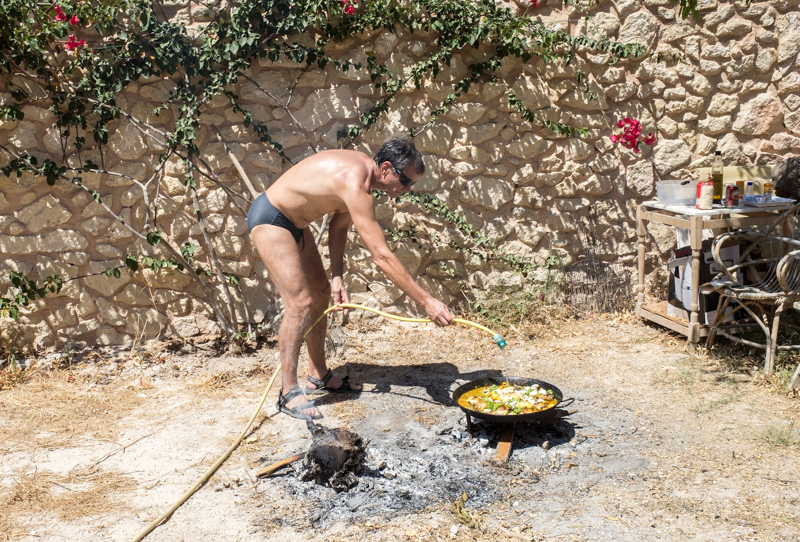 34_3
The final step is to add the rice and wait: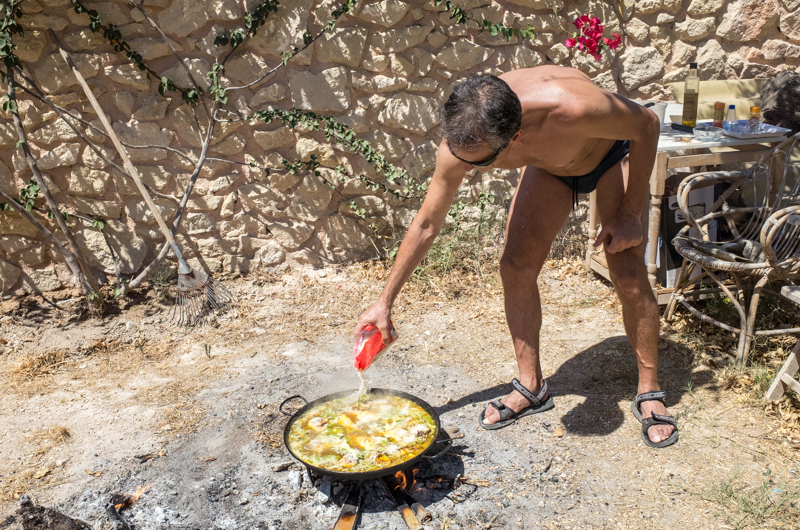 34_4
Ready to serve: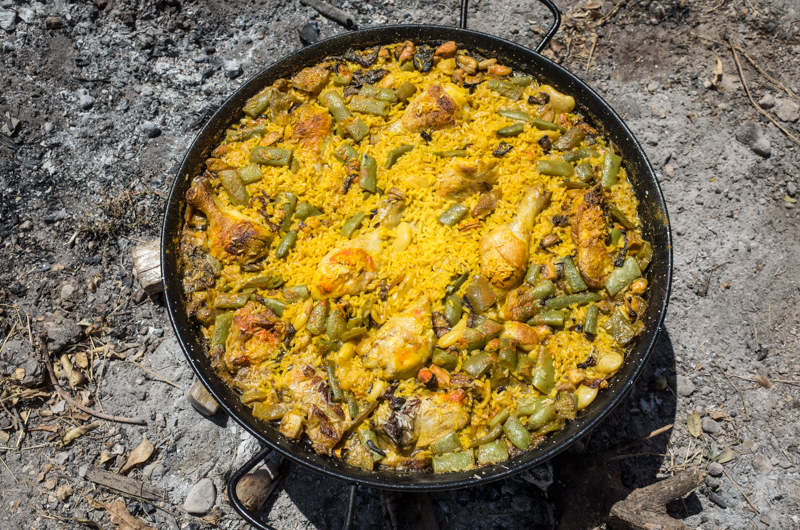 34_5
Juan has a large garden which contains, besides the usual lemon tree, some grapes as well:

34_6
One of the aspects of my job I enjoy is the opportunity to have trainees in my team. These young people, typically graduate law or economics students, are nominated by their universities and get to spend a year working with us. In the vast majority of cases, it is beneficial to both the trainee (who gets useful work experience and an enhanced CV) and for us, since we get some real work out of them (no fetching coffee here). They get paid 1200 Euros a month which in Alicante is more than enough for a single young person to live on. After they finish the year with us, then can apply for another year at the European Patent Office in Munich to get further experience in a different setting. On Tuesday we were saying goodbye to our trainee Oscar who was finishing his year in my team. We held a farewell lunch for him at Moments, the beachside restaurant a few minutes from the office: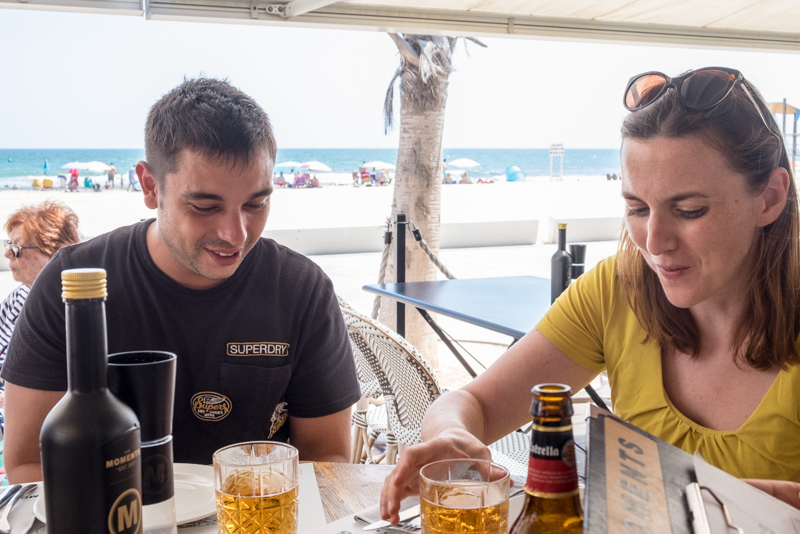 34_7

34_8
The owner of Moments knows me, and he came over to our table to chat, and to tell us about a new seafood restaurant they are opening a hundred meters away, also on the beach promenade: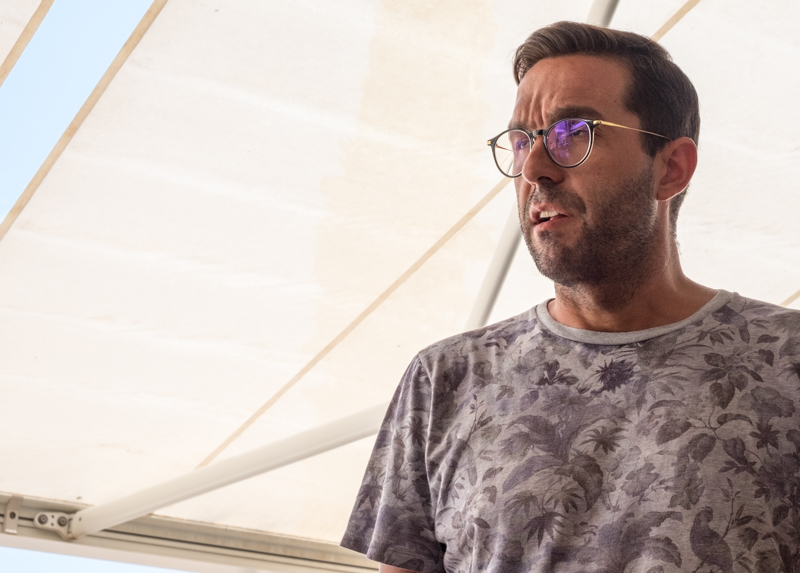 34_9
We ordered the dessert to share; I did not eat it but it did look nice: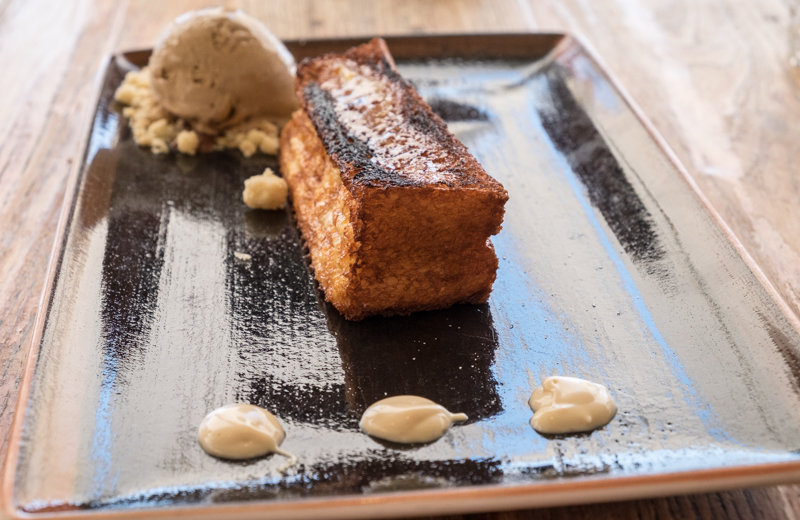 34_10
Back at the office, I have something new to photograph the next couple of months. When I joined the agency in October 2007, an apartment building was being built about 100 meters away. Given that our location is not the most attractive (5 km from the centre, no beach access, hardly any bars or restaurants within walking distance) it seemed as a speculative project already then. Sure enough, when the financial crisis hit in late 2008 and early 2009, work stopped, the cranes and other equiment disappeared, and some bank became the unhappy owner of the skeleton. It remained like this for the next several years. Finally, late last year, we bought the site for about 1/4 of the original asking price from the second bank that owned it (the first one had gone bust some years ago). The intention is to clear the site and hold the land in reserve for future expansion of the office. This week, the demolition of the large skeleton began.I plan to document it as it progresses. This is the start of the work on Monday: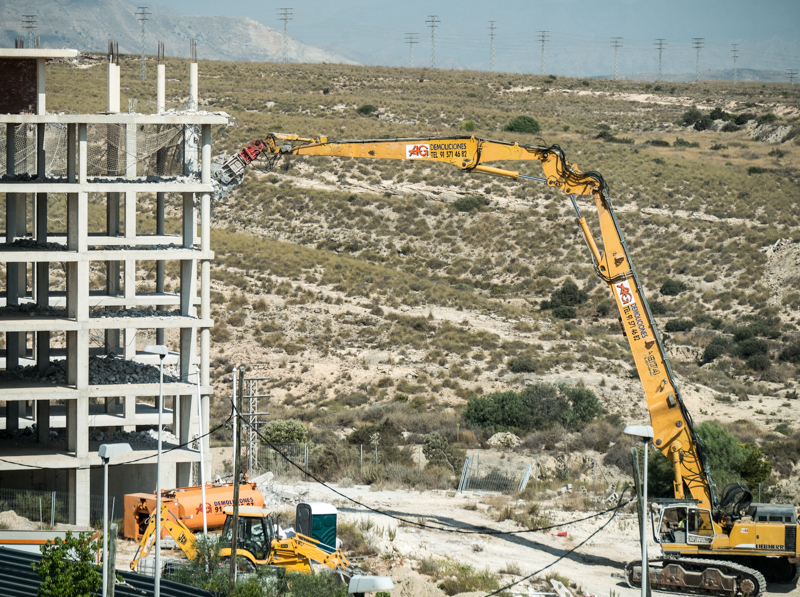 34_11
By Thursday, two "dinosaurs" were munching away at the concrete: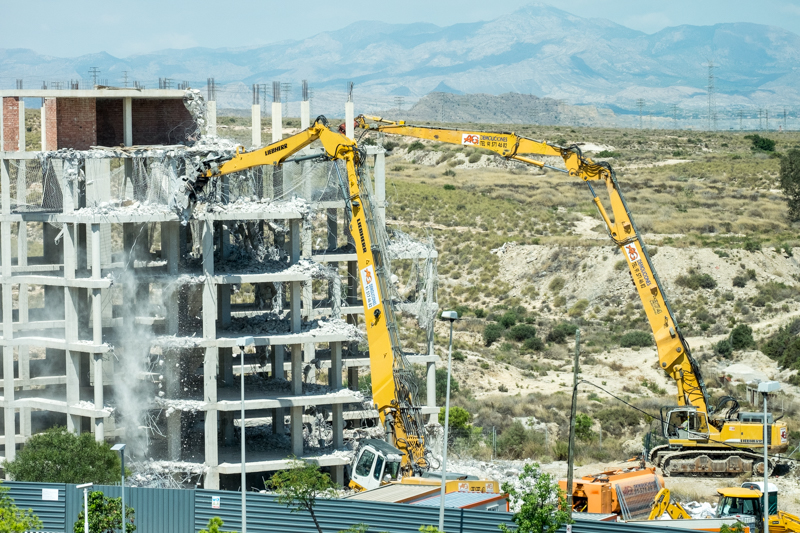 34_12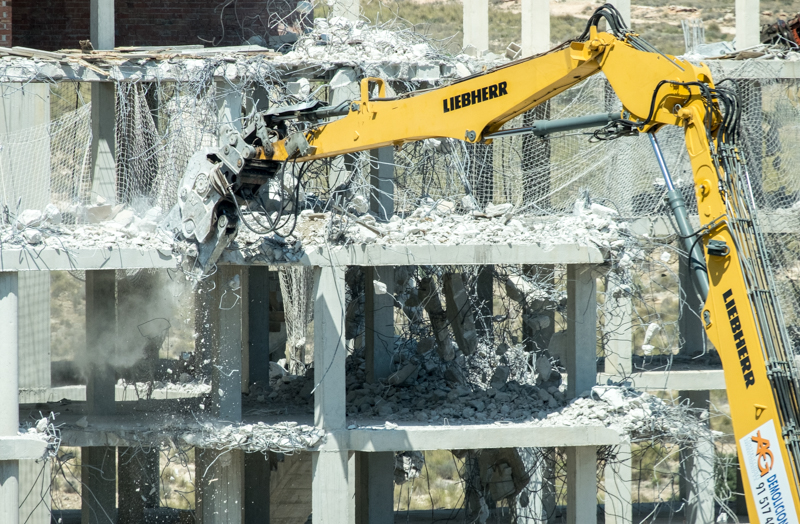 I took Friday off to spend the day in Madrid. The distance between Alicante and the centre of Madrid is about 450 km, taking around 4 hours to drive if there are no problems on the motorway. So until a few years ago, a day trip to the capital was not really feasible: 8 hours of driving would leave too little time to enjoy the city. But then the high-speed train AVE came to Alicante, and now it takes 2 hours and 25 minutes to travel from the centre of Alicante to the centre of Madrid, in comfort and at a price that makes it cheaper than driving for one person. I took a 7 a.m. train from Alicante, and a 9 p.m. train back, giving me almost 12 hours in the city. I have made a dedicated gallery from the day here, but below I show some images that did not fit into that gallery.
34_13
I arrived in Madrid with a half hour delay (the reasons for which were never explained by the railway company RENFE), and walked from the Atocha station to the Prado, my first stop. Along the way, I stopped to photograph this traditional bar: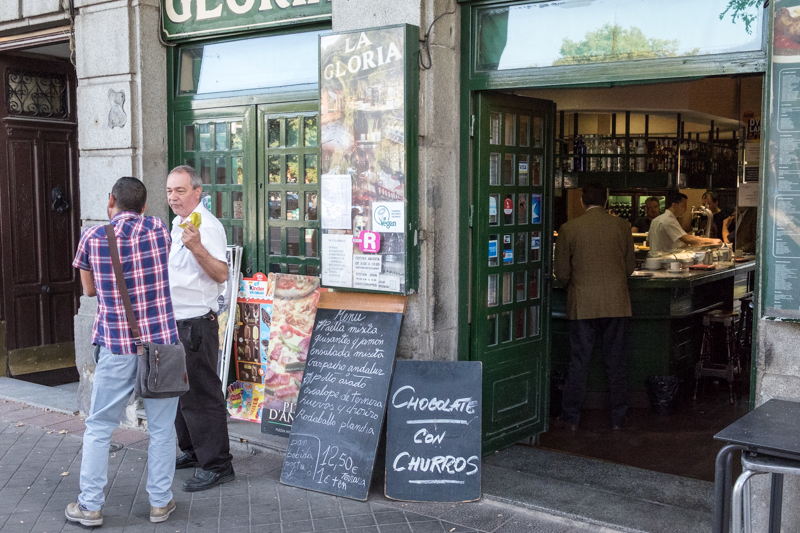 34_14
Although Madrid seemed half-empty (in August, half of the city's population decamps to the Mediterranean coast where I live), there was the usual long queue outside Prado to buy tickets. Fortunately for me, I am a member of the Amigos del Prado, so I have free entry and a separate entrance: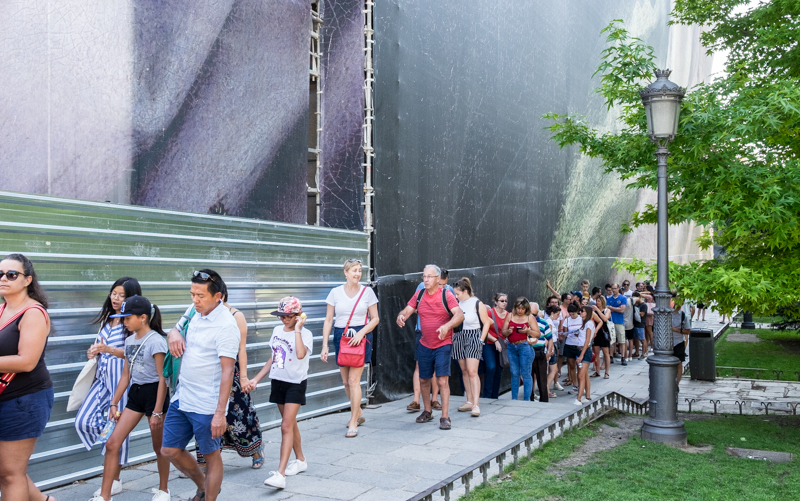 34_15
I went to the Prado to see an exhibition of 17th century Dutch and Spanish painting, but I also went to re-visit some of my favourites, especially Goya. His Maja is one of the great paintings of all time: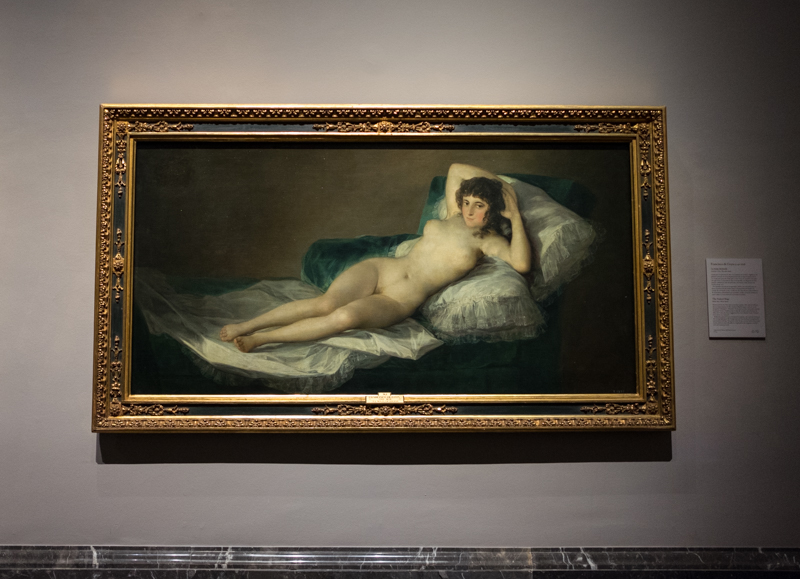 34_16
But this is probably Goya's most important painting at the Prado, at least for me. It is called "3 de mayo del 1803" and depicts the execution of Spanish rebels by French troops following a failed uprising against Napoleon's occupation the preceding day. I find it an utterly fantastic piece of art, and it makes a deep impression on me every time I see it:

34_17
After my visit to the Prado, I walked to the metro station to go to my next destination. Along the way, I photographed details and signs, such as this old bakery sign: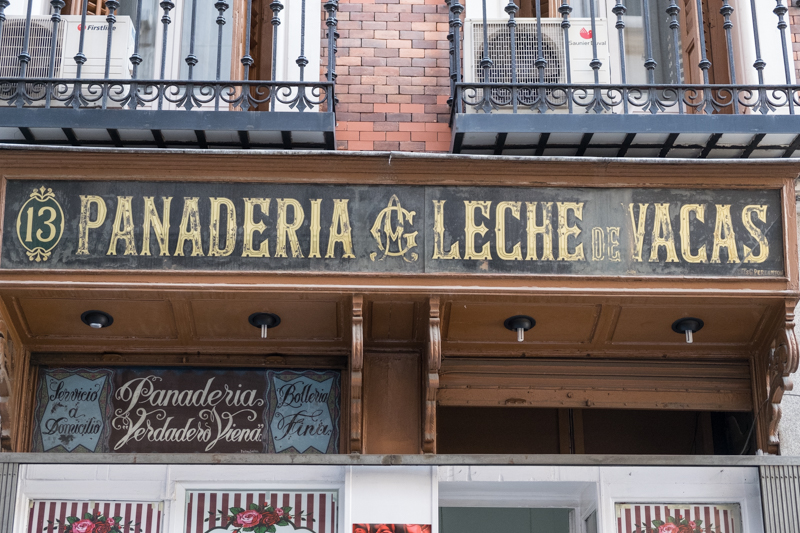 34_18
And this street sign, embellished with stickers: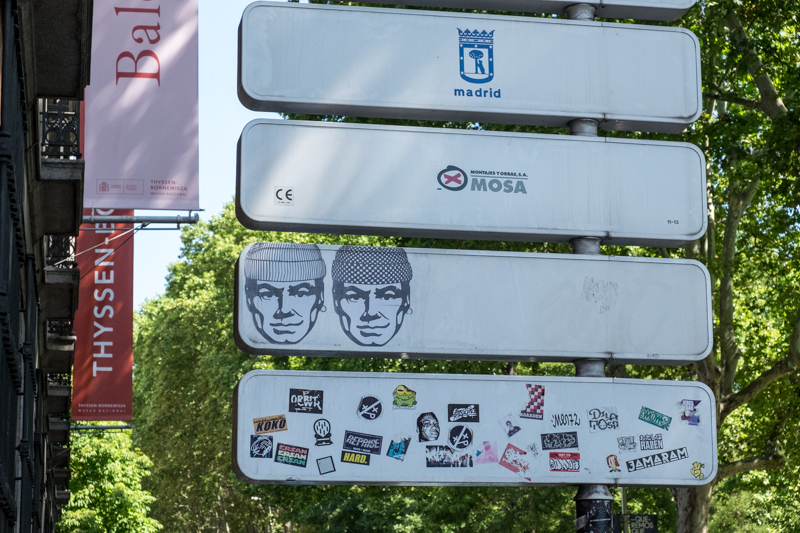 34_19
I took the metro to the Banco de España station to visit a photo exhibition at Fundación ICO. While walking to the gallery, I came across this memorial to a cyclist killed in traffic: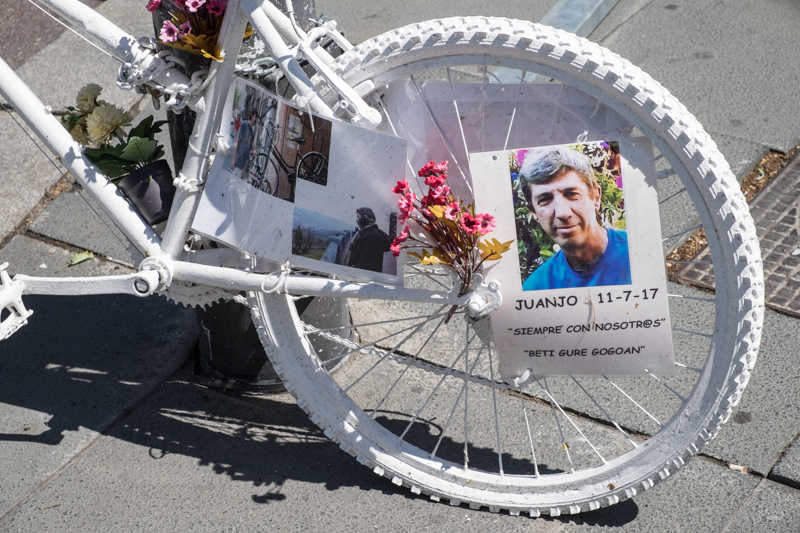 34_20
The exhibition at Fundación ICO was called "Framed Landscapes". It examined the evolution of the man-made urban and rural landscapes in 8 European countries. The quality was variable, but I liked the section documenting the changes in Schlieren, a suburb of Zurich: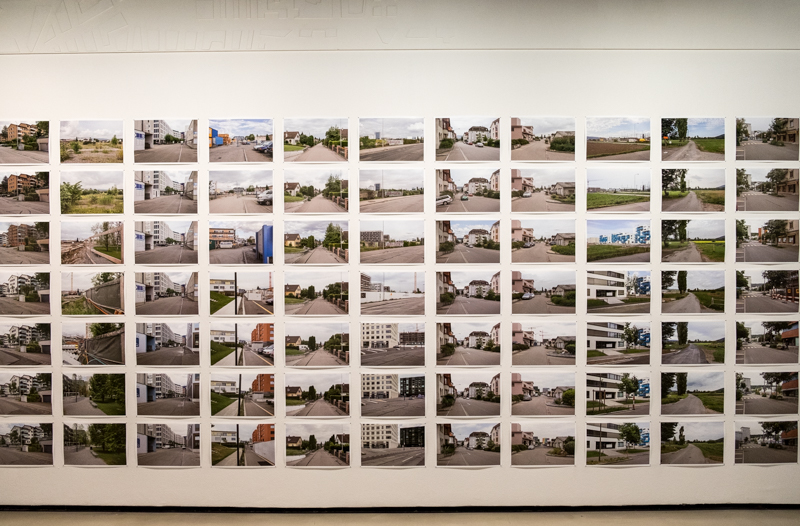 34_21
Schlieren, 2009 and 2017: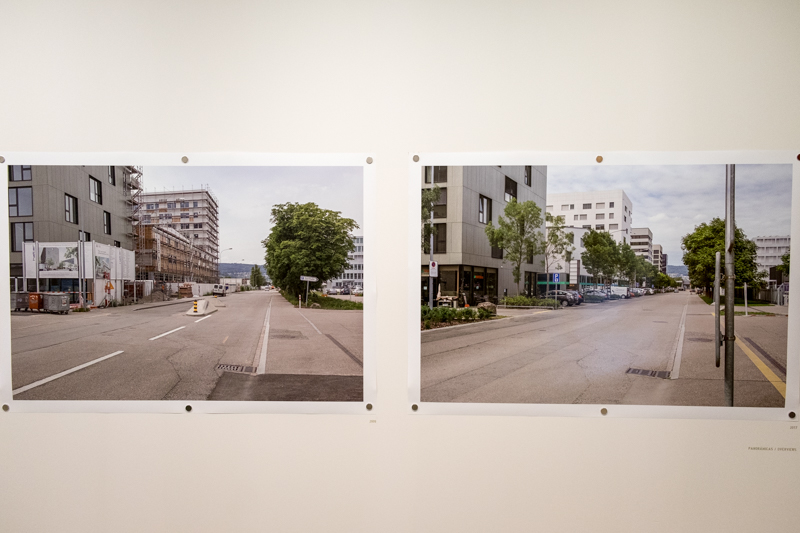 34_22
Then it was time for lunch. I took the metro to Sol and walked to the Mercado de San Miguel, a posh version of Barcelona's Boquería. It is not a market where people go to buy food; rather, it is a place where you go to eat at the many stands, all serving delicious food: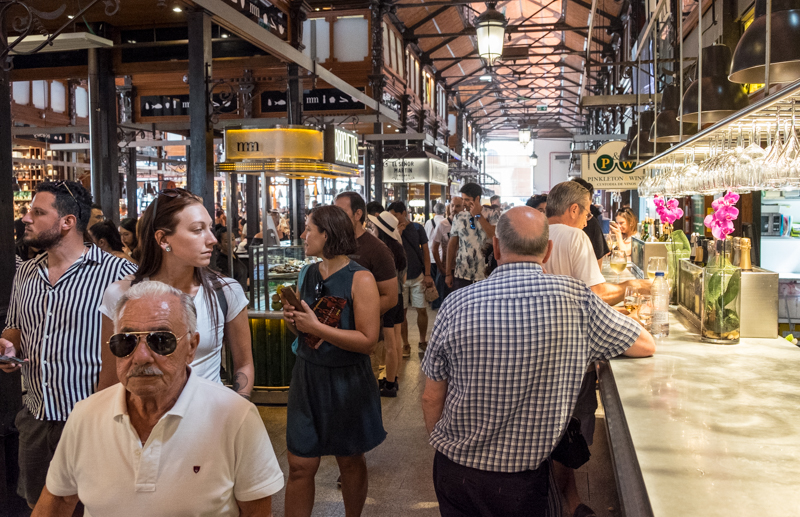 34_23
I started with a couple of pinchos (a type of tapas) at this stand:

34_24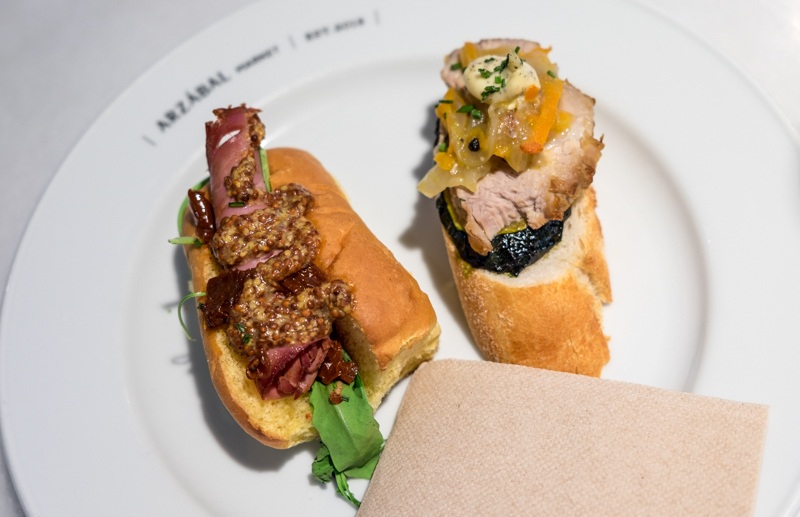 34_25
On Calle Mayor, connecting the Sol square with Plaza Mayor, the manteros (African vendors of fake sunglasses, football shirts and other branded goods) were busy: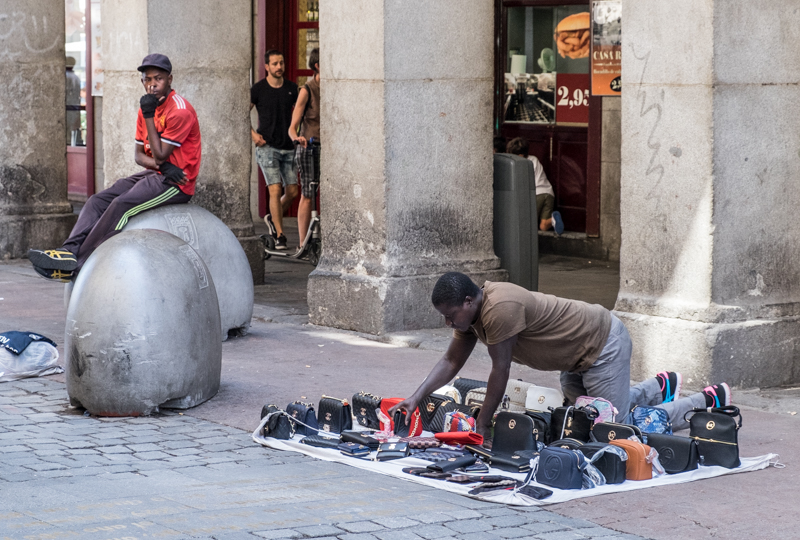 34_26
Bags: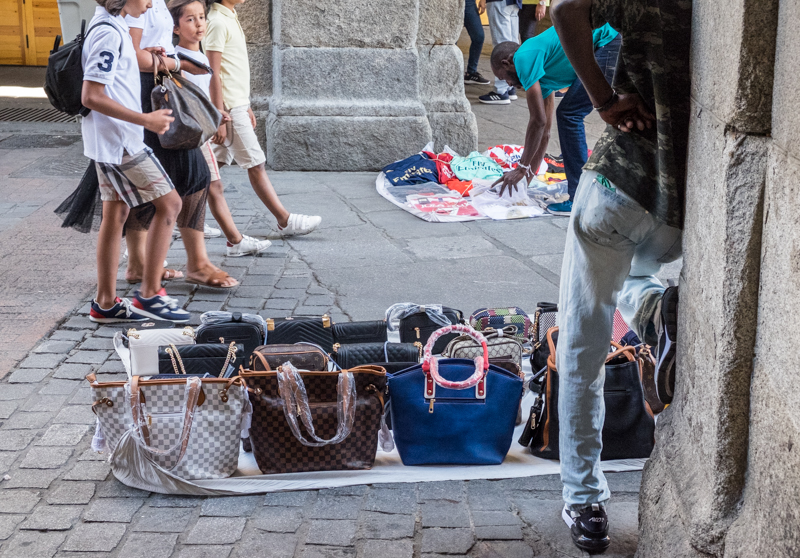 34_27
Potential customers: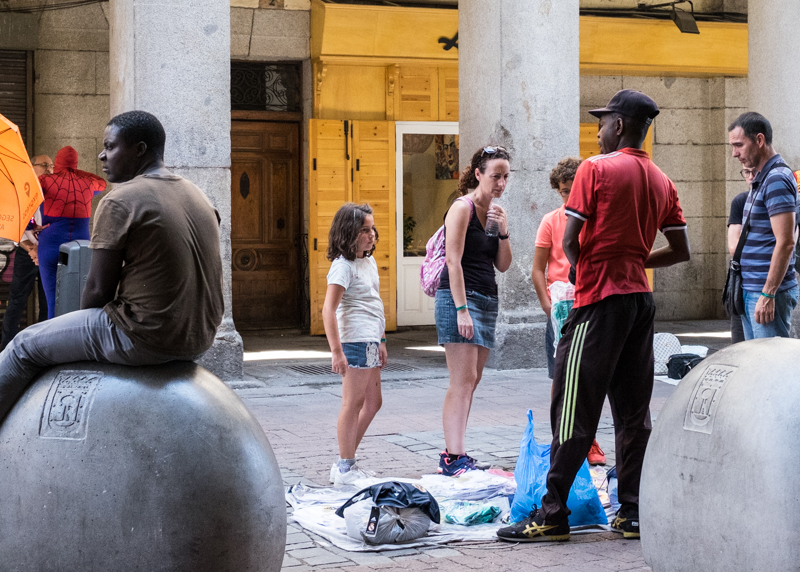 34_28
I walked around Plaza Mayor a bit, Madrid's most touristy spot. As usual, I looked a the people around me, such as this family with a baby: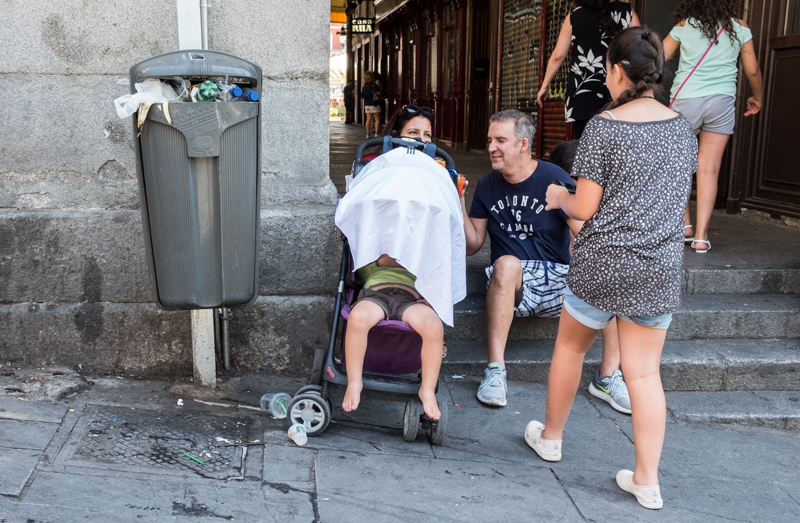 34_29
A tourist guide, waiting for customers: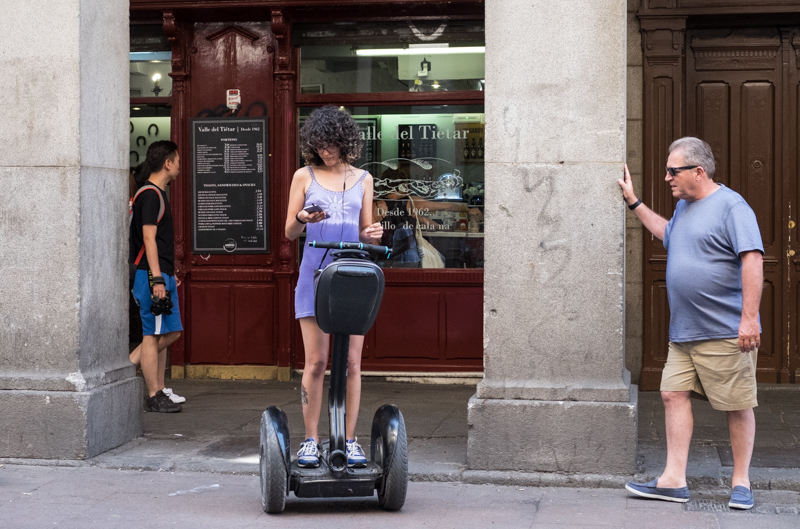 34_30
Conversation: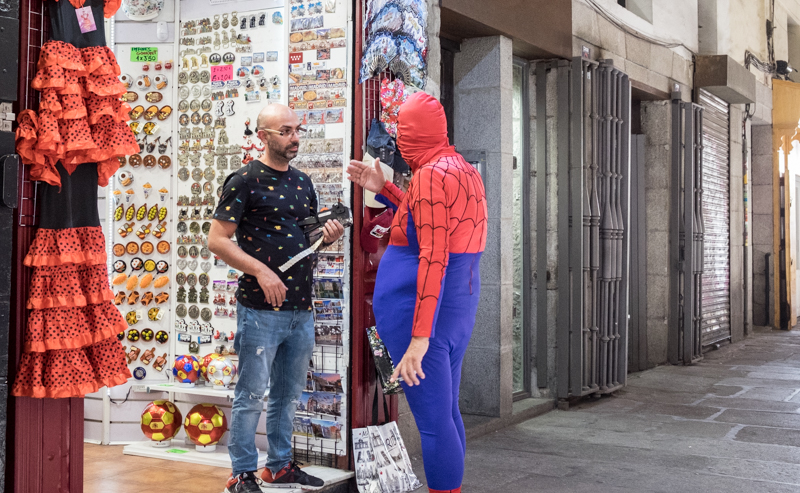 34_31
After my visit to Plaza Mayor, I took the metro back north and went to the Fundación Mapfre to see another photo exhibition, this time a very comprehensive retrospective of photos by Berenice Abbott. I must admit that I was not familiar with her work, but after visiting the exhibition (which included an hour-long documentary film about her life and work), I am a fan. She was truly a remarkable woman and a remarkable photographer: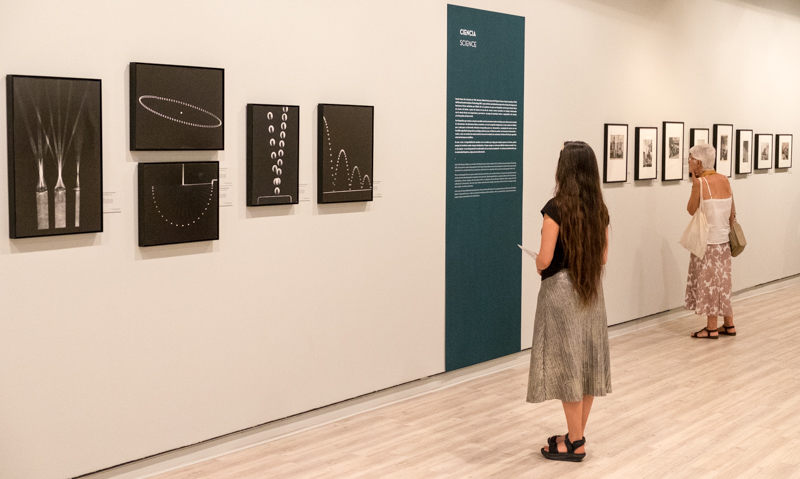 34_32
The lower floor of Fundación Mapfre houses a permanent collection of paintings by the great Catalan artist Joan Miró. In his later years, he created paintings by buying cheap paintings at open air markets and embellishing them in his own way: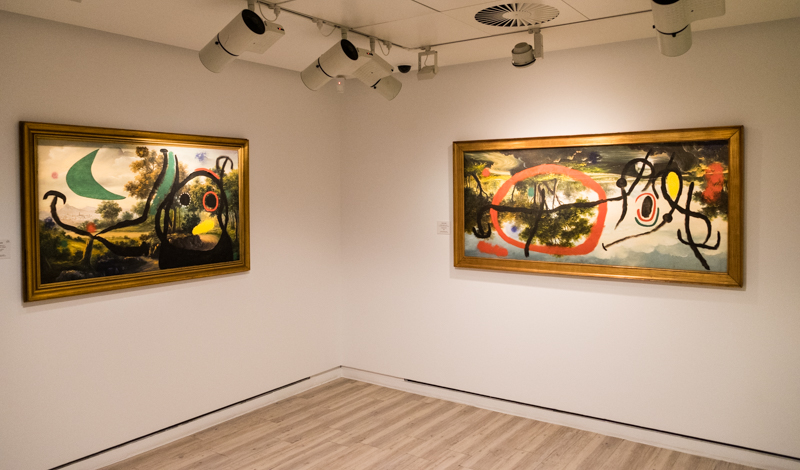 34_33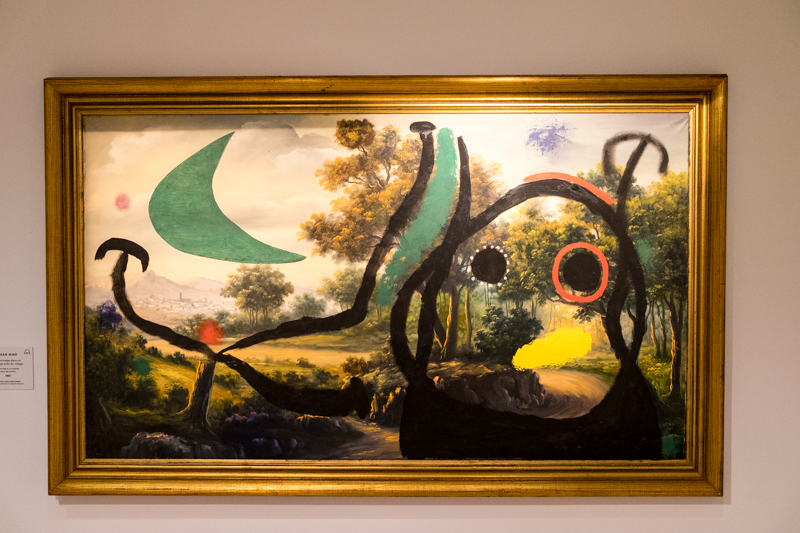 34_34
My craving for art satisfied, I decided to spend the rest of the pleasant afternoon in the Parque del Buen Retiro, or simply Retiro, a large park in the centre of the city with several beautiful structures, a large pond, and of course numerous bars and cafés. The pond with the impressive Alfonso XII monument is the centerpiece of the park: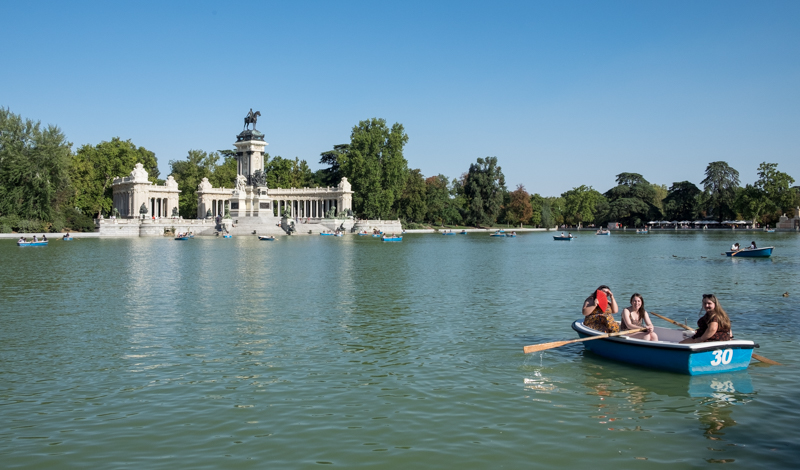 34_35
When I see a sight like this, I always wonder how in the 21st century people can accept a culture that permits the man to be dressed comfortably while the women have to cover up like this–on a sunny afternoon in Madrid at 33C: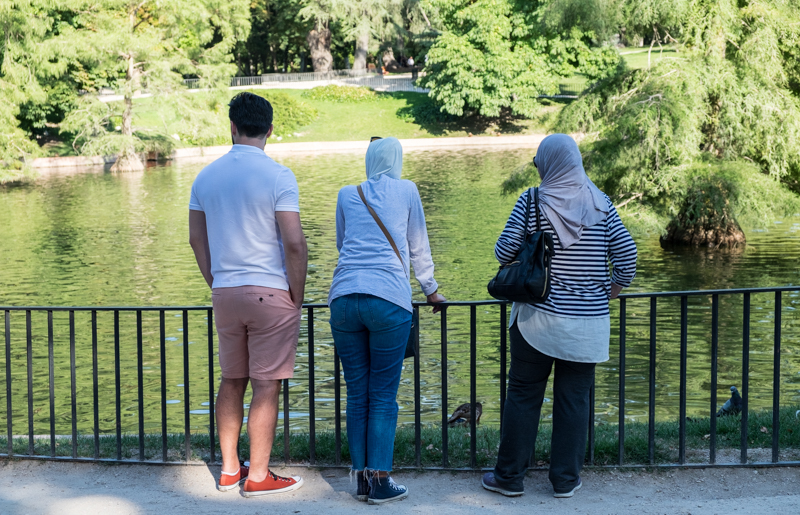 34_36
Serious gardening: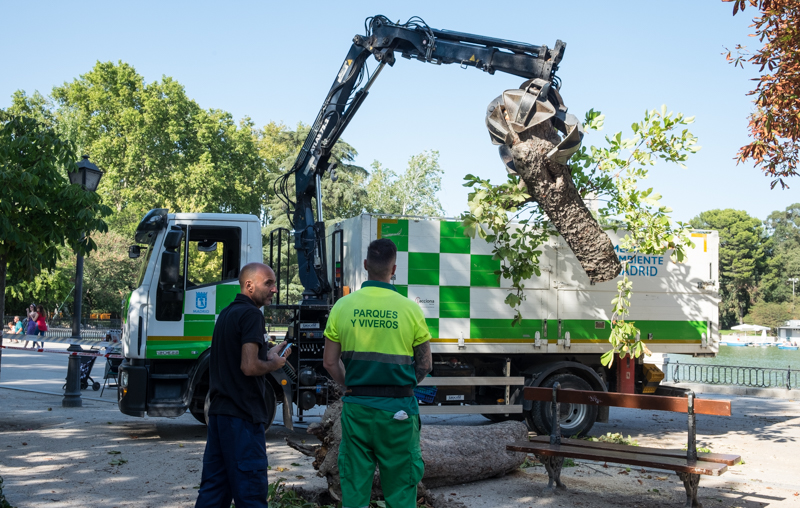 34_37
Taking a break: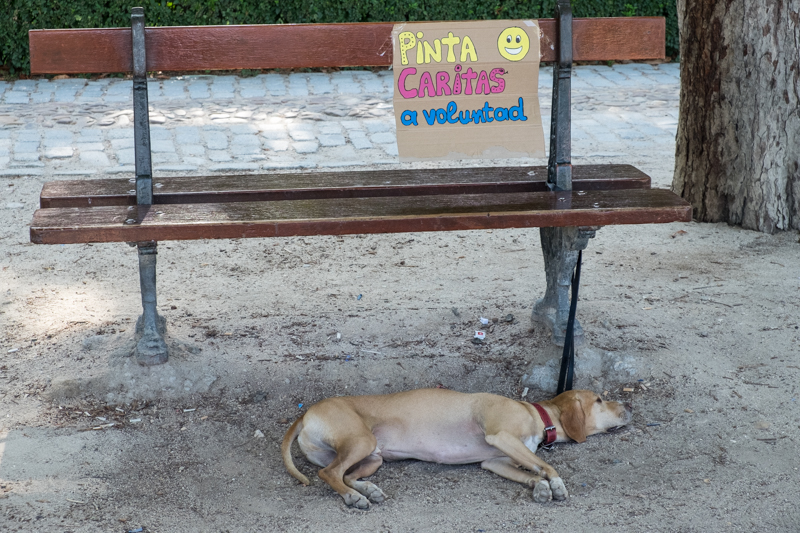 34_38
A garden: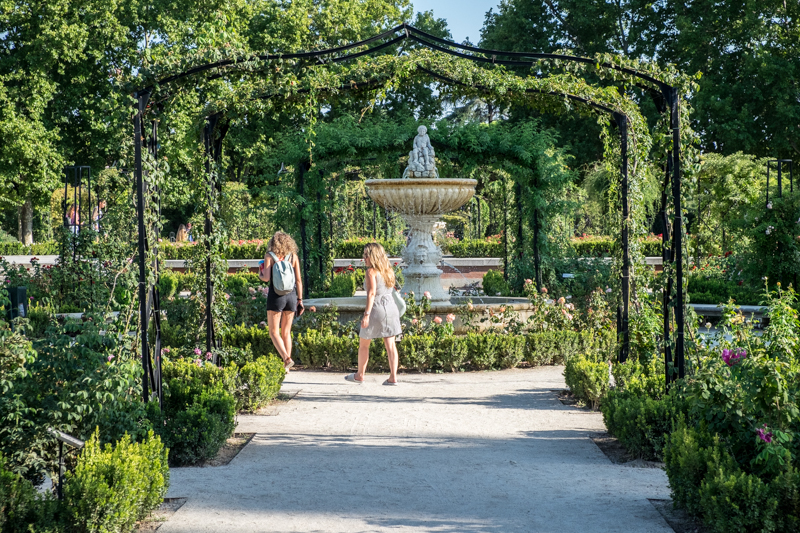 34_39
The scooter nuisance has also invaded Madrid: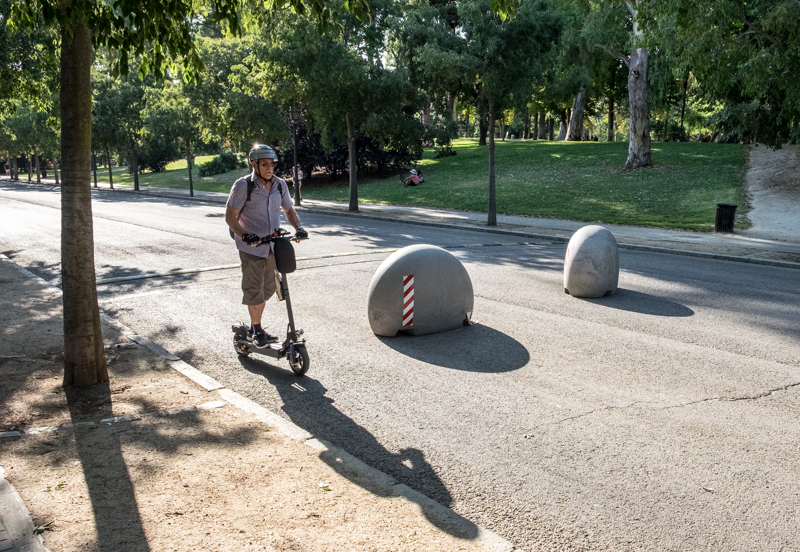 The last seven images, from Aigües and Busot, have two common themes: preparations and cycling.
34_40
I cycled to Aigües and Busot on Saturday morning. In Aigües, people were setting up the week-long Moros y Cristianos festival that was beginning that evening:

34_41
Contemplating the chairs: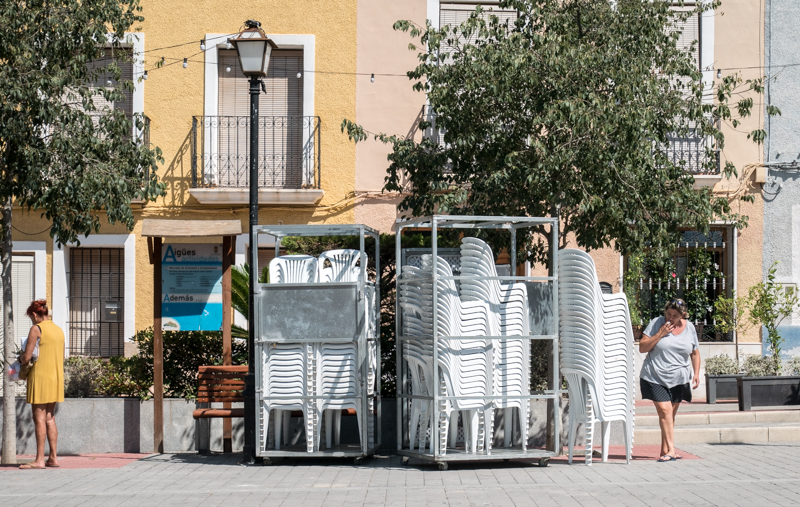 34_42
Help arrives; in a village like Aigües, a fiesta is very much a community effort: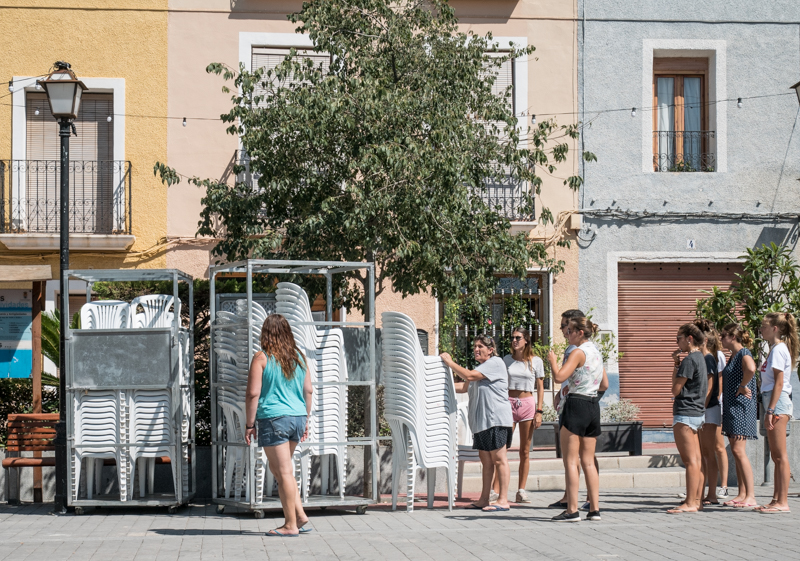 34_43
Following the standard script, the Saracens take over the main square, then the Christians conquer it, and throughout the week, everyone drinks a lot of beer and eats a lot of paella: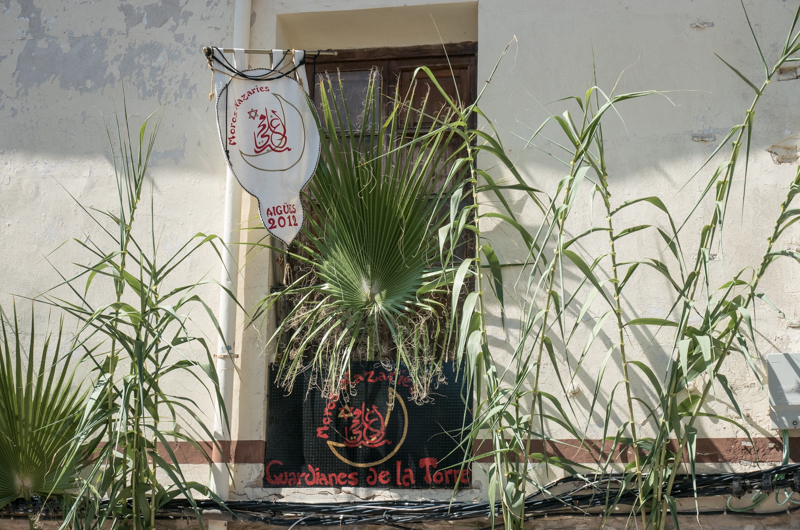 34_44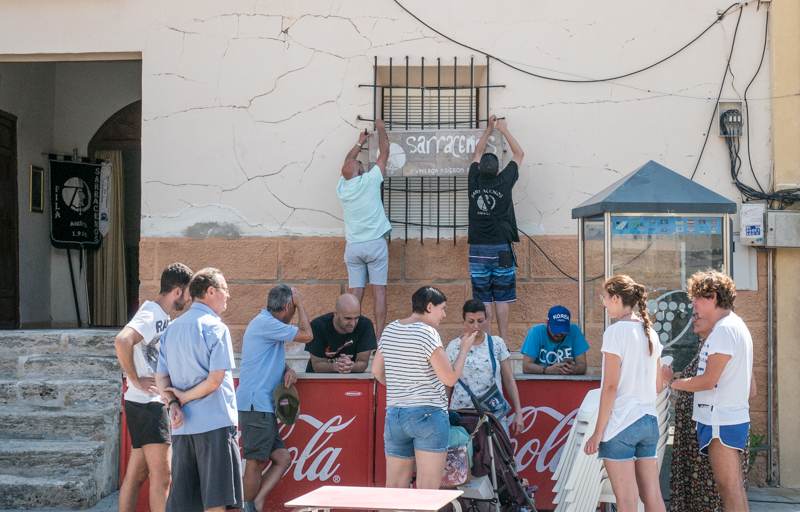 34_45
A few km later, I passed the town of Busot, where the third stage of the Vuelta a España bicycle race was going to pass through on Wednesday. This roundabout was already suitably decorated, and I decided that this is where I would come to watch the cyclists:

34_46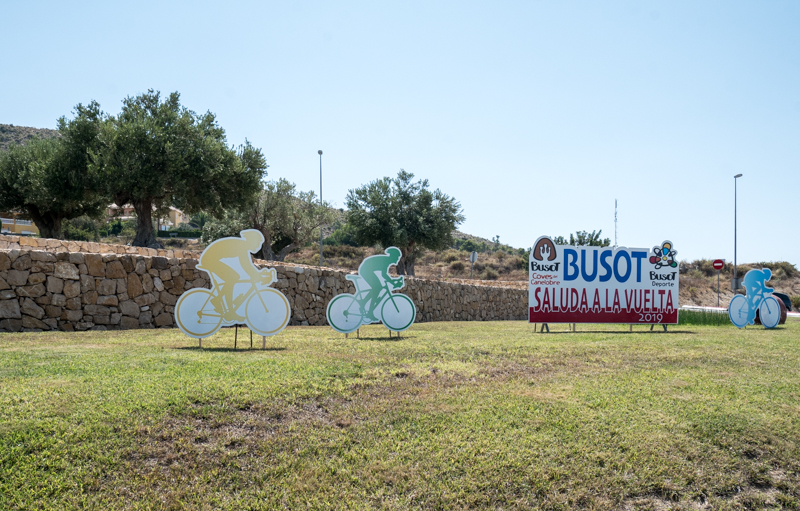 And watch them I did, on Wednesday afternoon of the following week, and the resulting small gallery is here.