The week began in Madrid, from where we flew to San Francisco via Charlotte Sunday. Thanks to the 9-hour time difference we left Madrid Sunday mid-day and arrived in San Francisco early Sunday evening despite spending about 14 hours in the air, with a couple of hours layover in Charlotte. The pictures were taken during the voyage and during the first few days of our stay in California.
35_1
We spent the night in Madrid, as it is around 430 km from Alicante and we wanted to avoid the stress of driving there very early in the morning in order to make our flight. In the evening, we went into the city and sat down for a drink on Plaza Mayor: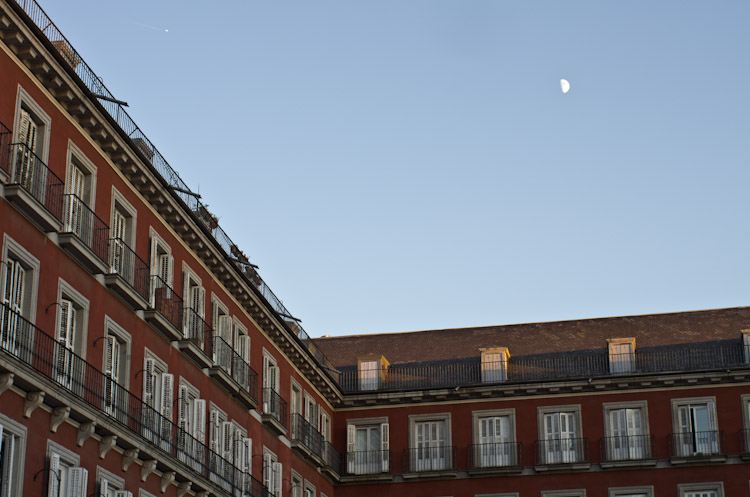 35_2
Plaza Mayor is one giant tourist trap. The restaurants and bars lining the square charge what are obscene prices by Spanish standards, and the square itself is full of various street performers, whom I usually ignore. But it is amusing to watch people's reactions: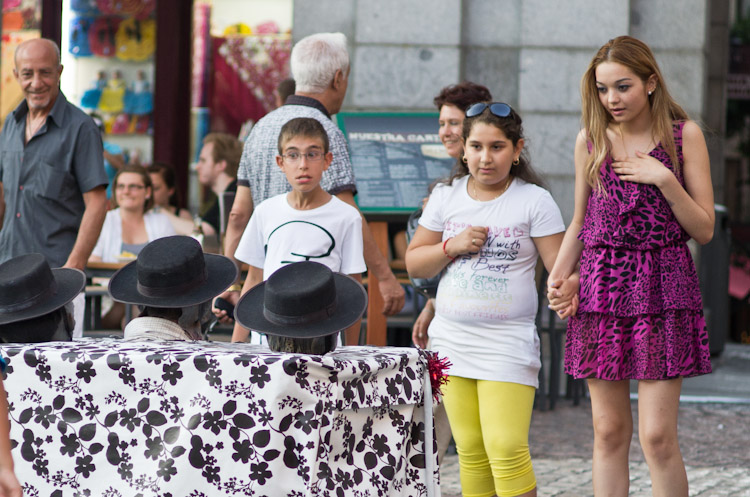 35_3
We walked back to Plaza del Sol, the central square which was "occupied" last year. Now Sol was back to normal, that is, full of people, some of whom not entirely sober on a Saturday night: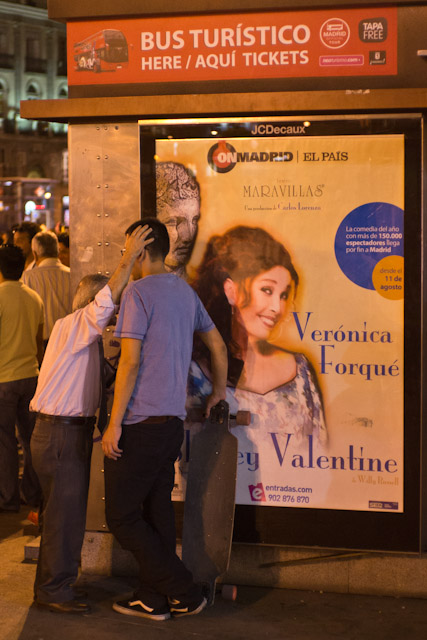 35_4
Another feature of Spanish life, the ubiquitous African vendor of counterfeit handbags: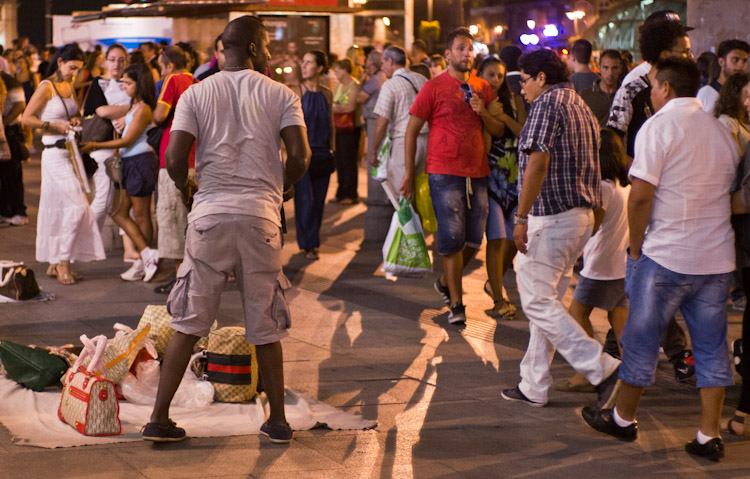 Sunday morning we drove to Barajas and flew to Charlotte on USAir–full flight, and the airline had in its wisdom assigned us seats in separate rows, despite the fact that we were a family of four travelling together. Oh well.
35_5
Charlotte airport was quite nice, with wifi and easily accessible plugs: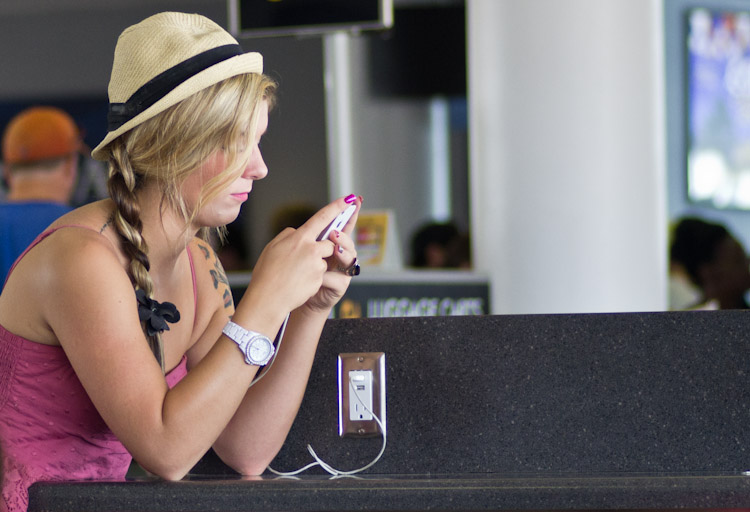 35_6
After a couple of hours in Charlotte, we flew on to San Francisco. My cousin Dan met us at the airport and we drove to his home in Oakland. Here he is with his daughter Alessandra: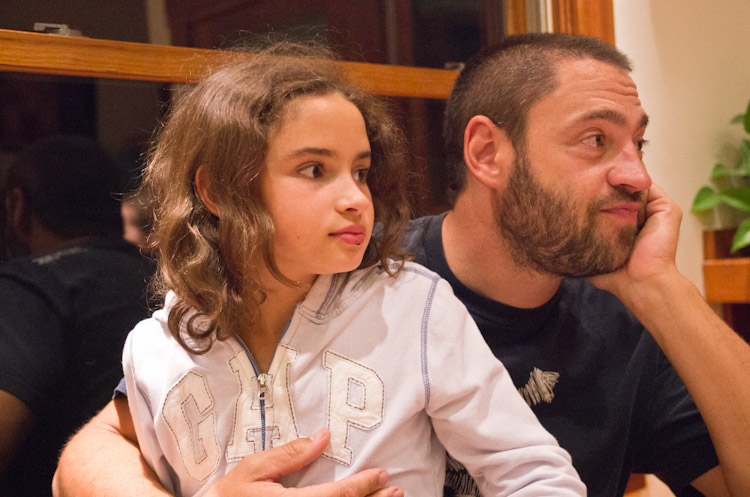 35_7
The next morning, my son and I walked to a nearby bagel place for breakfast. He clearly needed his coffee: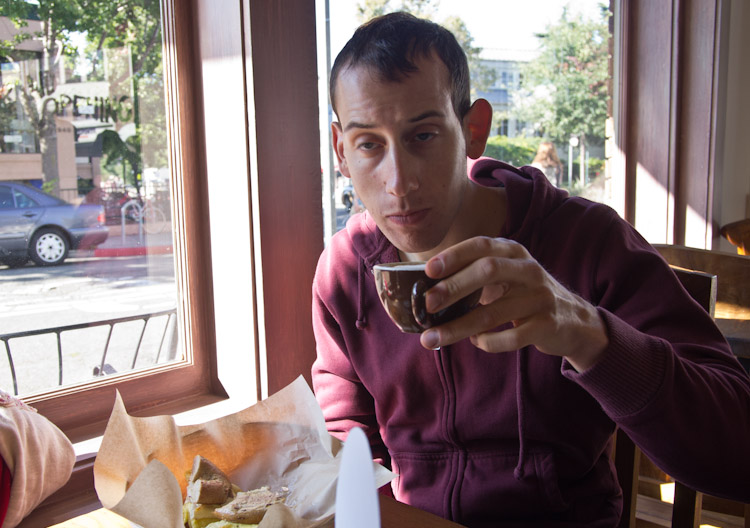 35_8
What is the best way to combat jetlag? Cycling, of course! Dan is a keen cyclist and has two nice bikes, so later in the morning he showed me his favourite nearby cycling route, in the hills overlooking Oakland and San Francisco, along a road called Tunnel Road. In local cyclist lingo, this is known as "doing the Tunnel". It is a significant climb, but one is rewarded with view like this, if the weather is sufficiently clear: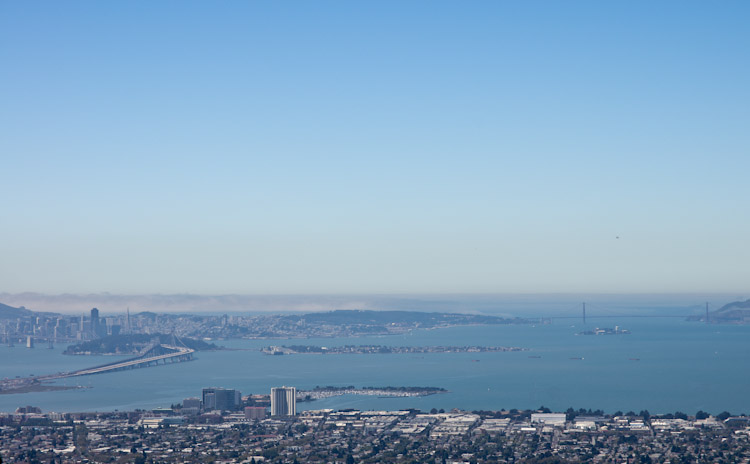 35_9
We came across a man drawing the scene we were looking at: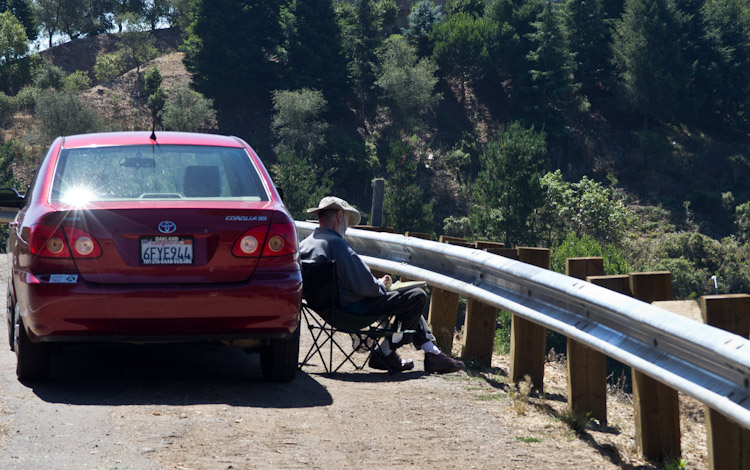 35_10
Here is Dan on his bike: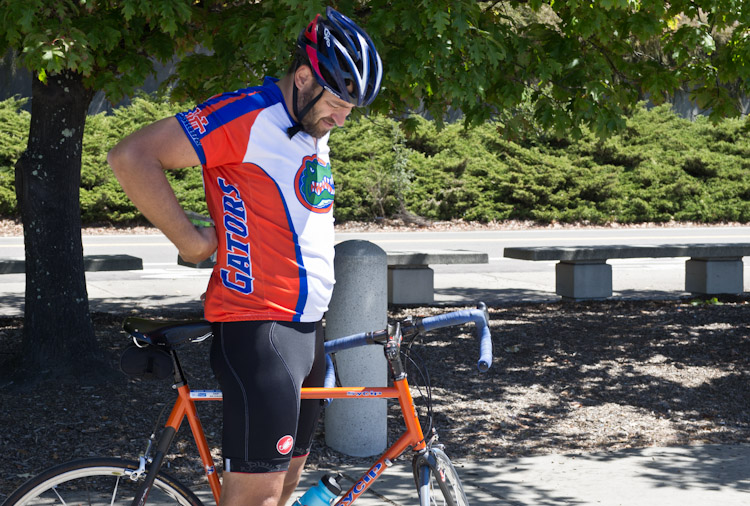 35_11
The descent from Tunnel Road took us through the Berkeley campus. I was impressed by this DNA-shaped playground installation: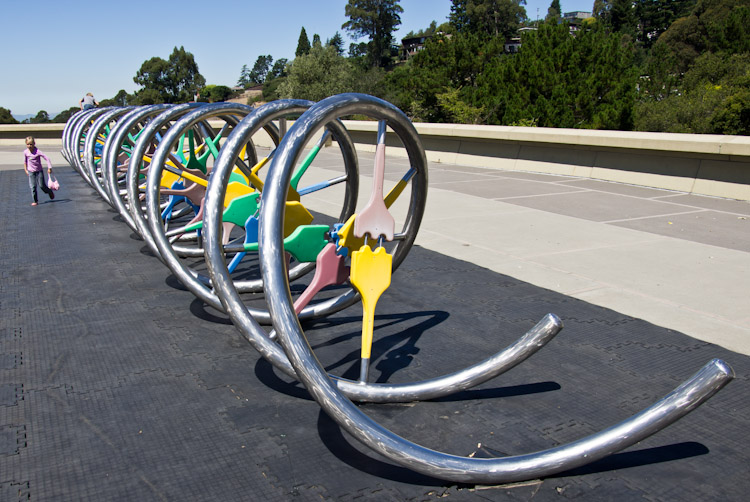 35_12
In the afternoon, we went for our first walk around San Francisco. As always, I focused on details, such as this old "Deadheads for Obama" poster in an apartment window in Japantown: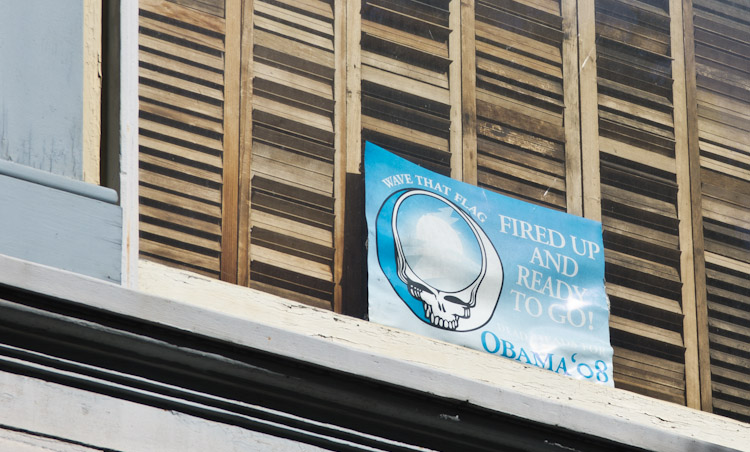 35_13
Amusing 10-dollar bill. I suppose it is illegal to deface currency, but it did not bother us, nor the shopkeeper: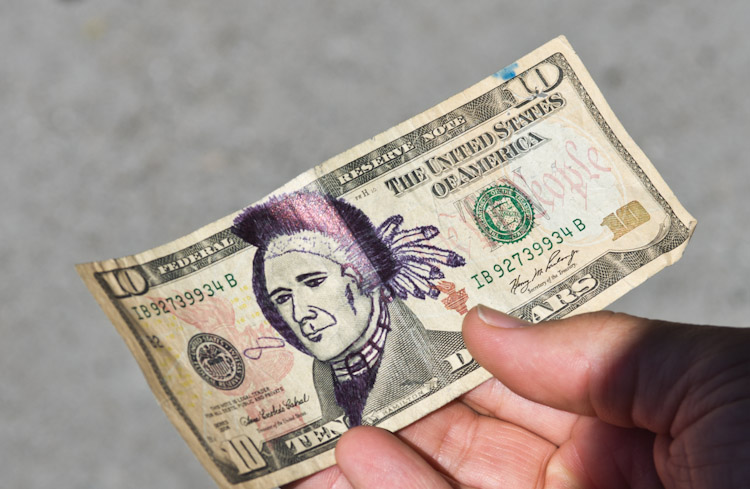 35_14
The weather was great, and people were enjoying the sunshine, here outside a neighbourhood grocery: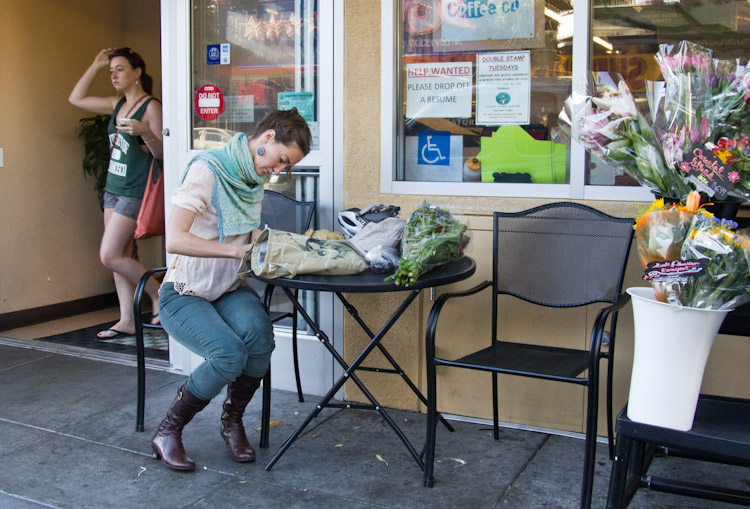 35_15
California produce–very nice, but also very expensive. Most basic foods, like vegetables and bread, are about twice as expensive in San Francisco as here in Spain: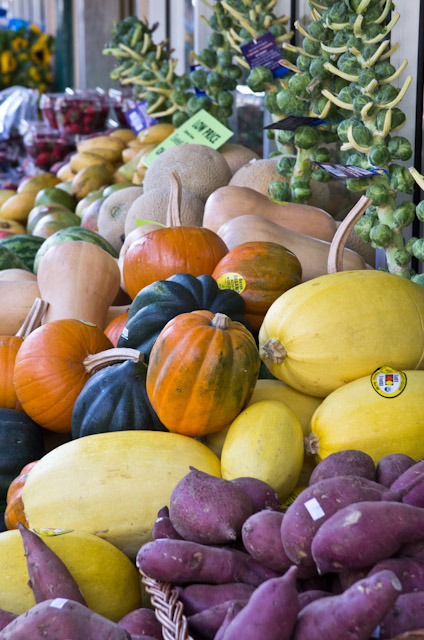 35_16
We finished the outing on Twin Peaks, an excellent viewing spot. I was equally impressed with the cyclists and joggers who had made it up to the top. Here is one of them, enjoying the descent: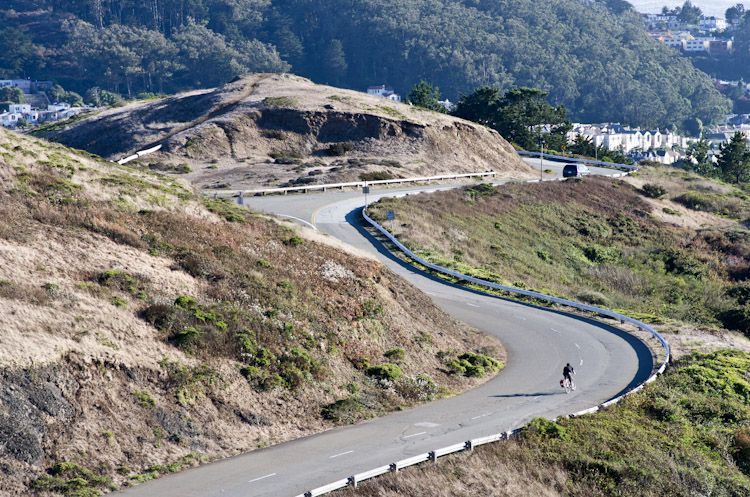 35_17
During the next couple of days we continued to explore the city on foot. Here is the Ferry Building gourmet market: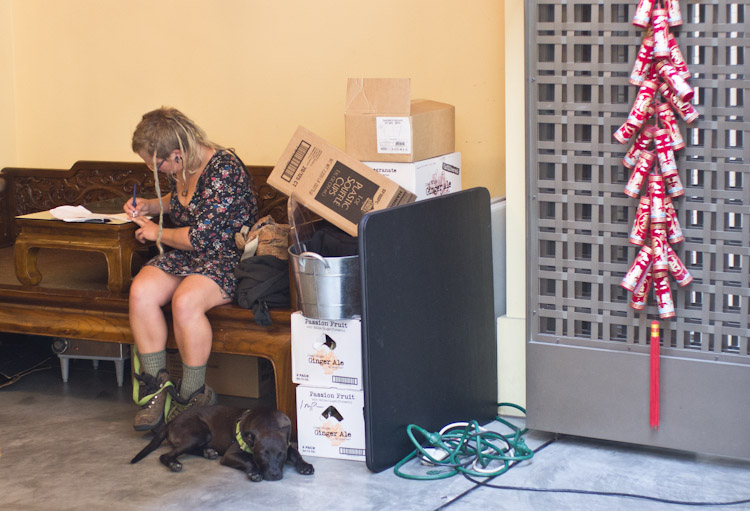 35_18
I liked this mix of humour and blasphemy: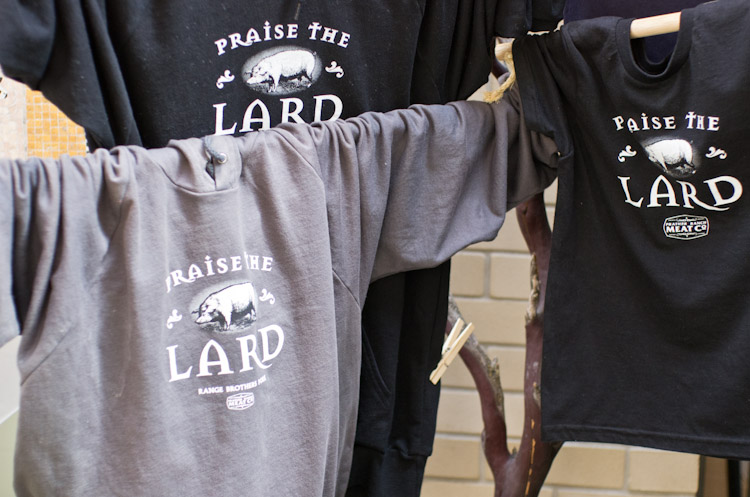 35_19
My cousin lives in Rockridge, a North Oakland neighbourhood close to Berkeley. We spent a lot of time in Berkeley, of course, including in this famous record shop: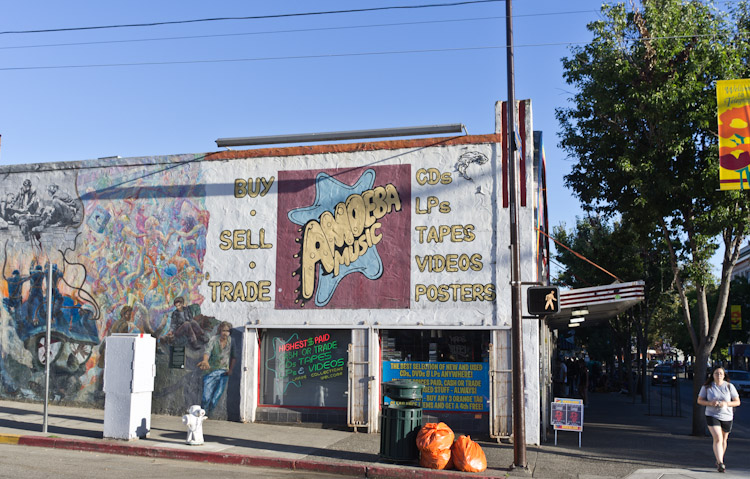 35_20
Telegraph Avenue in Berkeley: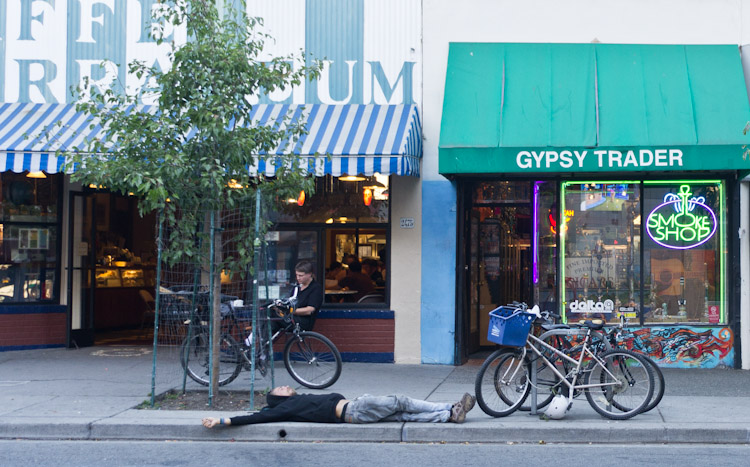 35_21
One day we stopped by Dan's friend Wellington, whom I had met during my visit last year: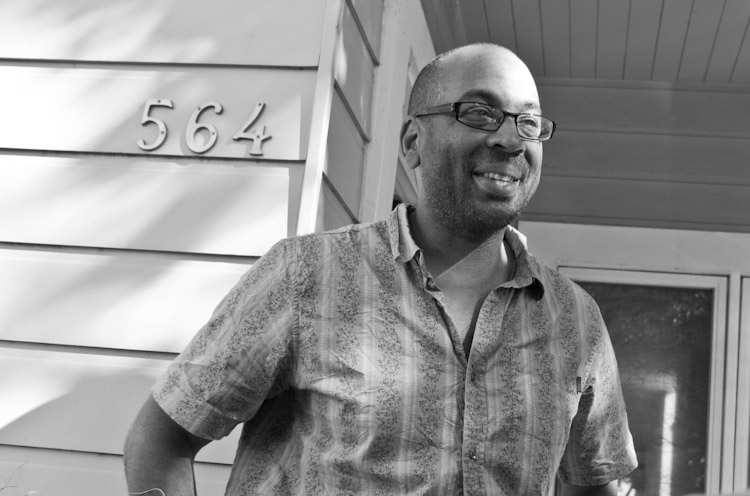 35_22
Dan and Wellington are masters at this…: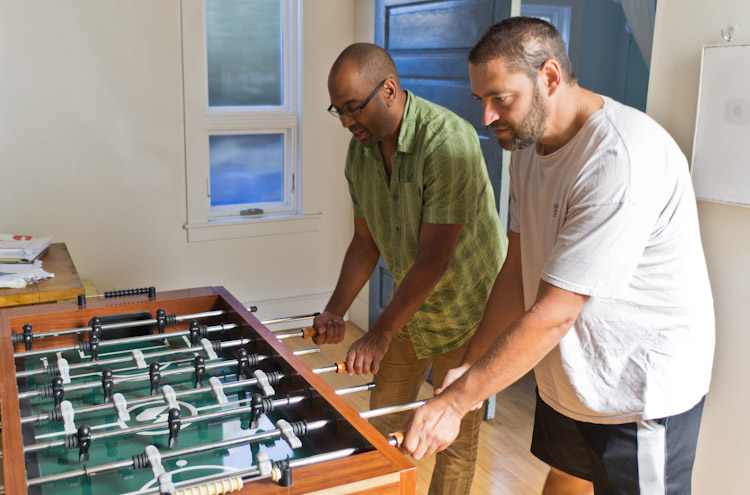 35_23
…and they massacred my children: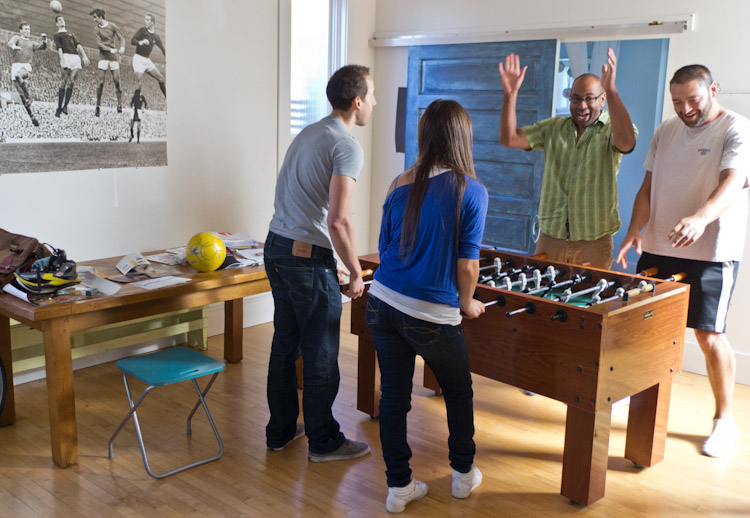 35_24
We also spent a lot of time in Berkeley's 4th Street shopping area: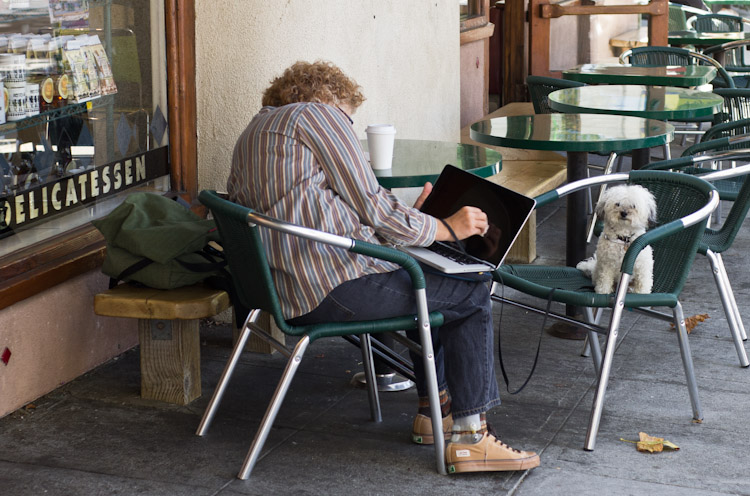 35_25
Berkeley is a town where you can find philosophy even under your feet: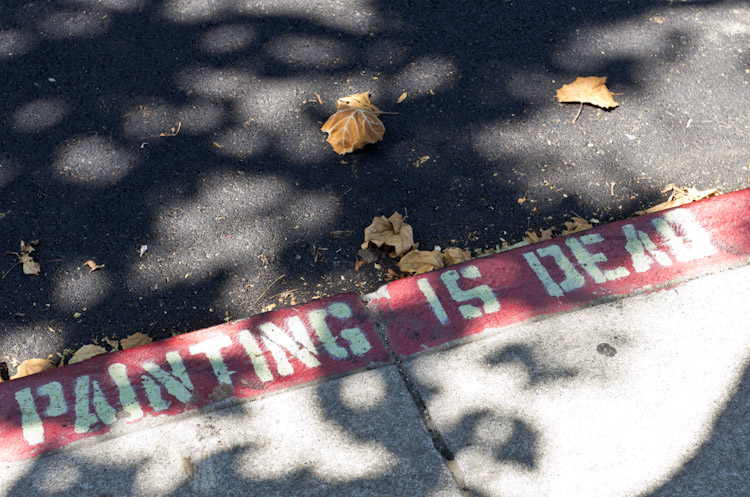 35_26
Although this man disproves the sentiment expressed in the previous image: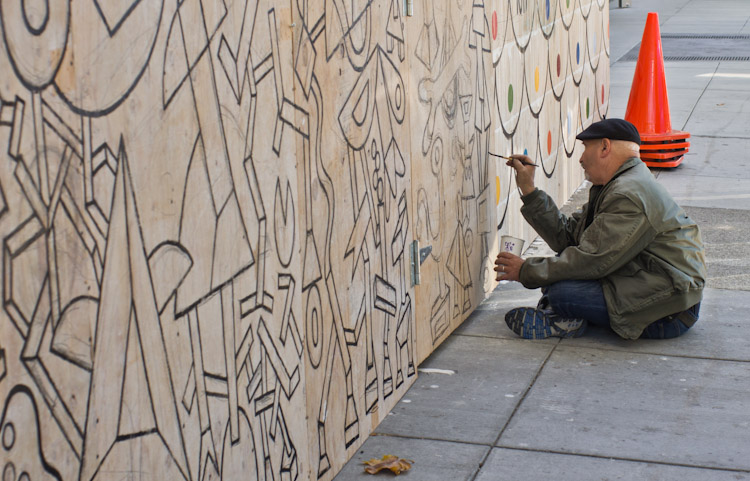 35_27
On Thursday, we drove to Yosemite for an overnight stay (not at the rat-shit infected Curry Village). On the way, I noted this lady in a restaurant parking lot: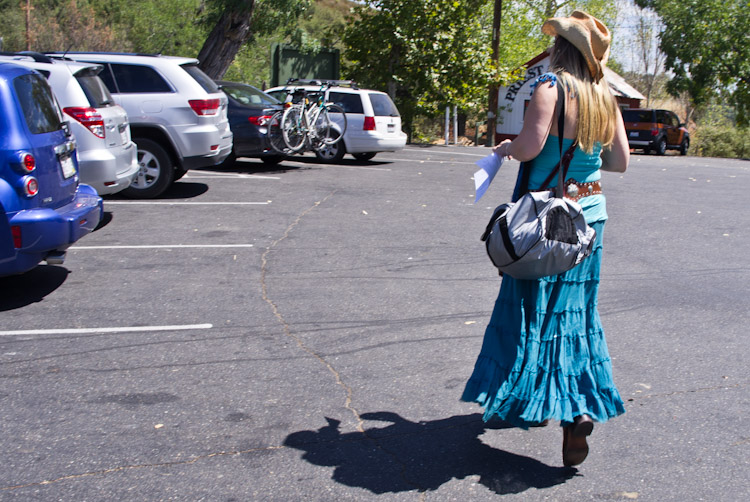 35_28
Yosemite was amazing and wonderful, and my children both enjoyed it: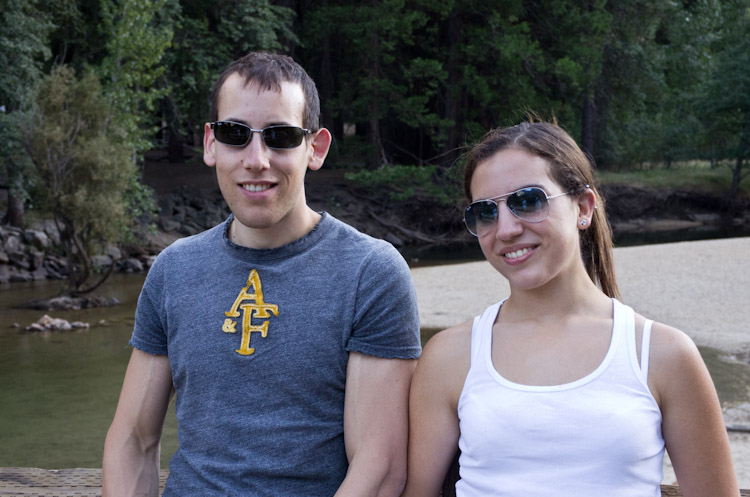 35_29
During our first walk in Yosemite, to Mirror Lake, I tried to scare my children by claiming that this was bear shit:

35_30
Our first view of the iconic Half Dome: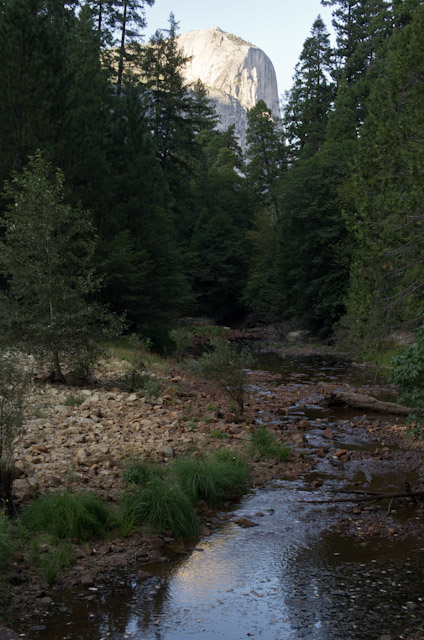 35_31
The next day we got up early and drove the 30 miles to Glacier Point. Once there, I was amused to see this Japanese tourist photographing the information board when she was surrounded by some of the most gorgeous landscape on Earth: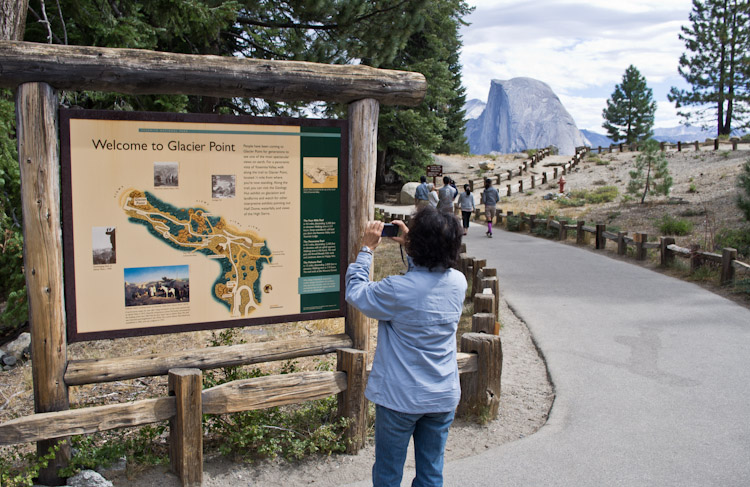 35_32
Big photographer, big lens: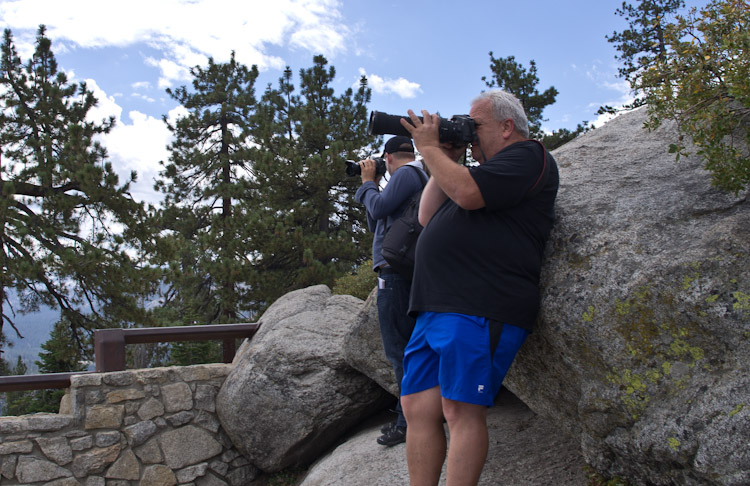 35_33
The Half Dome from Glacier Point. Some guy called Adams photographed it too: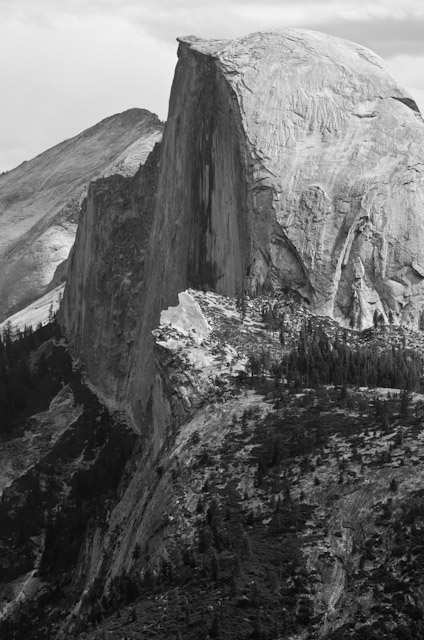 35_34
My son also takes pictures; he is not as dedicated as I, but he does appreciate the DSLR I gave him for his birthday last year: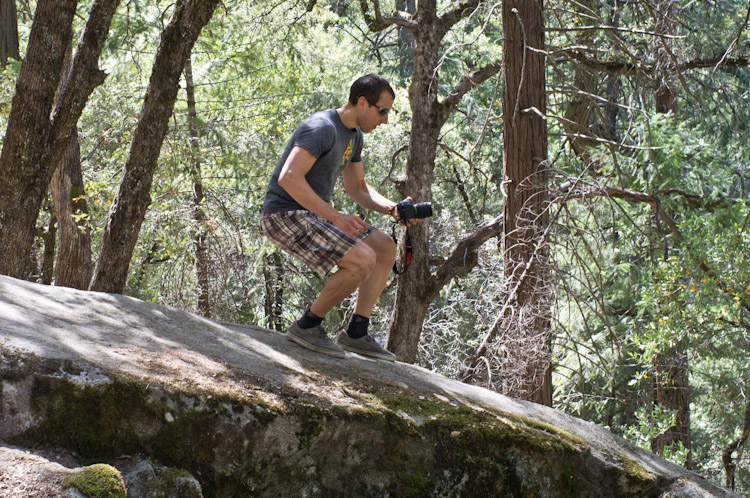 35_35
We did visit the now infamous Curry Village to have lunch there: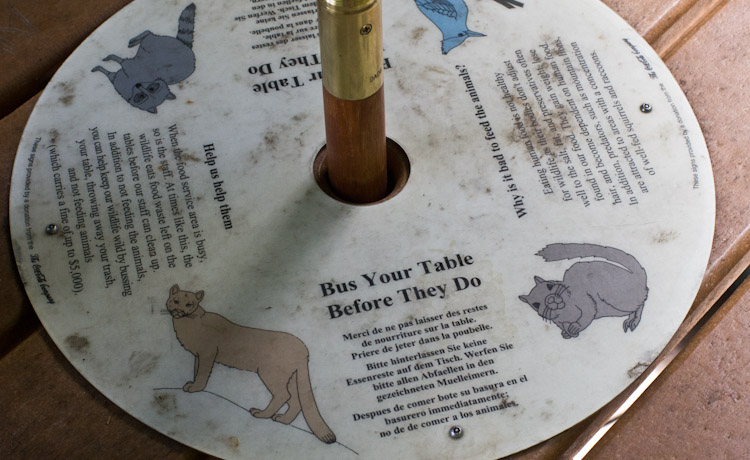 35_36
I enjoyed this bit of motorcycle humour in the parking lot: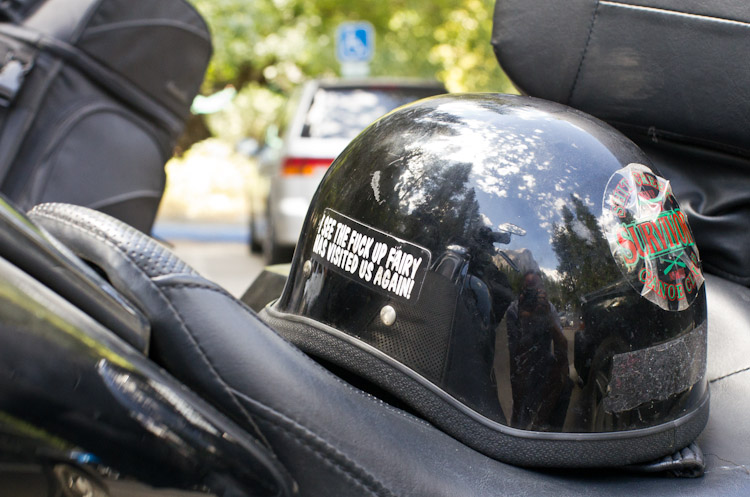 After returning from Yosemite, I spent Saturday visiting Bob Adler in his home in Palo Alto. I have "known" Bob online for several years, and we met in person for the first time when I was in San Francisco last year.
35_37
Bob has a very serious Alpa outfit with a digital back for his landscape photography: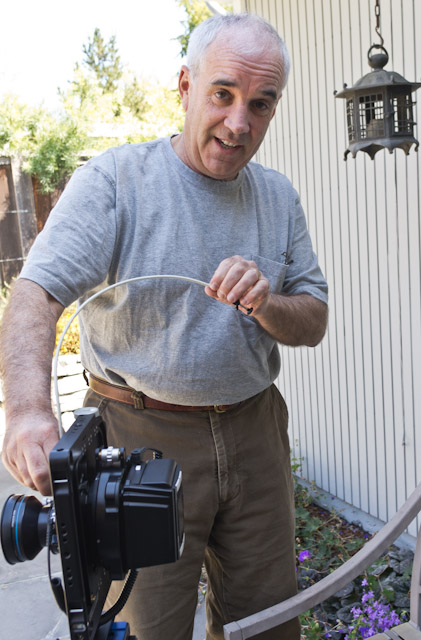 35_38
We went for a walk around Palo Alto. Even in this politically-correct part of the US, cigar-store Indians still exist, although with a distinct California touch: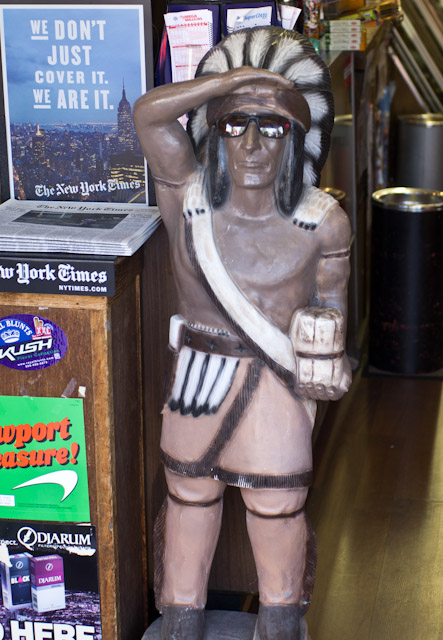 35_39
We went for lunch to the Gordon Biertsch brew bar. My entire trip was marked by extensive research into California microbrews: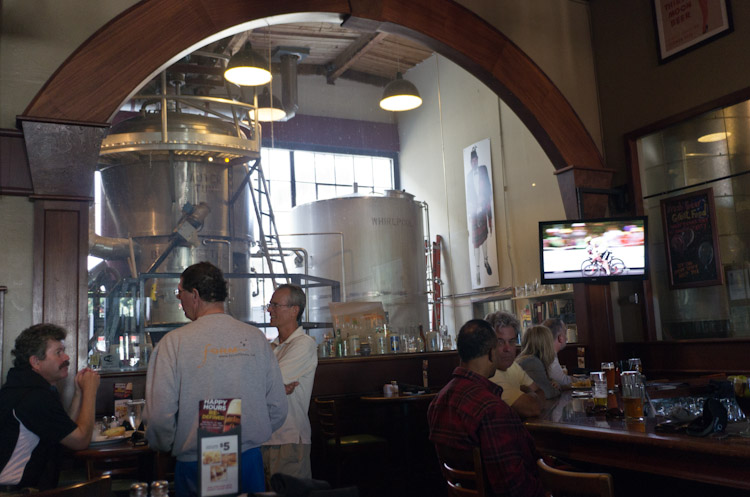 35_40
The fine products of Gordon Biertsch, in an attractive setting: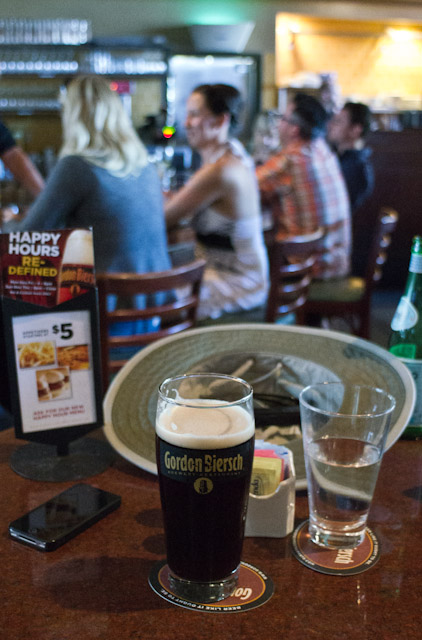 35_41
Finally, we came across a house with–horror–pink plastic flamingos in the front yard. But at least they were placed in an amusing manner: