My uncle from Florida and his wife were visiting their native Poland, a country they left in their youth, more than 60 years ago, but to which they still have connections. They are now in their mid 80s; my wife and I are very close to them, so we went to Warsaw for a few days to meet up with them there. All the images in this week's blog are from Warsaw.
33_1
We flew up there a couple of days before my uncle was due to arrive. We stayed in the hotel he had booked to maximise the time together, on a street leading to the Vistula river. This was the view from our room; Warsaw is full of colourful murals, and for someone like me, born in Poland in the drab days of Communism, this is a welcome sight. In the background the national stadium across the river, built for the 2012 European football championship, is just visible: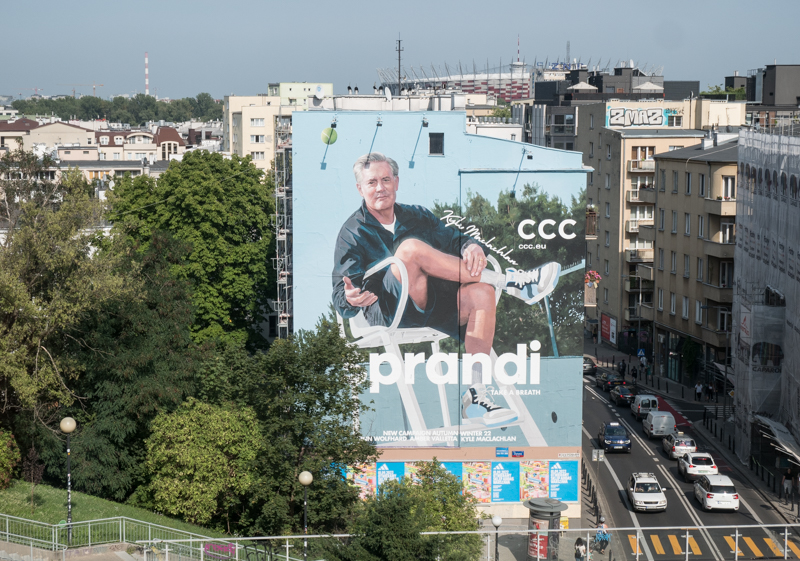 33_2
There were some benches and tables just outside the hotel, where we sat down for a beer from the excellent hotel bar. My wife could indulge in her bad habit and have a cigarette with her beer, while I could watch the human traffic on Tamka Street: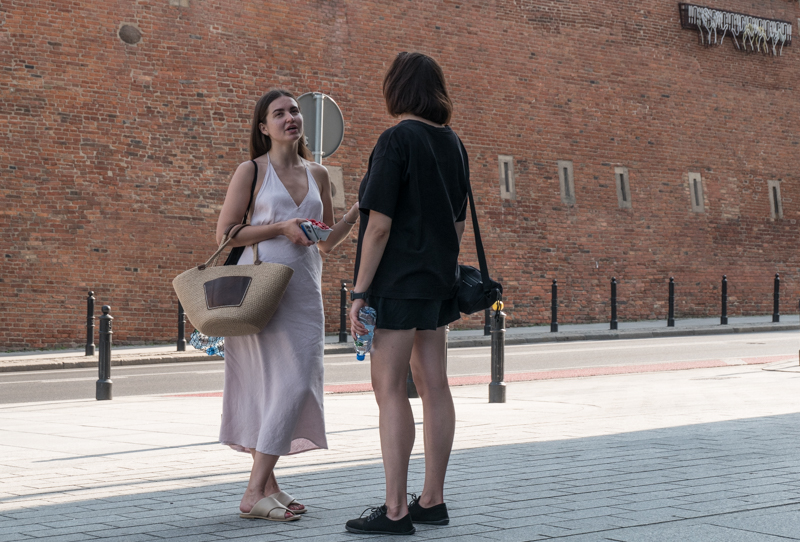 33_3
We went for a walk to explore the centre a bit. Near the hotel was Solidarity Square, honouring the trade union that played a big role in Poland's struggle against Soviet occupation during the 1980s: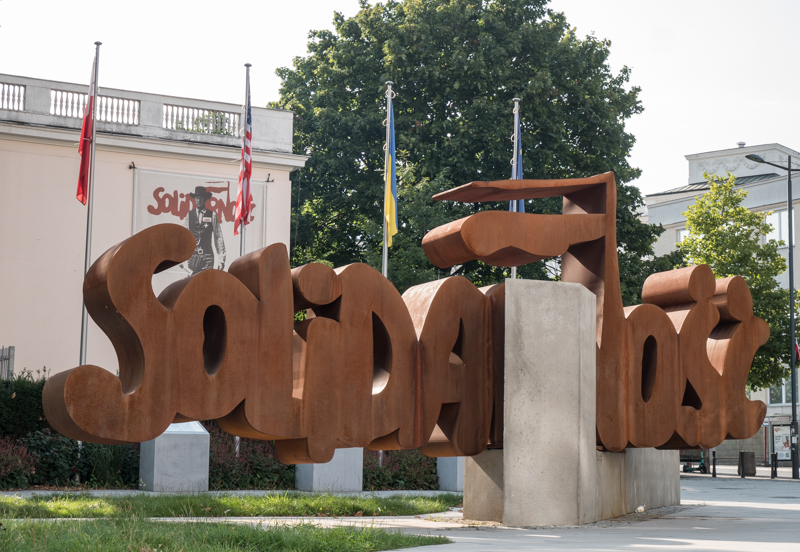 33_4
There is a piece of the Berlin wall with the famous quote from Ronald Reagan's speech there. Reagan is widely revered in Poland for his role in liberating Eastern Europe: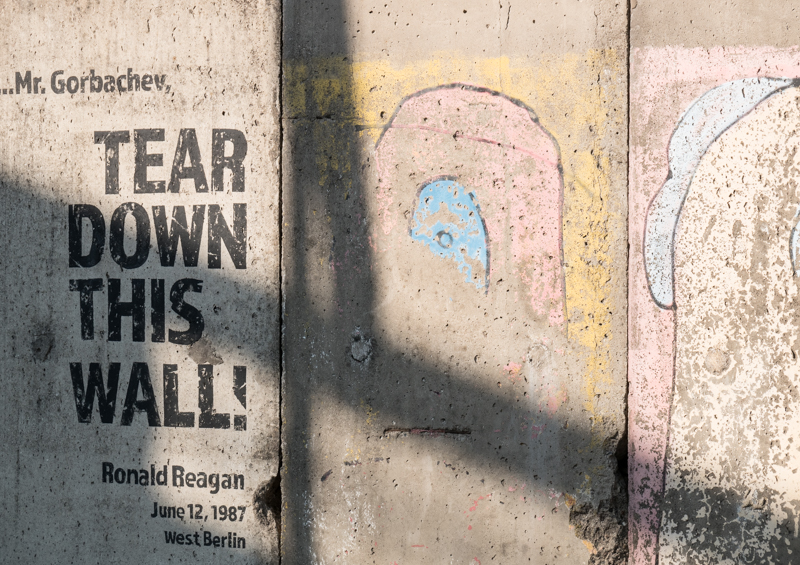 33_5
Another mural, these days very much irrelevant. It promotes Polish-Russian dialogue and understanding. Not much of that these days, thanks to Putin: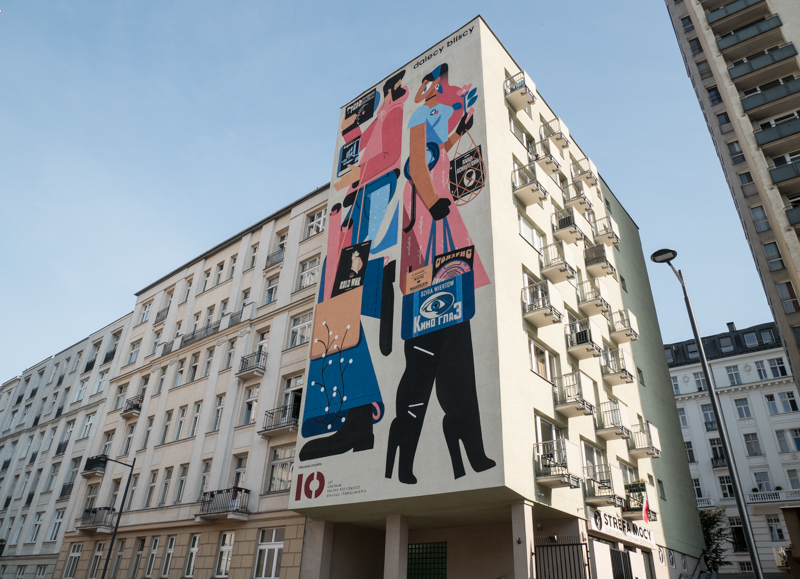 33_6
But this mural is more enduring. It celebrates Solidarity, the friendship between Poles and Czechs, and their decades-long struggle against Communism: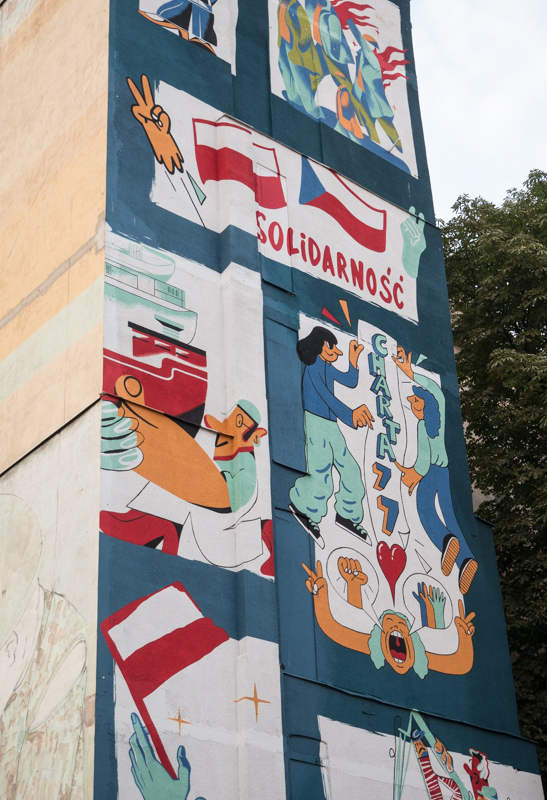 33_7
From the big to the small. I always look for these little details when walking around a city: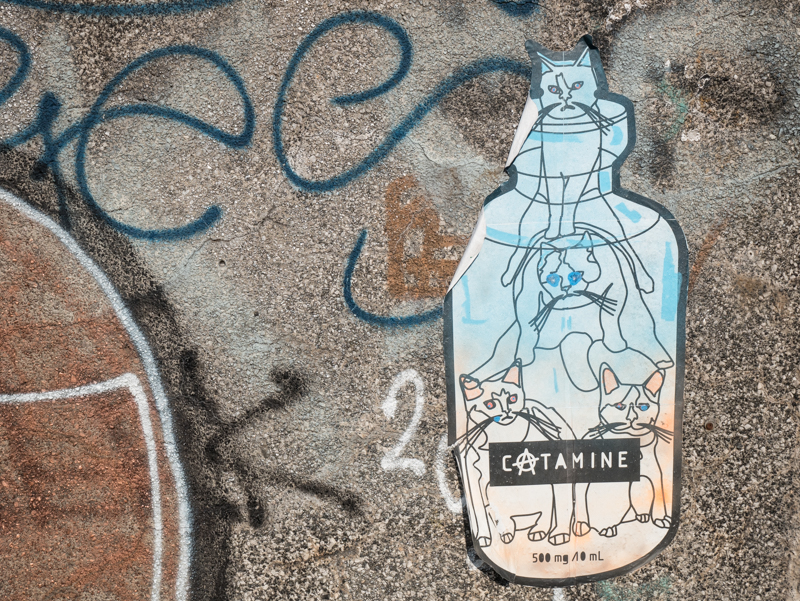 33_8
This is the heart of Warsaw's Old Town, Castle Square with the Sigismund Column at the centre. The entire city was destroyed in 1944 and 45, and everything here is a reconstruction. The old Royal Castle was being rebuilt when I was a child in the 1960s. It was a major patriotic endeavour, and even though we were living under a Communist dictatorship, this was an effort we all supported. Today it is a beautiful, lively place with visitors from all over the world. Warsaw, like my birthplace Wrocław, is truly a city that has risen from the ashes: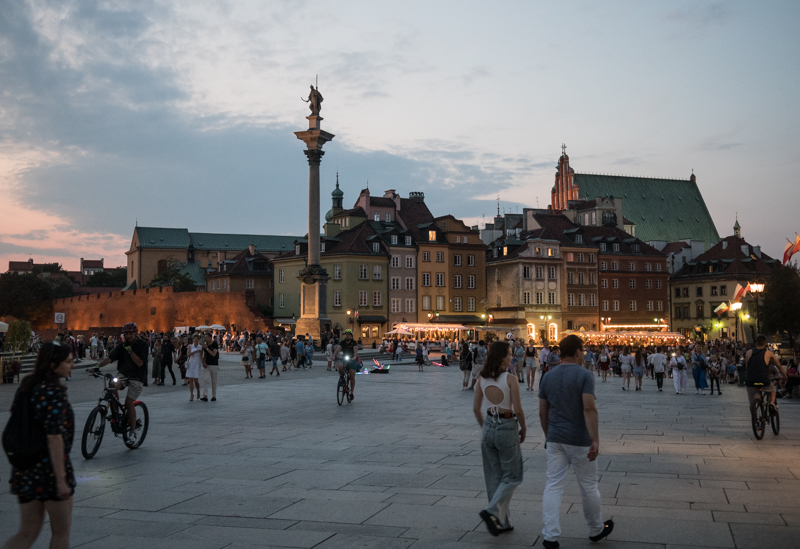 33_9
On the main street emanating from the Castle Square there was an exhibition of artworks by children from Poland and Ukraine, drawing a line from Germany's occupation of Poland in the 1940s to Russia's aggression today. The title of the exhibition is "Mom, I don't want war":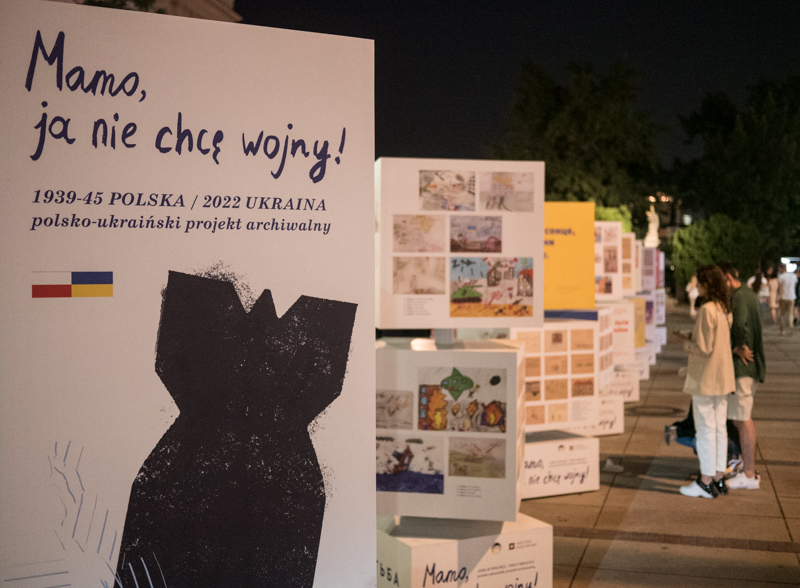 33_10
I wake up early, and since we had a rental car, I could get around the city easily, especially at 6 a.m. when there is little traffic. So one morning I visited the Hala Mirowska market hall. I love to see such places, selling all kind of foodstuffs, especially early in the morning when the stallholders are just setting up and have time to chat with passers-by: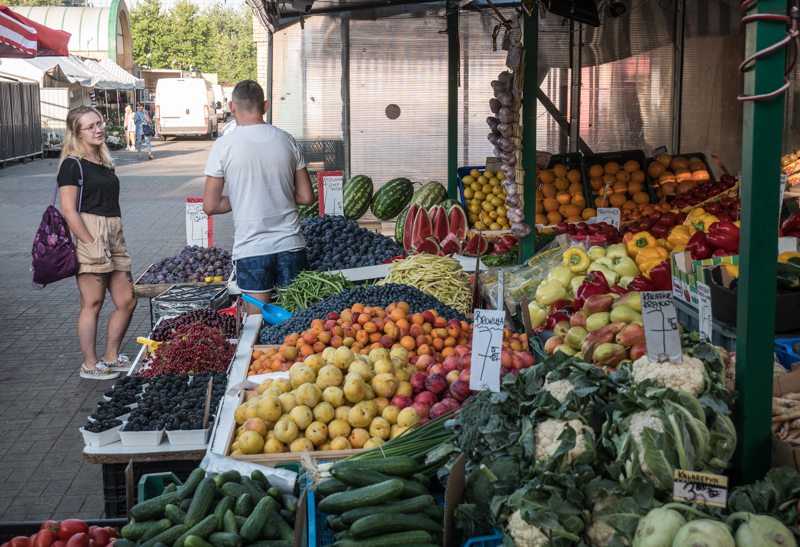 33_11
An early customer: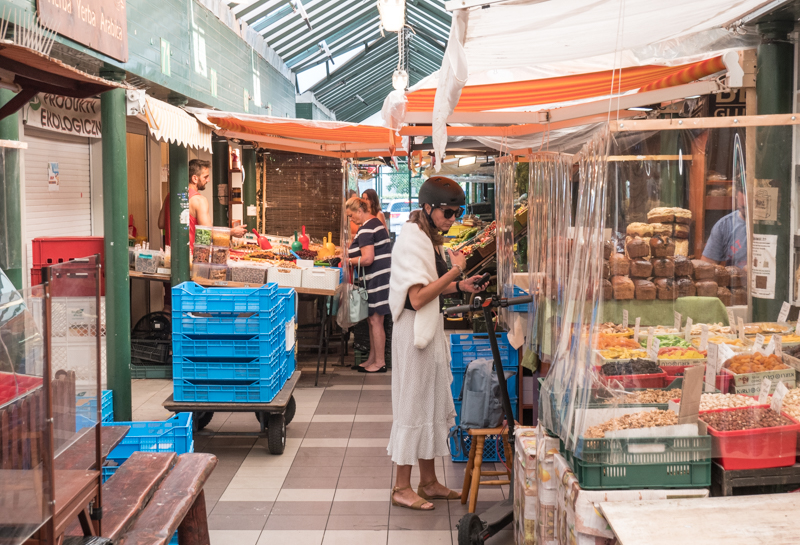 33_12
Outside the market hall there are some street vendors of miscellaneous items, hoping to capitalise on the market hall customers: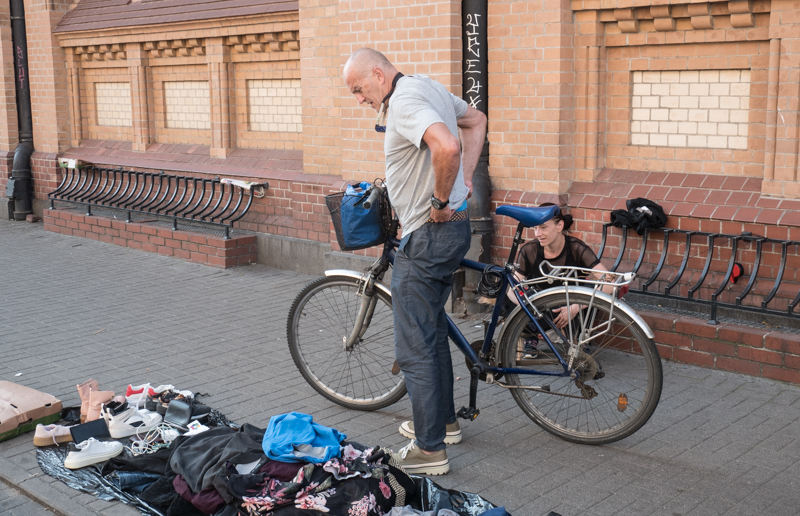 33_13
Later in the day, the modern face of Polish retail, a shopping mall in an electric power plant built in 1904 and now repurposed: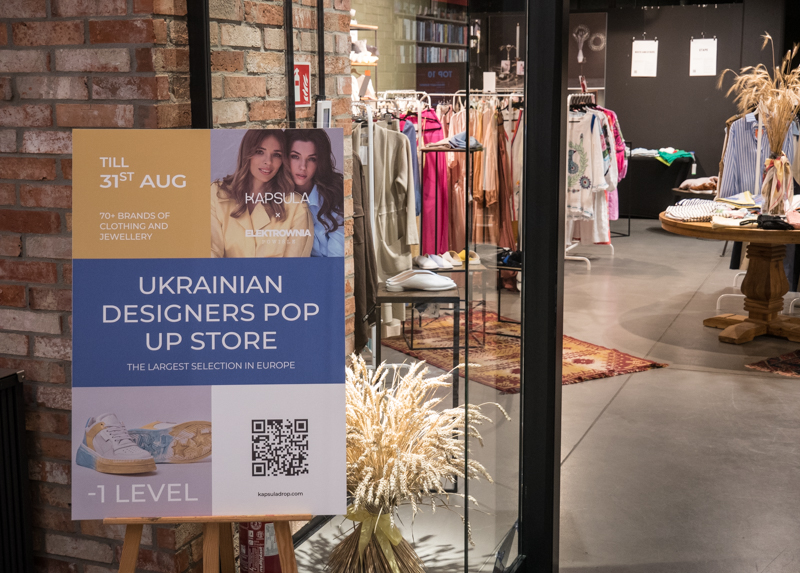 33_14
Taking advantage of having a car, we drove to Wilanów, a small town outside Warsaw, built by King Jan III Sobieski in the 17th century as a summer residence. Arguably, this was the last successful king in Poland's history. He is especially remembered for rescuing Vienna from an Ottoman siege in 1683, thus ending for good the Turks' attempts to advance into northern Europe. This palace is a rarity in the Warsaw area–it did not get damaged during the war: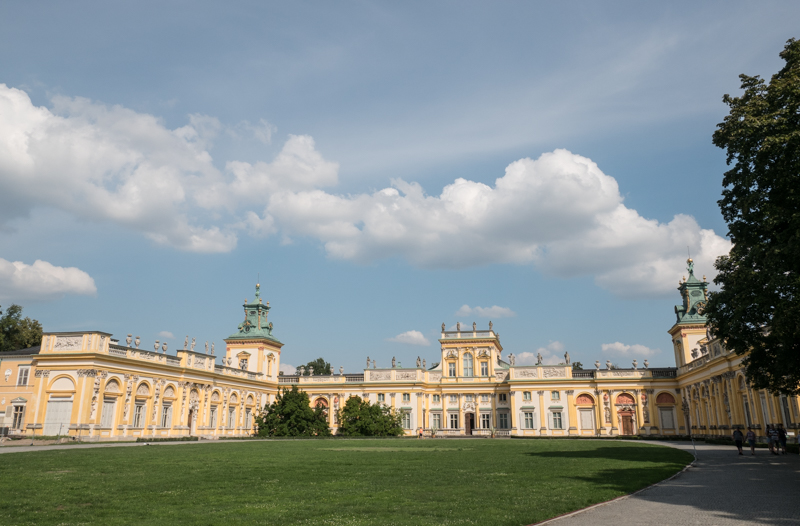 33_15
Inside the palace. After the partition of Poland in 1795, when the country was wiped off the map of Europe for the next 123 years, Wilanów became the property of the Potocki family who amassed an extensive art collection: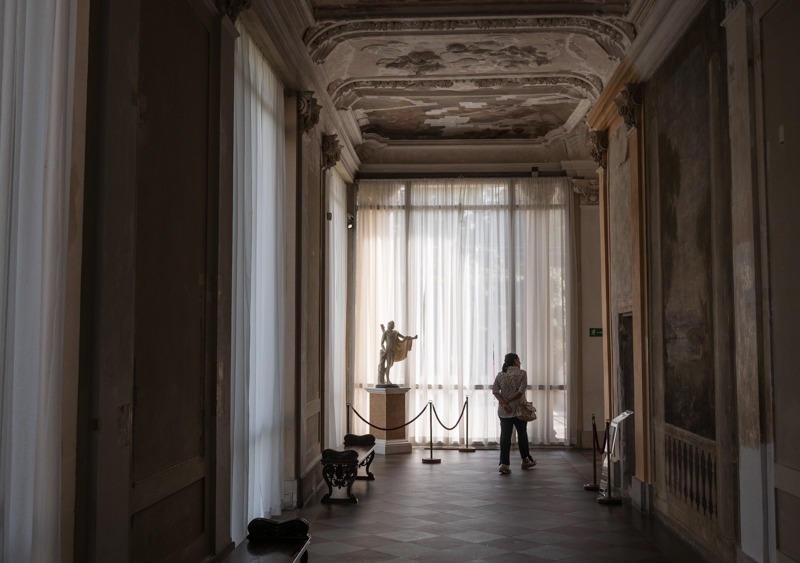 33_16
Next to the palace is a chapel of some kind, called Dzwonnica Trzeciego Tysiąclecia (the 3rd millennium bell tower):

33_17
Outside the chapel is this sculpture of a heart surrounded by scenes depicting Catholic life (priests molesting children are not included):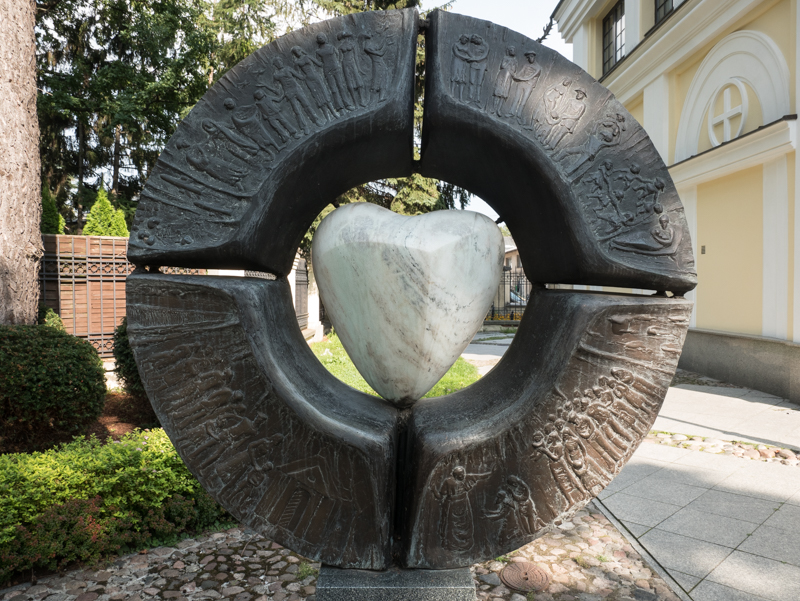 33_18
Also in the castle park is a restaurant called the Secret Garden. If you look closely, you will see a self-portrait of me and my wife: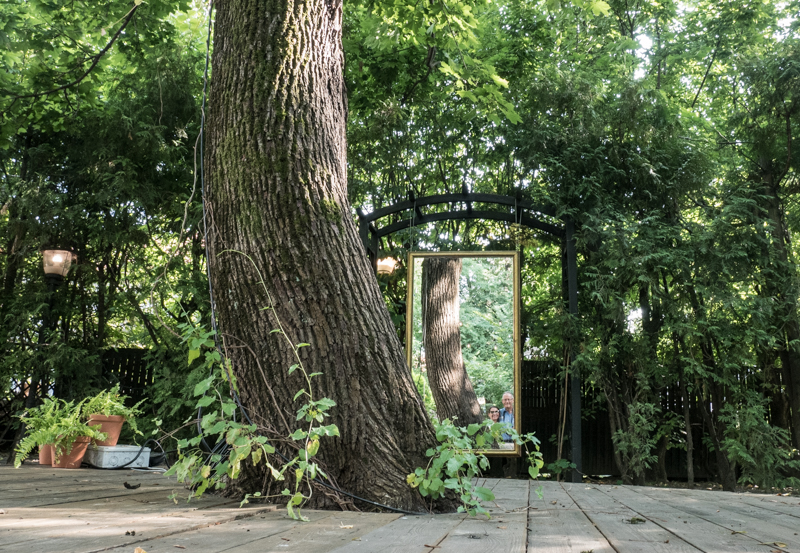 33_19
Warsaw has had a painful history, and the city is full of plaques and small memorials documenting historical events, mostly from World War II. Here, a spot where dozens of people were executed by the Germans in November 1944: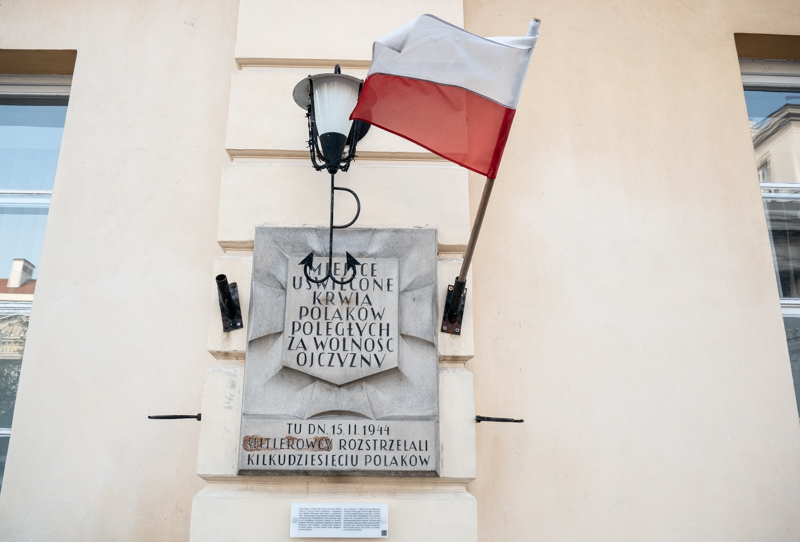 33_20
Here, during the Warsaw Uprising in 1944, a clandestine clinic was treating the wounded fighters: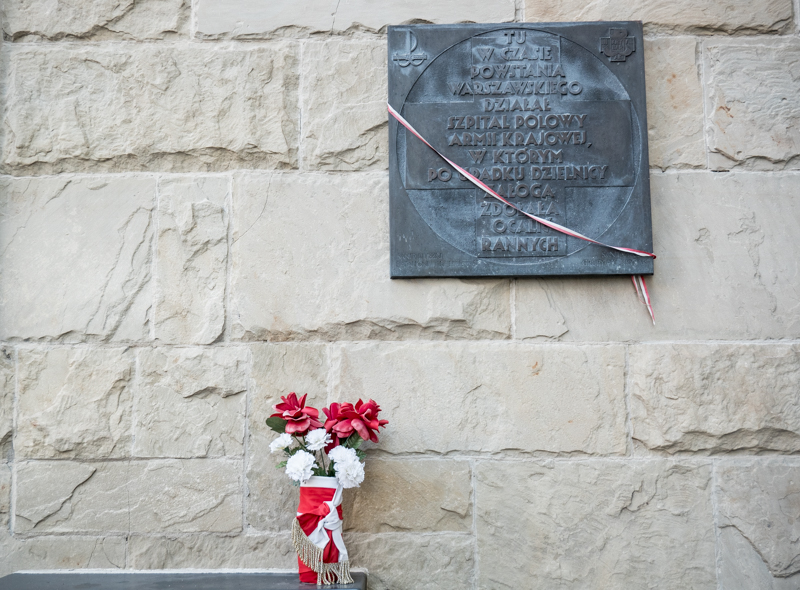 33_21
This one, on a small street near my hotel, commemorates Jan Józef Lipski, a man who fought in the 1944 uprising against the Germans, later became a writer and historian who was in opposition to the Communist regime his whole life, co-founded Solidarity in 1980, and served in the first free Parliament elected in 1989 until his death in 1991: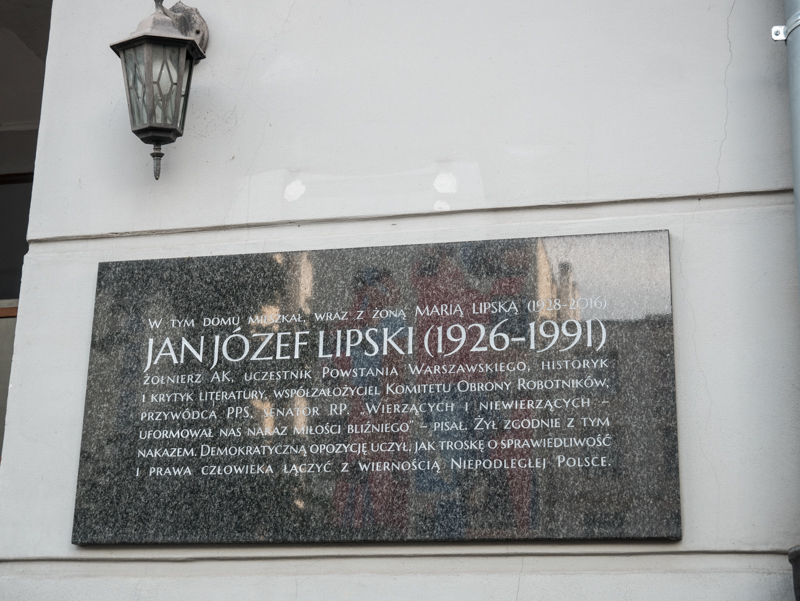 33_22
My uncle and his wife arrived on Thursday, and in the evening we went for dinner at a traditional Polish restaurant. The woman my uncle is talking is Iwona, a Polish doctor with whom he has been friends since she spent some time on a fellowship at his hospital in Gainesville, Florida some 20 years ago. She and her husband live in Warsaw and were wonderful hosts: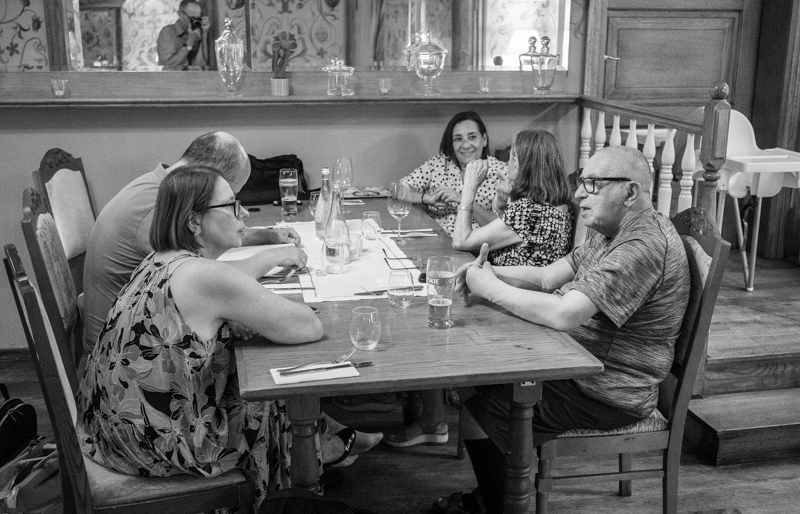 33_23
I chose one of the most traditional Polish dishes, golonka, a pork shank. This dish is also eaten in parts of Germany (it is called Eisbein there):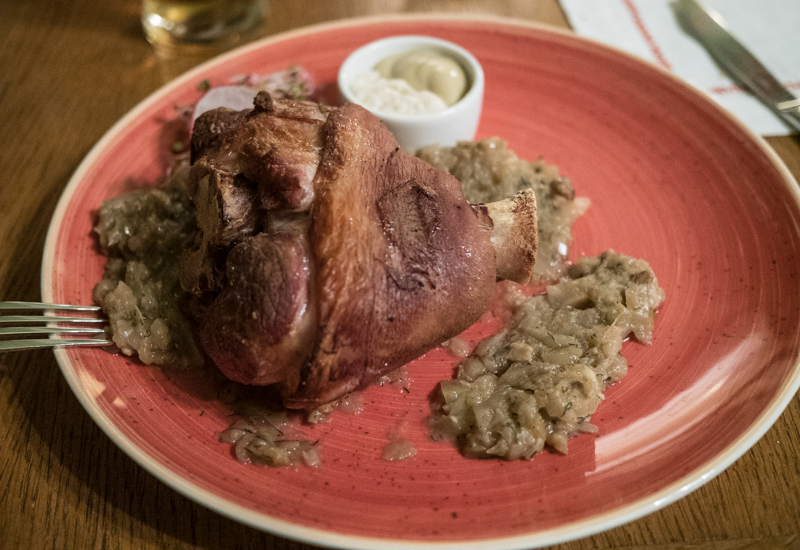 33_24
On Friday morning, we took a long walk around Łazienki, Warsaw's version of Central Park–a large park in the centre, dotted with small palaces and sculptures and such (in contrast to Central Park, there only footpaths, and no street vendors or buskers). This is the Palace on the Isle: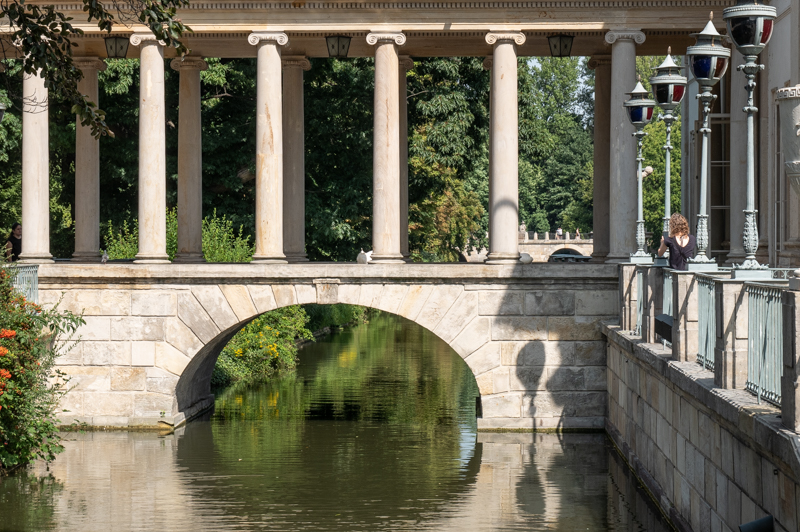 33_25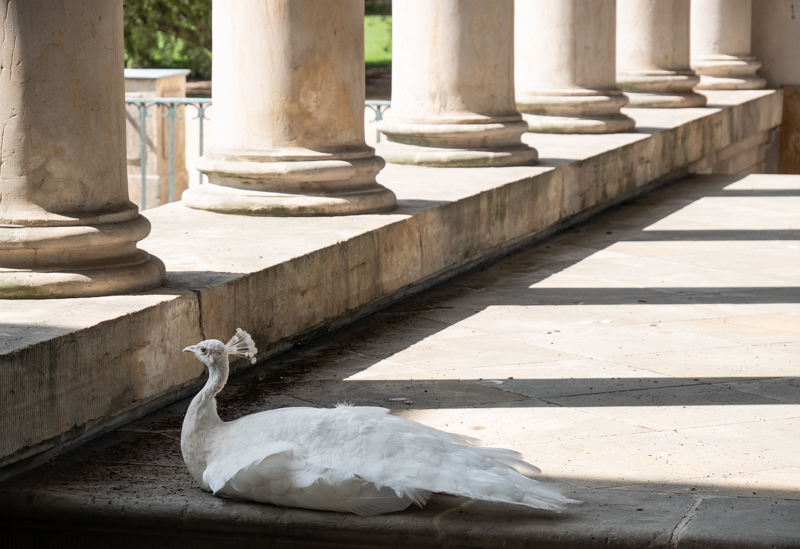 33_26
We sat down for a drink in one of the outdoor cafés, and I photographed this delightful scene: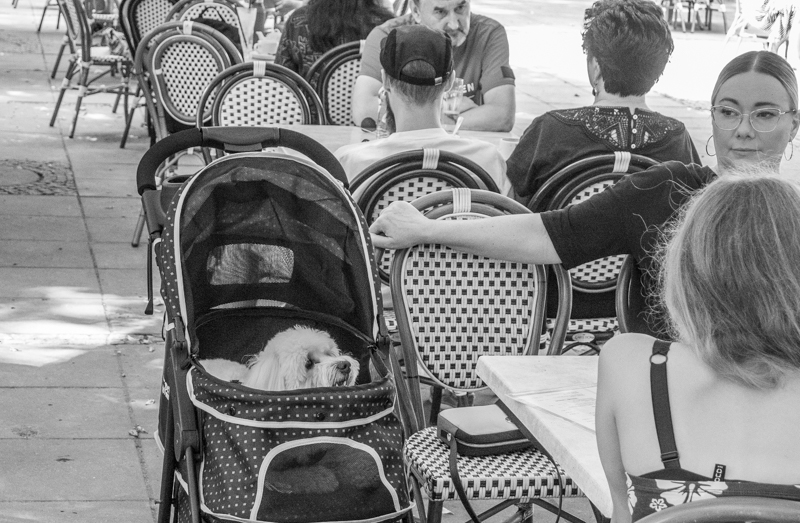 33_27
Across the street from our hotel was the city's Chopin museum. On Friday afternoon, while my travel companions were having a little siesta, I went there to have a look. This is one of the last pianos Chopin owned in Paris. One almost gets goosebumps looking at it and knowing that his hands were once striking these keys: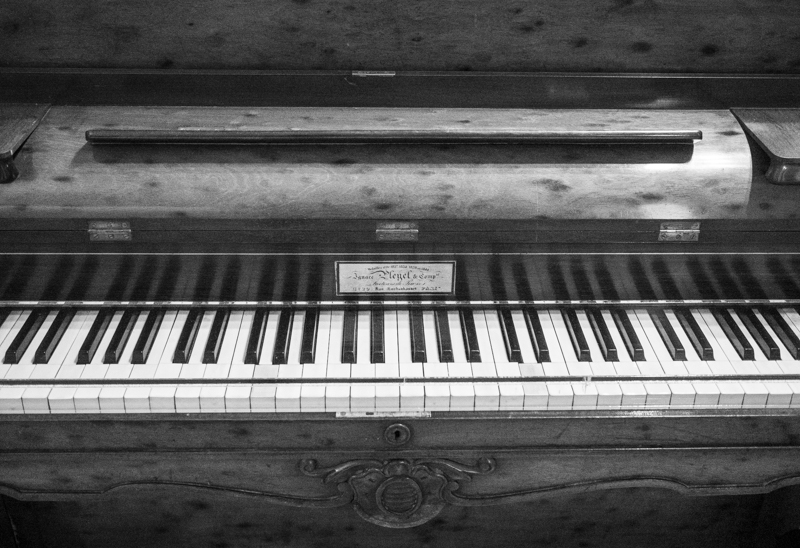 33_28
The museum visit was a nice prelude to our evening activity, a concert by Japanese pianist Mamiko Ueyama from Osaka, showing, once again, that Chopin's music is a universal language: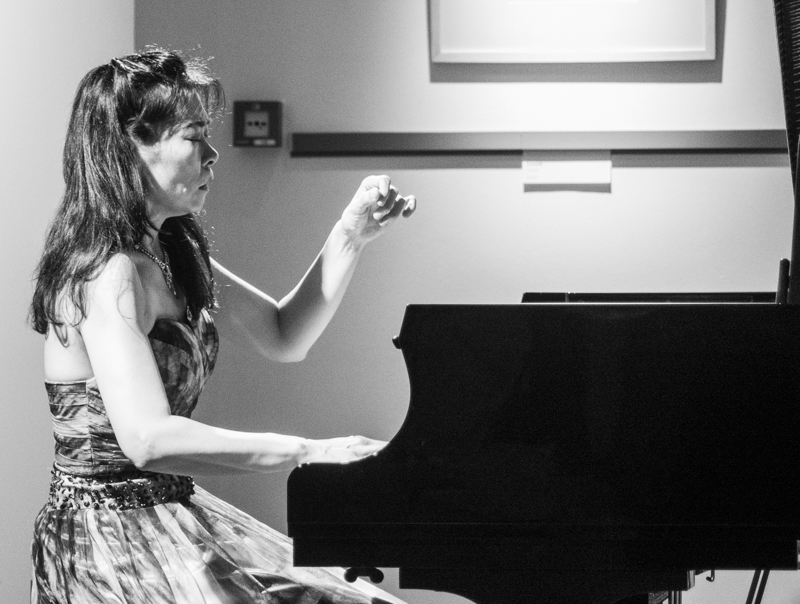 33_29
After the concert, we walked around the Old Town a bit, and then sat down for dinner at an outdoor restaurant on a lovely square. This is part of the menu, reflecting the war in Ukraine. One of the common types of pierogi is called "pierogi ruskie" ("Russian pierogi", stuffed with a mix of potato and cheese). But in this menu they are now called "pierogi from Rus, formerly pierogi ruskie", the difference being that "Rus" does not refer to today's Russia but to the Viking settlements in what is now Ukraine, Belarus and western Russia, between the 8th and 11th centuries, and thus much more politically acceptable than today's version of the country: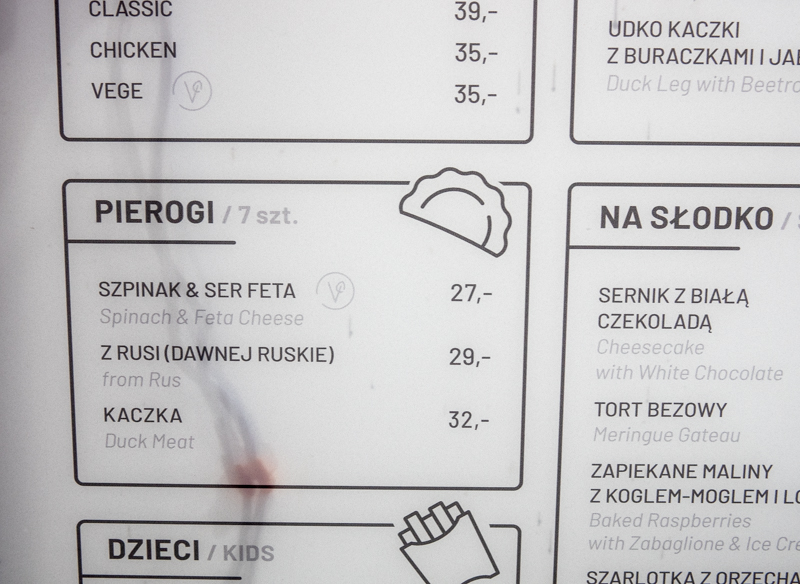 33_30
My last Warsaw picture, Iwona across a busy table: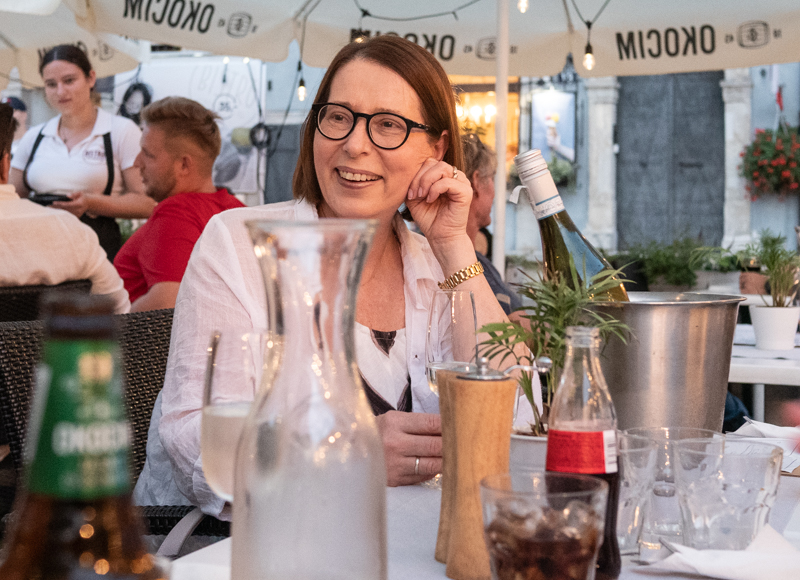 The following morning we got up early, drove to the airport and flew home to Alicante. More photos from Warsaw can be seen here.