I was back in Brussels in the penultimate week of November. But first I enjoyed a weekend of cycling and attending the Feria de Vermut in downtown Alicante. And the week ended with the first Thanksgiving in our recently remodeled house.
48_1
Another view of Busot, seen from above the town, on a morning with particularly nice light: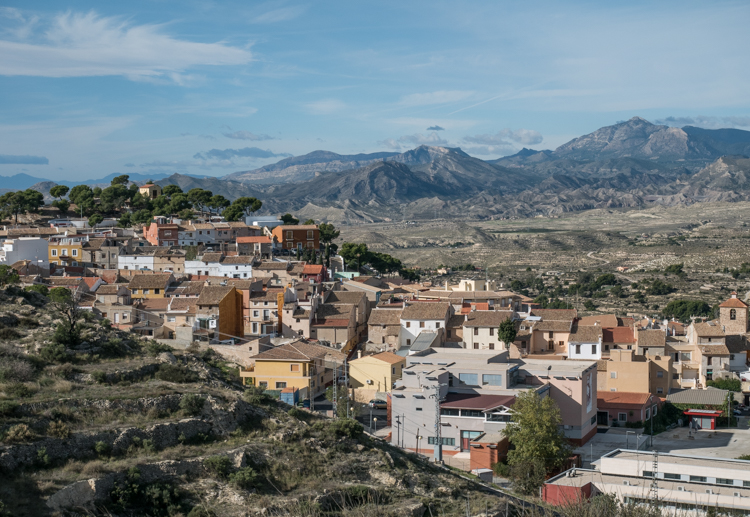 48_2
The church on the edge of Busot, where I usually stop for a break and to fill up my drinking bottle from the municipal mineral water spring across the street: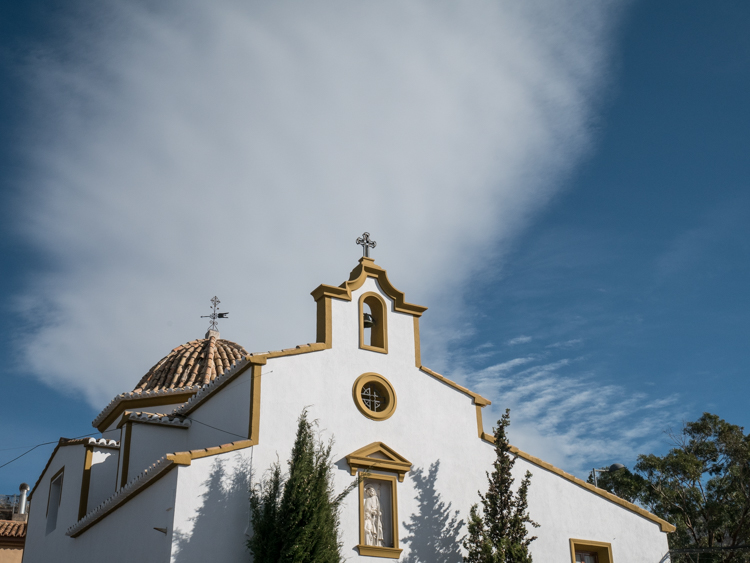 48_3
On the way home, traffic was stopped at a roundabout on the main Valencia road for a procession of some sort; I never found out what it was all about:

48_4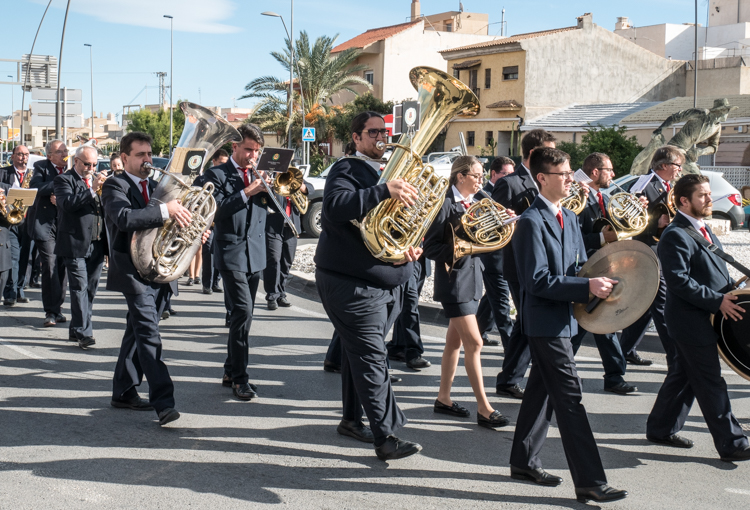 48_5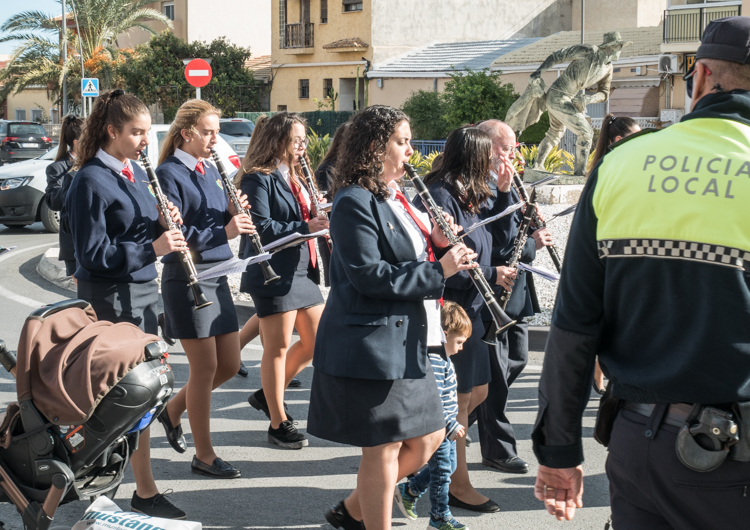 48_6
During the weekend, a Feria de Vermuth was held in the centre of Alicante. Vermuth is a popular drink in parts of Spain, especially in the Valencia region and in Catalonia:

48_7
Inside, people were standing around and tasting the various offerings: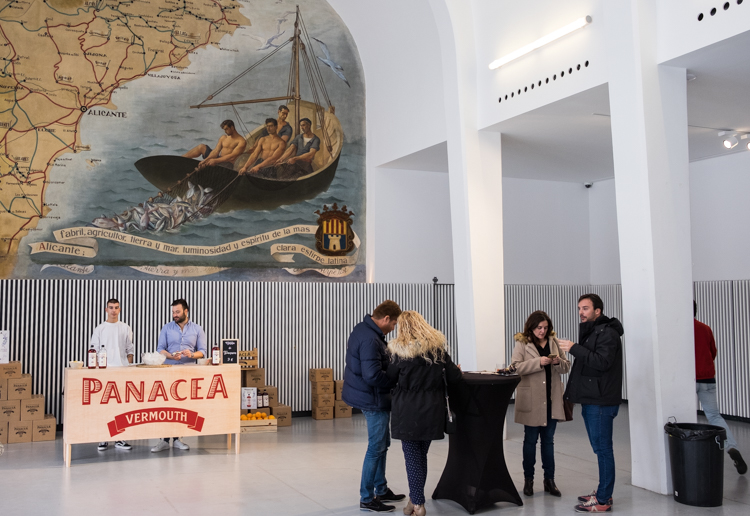 48_8
Two little girls find their own way to pass the time: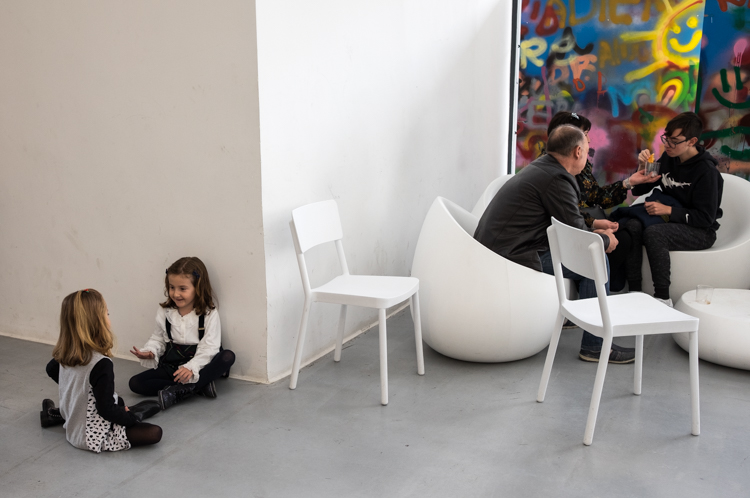 48_9
Couple I: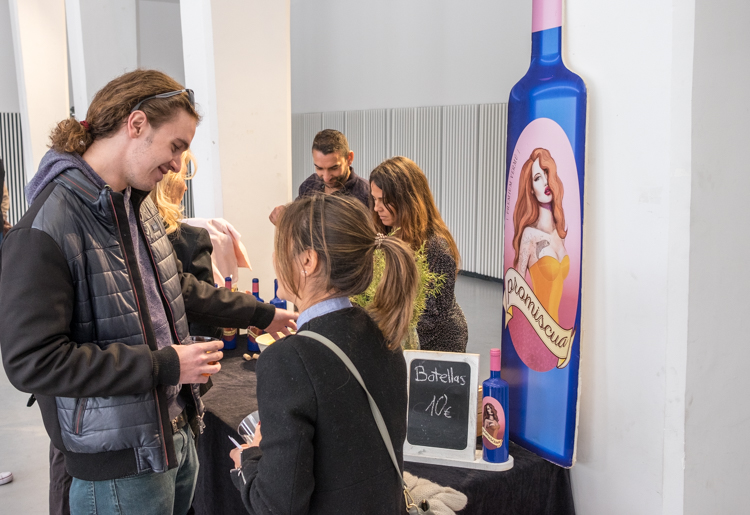 48_10
Couple II: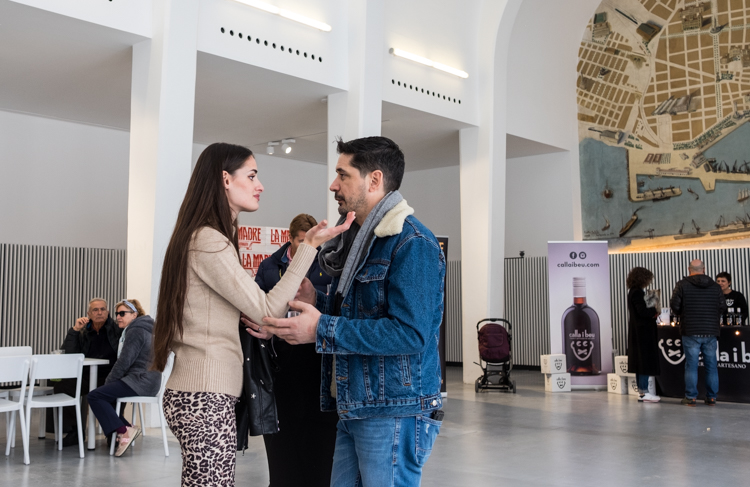 On Tuesday I flew to Brussels, the last of several trips there in 2019. I was in meetings all day Wednesday and Thursday morning, leaving mainly the evenings for photography.
48_11
Tuesday evening was more or less dry, but it had been raining earlier in the day, and the evening streets were glistening. Traffic on Rue de la Loi was dense as always: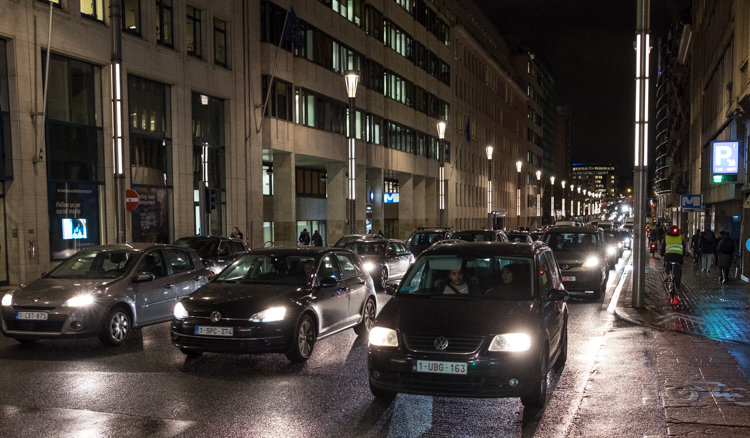 48_12
I walked down to the centre to see if the city was already decorated for Christmas. The Christmas market was starting on Friday, so I was going to miss it by one day. But there were plenty of lights of all kind on Boulevard Anspach, a major thoroughfare when I lived in Brussels in the 1990s, now a pedestrian street: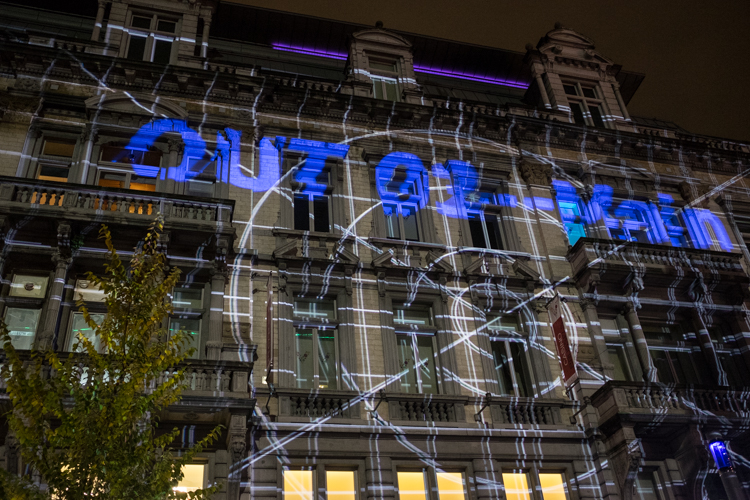 48_13
The Bourse building was very colourful: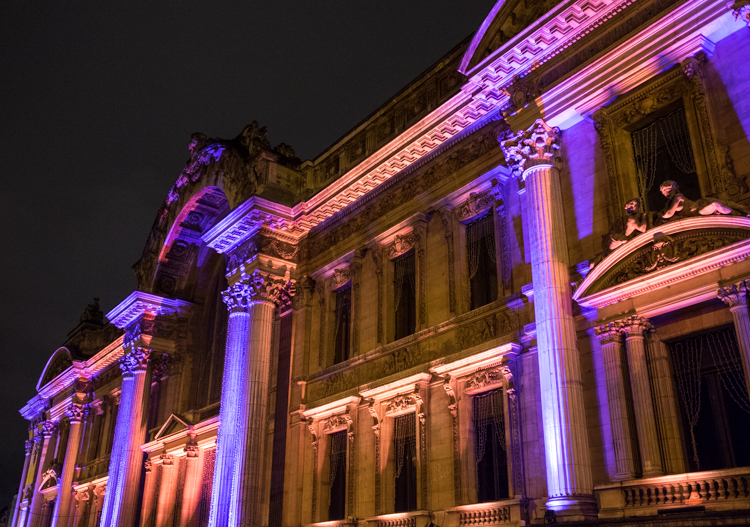 48_14
A real café racer: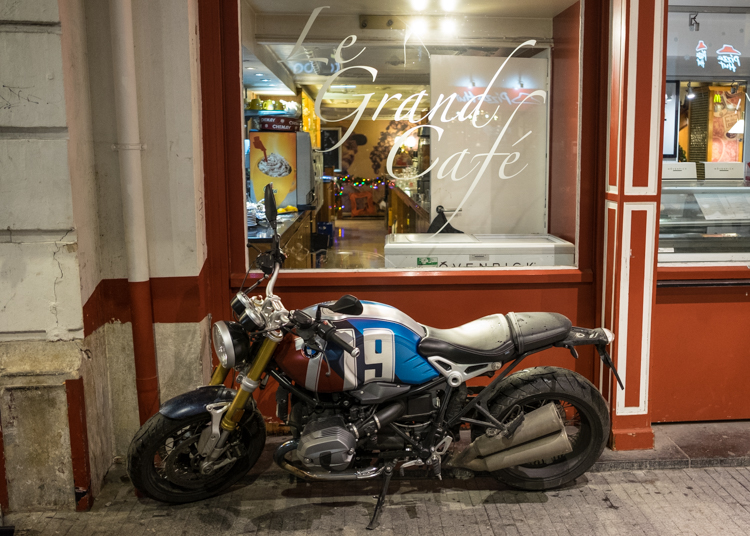 48_15
It was time for a beer, and I popped into Les Brasseurs on Boulevard Anspach. It is a nice, classic bar with an excellent beer selection: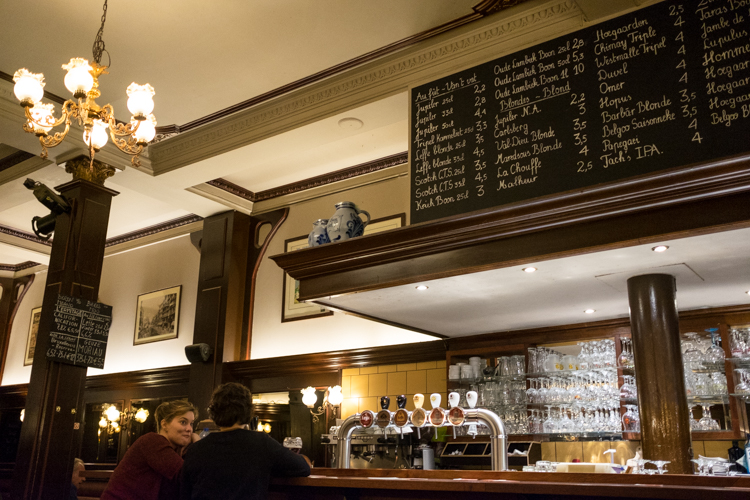 48_16
An inevitable consequence of beer consumption is a trip to the toilet. In many Brussels bars the facilities are located downstairs, and at Les Brasseurs the stairway is particularly treacherous, especially if you have overindulged: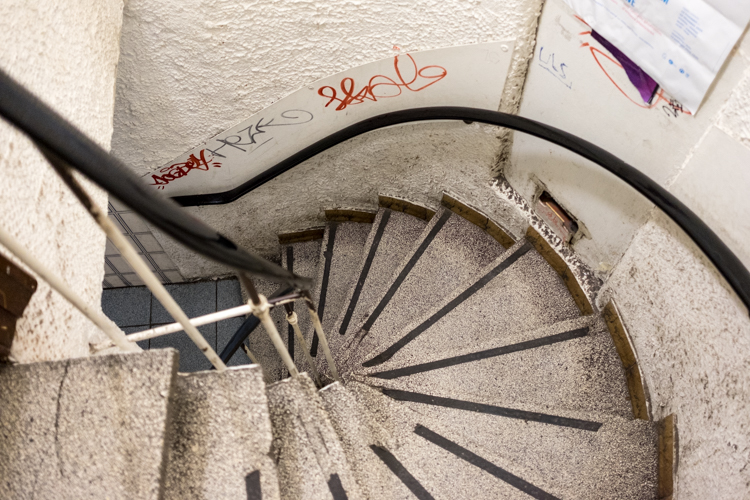 48_17
Grand' Place was crowded and beautiful as always. The official Brussels Christmas tree was in place but the lights were not on yet: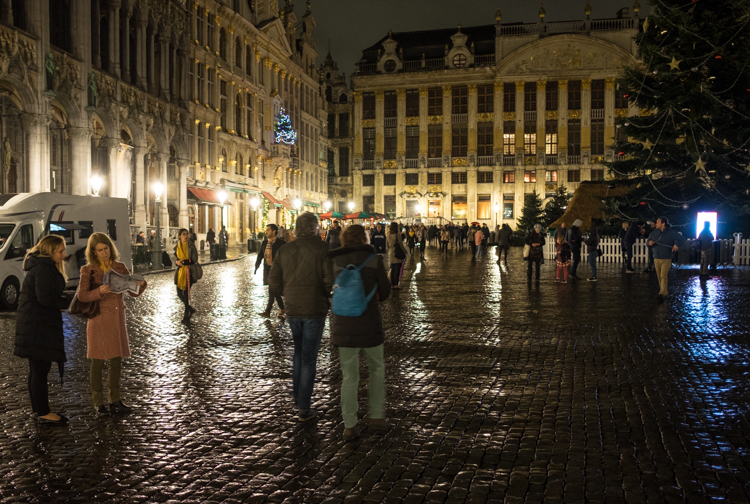 48_18
But the adjacent streets were nicely decorated: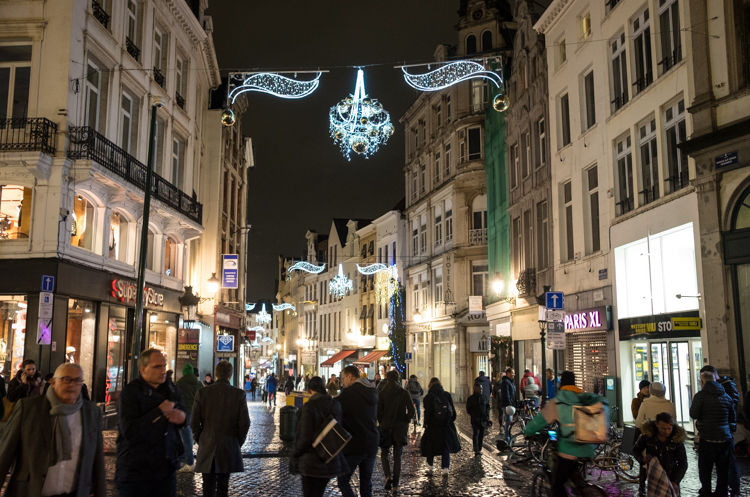 48_19
And Galerie St-Hubert, where I sometimes go to buy Pierre Marcolini chocolate, was absolutely beautiful: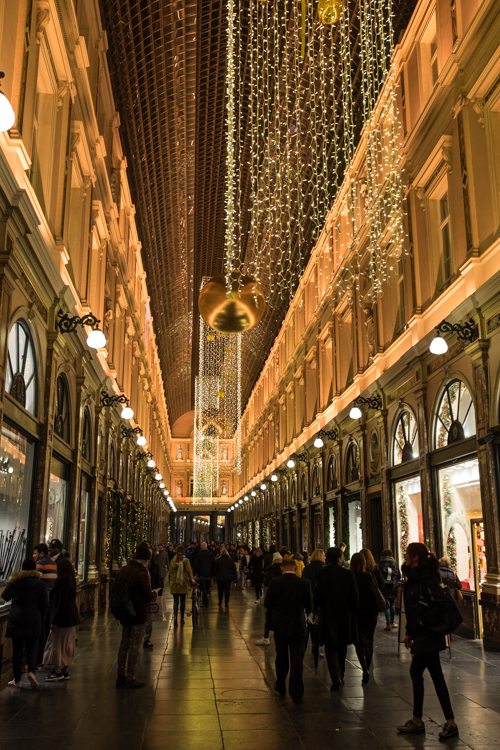 48_20
Brussels has lots of street art, both unofficial and, like here, official–"Le Mur" or "the wall", is a place where a new work of art is placed every month: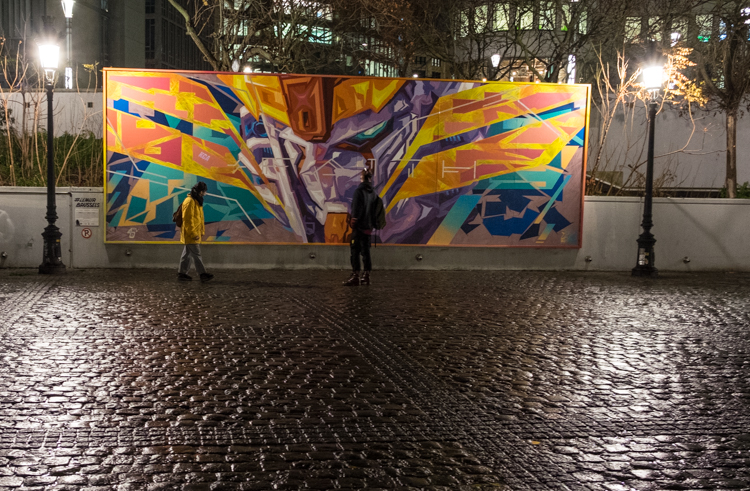 48_21
I had dinner at L'Ultime Atome in Ixelles, passing yet another piece of street art on the way back to my hotel: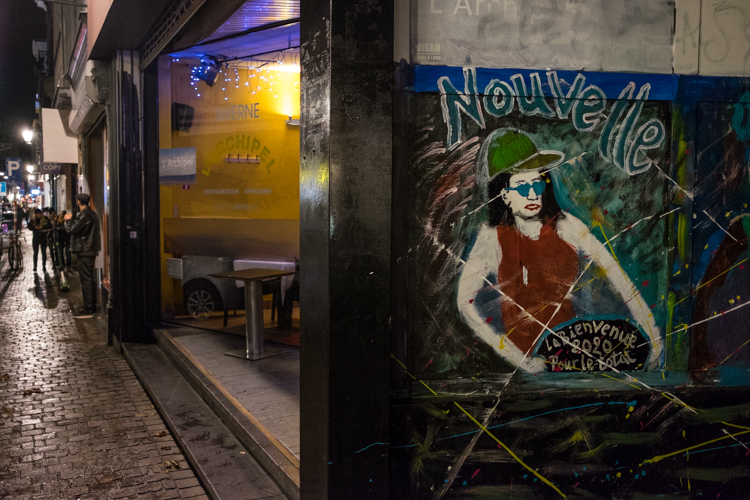 48_22
I later walked past the Belgian parliament building, whose grandeur does not really match the usually fragile Belgian governments: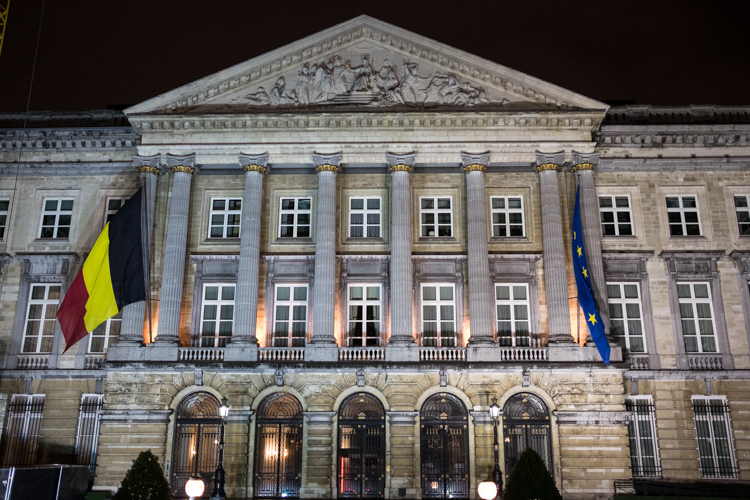 48_23
On Wednesday morning it was time to get up and work; conveniently, the meetings we were hosting took place in the conference centre of the hotel, which meant that it was not necessary to walk in the rain outside wearing suit and tie. At the entrance to the breakfast room stands this Belgian cow, with some traces of Halloween still there: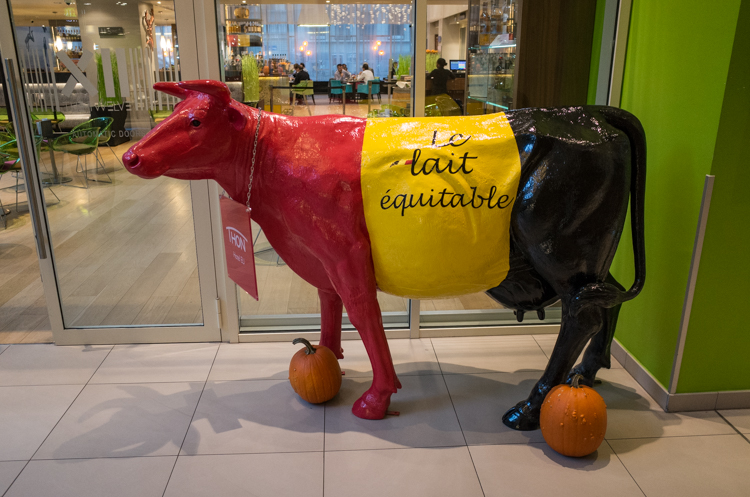 48_24
At mid-day, I took this casual portrait of two very good Polish economists, Piotr from the OECD (right) and Michał from my own team in Alicante: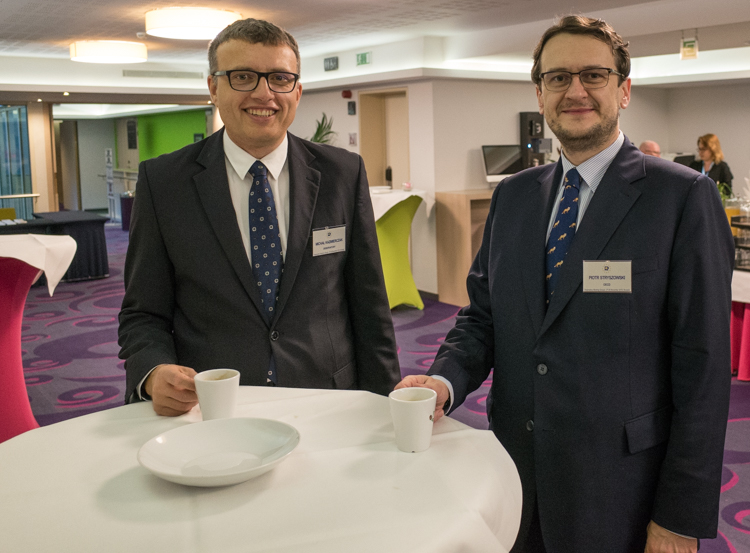 48_25
Meetings over on Wednesday evening, I made my way to my cousin Nicole's house for dinner. Given the weather, I used the metro rather than walking, except for the last bit from the metro station to her place, which yielded nice atmospheric images such as this one: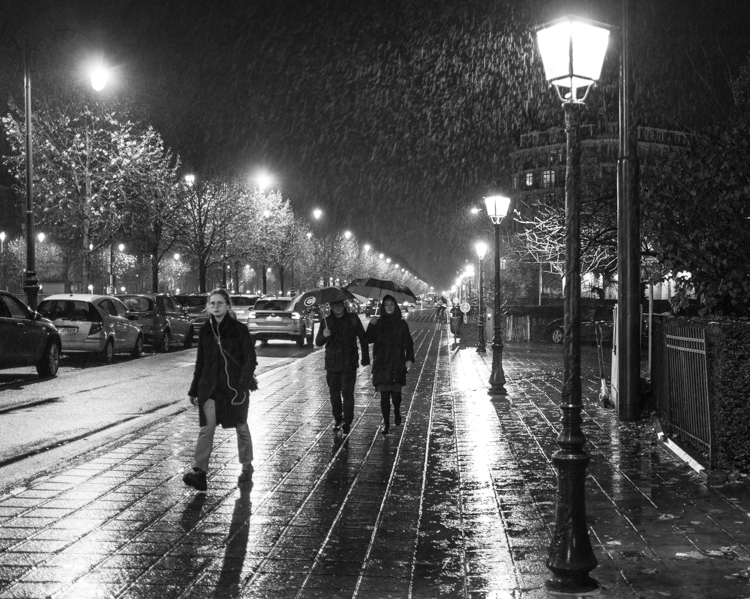 48_26
On Thursday morning I had a meeting at our office off the Schuman circle, so I was forced outside–but luckily, the rain decided to take a break. I walked past this statue outside one of the Council buildings, a man stepping into the unknown, I suppose. It is one of those things I always photograph when I am in Brussels, always trying to find a new and better angle: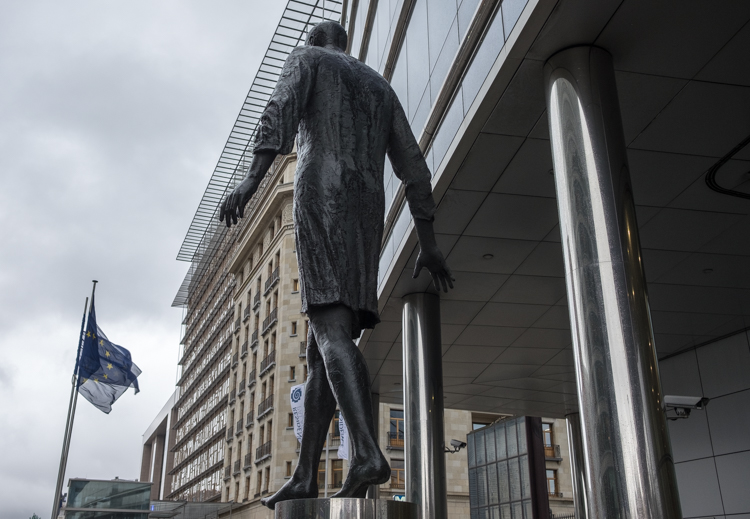 48_27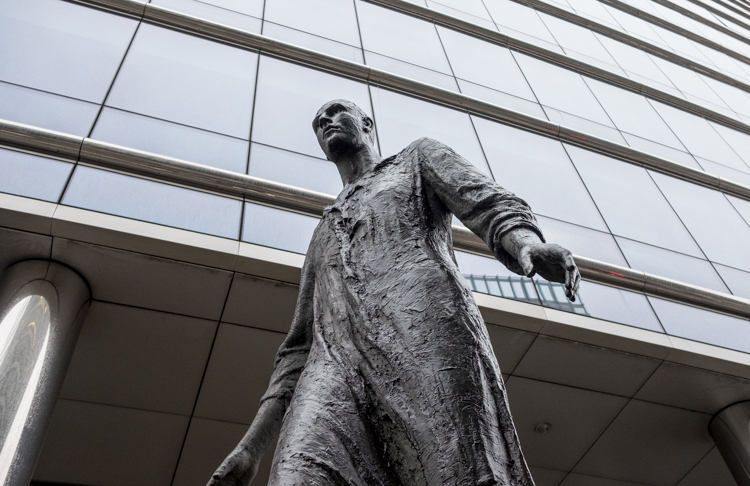 48_28
I was done with my meetings by lunchtime but my flight home was at 9 p.m., so after changing into comfortable clothes, checking out and leaving my luggage at the hotel, I ventured out to enjoy my free afternoon. I passed this memorial plaque outside a paratrooper veteran club of some sort:

48_29
I decided to visit an art place I had not visited before, Hangar 18, which hosted part of the ongoing Brussels Photo festival. To get there, I took the metro to the Louise station and walked down Avenue Louise, a wide boulevard leading out of the centre, lined by many posh shops and nice apartment buildings, but also this little funky art gallery in a window, called "Monsters":

48_30
Finally, after walking a km or so, braving the drizzle, I arrived at my destination: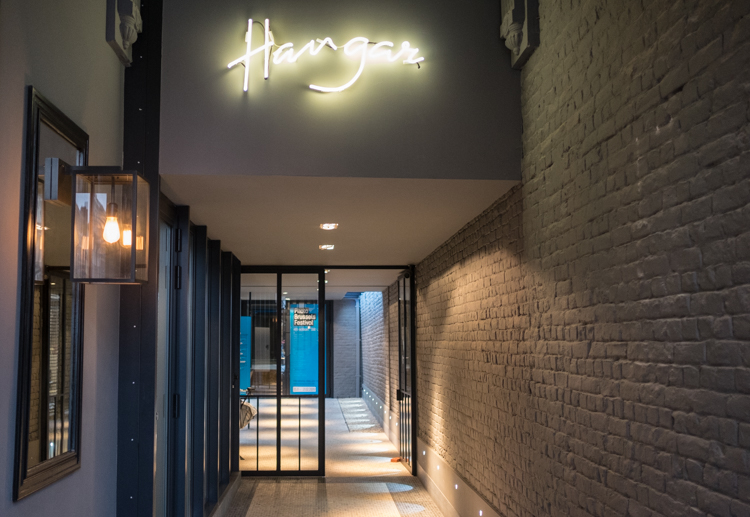 48_31
Hangar 18 turned out to be quite interesting. It is a large exhibition space, with 3 floors and no permanent collection–meaning that this is a place on which I will keep an eye from now on, since there are likely to be interesting exhibitions when I come to Brussels. On this day, on the ground floor there was an exhibition called "Dead Grocery" by Geneviève Gleize, basically a recreation of a closed-down small grocery store somewhere in France or perhaps in Wallonia: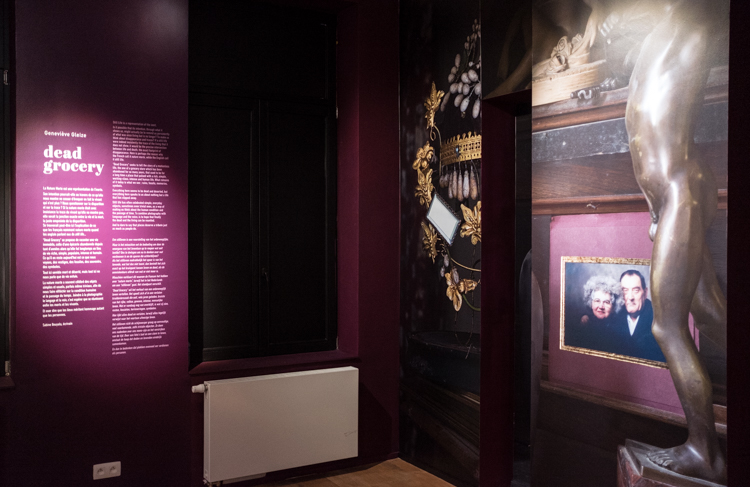 48_32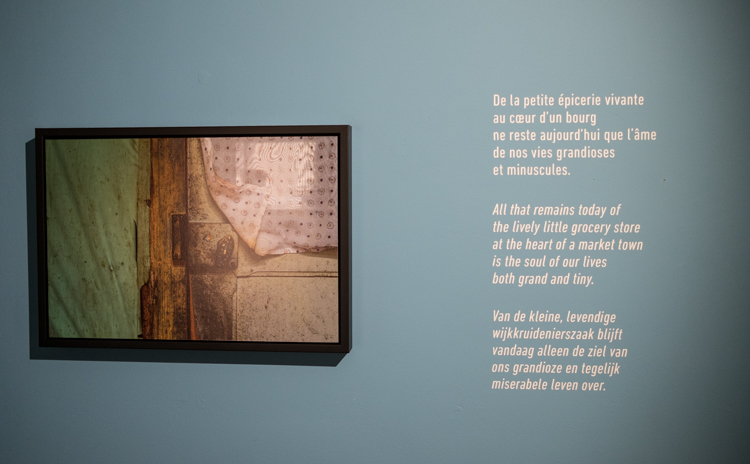 48_33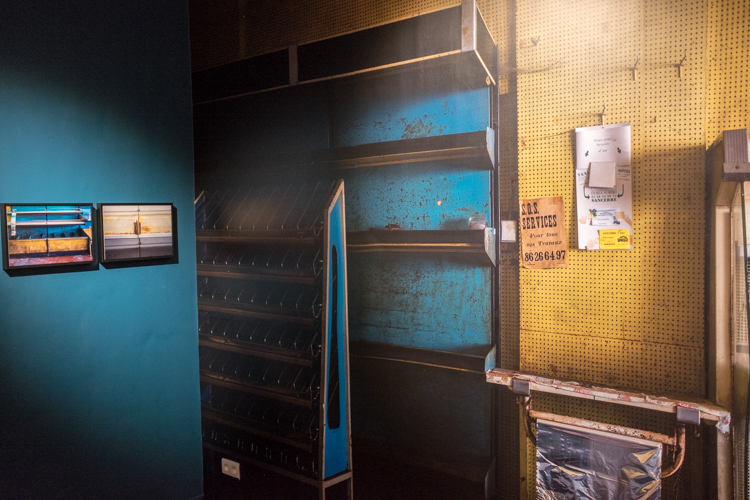 48_34
I then moved on to an exhibition with a unifying theme of nature morte: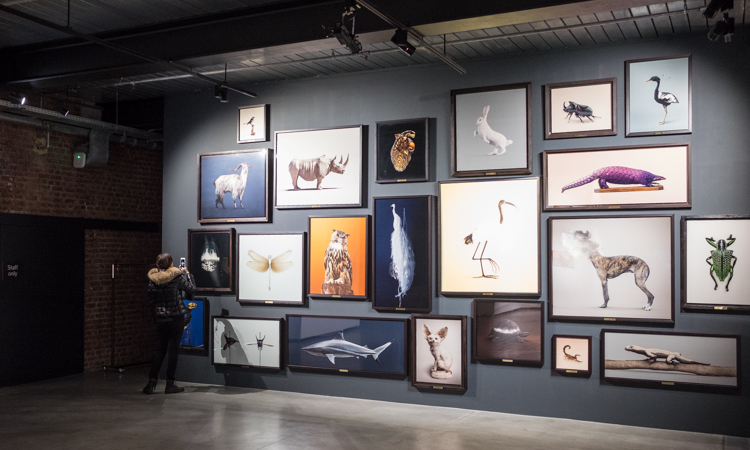 48_35
I enjoyed the paintings by Dutch artist Wim Wauman. I had never heard of him (nor of any of the other artists whose works I saw at Hangar 18), but this is what visiting galleries is about for me, to expand my horizons: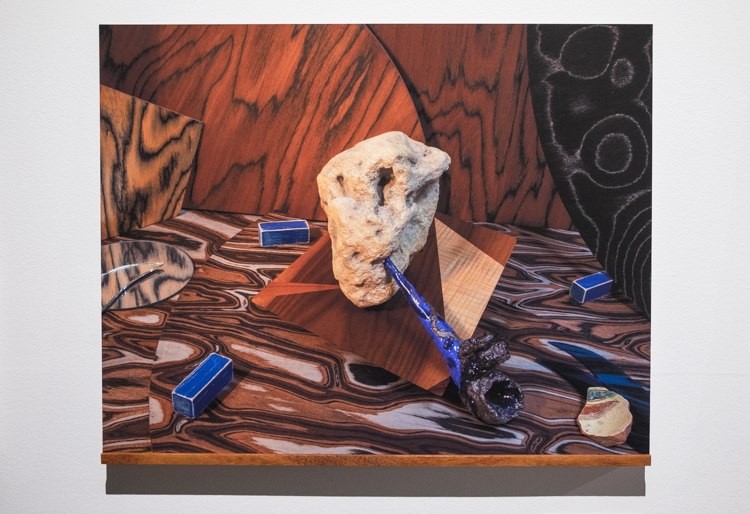 48_36
Installation, artist unrecorded: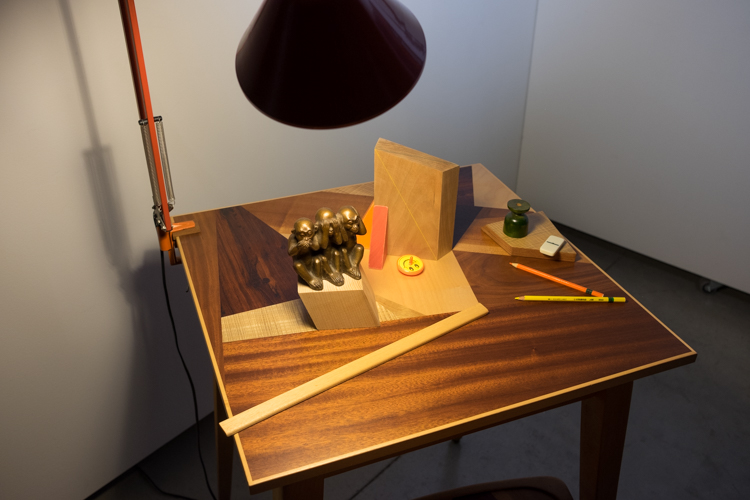 48_37
Large mask: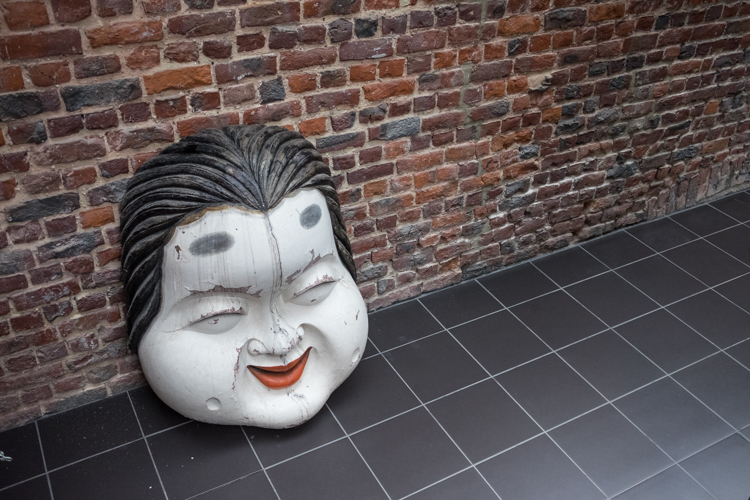 48_38
Some more paintings that I liked, but I forgot to write down the name of the artist: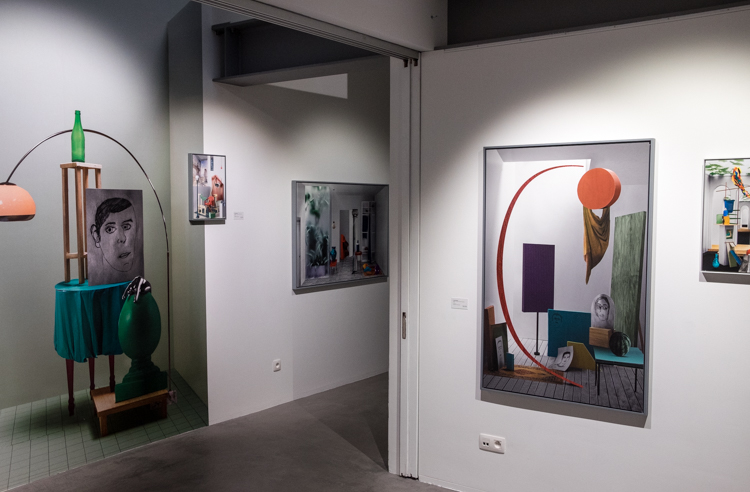 48_39
An intriguing and amusing photograph by Krista van der Niet, a photographer who lives in the same nondescript Dutch town, Almere, where we lived from 2003 to 2007: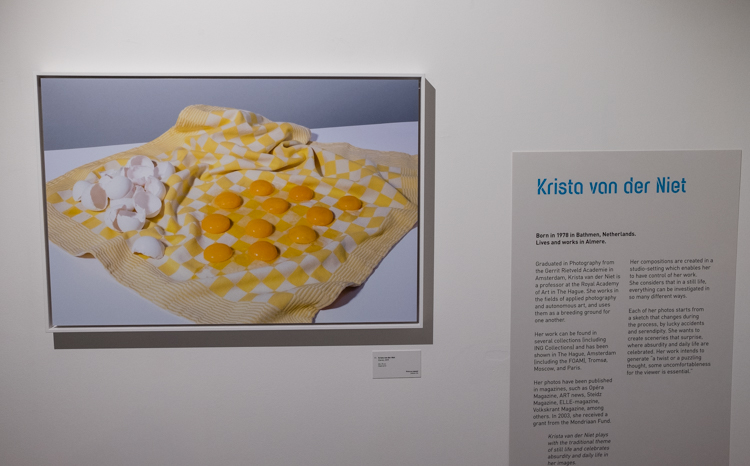 48_40
A last look on the way out, I assume this was the bicycle belonging to the friendly lady who looked after the small bookshop at the entrance: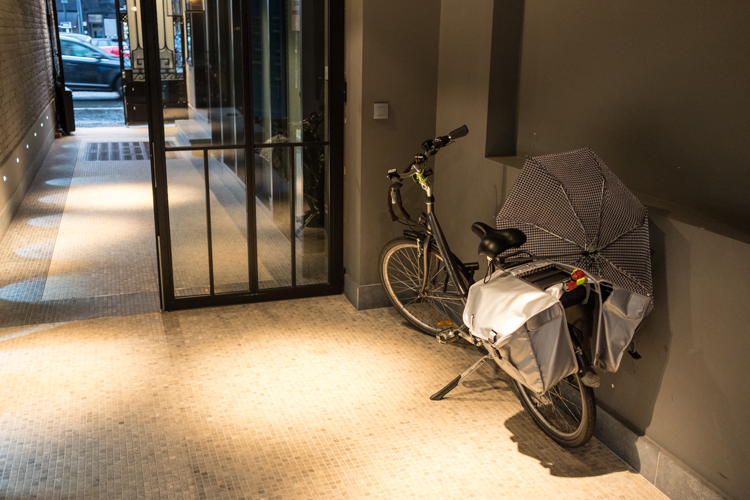 48_41
I then made my way back to my hotel, picked up my bag and made my way to the Gare du Midi from where I was taking a bus to Charleroi airport and my flight home. The last photo I took in Brussels were these posters on the wall of one of the EU buildings. There is always interesting politics going on in Brussels: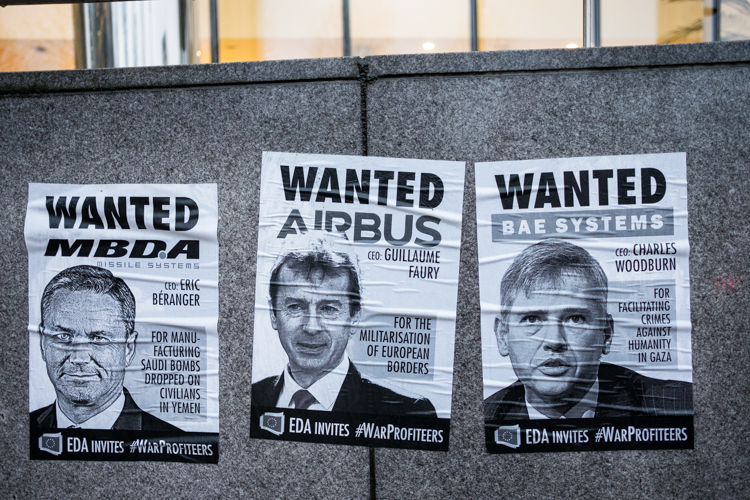 48_42
I arrived home shortly before midnight on Thursday night. My wife had invited our closest Spanish friends for Thanksgiving dinner. By the time I arrived the main dishes had been devoured but there was plenty of food and wine left for me: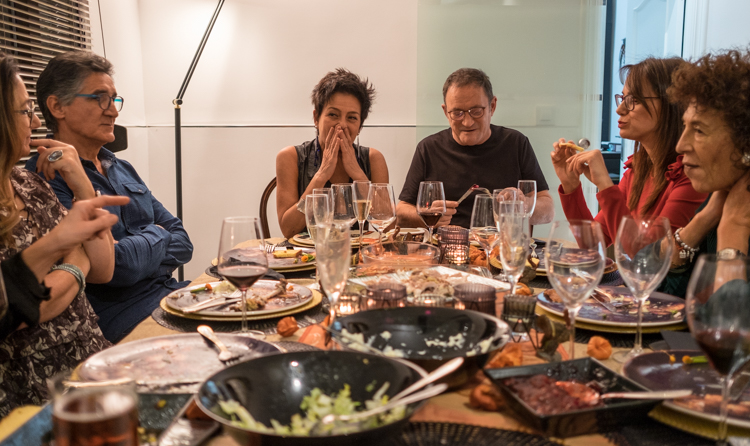 48_43
I brought some delicious Belgian cheese for dessert: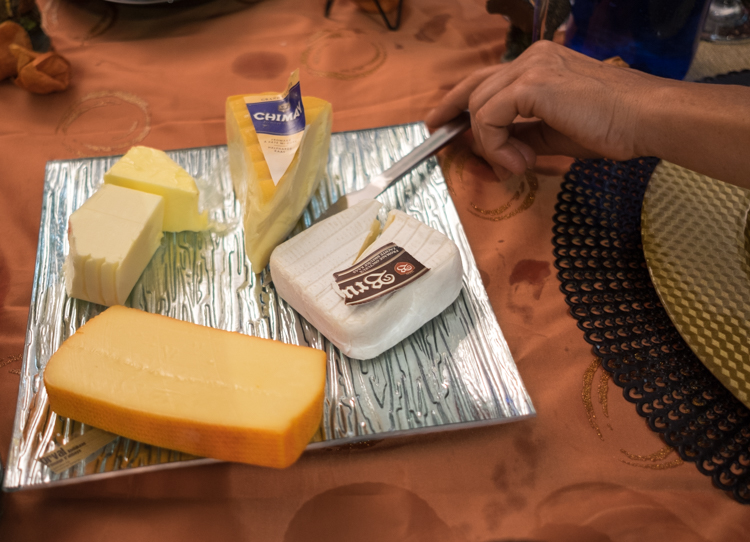 48_44
Nice smile by Dalaal: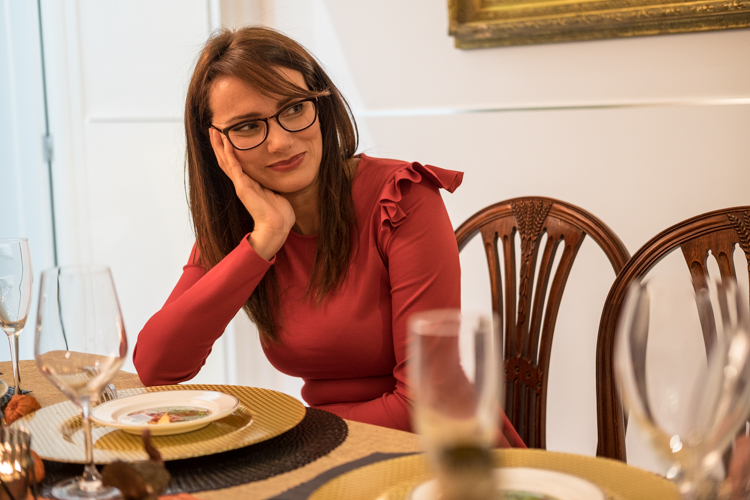 48_45
Nice smile by Roberto: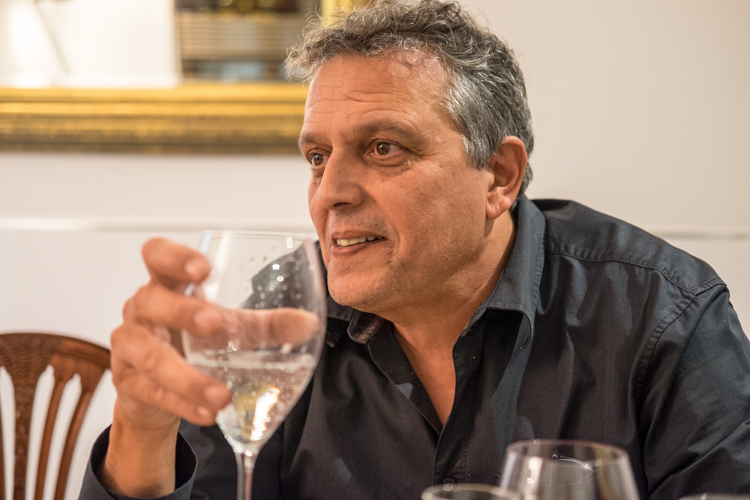 48_46
And finally my wife, posing with her pecan pie: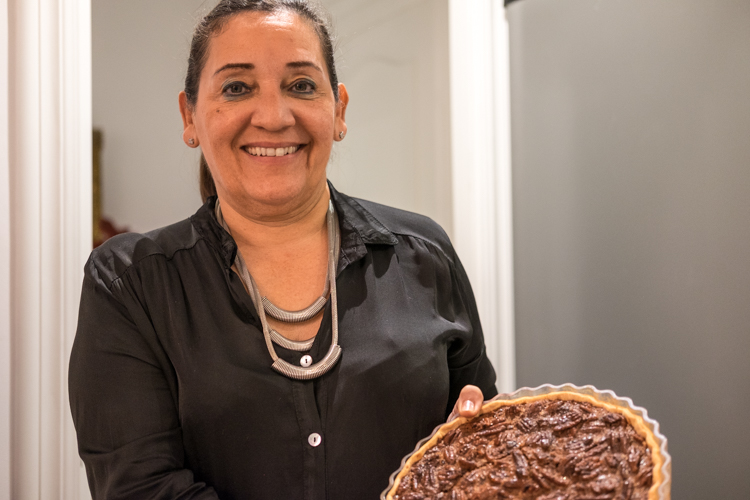 Around 3 a.m. out guests left, and I could rest (I had wisely taken Friday off).
More photos from my trips to Brussels during the autumn of 2019 can be seen here.