I was still confined to walking and public transport last week, but actually travelling to and from work on bus and tram provides more photo opportunities than driving. This was also the week when the biggest Alicante festivities of the year, Hogueras de San Juan, began.
Main
Sunday morning I walked down to the beach shortly after sunrise: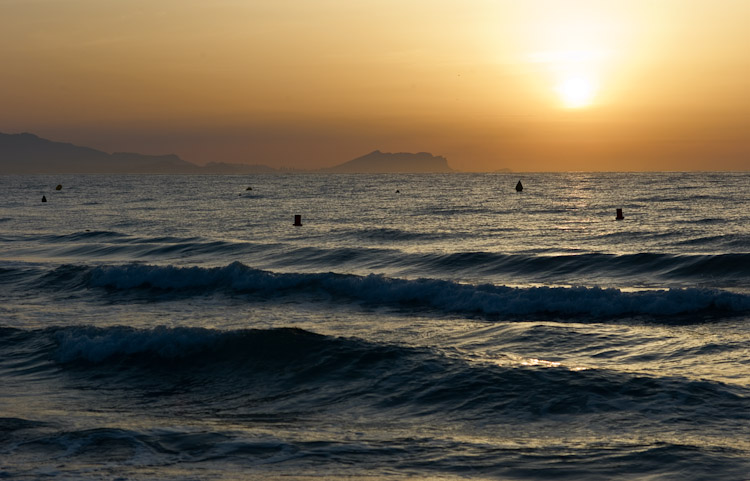 The alternates:
Alternate 1
I am not sure if this couple had just arrived or had been there the entire night: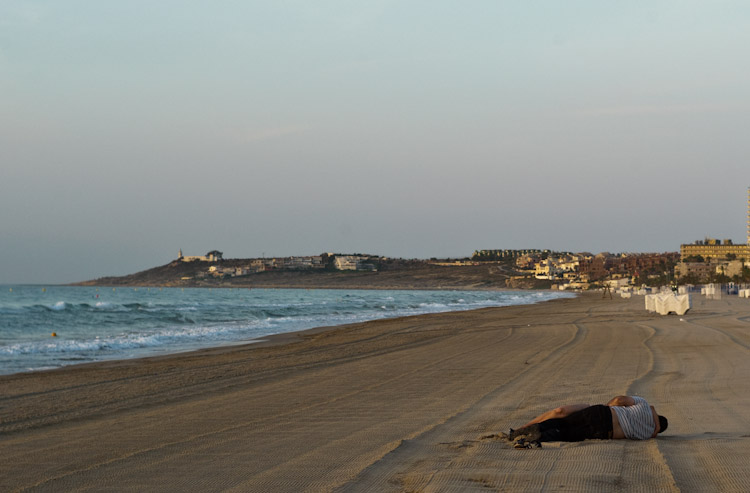 Alternate 2
Another common sight on the beach early in the morning–people (mostly older men) walk around with metal detectors to pick up the coins that have fallen out of people's pockets the previous day: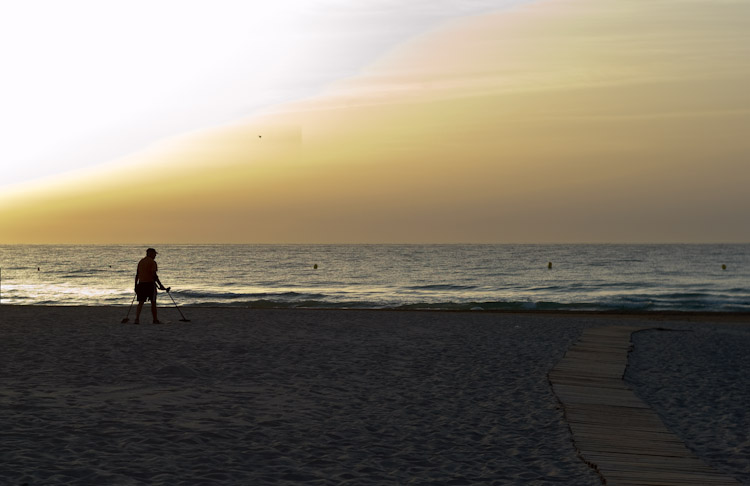 Alternate 3
On my way to work Wednesday morning I passed Postiguet beach in the centre. I could not tell if these guys sleeping rough were homeless or just backpacking types looking to cut the cost of their beach vacation:

Alternate 4
The same afternoon, I passed by the Plaza del Ayuntamiento, or town hall. Alicante is preparing for Hogueras de San Juan. Everywhere in town large statues like these are being readied. They will all be burned on June 24th: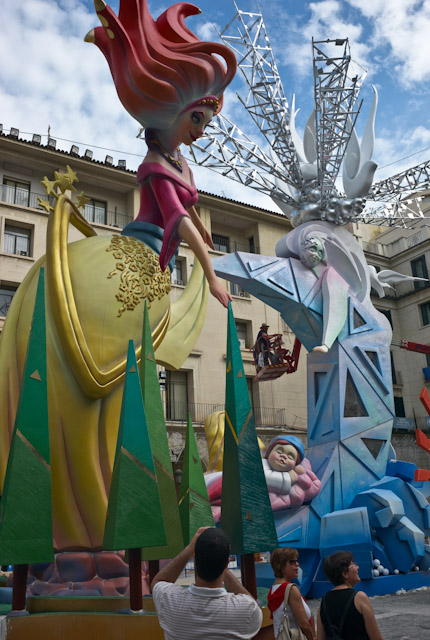 Alternate 5
The face: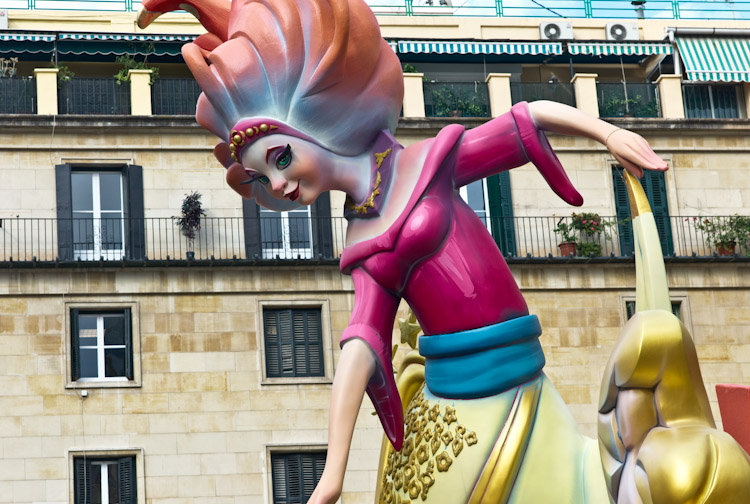 Alternate 6
It is a big job: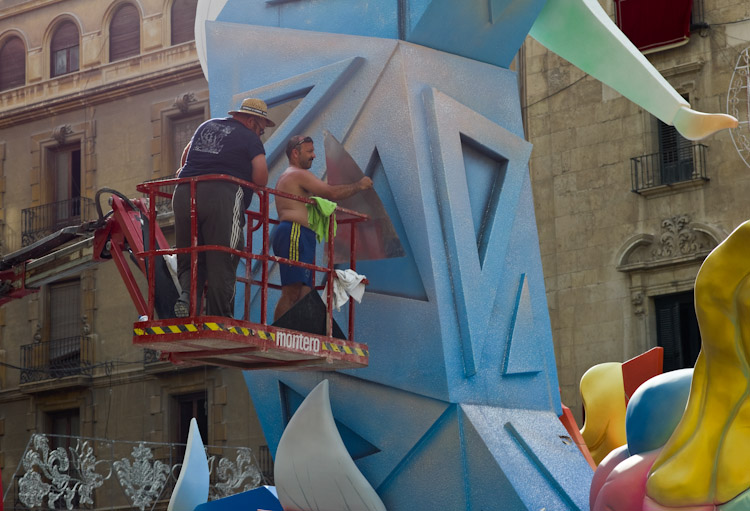 Alternate 7
Big boobs: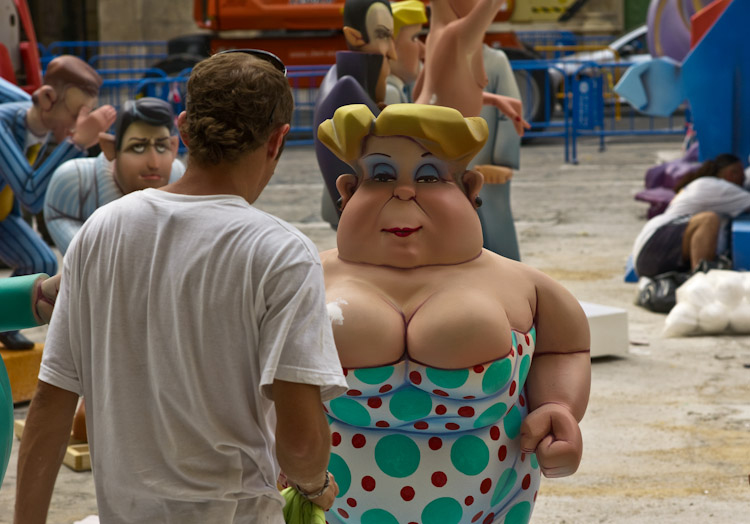 Alternate 8
Lest the viewer thinks I am only interested in pretty girls or couples making out, here is some baby-kissing on the Esplanada: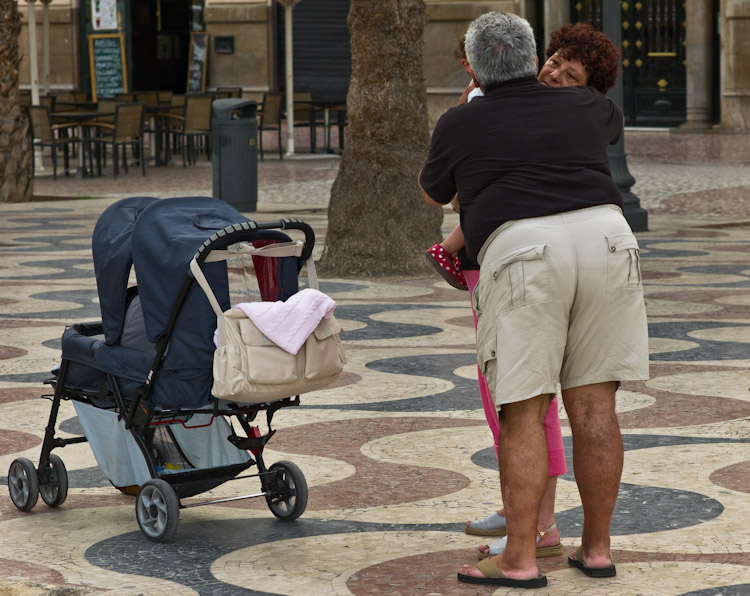 Alternate 9
Friday I went out to eat with my team. I am changing jobs within the office, and this was my last day as the boss of this group of people. Here are Egle and Vanessa exploring the mysteries of someone else's camera: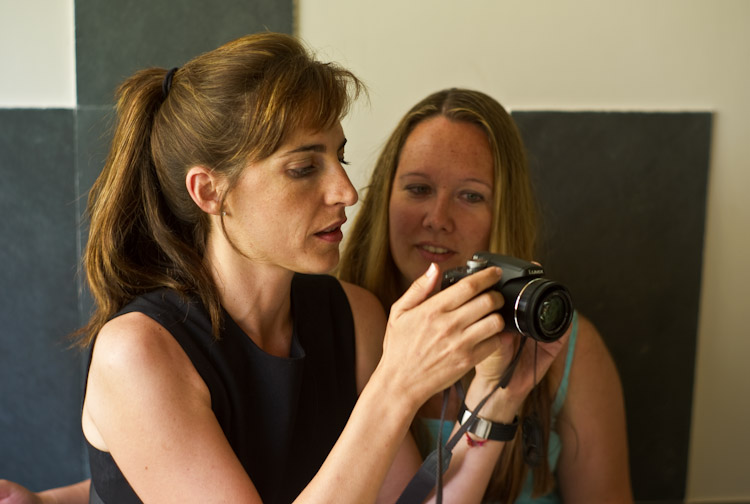 Alternate 10
Everyone's favourite Adecco interim, Karin. Sadly, she is going back to Luxembourg later this summer: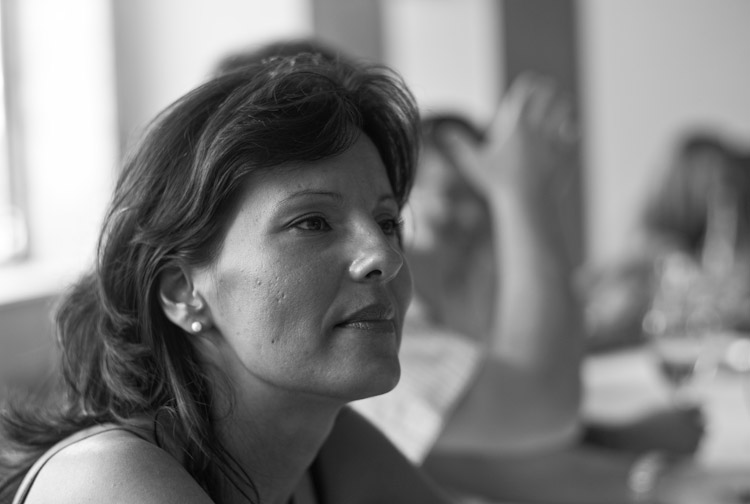 Saturday was the day when the celebrations of the midsummer really began. This is not the time to be driving around Alicante. Many streets are closed because they have been converted into outdoor bars, known as barracas. Some are open to the general public, others are for particular groups. Our office has one that we share with some company, and basically there is a fiesta there every day until the 24th. On the 24th all the statues around town will be burned in a ritual known as La Cremá. So, around midnight on Saturday (that is when most Spanish parties begin) my wife and I took the tram to the centre to check it out.
Alternate 11
Another Hogueras statue, on one of the many squares: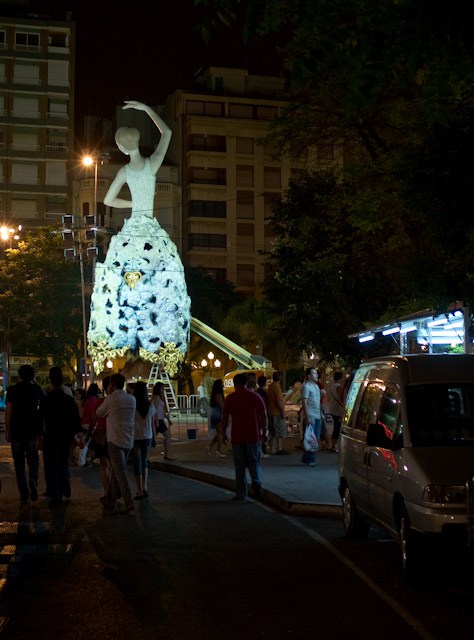 Alternate 12
The DJ of our barraca. The people in the surrounding houses will not get much sleep this week: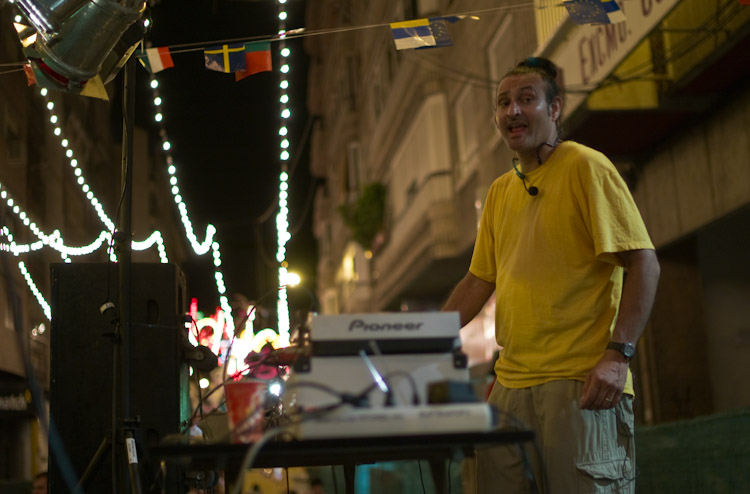 Alternate 13
Vanessa, her husband Guillaume and a friend: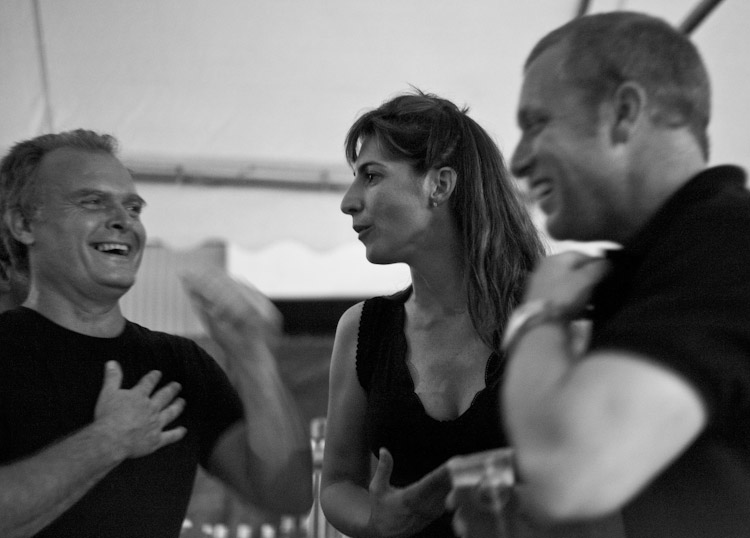 Alternate 14
Bea and Marie Ange share a laugh. This is one of those pictures that I like despite its obvious technical shortcomings: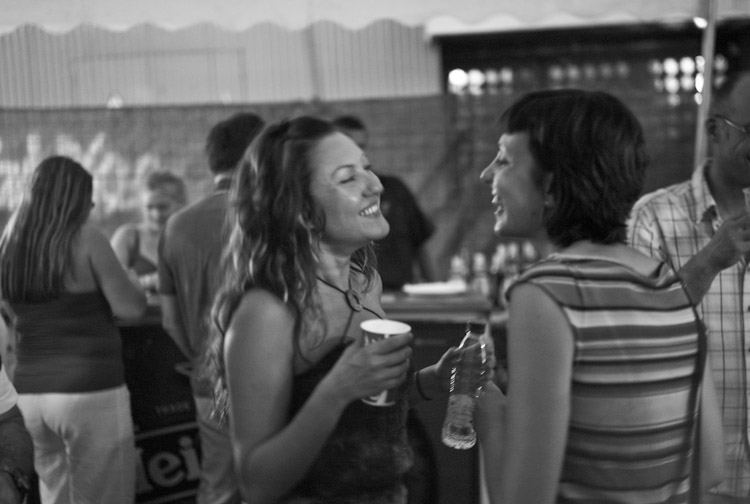 Alternate 15
Around 3:30 a.m. we walked back to the tram to go home. I was still in picture-taking mode. This couple was pretty oblivious to the world, probably for reasons related to passion and acute alcohol poisoning: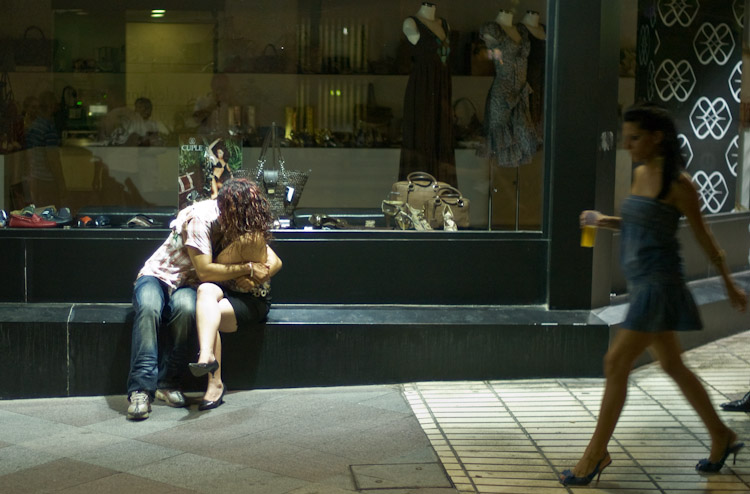 Alternate 16
Beer goes in, beer goes out:

And then we went home and slept a few hours.