Another week with a bit of a mixed bag of images from home, from work, from my cycling, and from walking around Alicante.
25_1
The weather is hot, and so Cheeta often prefers the tile floor to her soft bed–it is cooler that way:

25_2
A visitor on our fence; actually, I dislike the pigeons because they steal the cat food I put out for the golf course cats: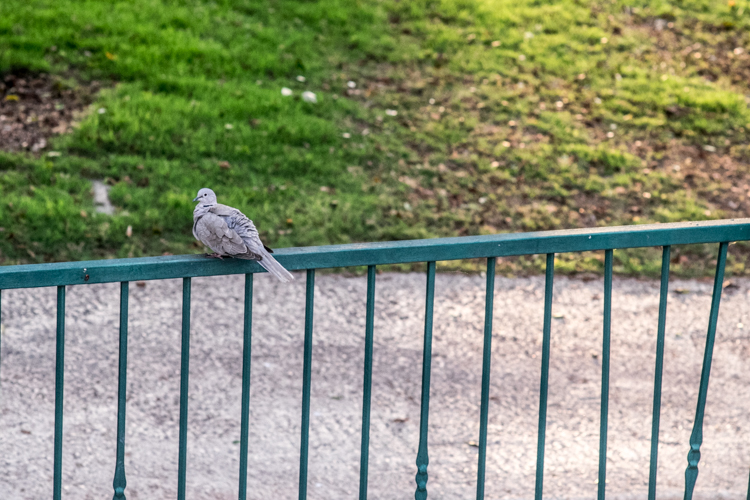 25_3
A strange scene from the centre. Why anybody would queue at a Burger King is beyond my comprehension: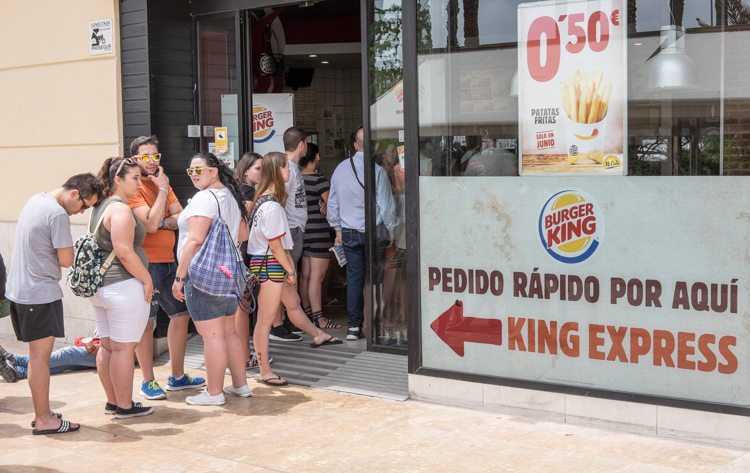 25_4
One day I stopped at the Mercado Central. These butchers in checkered headgear caught my eye: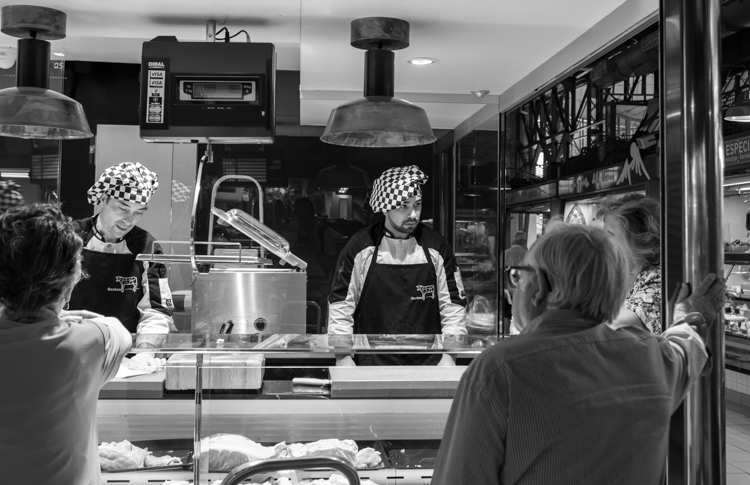 25_5
The general election is next Sunday, so there are posters around town, here on the square behind the Mercado: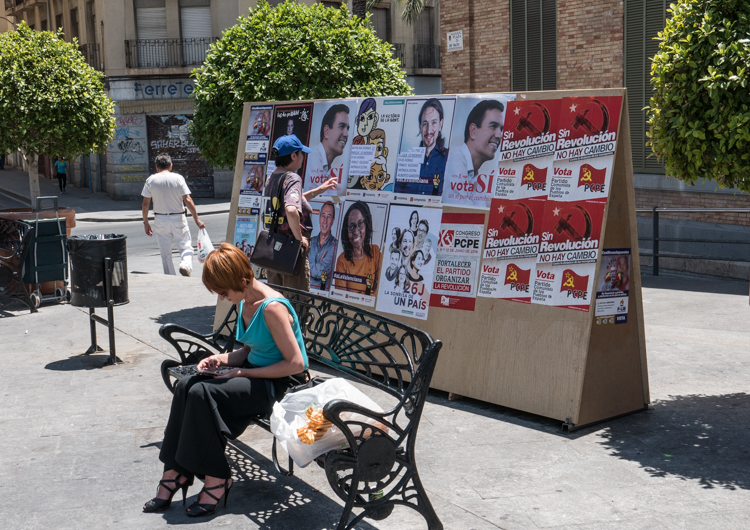 25_6
The guy was looking at the posters very closely, and poking several of the candidates with his finger. I am not sure whether he was performing some voodoo ritual or was just acting strangely for no apparent reason: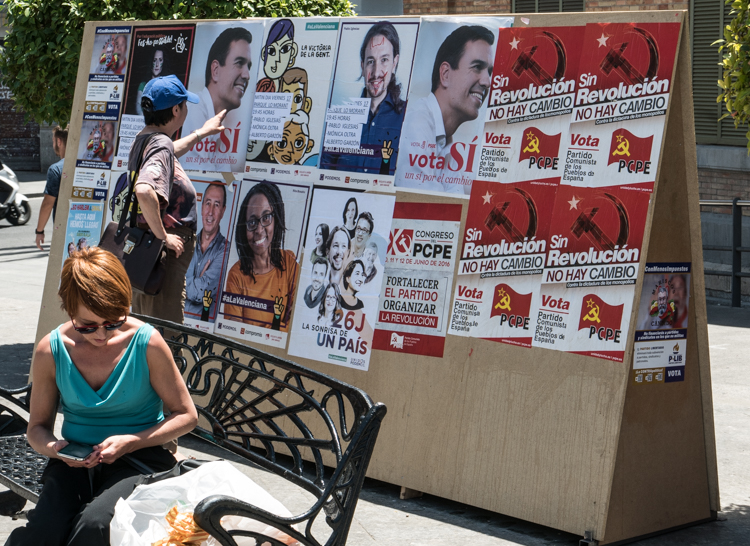 25_7
Shoes on wire, near Mercado Central: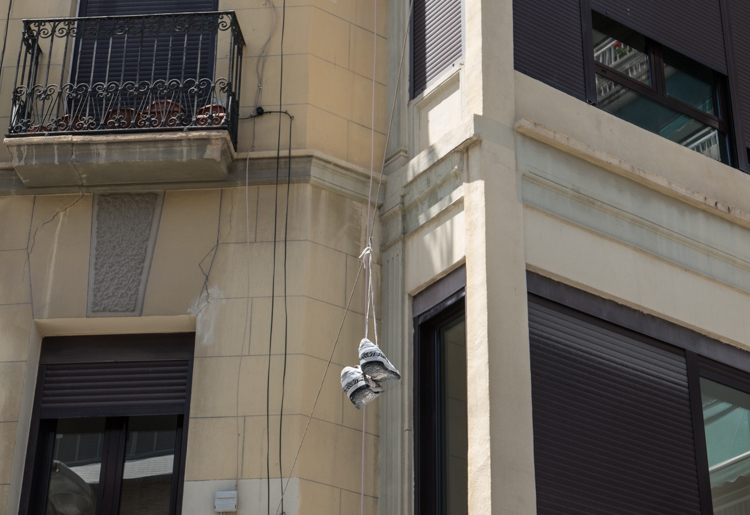 25_8
The European football championship started in France on June 10th, and for that reason there are more flags than usual in the urban landscape: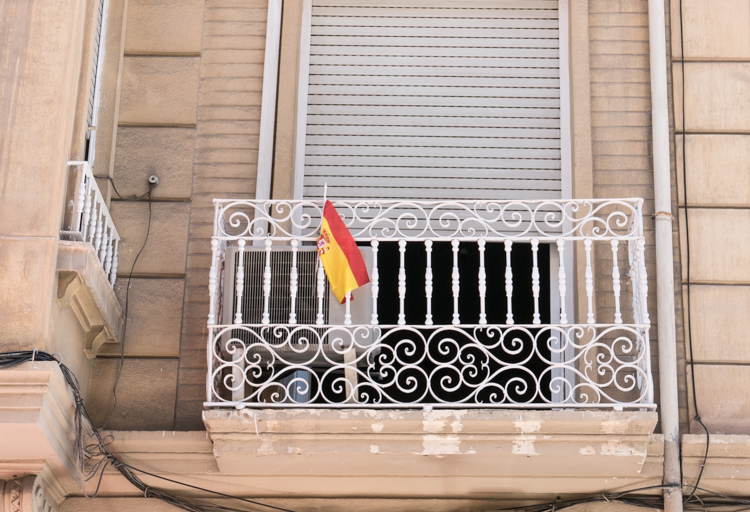 25_9
Spain played its first game at 3 p.m. on Monday. A TV was set up at the office cafeteria but something was wrong with it, so most people just went back to their workplaces. But a few found an alternate venue, the reception of the gym at our office, which did have a working TV: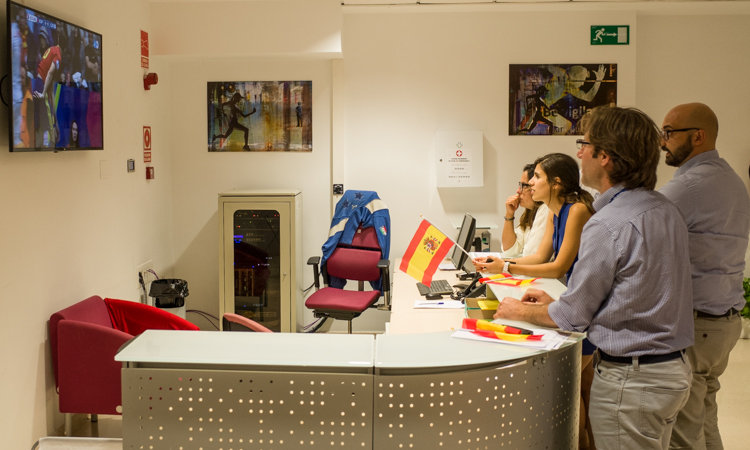 25_10
People react to a missed chance: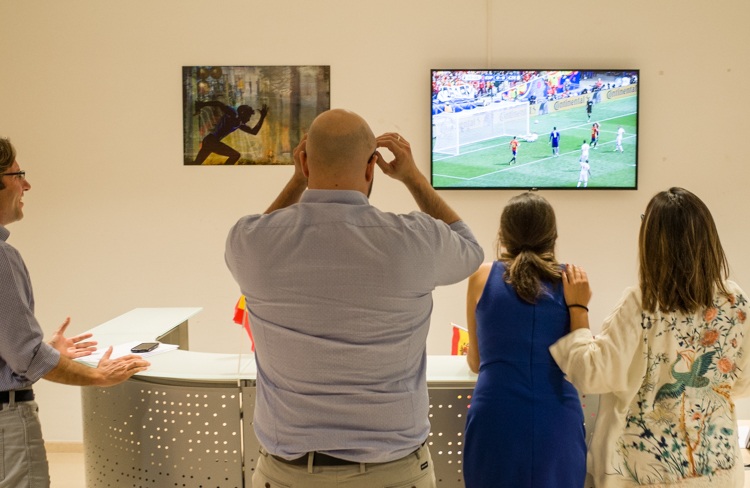 25_11
José tries to combine work and football: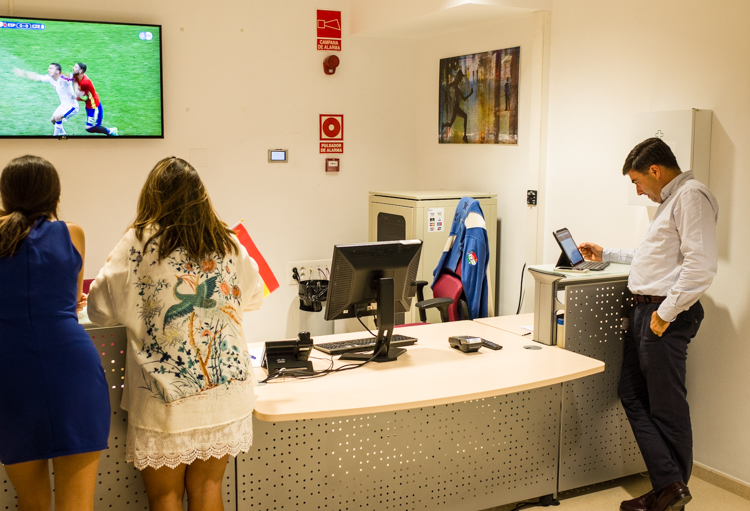 25_12
Three dog walk pictures. One morning, someone had added a plastic chair to the benches in the park:

25_13
The next morning, the furniture had been rearranged: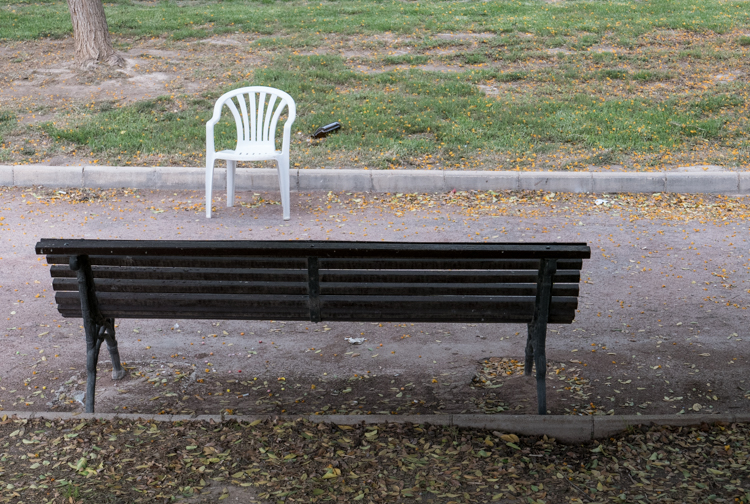 25_14
An immodest tree, at least for those of us with dirty minds: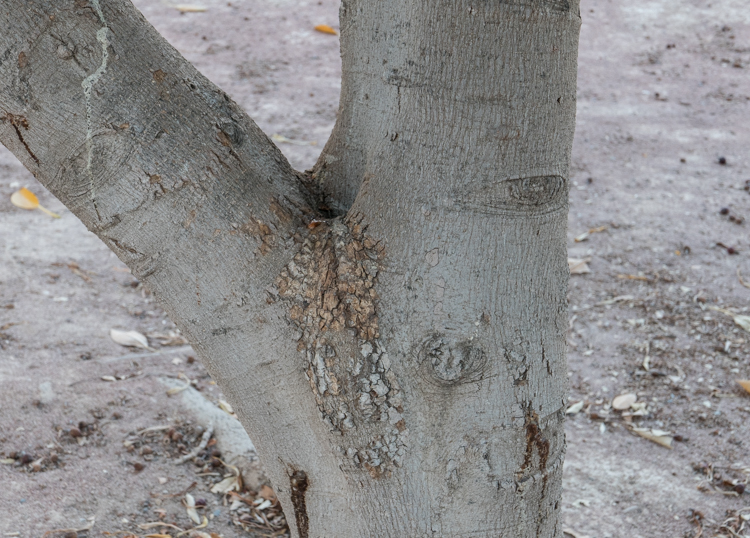 25_15
The cactus I inherited from my mother 15 years ago bloomed again: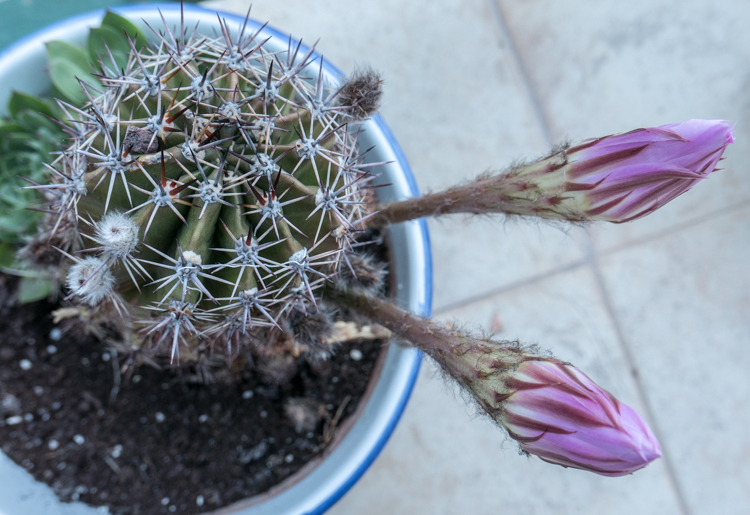 25_16
This is 12 hours after the preceding picture: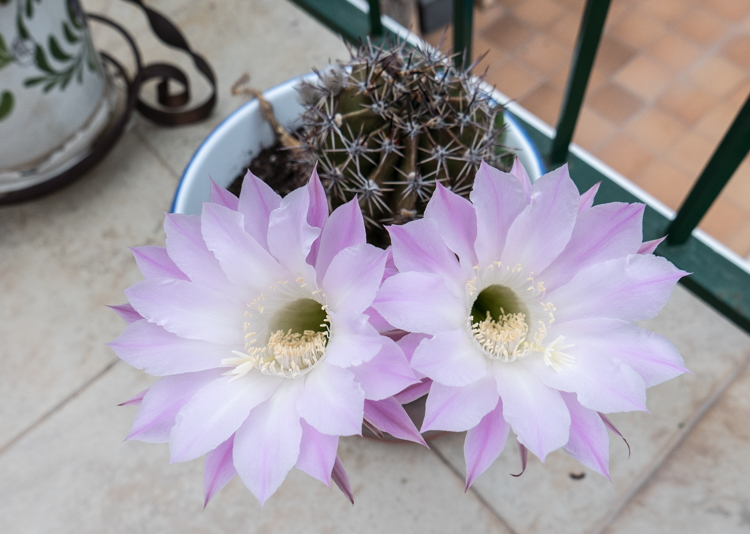 25_17
BUT a few months ago my wife transplanted some of the offshoots of the magic cactus into separate pots, and this week one of the "children" bloomed also: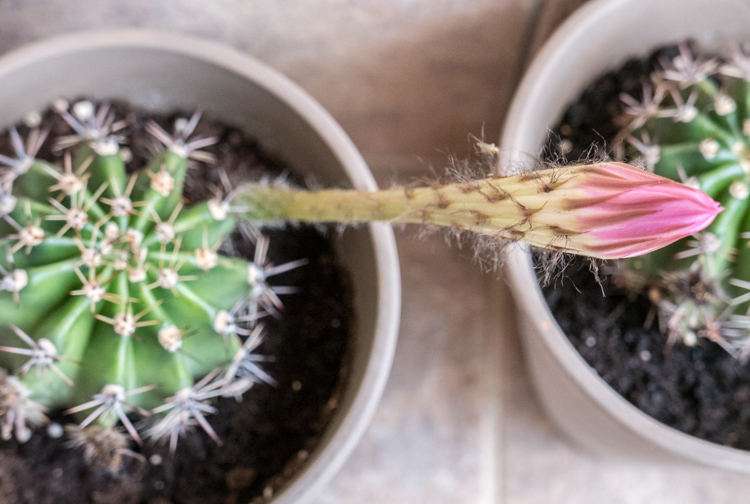 25_18
The next day: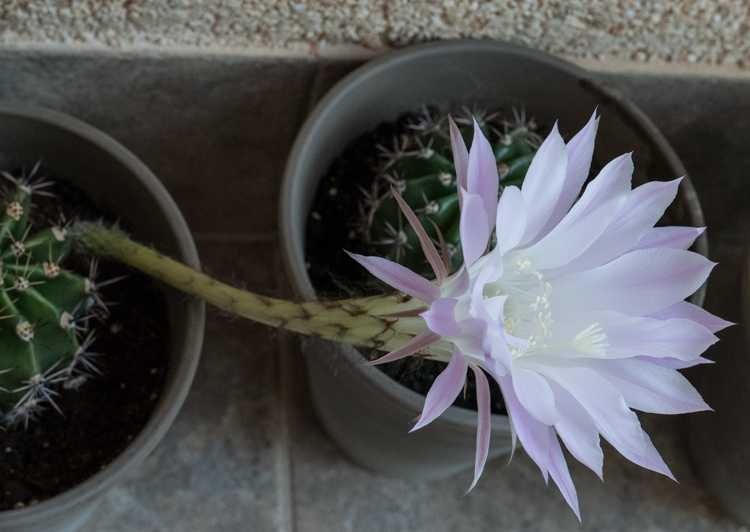 25_19
Two days later, wilting in the heat: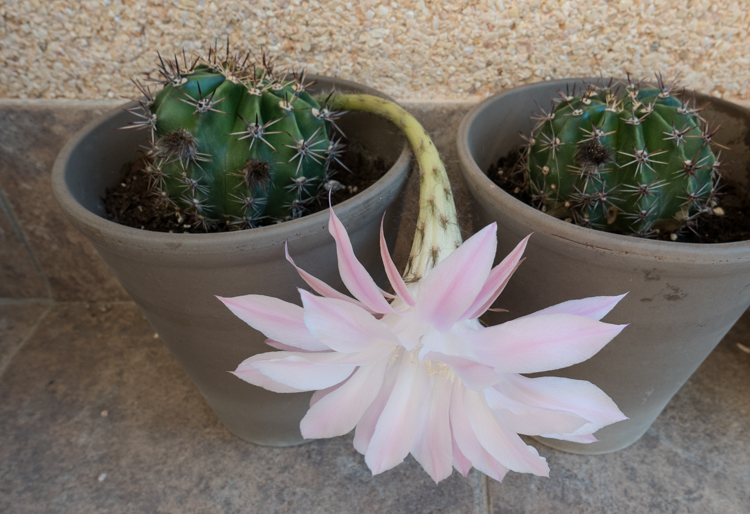 25_20
Back in the city, preparations for the upcoming Hogueras de San Juan, the biggest fiesta of the year in Alicante, are in evidence: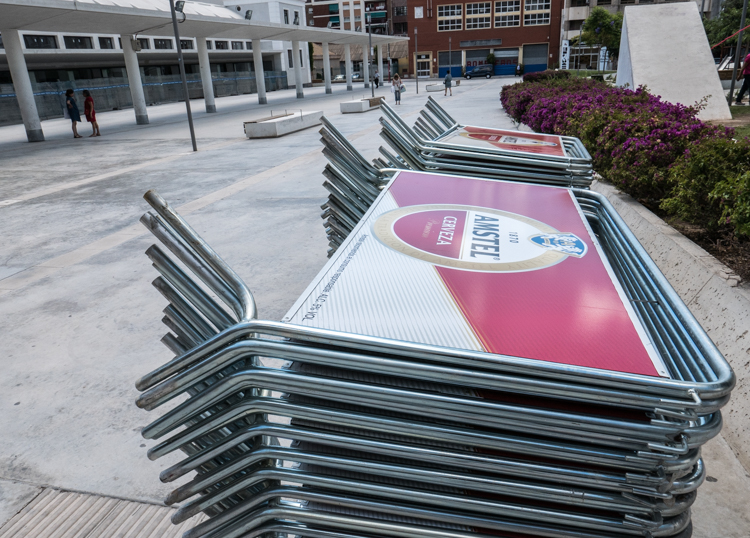 25_21
Conversation, Plaza Seneca: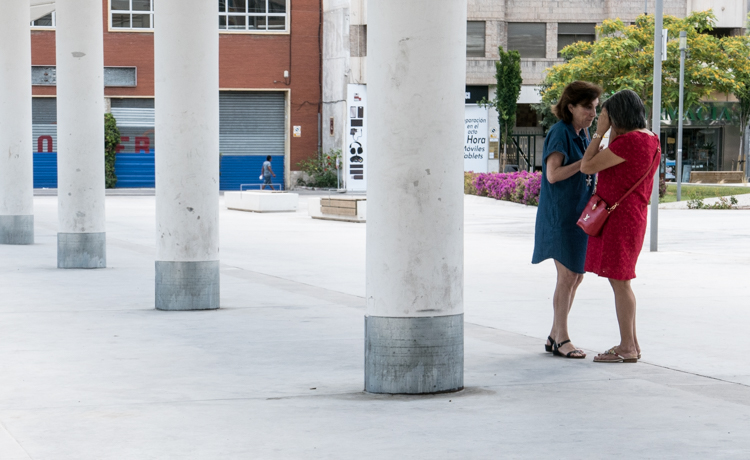 25_22
On Saturday morning, I was, as usual, in the mountains on my bicycle. This is the road from San Vicente to Tibi, which follows the A7 motorway, occasionally going under it, like here. This is a spot where I usually take my first break, after about 27 km, because on the other side of the motorway there is a nasty 10% climb:

25_23
Tibi is beautifully situated, and although it is at only about 700 metres altitude, there is a lot of climbing involved in getting to the town and in getting out afterwards: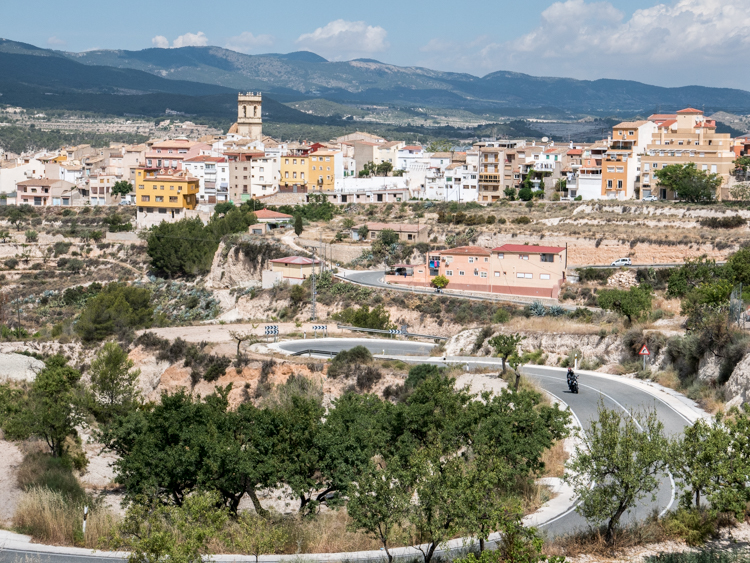 25_24
This is a small shop selling homemade goat cheese: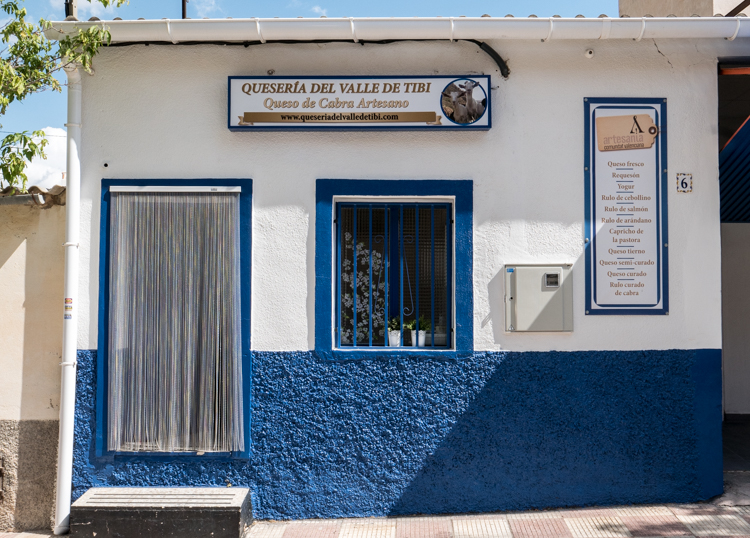 25_25
The owner, Lilian (Lili) is originally from Kanton Zug in Switzerland, but she has lived in Tibi for many years. She keeps goats and makes excellent cheese from the milk. She sells to restaurants and comes to our office to deliver web orders once a week, but she also has a small store, and so I stopped by to chat with her and to buy some cheese: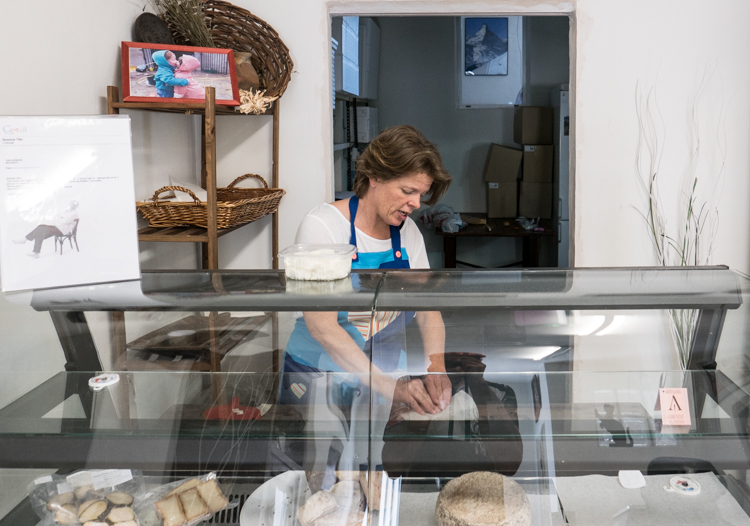 25_26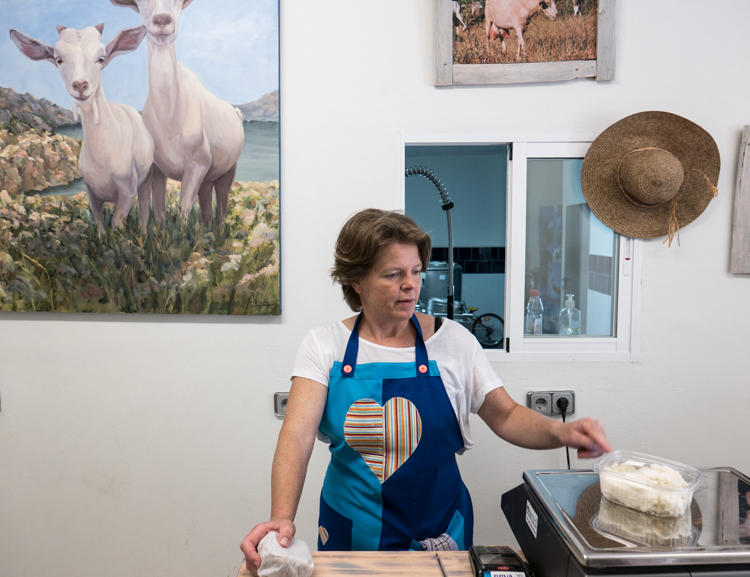 25_27
Purchase done, I asked Lili to pose for me. Grabbing the basket with cheese was her idea: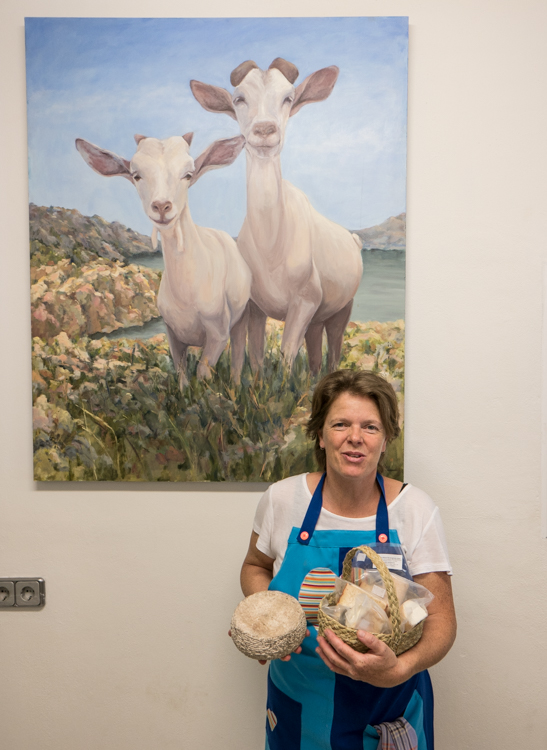 25_28
These are the two cheeses I bought–a spreadable cheese with garlic, and a semi-hard cheese with oregano and sun-dried tomatoes: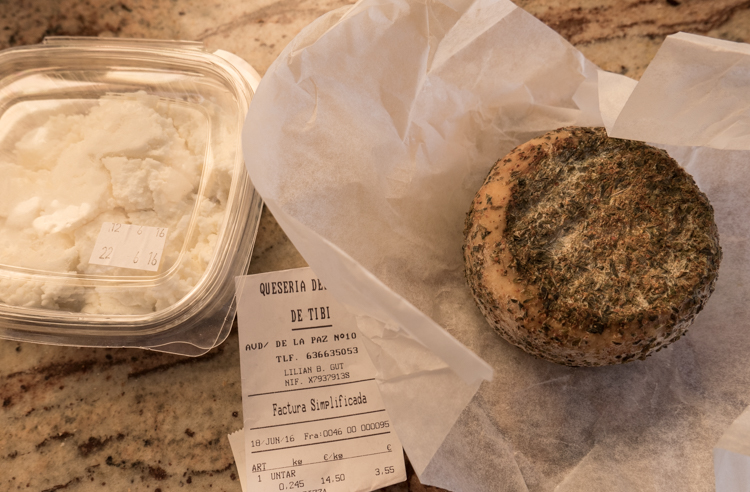 25_29
After the visit to Lili's shop, I came across a wedding. Nothing unusual except for the vehicle in which the groom and bride were going to drive away: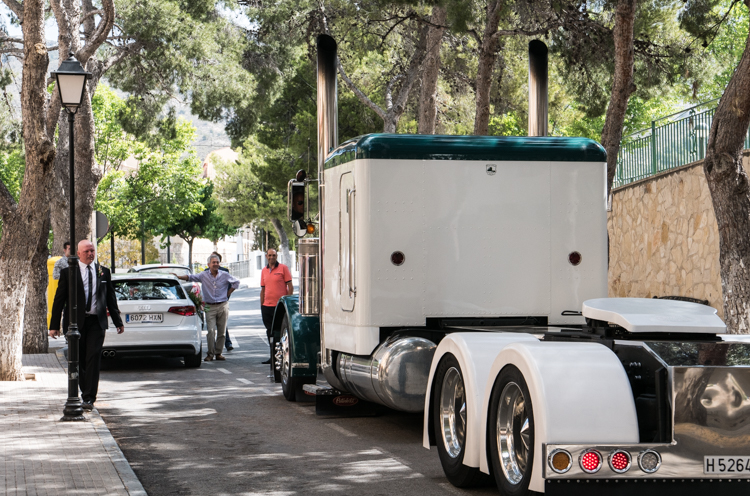 25_30
The groom enters the cab: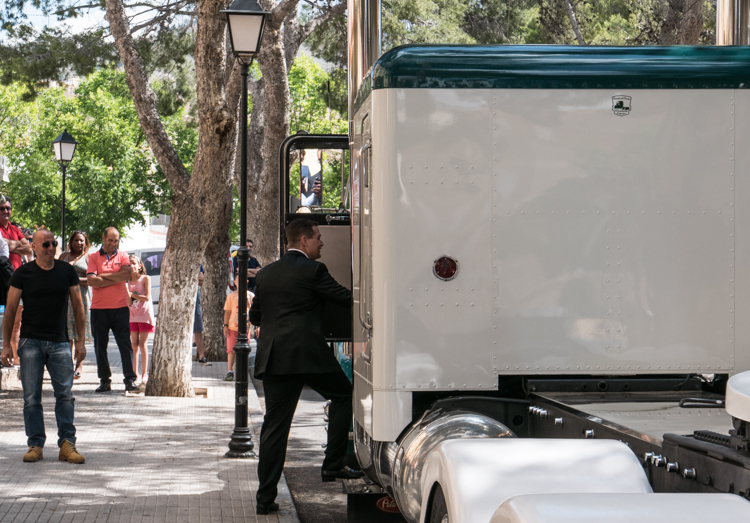 25_31
This being Spain, a celebration involves lots of noise and smoke: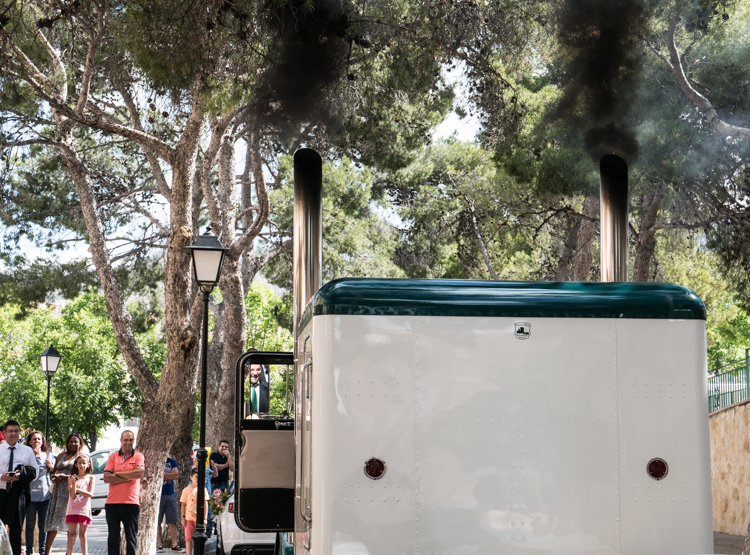 25_32
Townspeople looking on: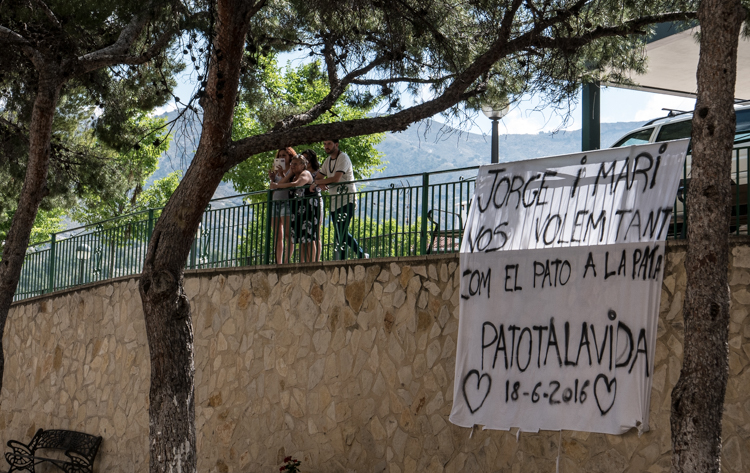 25_33
After my ride, my wife and I drove to Hostal Maruja for lunch: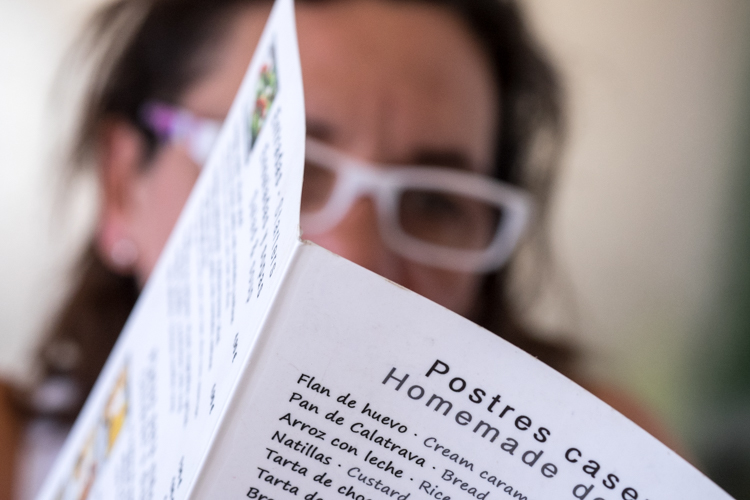 25_34
The beach was very much in use: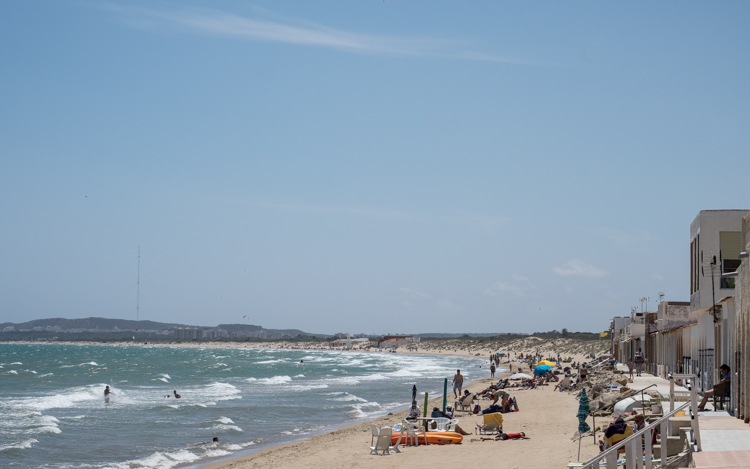 25_35
But the wind was really blowing in: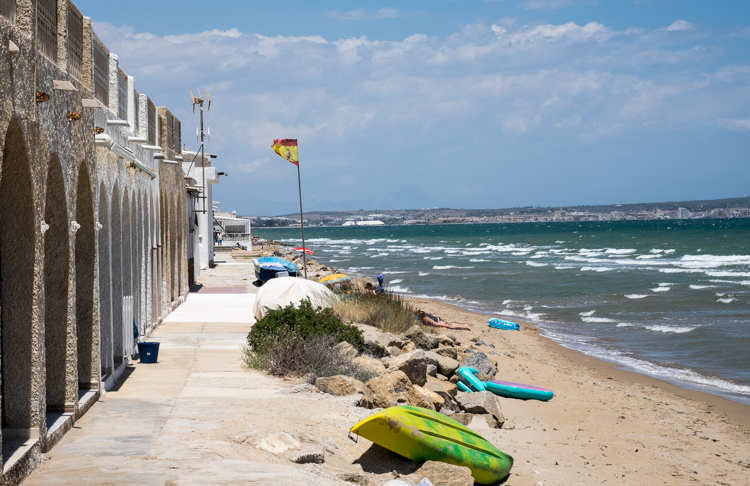 25_36
…which was good for some: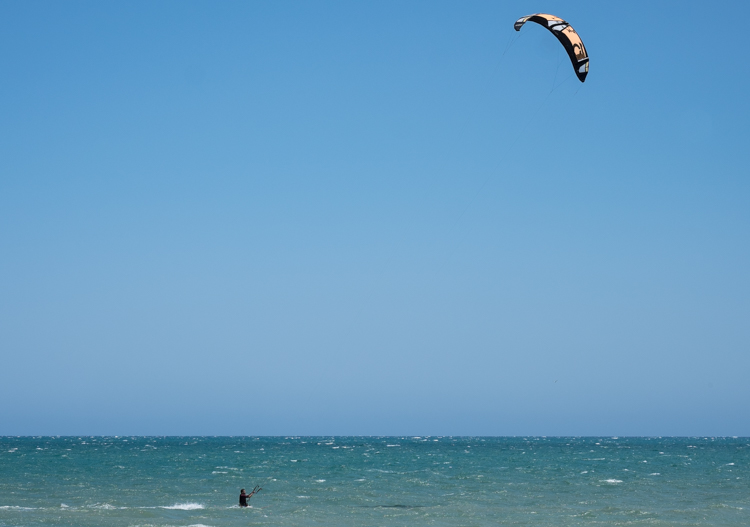 25_37
A young couple eating. I never get tired of the setting of Hostal Maruja: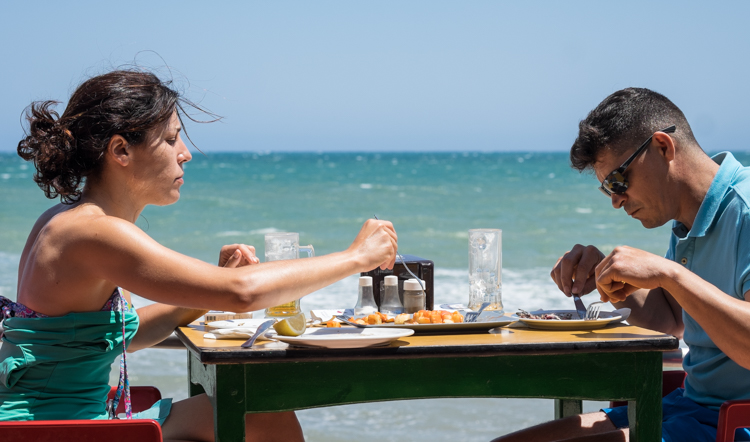 25_38
A bit of food to finish the week's blog. Patatas bravas: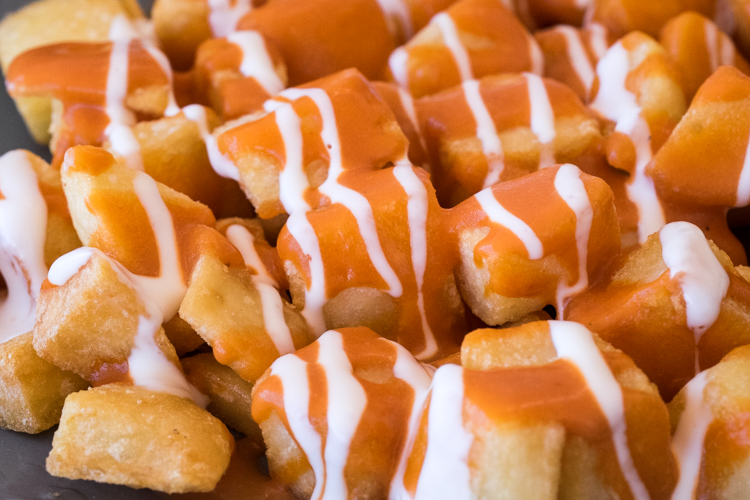 25_39
Chipirones (small squids):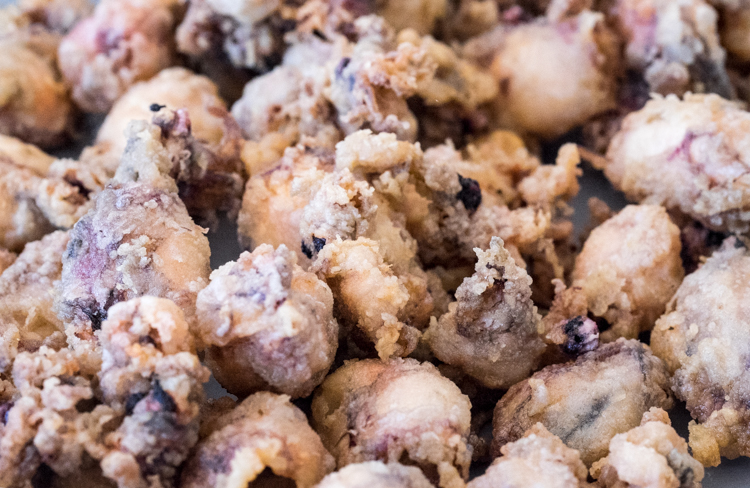 25_40
Finally, in late afternoon we went to do our shopping at the Carrefour supermarket. They had some serious Italian cheese promotion going on: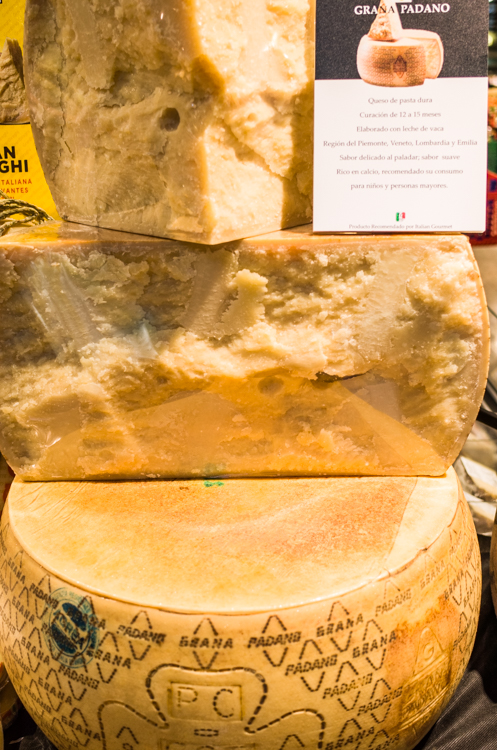 And that was another week.