I spent the first week of 2013 with my children right here in Alicante. My wife had gone to Puerto Rico on December 30th to visit her family there, and so the three of us plus Cheeta the Dog and Taco the Cat were left here to celebrate the arrival of 2013. We did leave Alicante for a couple of days, to visit Barcelona and meet up there with friends.
1_1
I drove my wife to Madrid for her flight to Puerto Rico early in the morning of the 30th. Our first and only stop during the 430 km drive was for fuel at this petrol station somewhere in Castilla La Mancha: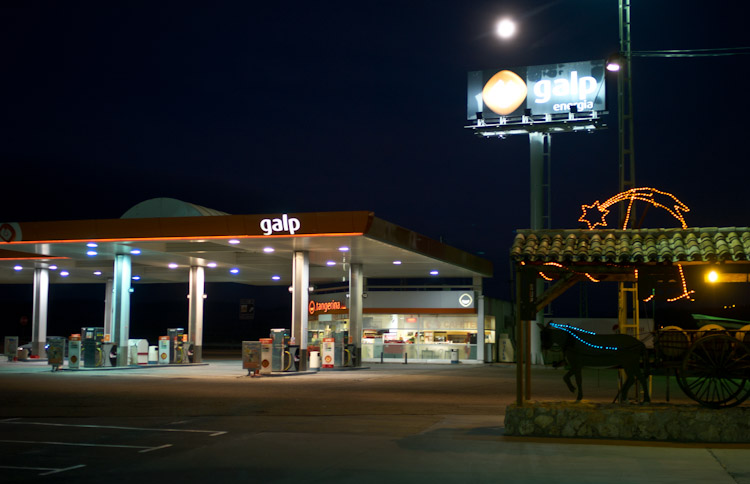 1_2
Then I turned around and saw magic dawn light in the distance: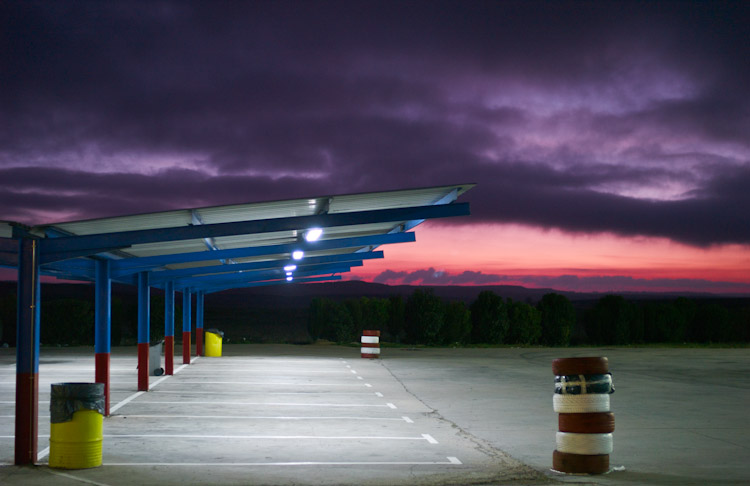 1_3
On the way back from Madrid in early afternoon, I also stopped just once, also in Castilla La Mancha: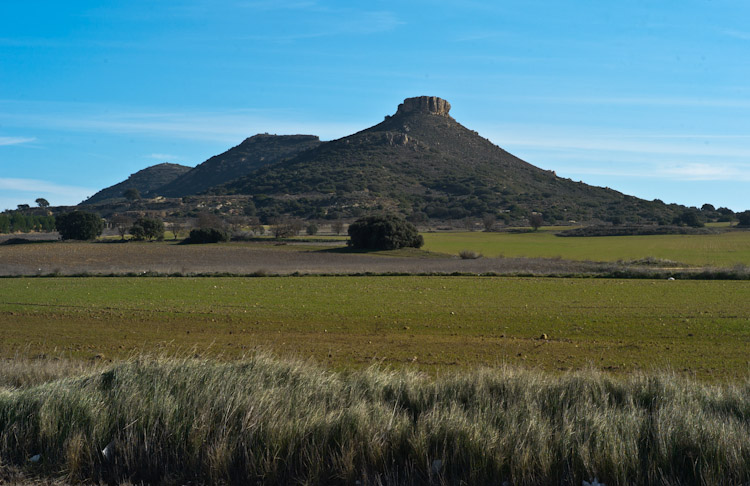 1_4
Back home, we went shopping in Carrefour. The cochinillos were a source of fascination for my son. He eats anything that moves and we talked about getting one of these. But a combination of not knowing how to cook it and the fact that the poor thing is so cute stopped me: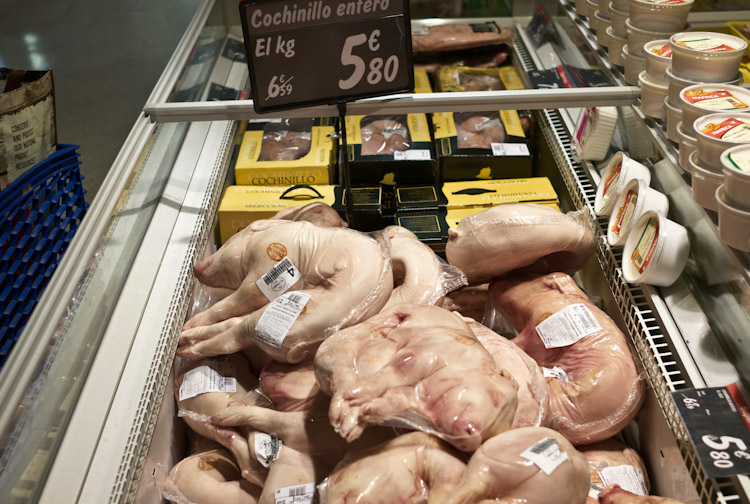 1_5
We celebrated New Year's Eve at La Ereta, probably Alicante's best restaurant, located near the top of a hill overlooking the city. This is the view of Avenida Alfonso El Sabio from the parking lot of the restaurant: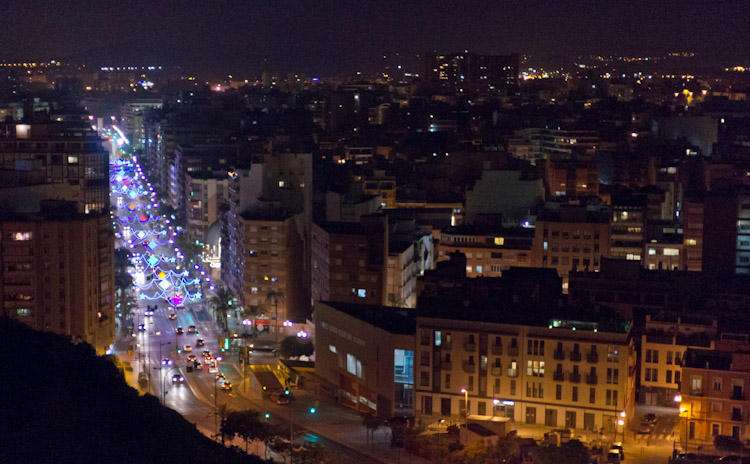 1_6
My son enjoyes his food and wine: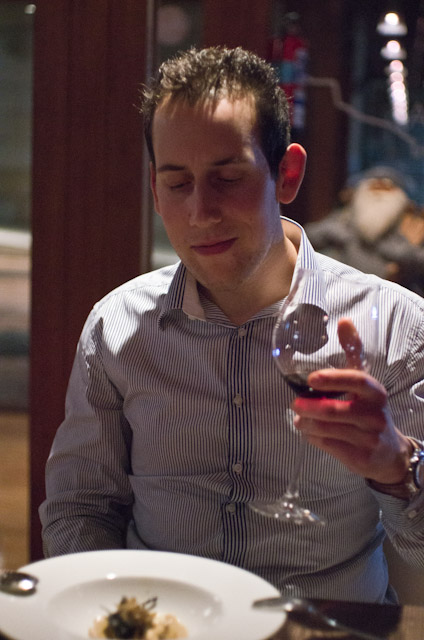 1_7
My children have entered 2013: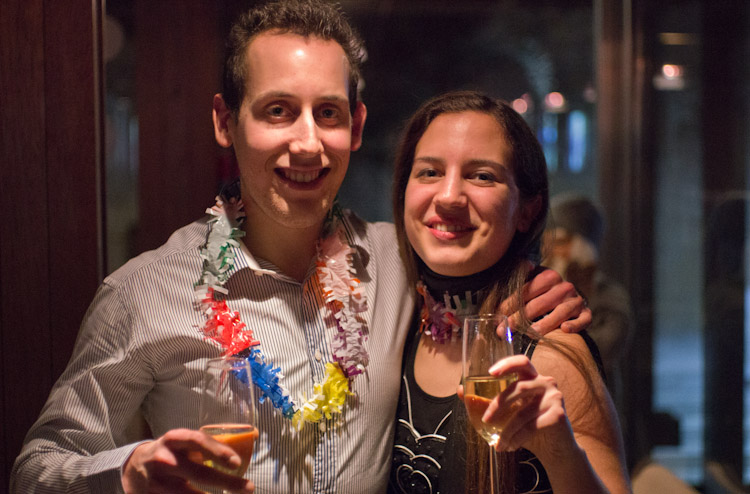 1_8
New Year's morning. Cheeta lies peacefully on her bed under the table in my room. Mercifully, there were virtually no fireworks last night: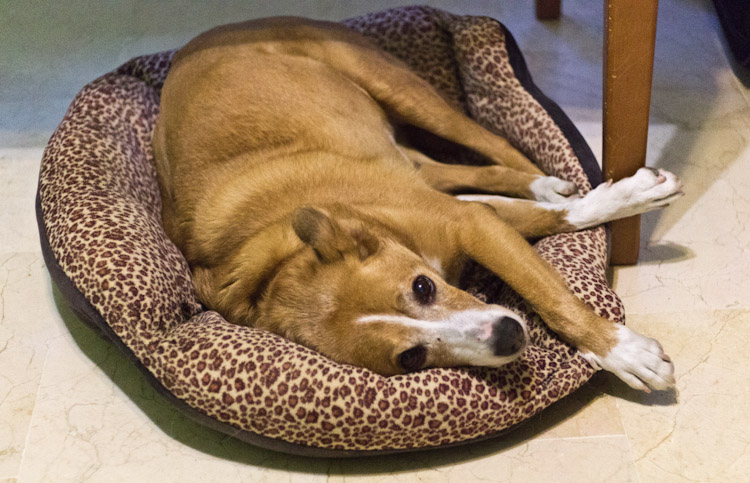 1_9
Later in the day, I went for a walk along the beach in El Campello: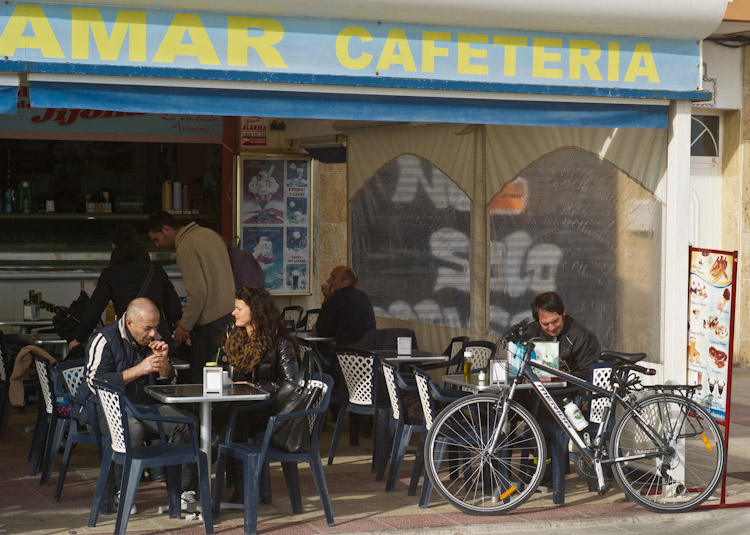 1_10
Looking up, one saw a lot of these religious banners on balconies: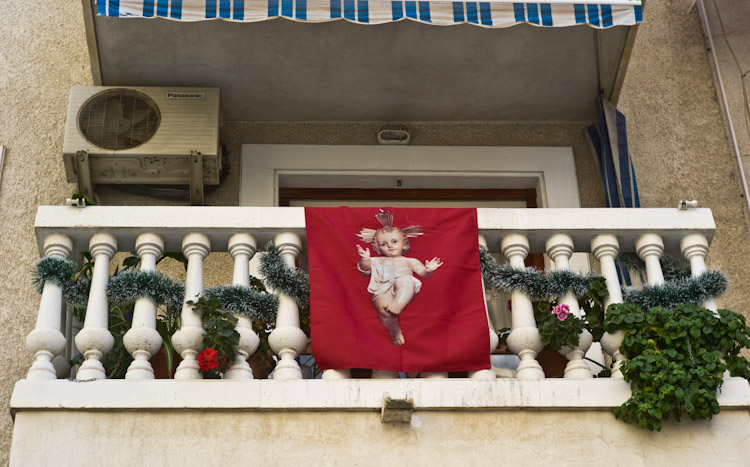 1_11
Mural advertising real estate service, albeit not very confidently: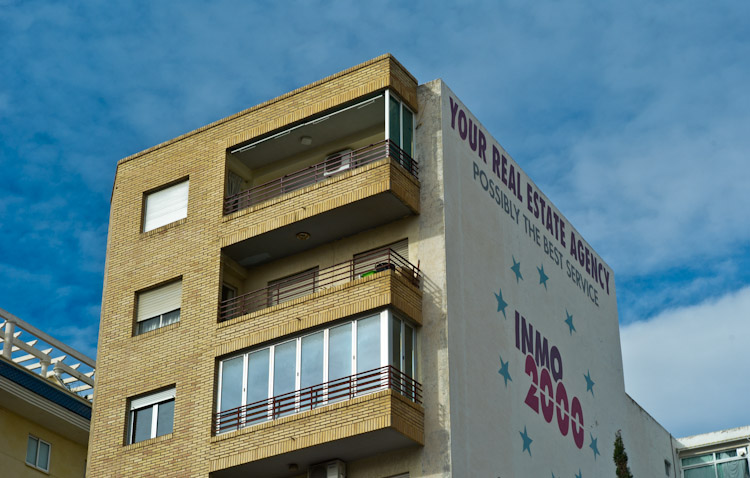 1_12
Guard dog of a beachside restaurant: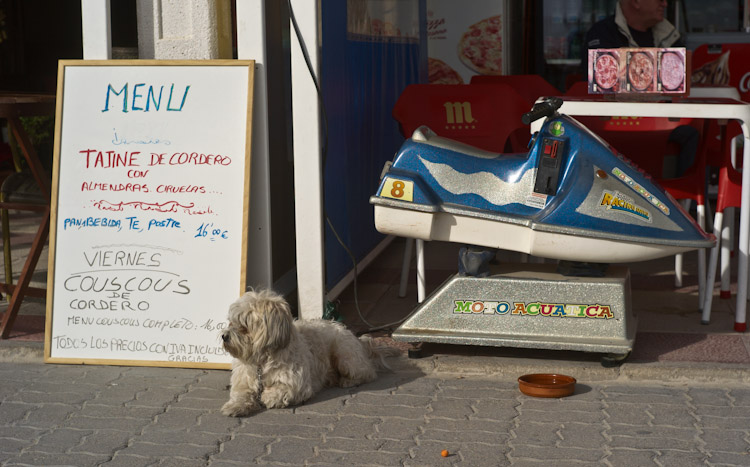 1_13
The people around here have a healthy disrespect of nonsensical signs: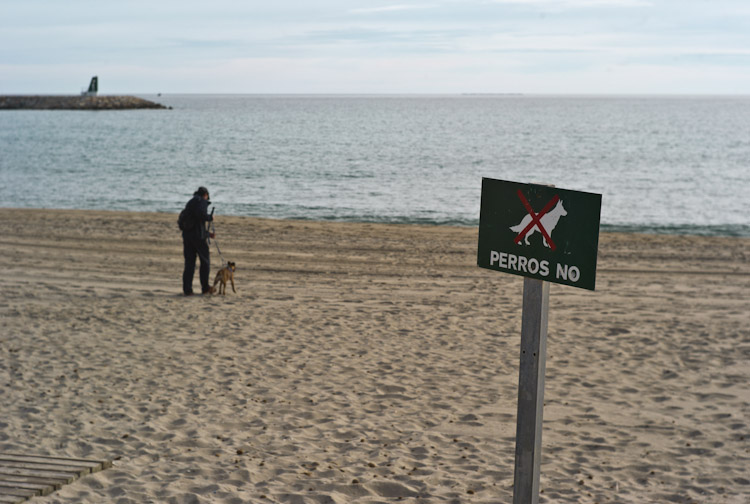 1_14
One of the bars organises an annual New Year's Day bath. According to the sign, the water temperature is 16C/61F, which is not bad–the North Sea along Dutch or Danish beaches is not much warmer than this in the summer: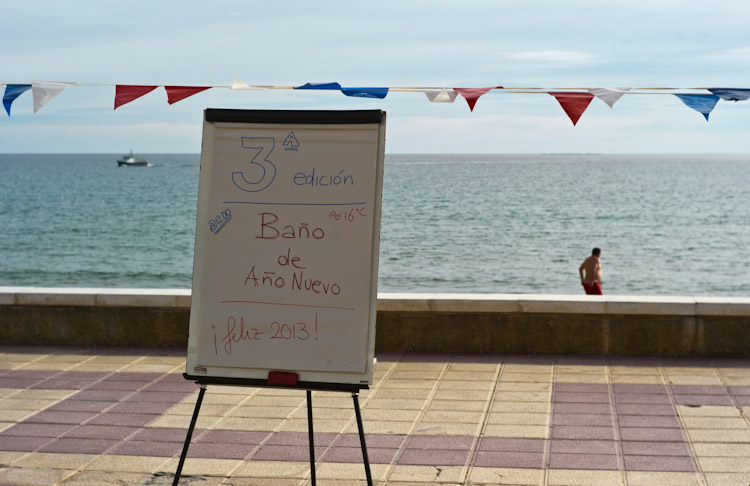 1_15
And indeed, there were some takers: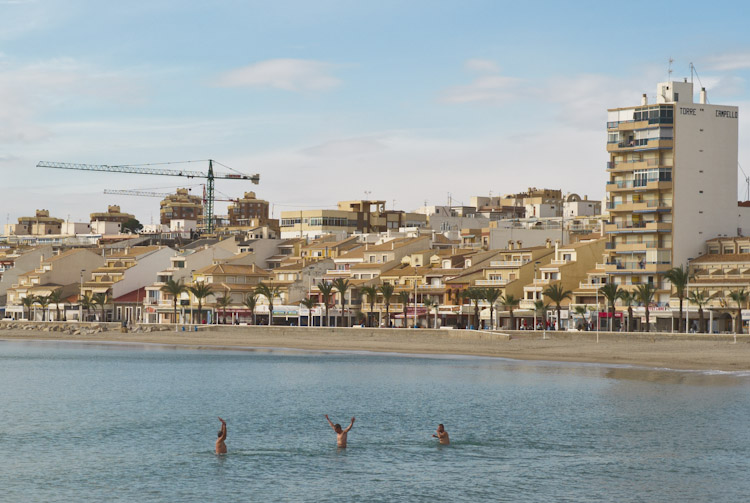 On Friday morning, we drove to Barcelona to spend a couple of days there. The remainder of this weekly blog is dedicated to images from that trip.
1_16
We set out around 8:30 am, and covered the 530 km in about 4 1/2 hours. After checking in at our hotel on Passeig de Gracia (the Sixty-Two Hotel, highly recommended), we walked to a vegan restaurant my daughter had found on the Happy Cow web site. According the guide, the restaurant, called Cat Bar Cat, had cheap, tasty and plentiful food, and a great selection of artisanal Catalan beer. All of which turned out to be true: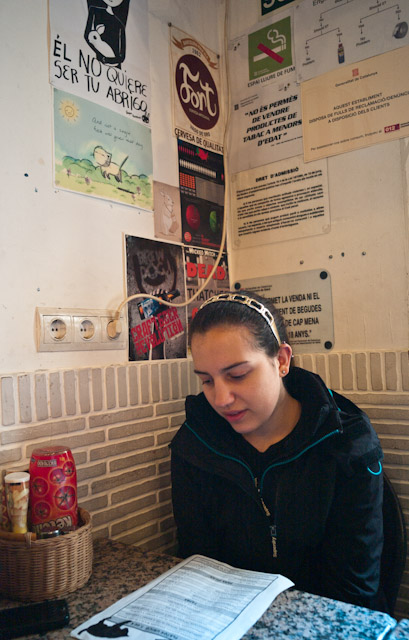 1_17
The Cat in the name of restaurant refers to Catalunya (it has its own top-level domain, .cat) and of course to our furry friends: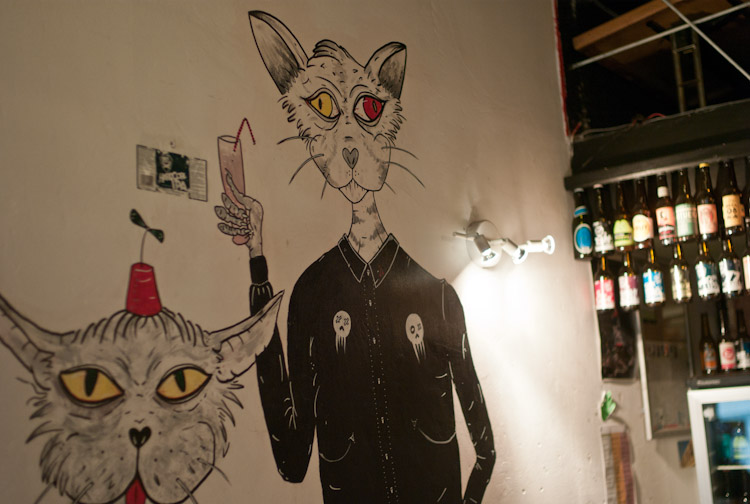 1_18
Lots of interesting decor, such as this corporate Stars and Stripes: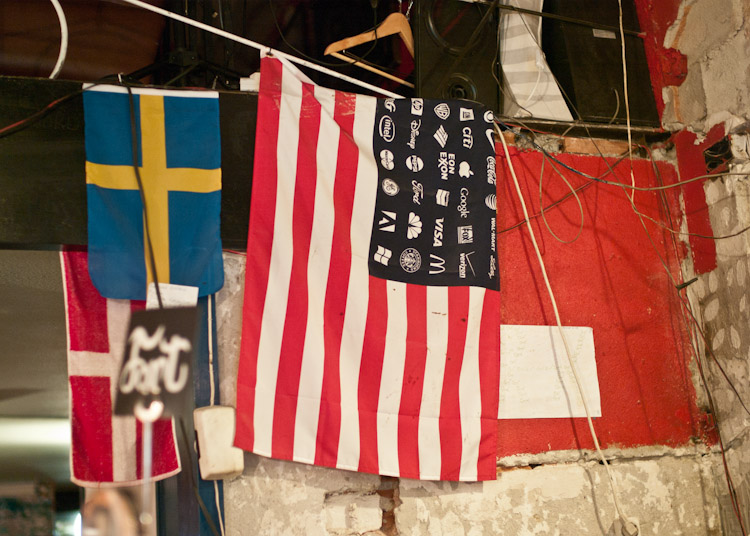 1_19
Menu adjustment on the blackboard outside, viewed from the inside: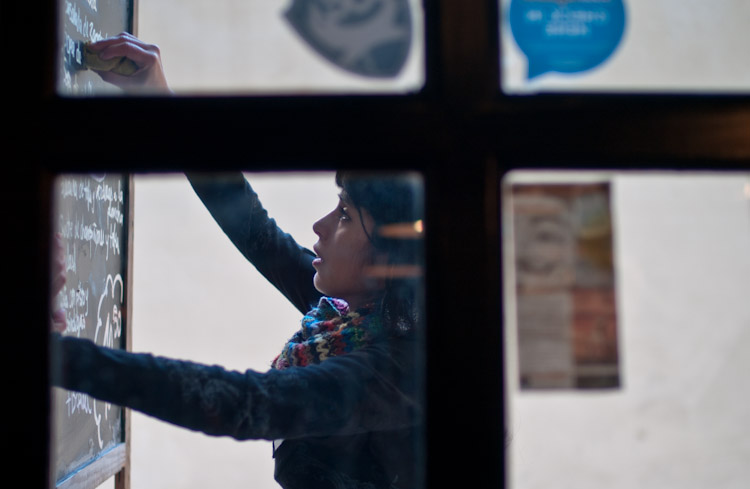 1_20
Afterwards, we walked towards the Rambla and came across some animal rights activists on the square outside the seat of the Catalan government. They recently celebrated a victory, with the prohibition of bullfighting in Catalunya, but there are still many other cruel practices to fight: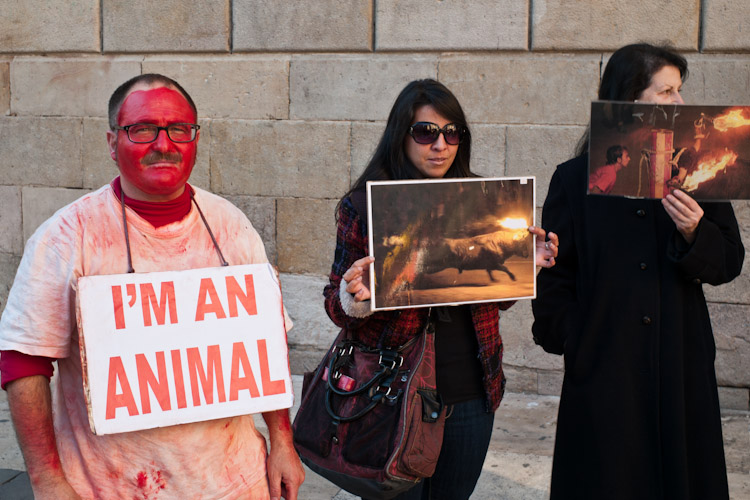 1_21
We ended up in El Raval, a gritty neighbourhood on the other side of La Rambla: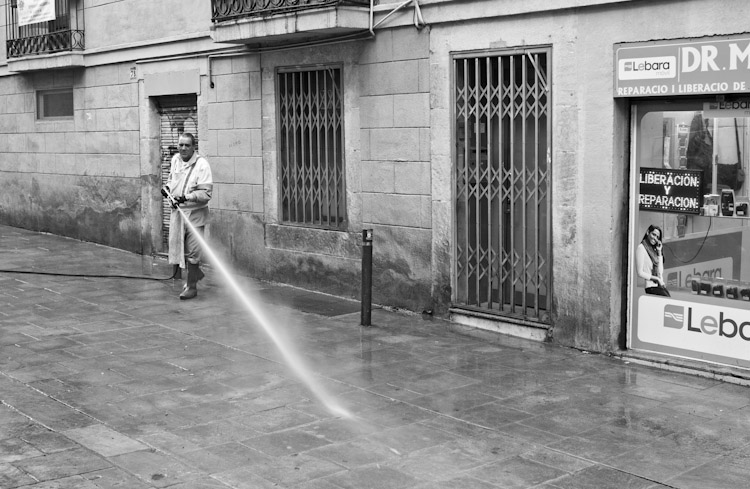 1_22
La Boquería is a famous food market right next to La Rambla, one of the most popular tourist attractions in Barcelona, but very much a place where the locals shop: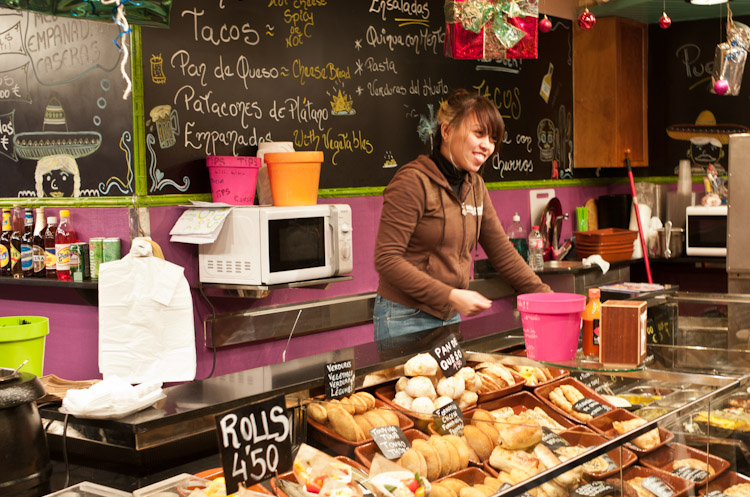 1_23
If Barcelona has a central square, it must be Plaça Catalunya (also the location of LUG's Iberian headquarters, Café Zurich). Don't park your scooter illegally there: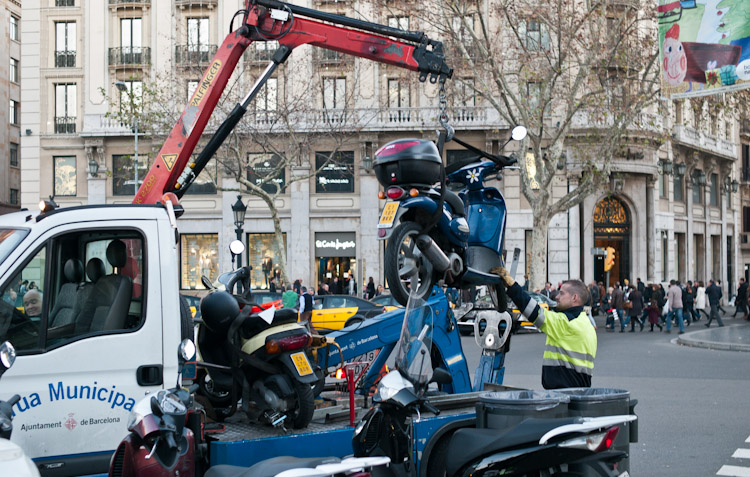 1_24
We met up with my friend and LUG luminary Lluis at Café Zurich: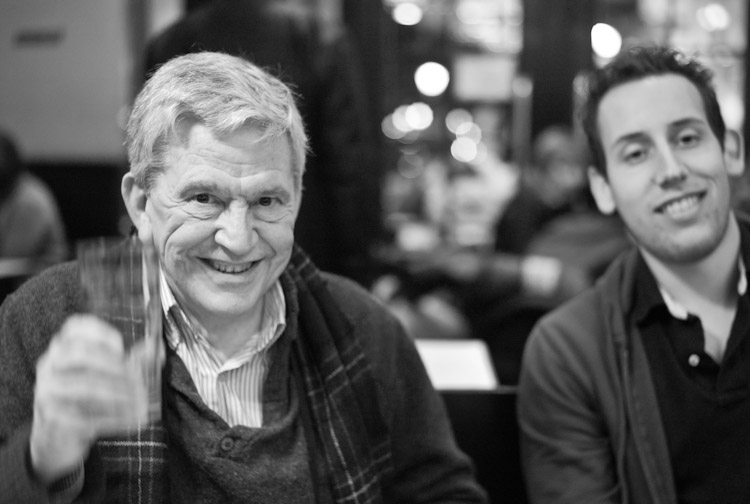 1_25
A little bit later, we were joined by Lluis's friend Mariela, a delightful lady whom I had met for the first time during my last visit in October. Back then I only only had time for a coffee, now we were going to have several hours together: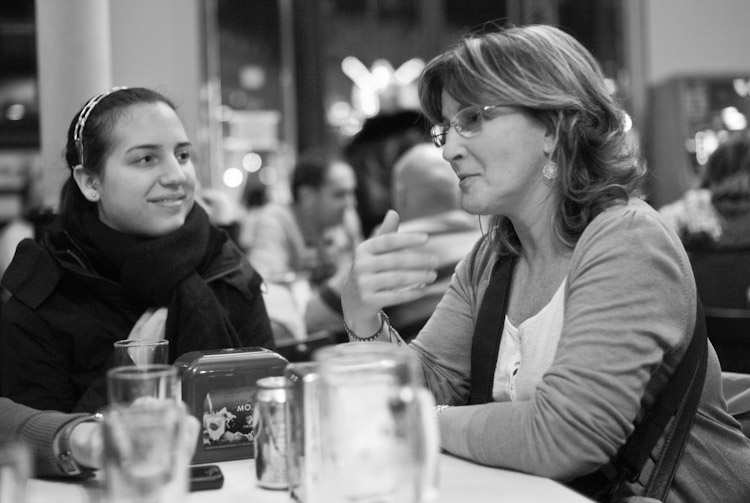 1_26
Café Zurich is a great place for people-watching, as Lluis has shown us over the years: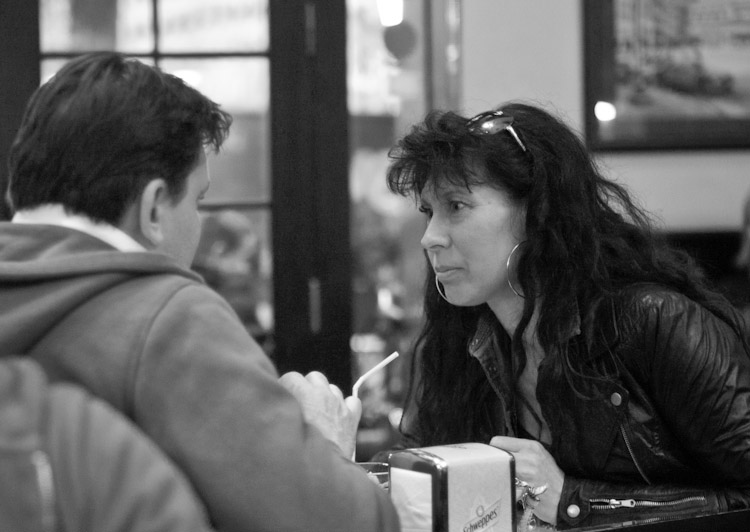 1_27
After a beer at Café Zurich, we walked on La Rambla to the El Julivert Meu, a traditional Catalan restaurant where we were going to have dinner: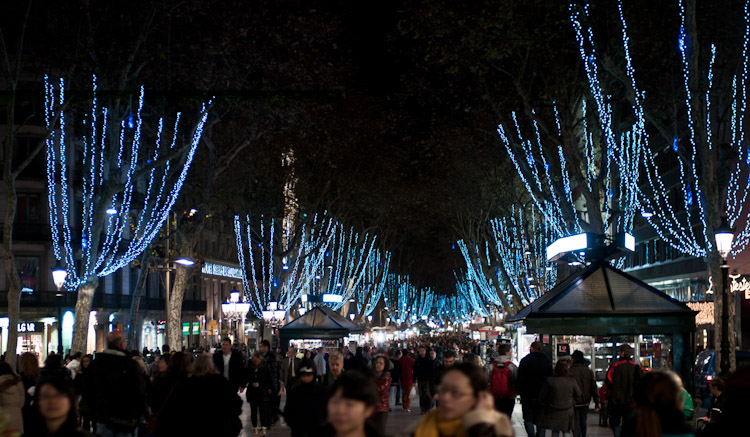 1_28
After dinner, we followed Catalan tradition by passing the porrón around: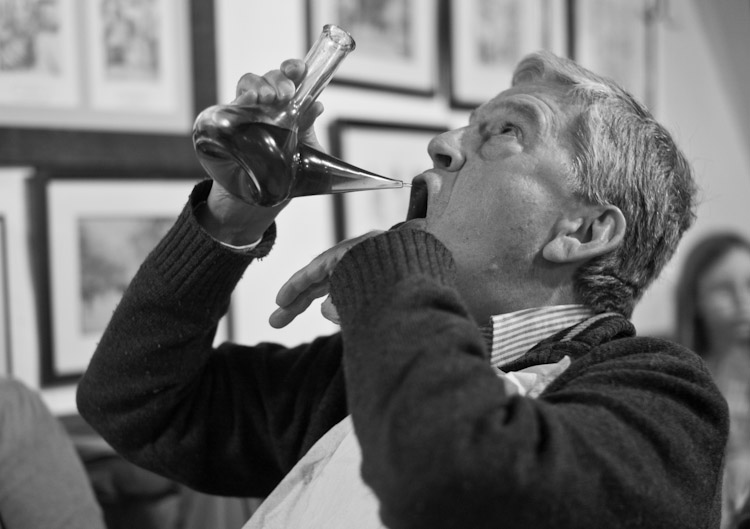 1_29
Our waitress happened to be cute and Polish: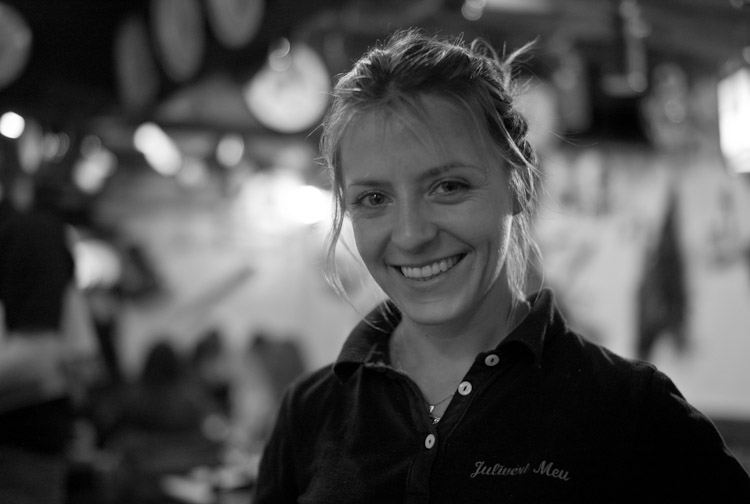 1_30
The next morning I went for an early walk. I like to watch a city waking up, the restaurants getting ready for the day, and the early birds on the way to work: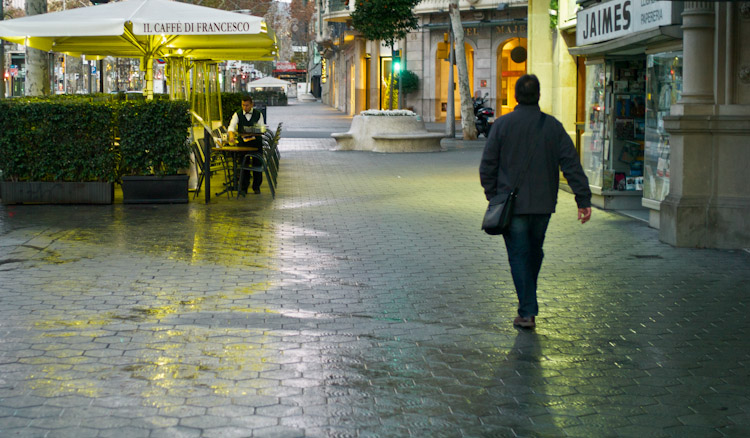 1_31
Our main plan for Saturday was to visit the Sagrada Familia, which we did, and then Parc Güell, a park located a bit outside the centre, designed by Gaudi. On the way from the metro station to the park, I was amused by this piece of philosophical graffiti: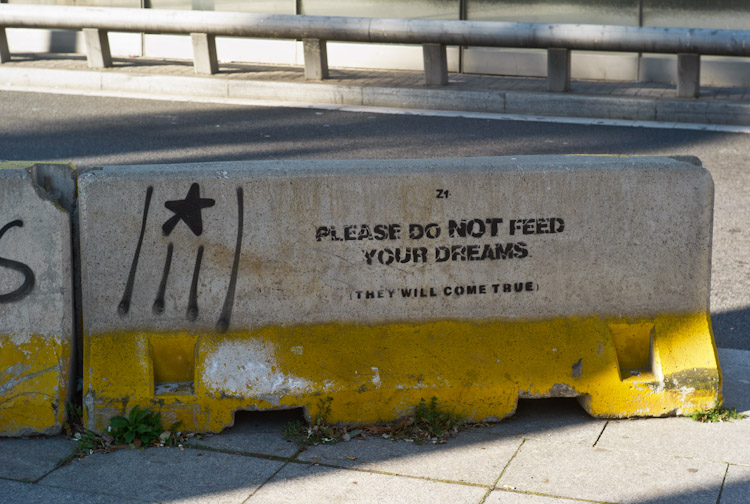 1_32
The main entrance to Parc Güell. It was quite crowded this sunny Saturday morning: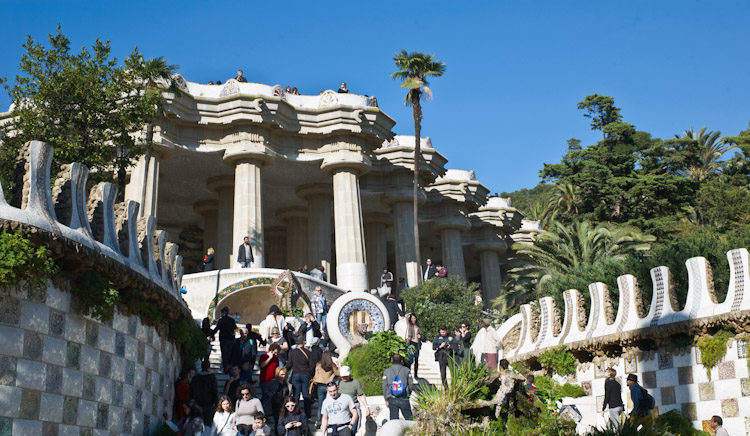 1_33
This being a park designed by Gaudi, there are gargoyles:

1_34
A souvenir shop near the park, selling photos that could have been taken by "our" Lluis: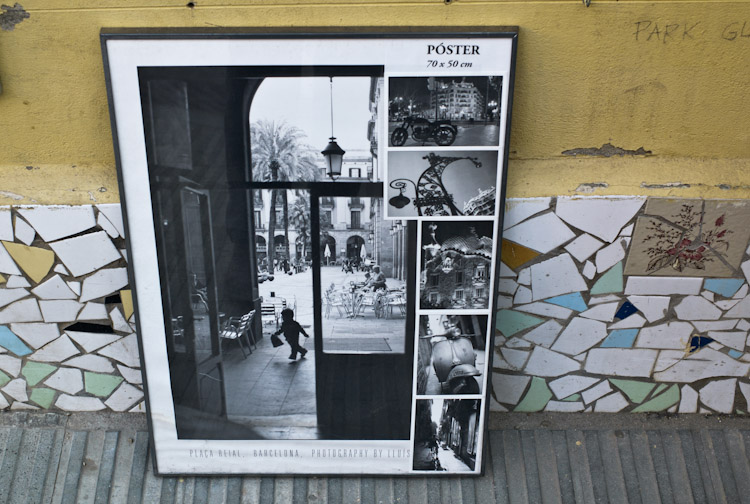 1_35
No fascists allowed here: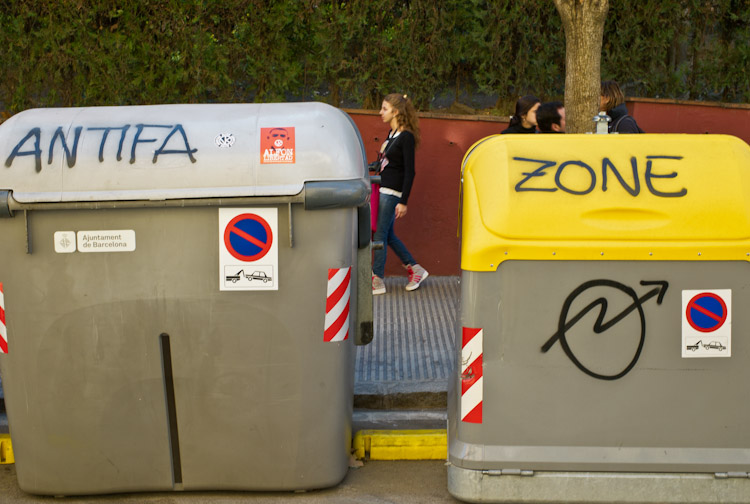 1_36
Posters on a bank door, protesting evictions of people who cannot pay their mortgage and other unpopular banking practices. Basically, bankers rank somewhere between male prostitutes and gangsters in public esteem these days: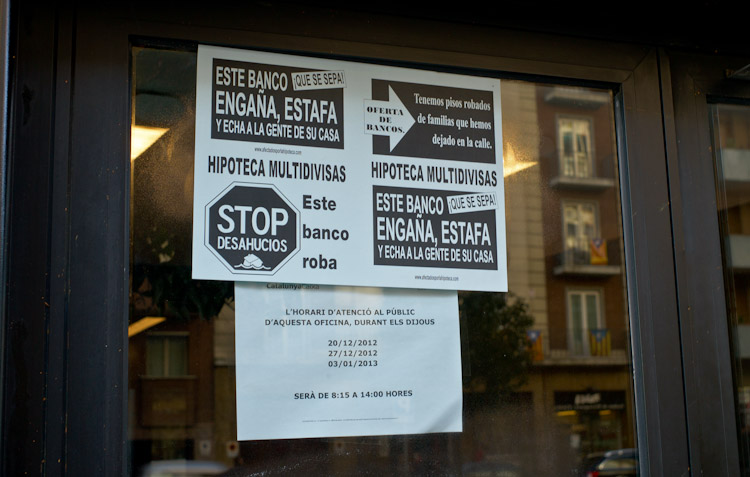 1_37
We went for lunch in Barri Gòtic and afterwards walked towards Barceloneta, our last thing to see in Barcelona that afternoon. I loved looking at the many details, such as this creative shop sign: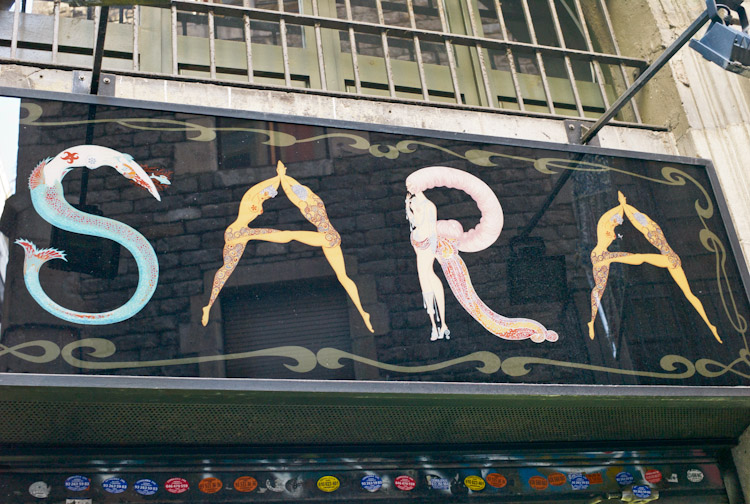 1_38
Plaça Reial used to be a hangout from drug dealers and other low life, but now it is a family-friendly place, somewhat similar to Madrid's Plaza Mayor but with less crass tourist exploitation. Here, a father is entertaining his little daughter by blowing bubbles that she would chase: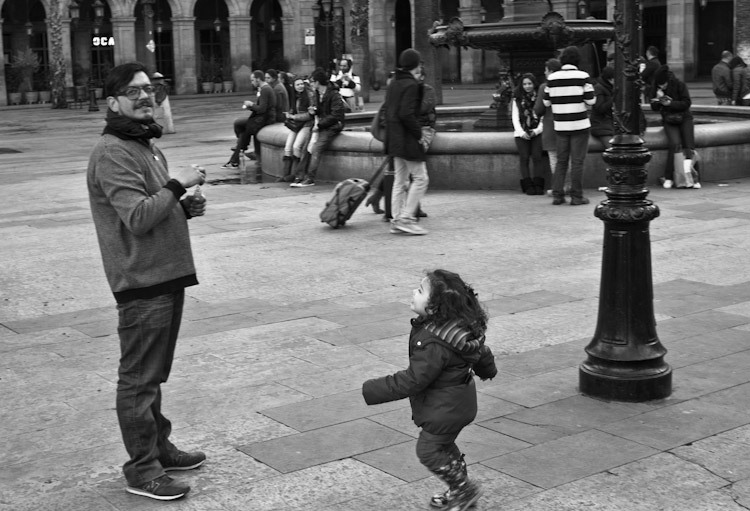 1_39
Caganers in shop window. A caganer is a traditional Catalan figurine of a person taking a dump (cagar = to shit). According to the explanation we got in this shop, the Caganer tradition dates back to the 18th century, when people began to place them in the corner of the nativity scenes. He would bring good health during the coming year, and the "deposit" symbolizes fertiliser and a the consequent good harvest. Today, the caganers are a popular souvenir and collection item: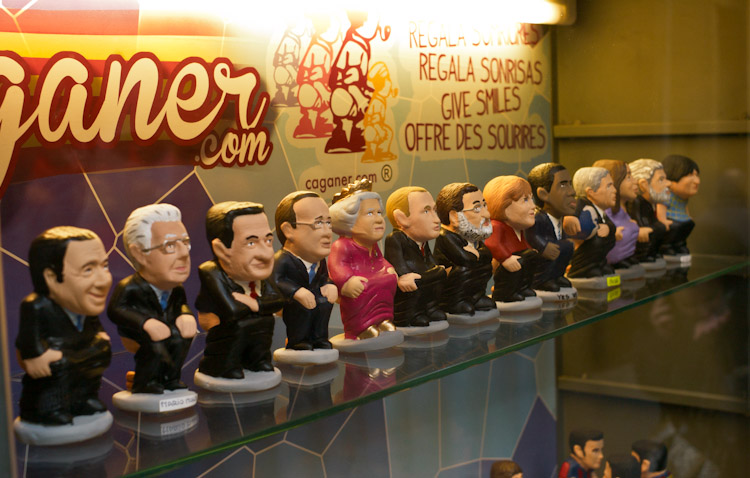 1_40
I never found out what this was about…: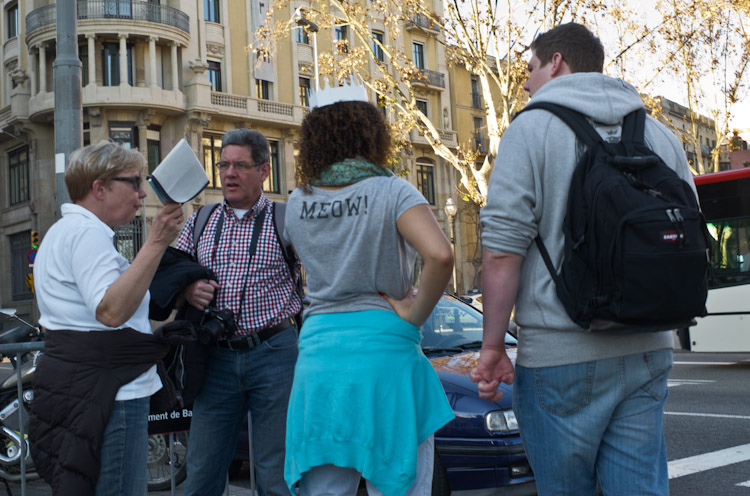 1_41
Barceloneta is a beachside neighbourhood, traditionally a gritty working class place. Now, there are signs of yuppification, but the area still very much retains its community spirit. Here, people are packing donated presents to be distributed to needy children for the following day's gift giving (in Spain, most children get their presents from the three kings on January 6th):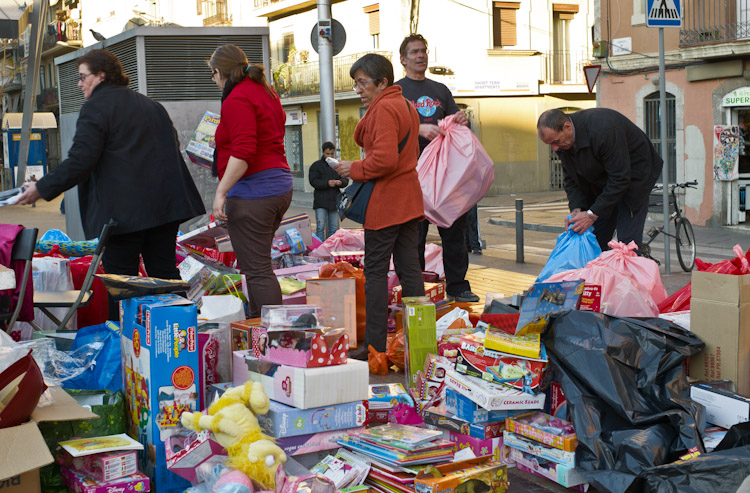 1_42
Typical urban bicycle shop in Barceloneta: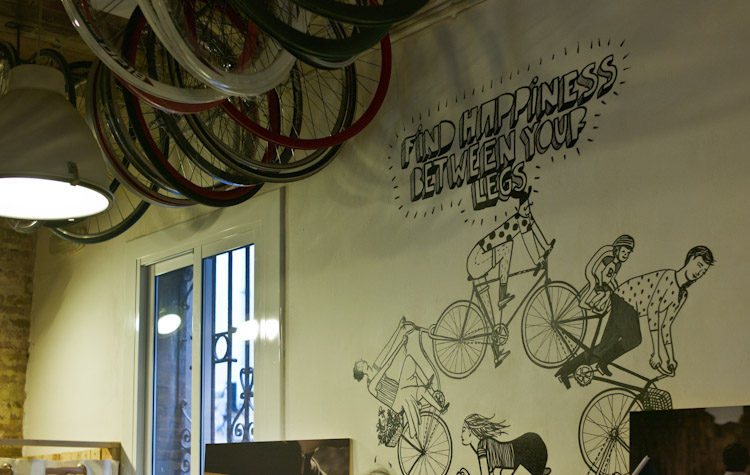 1_43
People were enjoying the sunshine on the Barceloneta beach: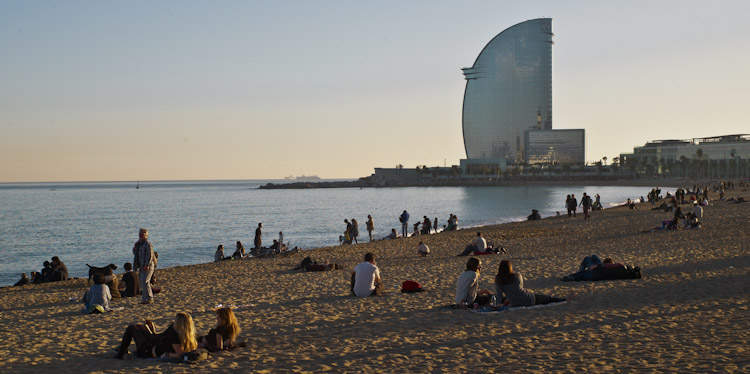 1_44
It is a bit incongruous to see a snowman decoration when the temperature is above 20C and the sun is shining: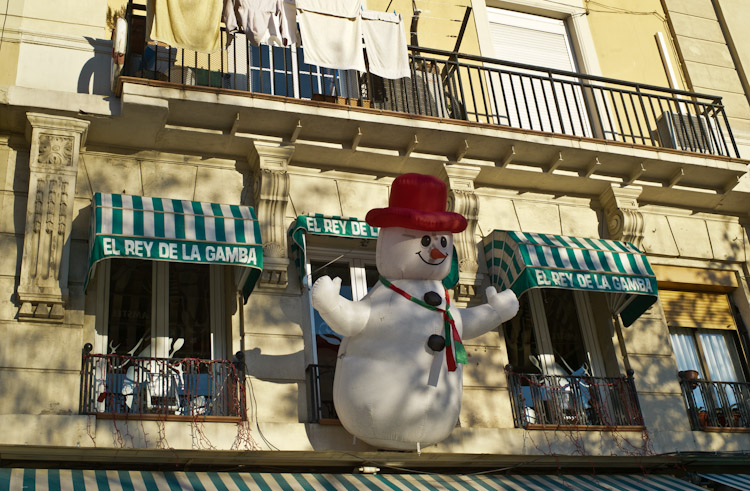 More Barcelona pictures are in my dedicated gallery.