I was back in Munich the second week of July, to give a lecture at IP Executive Week, a week-long training session for officials from IP offices around the world that our office organises together with the European Patent Office, with the location alternating between Alicante and Munich. This year it was Munich. In planning the trip, I was determined to not just spend my free time with a beer in hand on Viktualienmarkt but also to take in some of Munich's many art galleries and museums. Of course, one thing does not preclude the other, as will be apparent below.
28_1
I travelled to Munich on Tuesday morning, flying via Zurich this time. This was my first visit to Zurich airport since I lived there from 2000 to 2003 (I have been back in Switzerland several times since then, but those trips have been either by car or by flying to Geneva):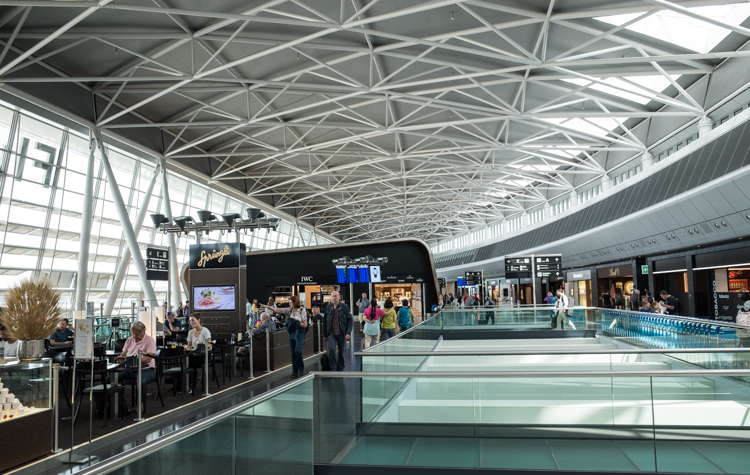 28_2
I had just enough time between flights in Zurich to have a decent free lunch in the lounge (to avoid any accusations of spoiled civil servants–we always fly economy or Ryanair/Easyjet but those of us who travel on business a lot have a Priority Pass so that we can access the lounges despite being in cattle class), and to wander around the terminal a bit, looking for stuff to photograph, like this couple making a selfie: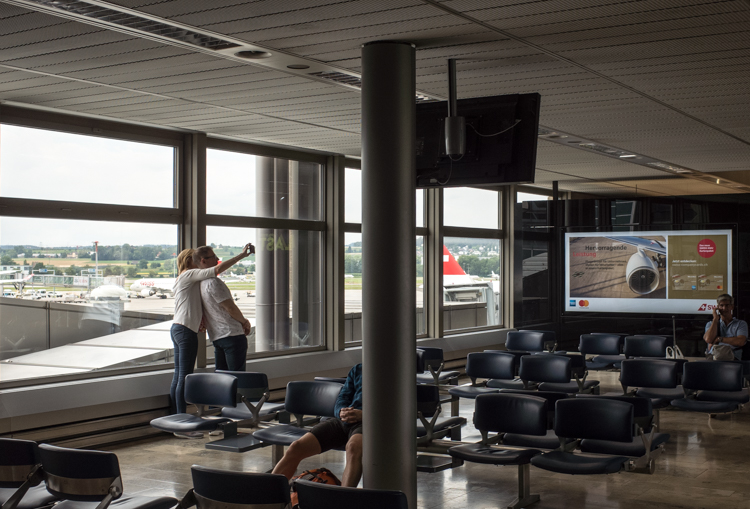 28_3
This being Zurich, things are orderly, as evidenced by the shelves in this beer shop: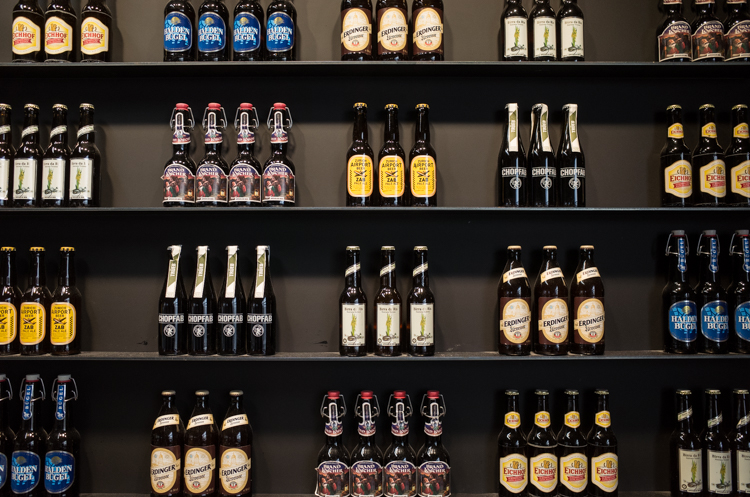 28_4
After a short second flight, I emerged at Munich airport. It consists of two terminals, in the centre there is a large open square with some art, fast food and of course beer stalls: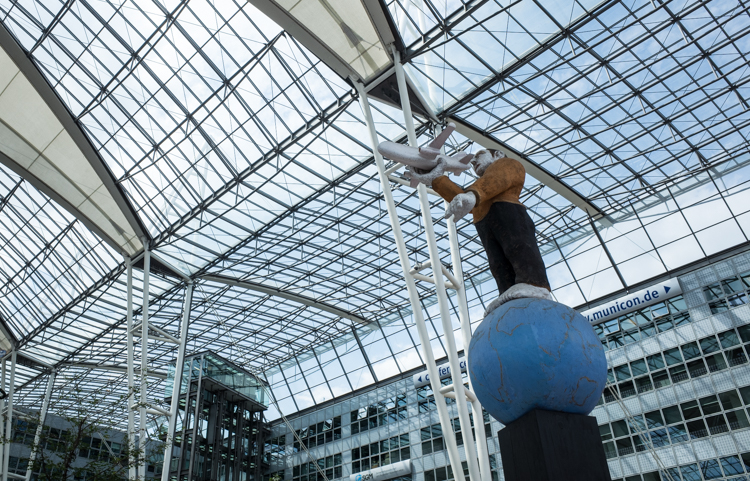 28_5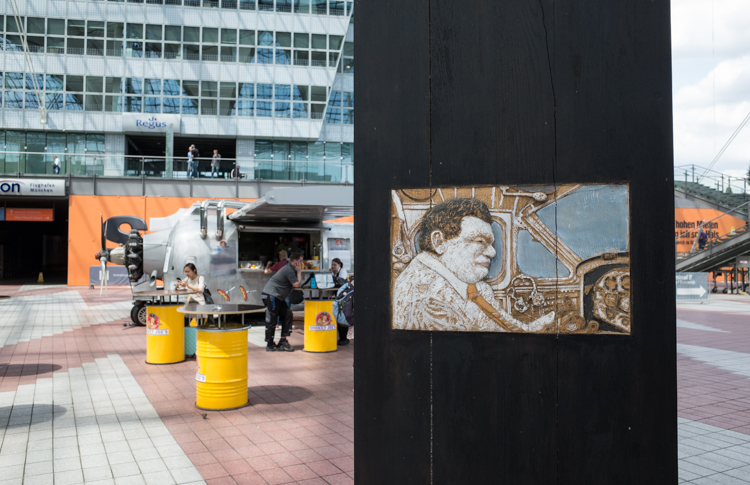 28_6
Munich airport is quite far from the city, and the best way to get the centre is to take the S-Bahn, a commuter train ride of about 40 minutes. When I arrived at Rosenheimer Platz, the sunny weather I had seen from the train had changed into something completely different: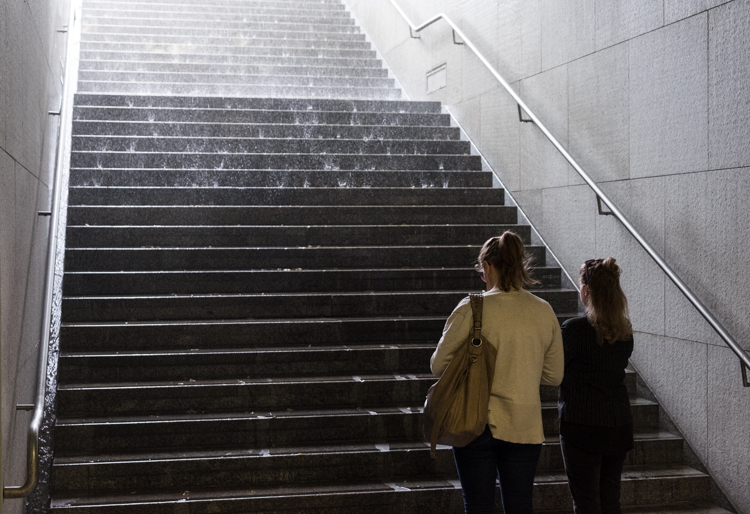 28_7
I waited for the rain to let up a bit and then walked to my hotel. I realised later that rather than walking through the drizzle on the street, I could have reached the hotel entirely underground by walking through a shopping centre adjacent to the train station. Oh well. After checking in, I made my way to that evening's target, Munich's main contemporary art museum, Pinakothek der Moderne: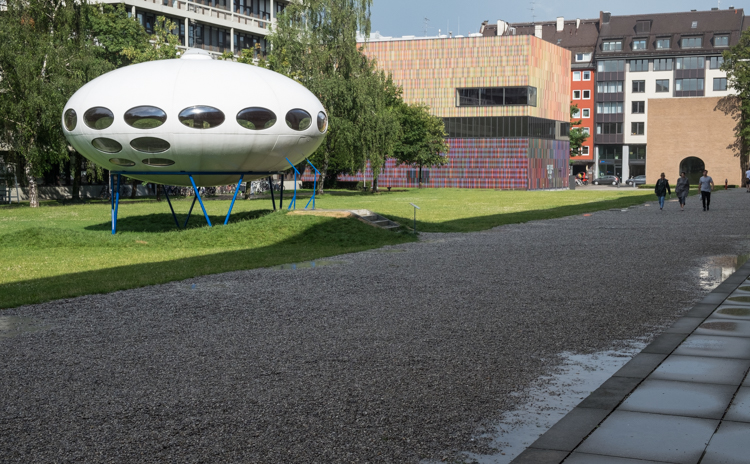 28_8
I loved the Pinakothek. It is now one of my three-four favourite art galleries (the others are ARoS in Aarhus, Louisiana in Copenhagen and Tate Modern in London). Just a sampling of the amazing art I admired. I have noted the title and artist in most cases, but some of them simply escape me at the moment. As you enter the main hall, you see this work, called "Journey to Jerusalem", by Olaf Metzel (2002):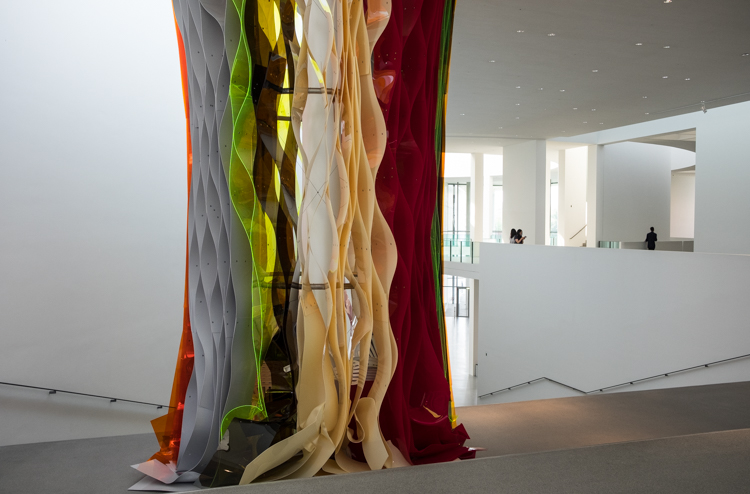 28_9
A closer view: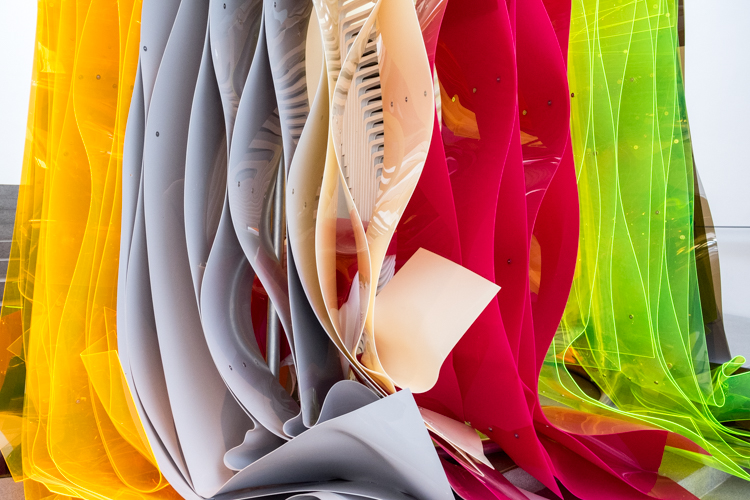 28_10
Besides the art on display, the building itself is a joy to behold: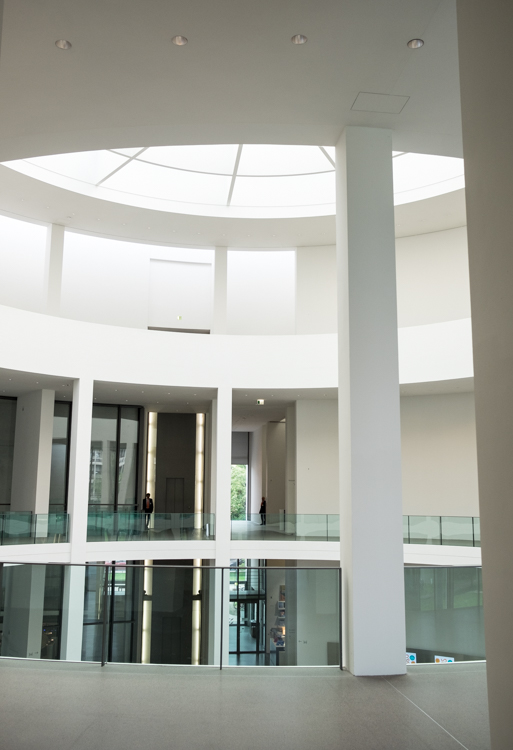 28_11
A room devoted to art by Anselm Kiefer: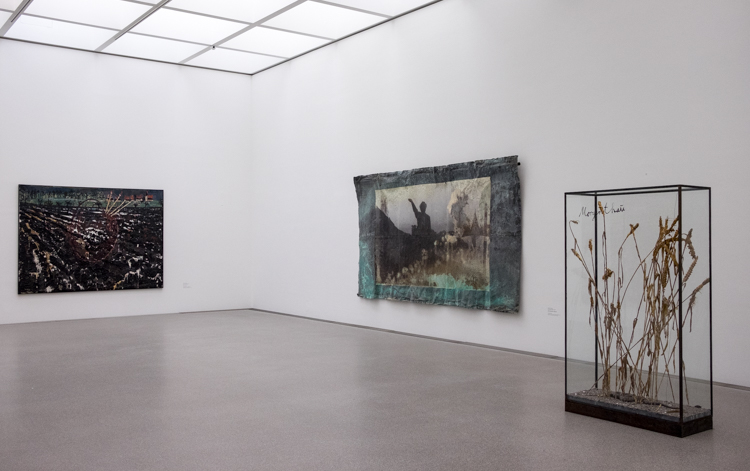 28_12
Anselm Kiefer, "The Sand from the Urn" (2009):

28_13
Crucification, artist unrecorded: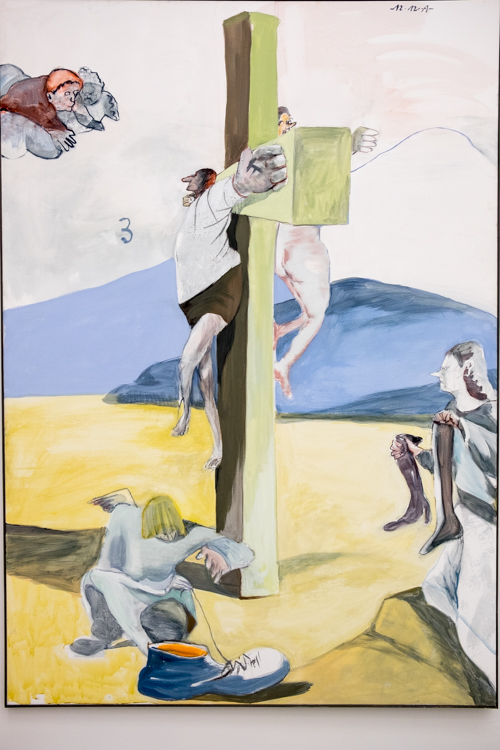 28_14
Amelie von Wulffen, Untitled (2015):

28_15
Artist unrecorded, probably Anselm Kiefer: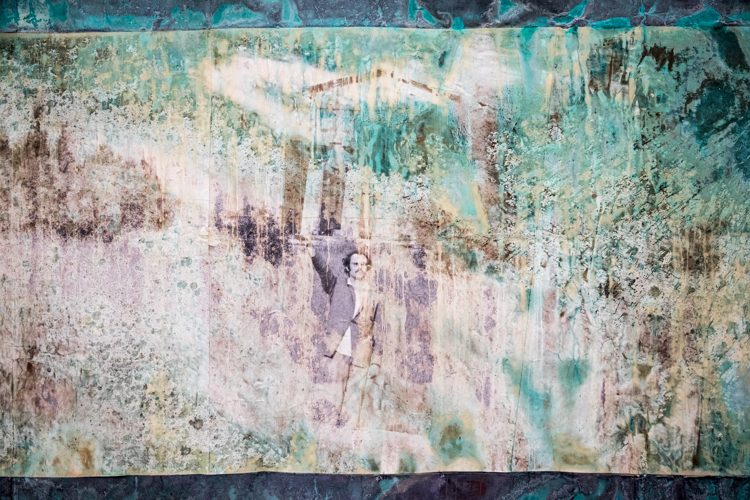 28_16
Mother and children, looking at August Macke, "Mädchen unter Bäumen" (girls under the trees, 1914):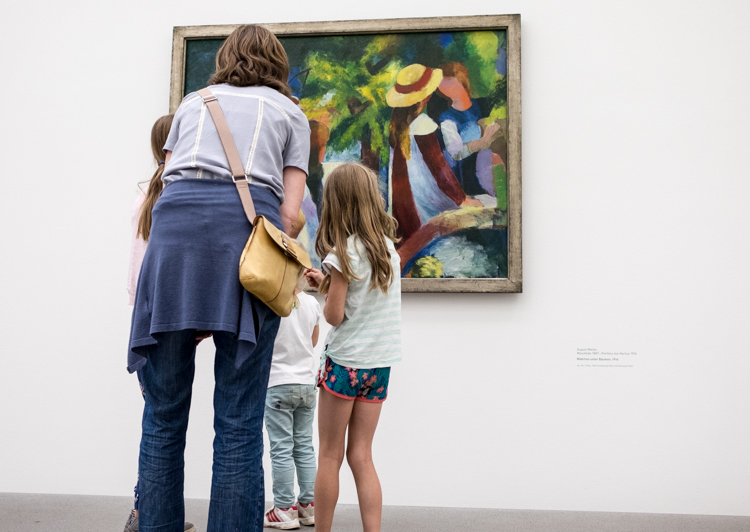 28_17
Emil Nolde, "Dance around the Golden Calf" (1910):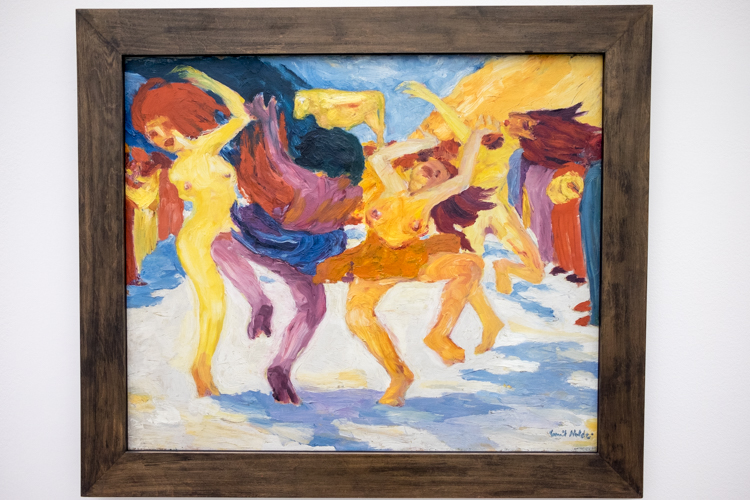 28_18
Fragment of Jankel Adler, "Mr. Cléron, the Cat Breeder" (1925):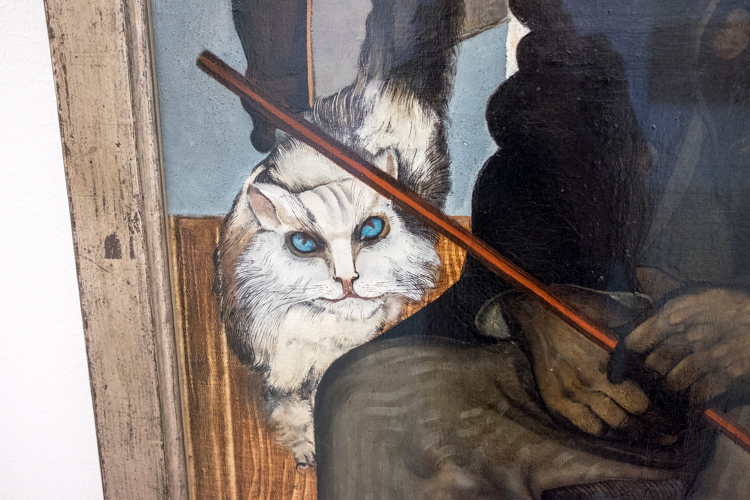 28_19
Max Beckmann, "Versuchung" (1920s):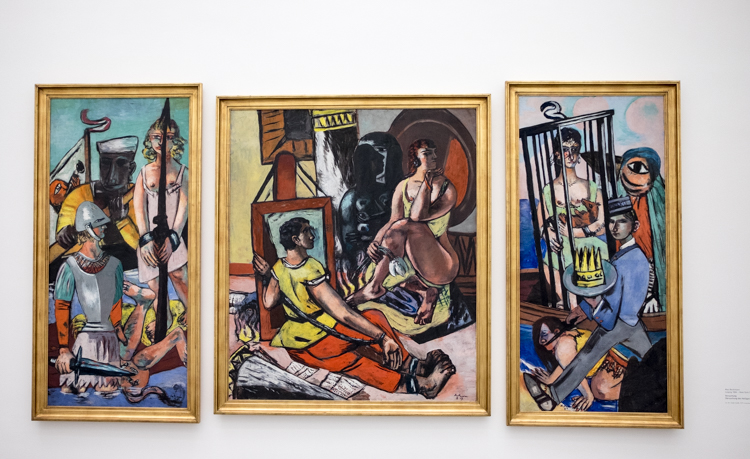 28_20
Artist and title undrecorded, but this one of the more impressive rooms at the Pinakothek: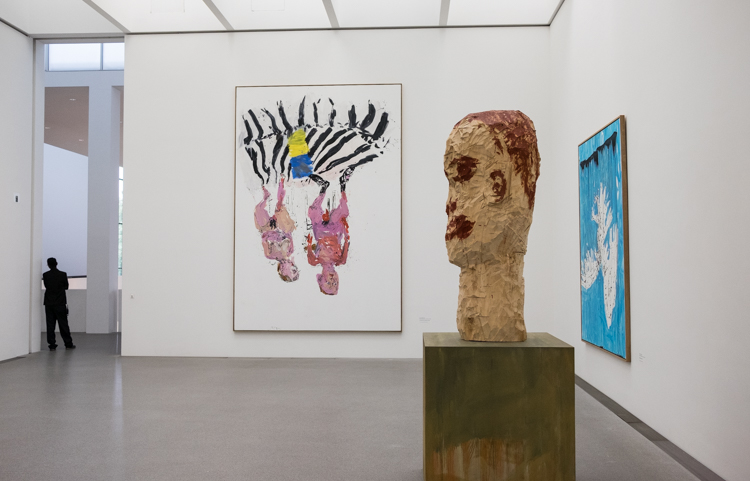 28_21
Closer view: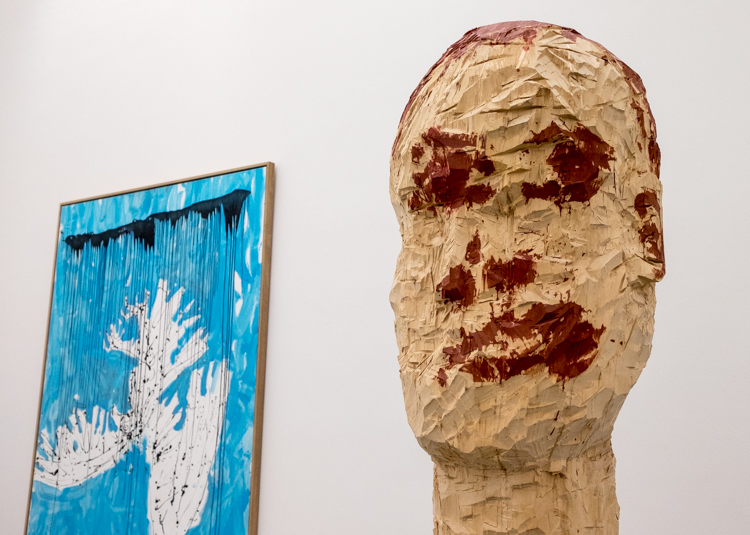 28_22
Unfortunately I did not record the artist here either, but I was fascinated by the combination of art forms on display here: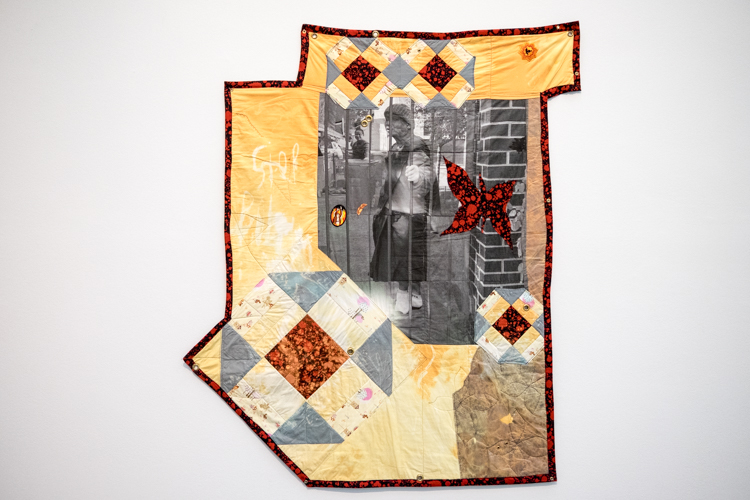 28_23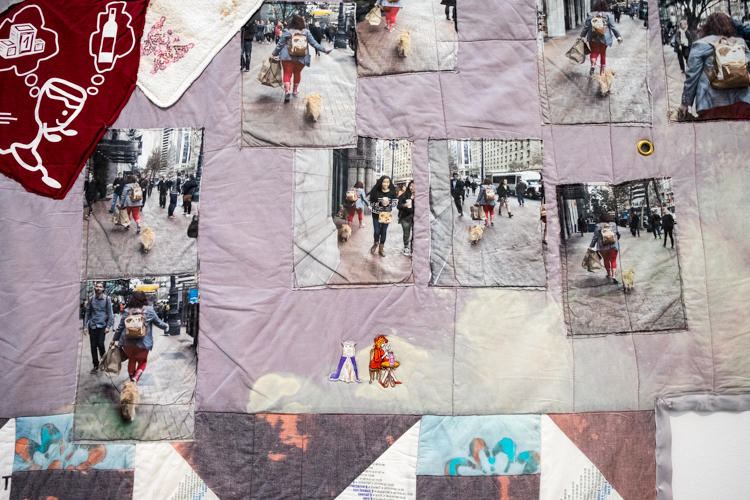 28_24
After my visit to the Pinakothek, I walked to the main square, Marienplatz. I could have used public transport (tip: when arriving at Munich airport, you have a choice between a single ticket to the centre for €11.60 and an all-day pass to the entire system for €13–a no-brainer). At Marienplatz, I was hunting for a place to have a beer, but it started raining and I did not like the one place with outdoor seating and umbrellas. But I did get this amusing photo of some Buddhist monks queueing for snacks and interacting with the other people in the queue: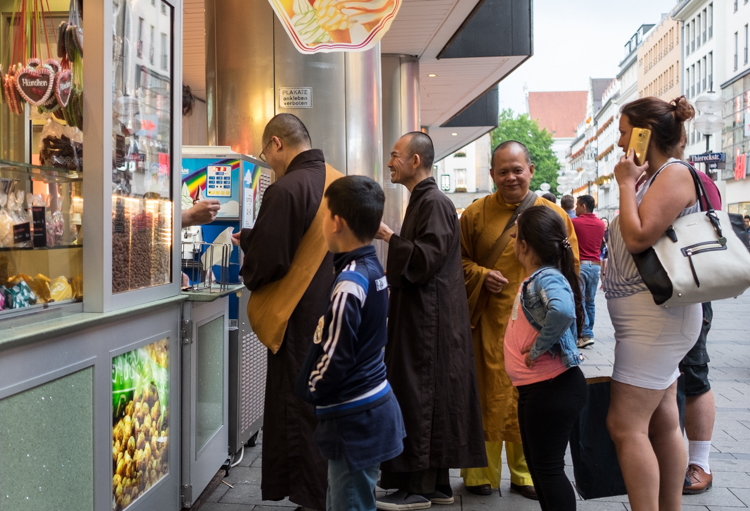 28_25
Instead of enduring the long wait and high prices typical of Marienplatz, I walked over to the Viktualienmarkt and had my beer there. It was still raining, but many of the tables are under umbrellas and trees with dense canopies. And even if you cannot get such a table, true Müncheners will still find a way to enjoy their Maß: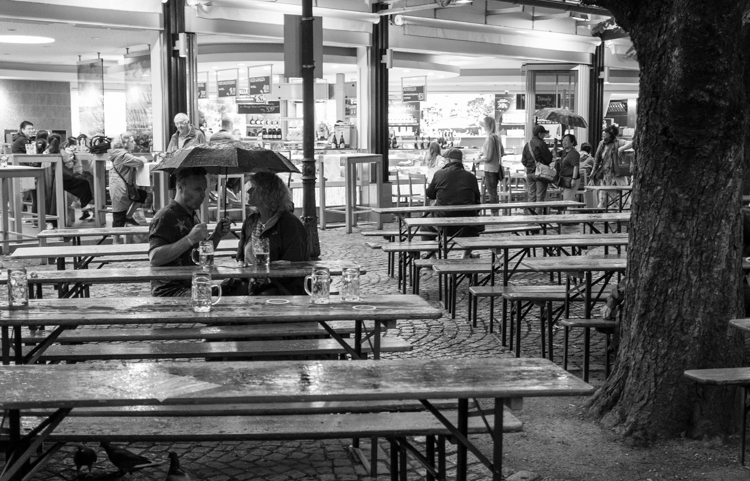 28_26
As did I: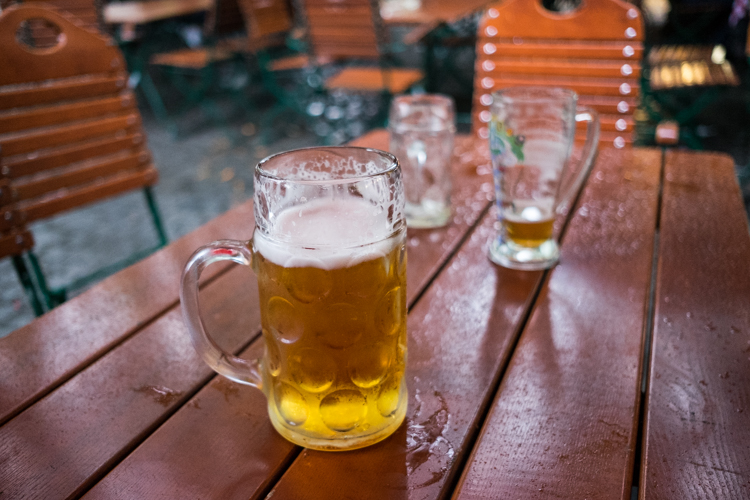 28_27
The next morning it was time to work. Here is my counterpart at the European Patent Office, Chief Economist Yann Ménière, speaking to the audience (at that point, I had just finished my own talk, so I could sit and snap some photos from the head table):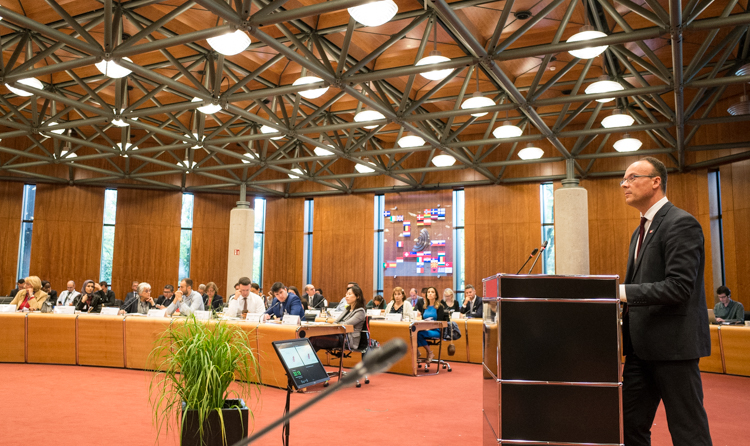 28_28
Later in the day, we were split up into smaller groups, and I took this picture of a young lady (I do not remember which IP office she represented) listening to a speaker: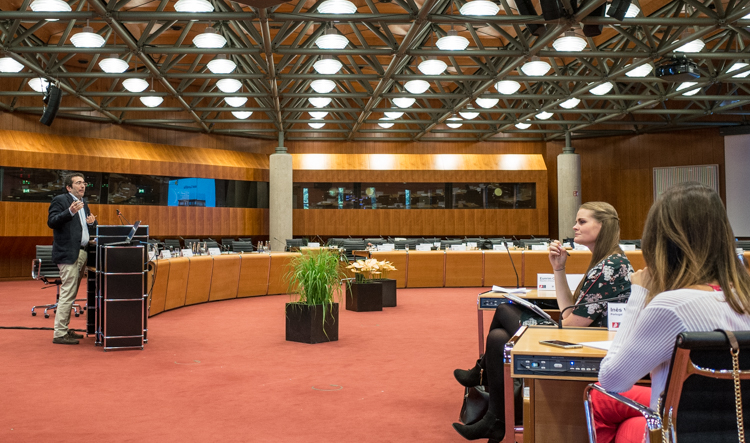 28_29
After lunch I had a hole in my agenda which I used to visit the nearby Jewish Museum, about 15 minutes walk from the EPO. On the way out, I photographed these impressive metal balls outside the EPO entrance: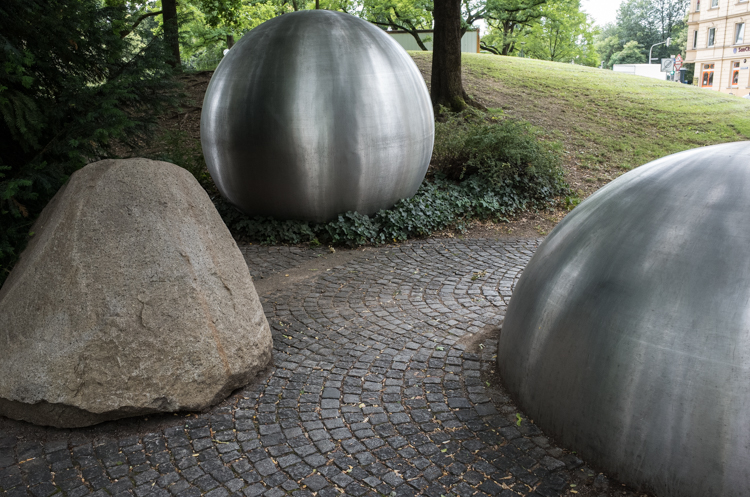 28_30
While walking along Corneliusstrasse, as is my habit, I was on the lookout for small amusing details in the urban landscape, like this door sign: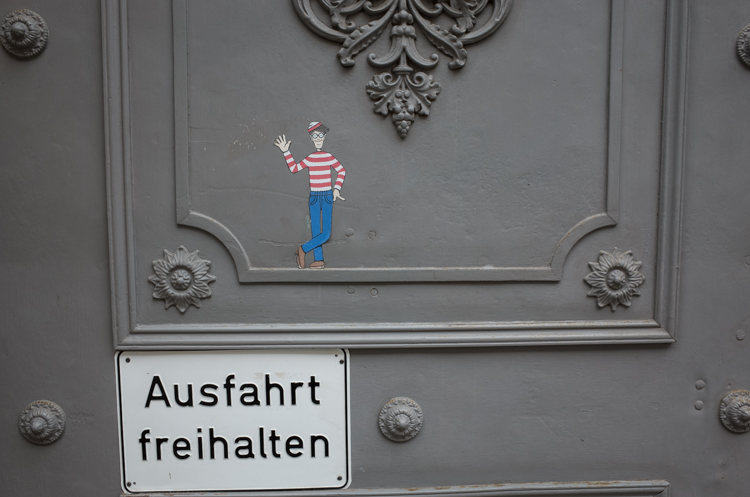 28_31
Or this vending machine, repurposed for street art: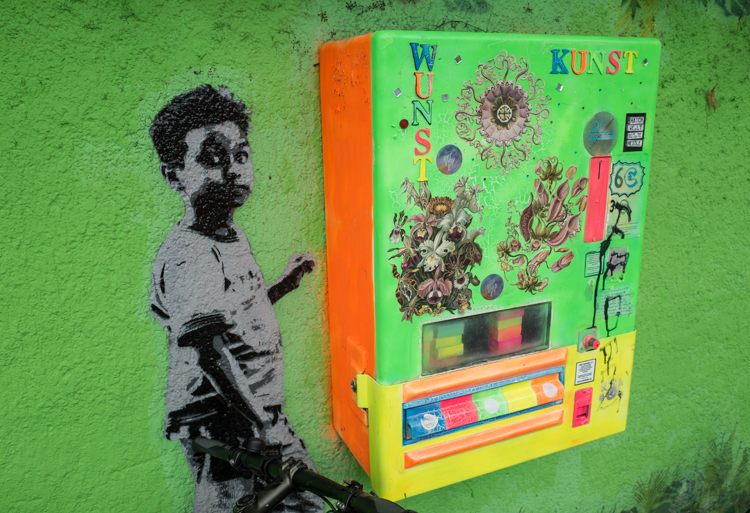 28_32
The Jewish Museum is a combination of museum and community centre. In addition to presenting the history of Jewish life in Bavaria, it also hosts temporary art exhibitions, like this one, called "A Muslim, a Christian, and a Jew" by Israeli artist Eran Shakine: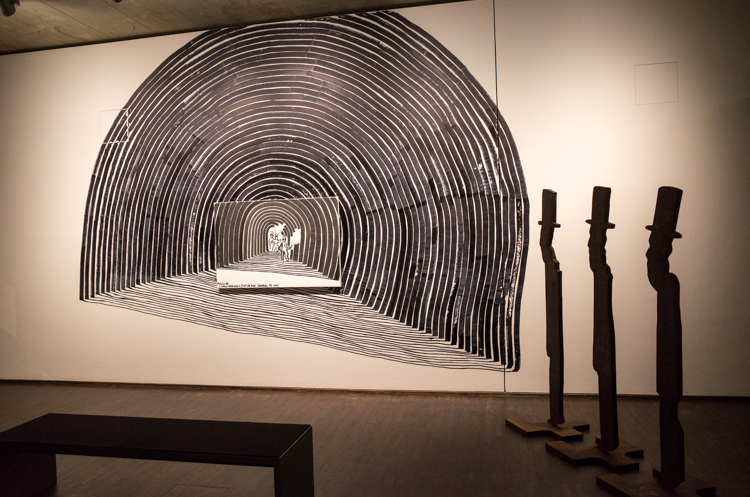 28_33
"Looking for a different method of communication":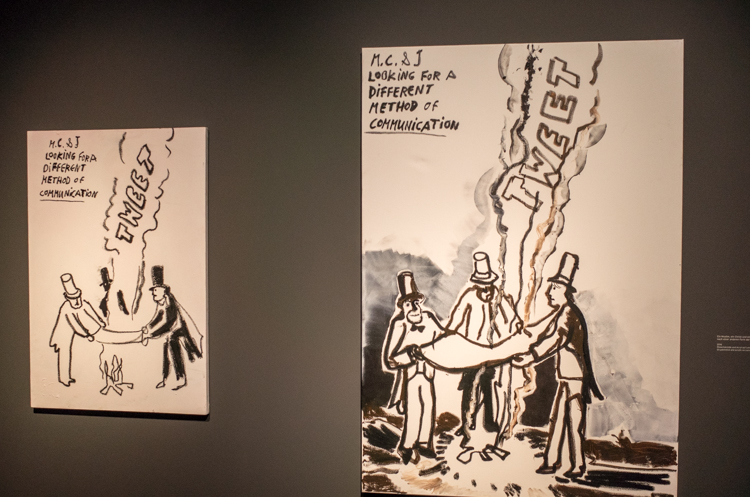 28_34
In the reading room of the museum, I was impressed by the variety of Jewish publications in today's Germany: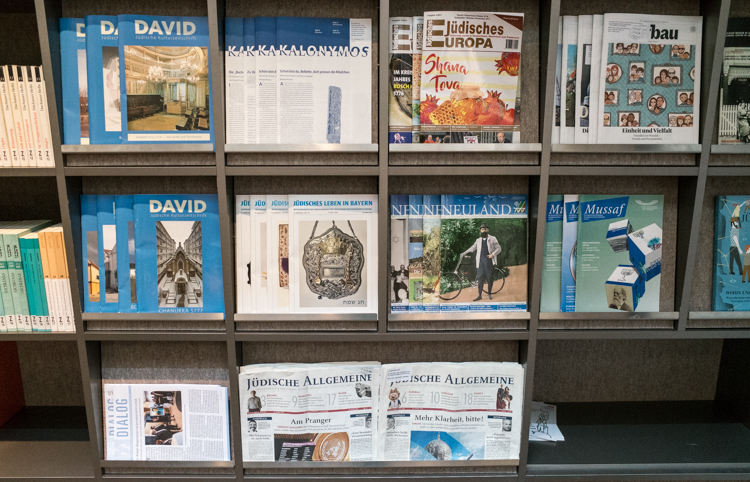 28_35
A couple of more snippets from my walks around Munich. This is a small memorial to the White Rose conspiracy at the university: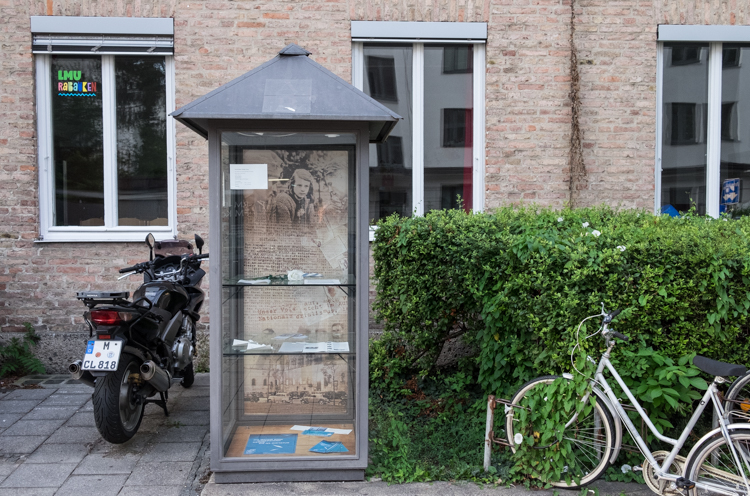 28_36
Man with placard, Marienplatz. Judging from the slogan ("institutionalised racism kills") he might have participated in a rally protesting the strict immigration policies championed by Bavaria's ruling party, CSU: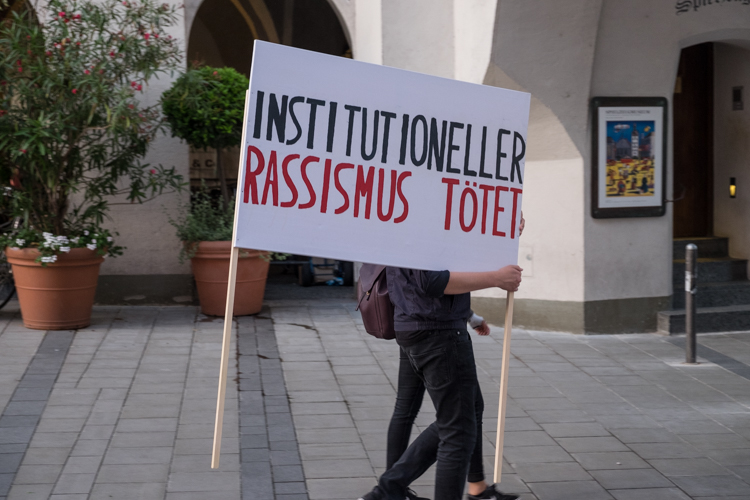 28_37
Cycling is becoming increasingly popular in Munich, not as a sport but as a way to commute to work or school. This includes many of EPO's employees, so the office has arranged for a mobile bike repair service to visit on a daily basis: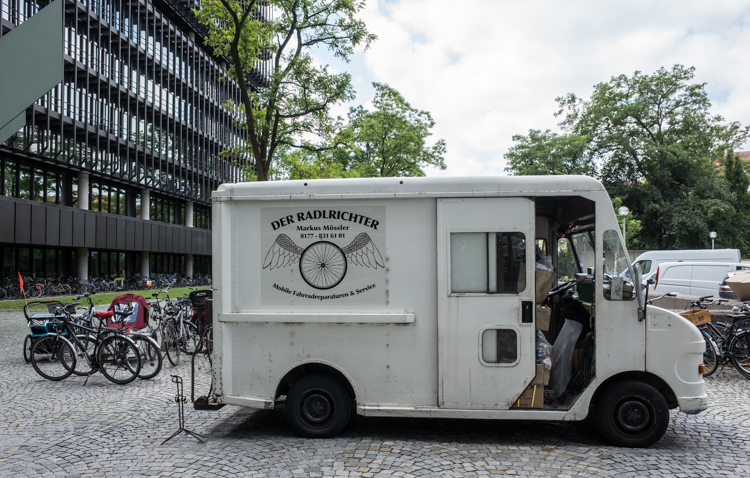 28_38
On the way from the EPO to the Isartor metro station, I stopped at this huge sporting/outdoor shop. I am always impressed by its size and the selection of stuff: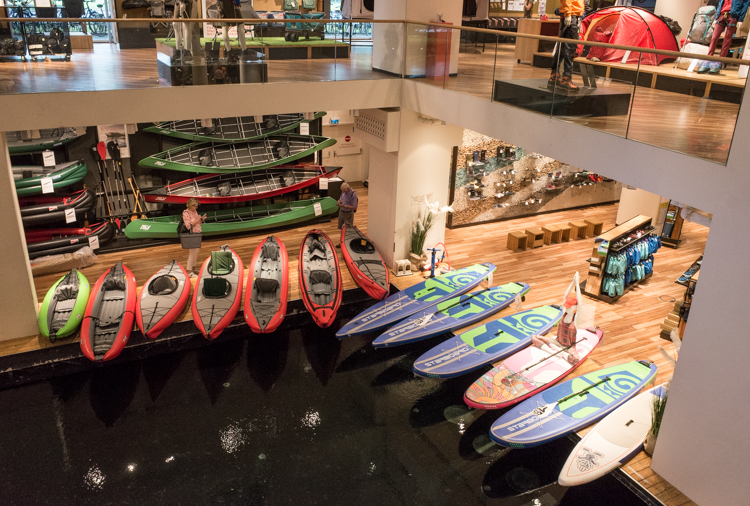 After taking the above picture, I made my way to the airport and flew home. It was Friday evening, and the remaining images are from Saturday's activities at home in Spain.
28_39
As I often do on Saturday mornings, I cycled to Aigües and stopped for a break on the square. A dog was surveying the world from his balcony: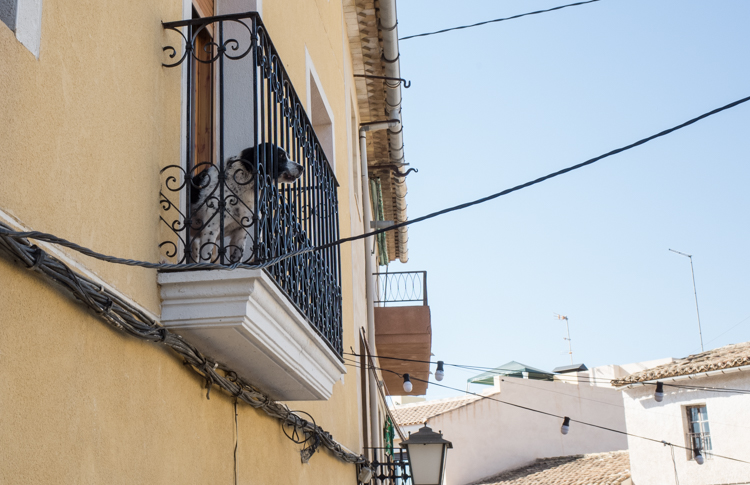 28_40
I continued on to Busot and stopped to take a picture of this bend in the road. Two fellow cyclists obligingly appeared in the frame:

28_41
After I came home from the bike ride, it was time to drive to Benidorm. Our friend Iñaki was turning 60, and a party in his honour was taking place at the house of a Dutch/Spanish couple. The usual circle of friends were there, engaged in the usual activities: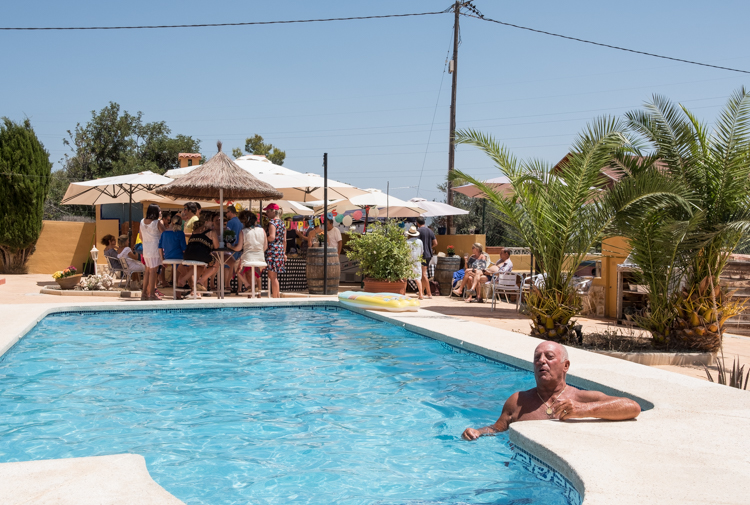 28_42
Iñaki and his partner: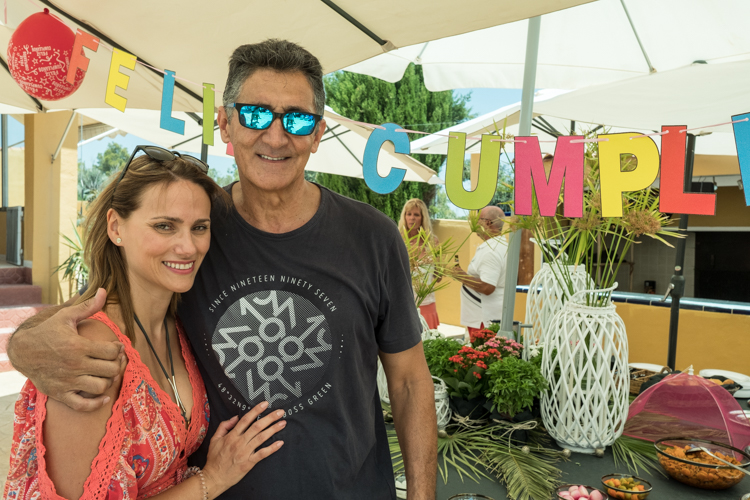 28_43
A conversation: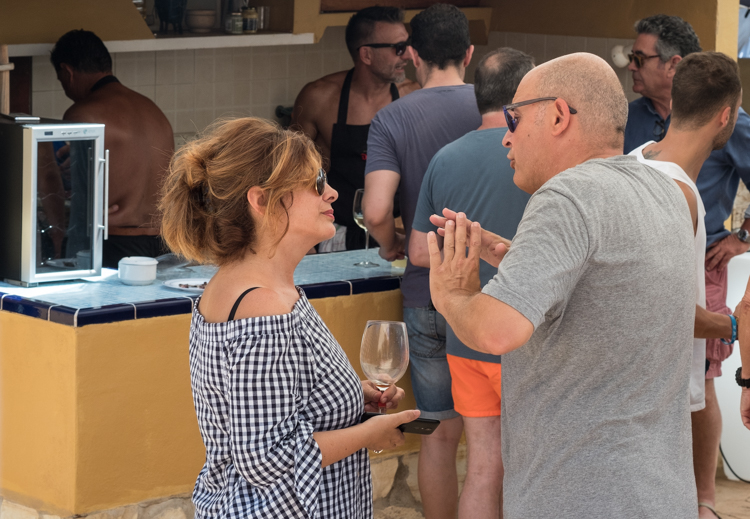 28_44
The chef at work: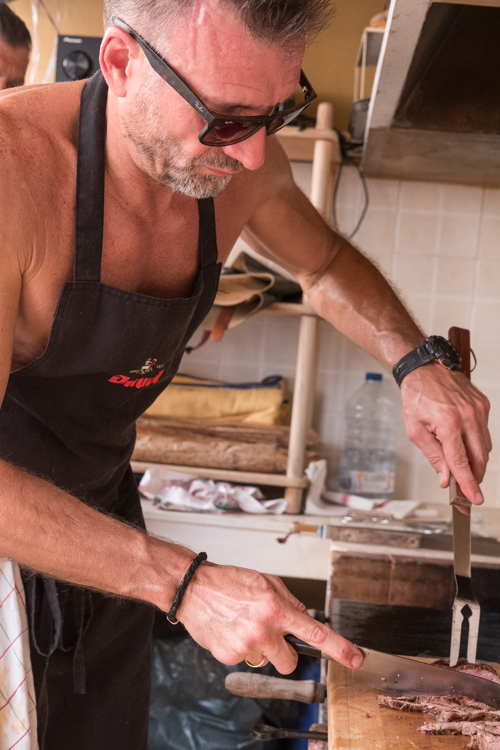 28_45
We also had live music, which was our main birthday present for Iñaki: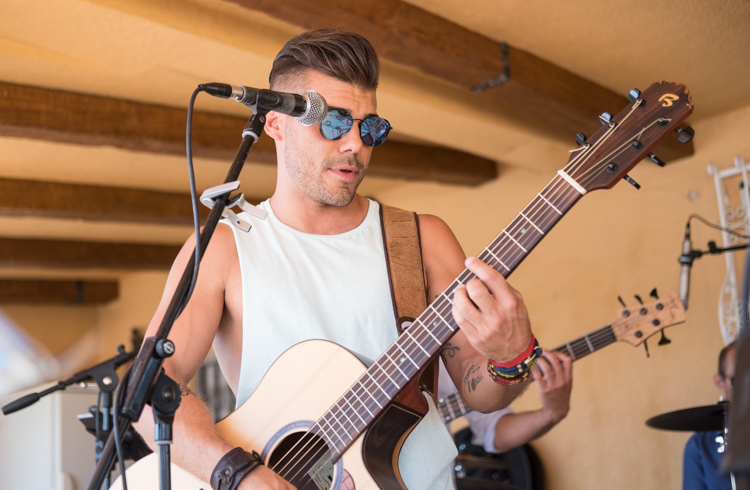 28_46
A happy drummer: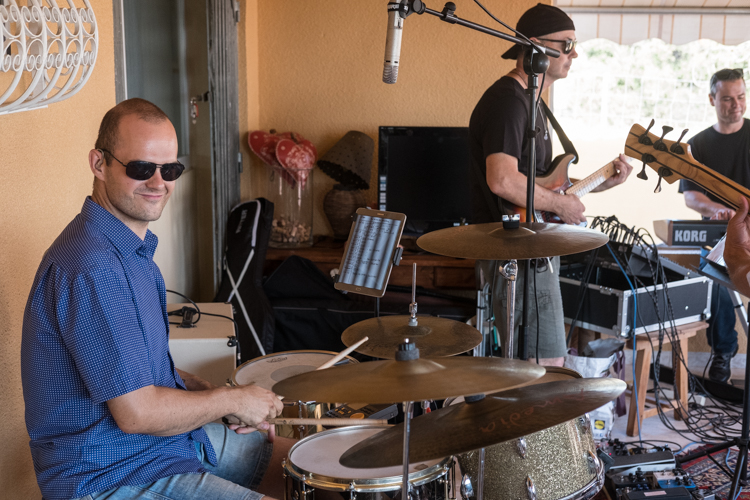 28_47
And, to finish things off, a thirsty doggie: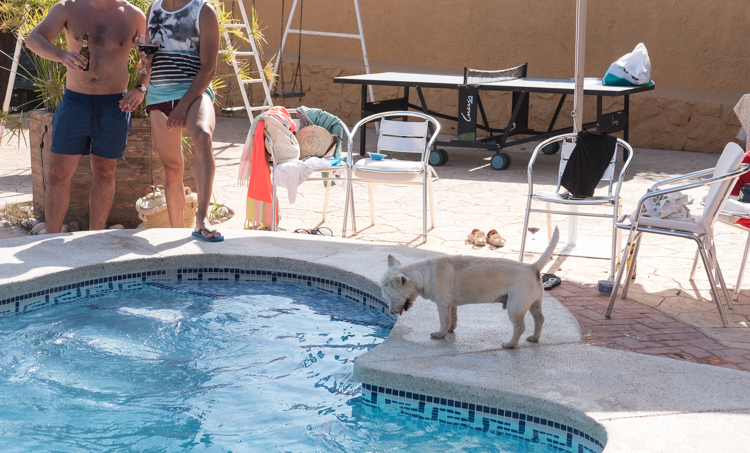 28_48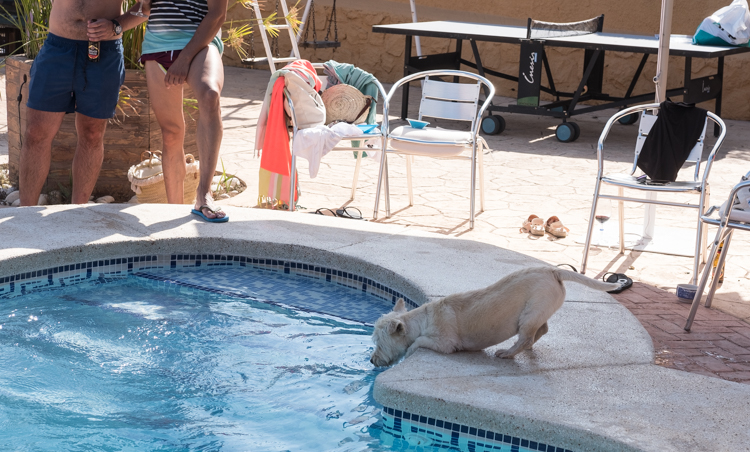 More of my photos from Munich from the two trips in June and July can be seen here.