Just a couple of days after our return from Poland we were packing again, this time for a mini-vacation in Scotland, a country I have visited on a couple of occasions, but for my wife it would be the first time.
34_1
But I did get a couple of days at home. I continued to photograph the cute dogs in the vestibule of our local supermarket: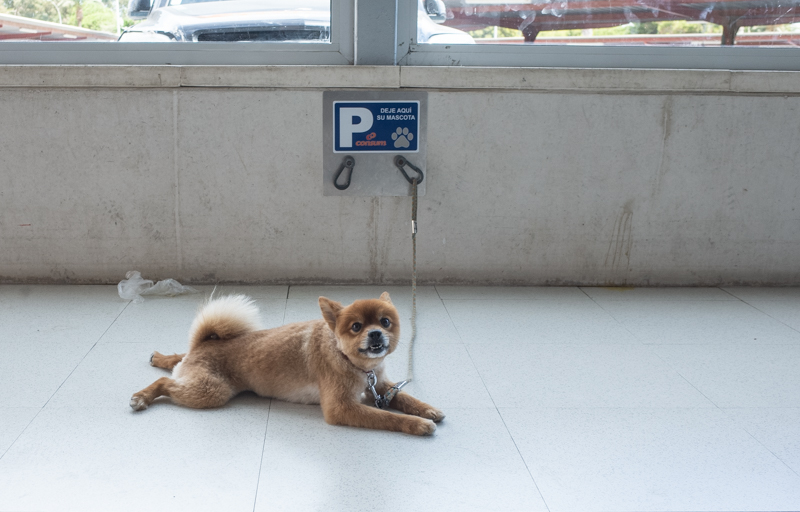 34_2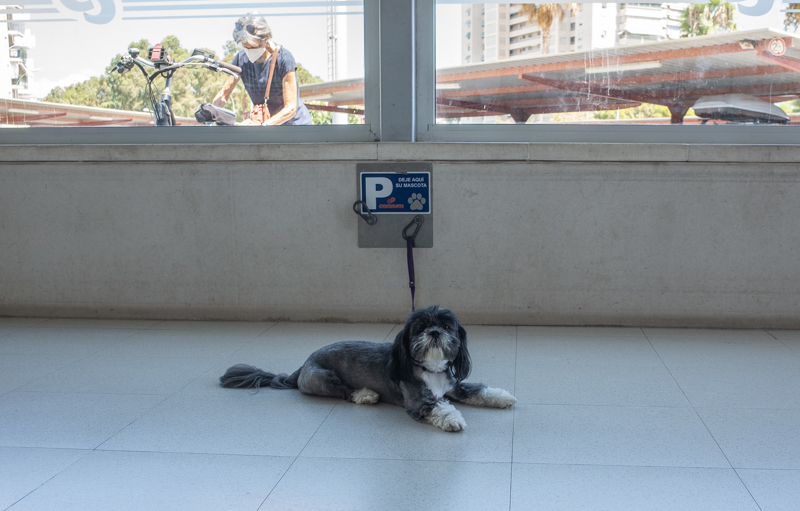 34_3
I took advantage of being home to do my morning bike rides, and now that sunrise is around 7:30, I get to see some beautiful morning skies: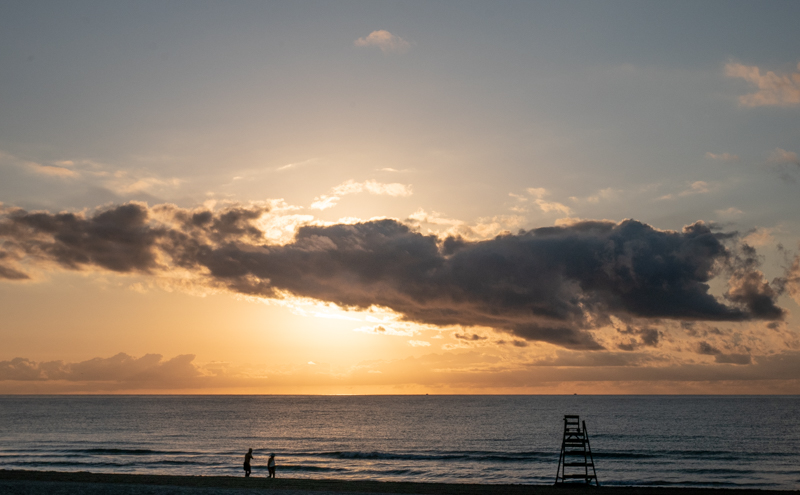 34_4
Monday evening we went out for dinner with our ex-trainee Antanina from Lithuania, who was in Alicante for a few days. We enjoyed sitting outside on the Esplanada de España on a warm summer evening: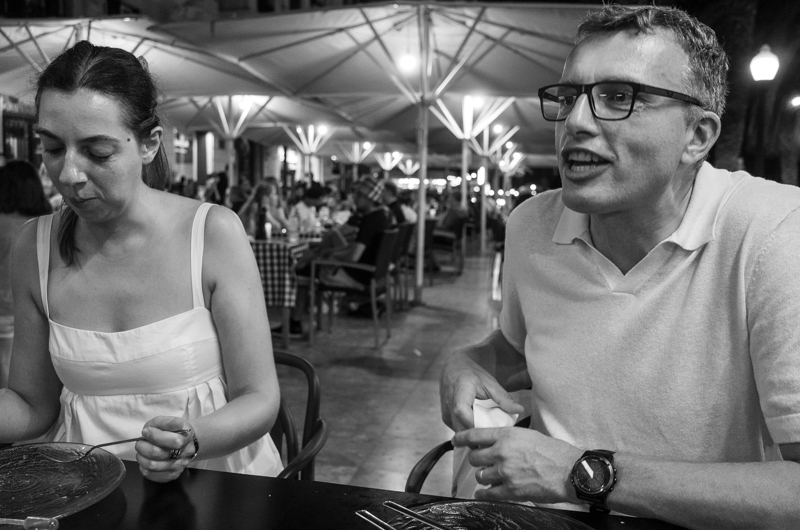 34_5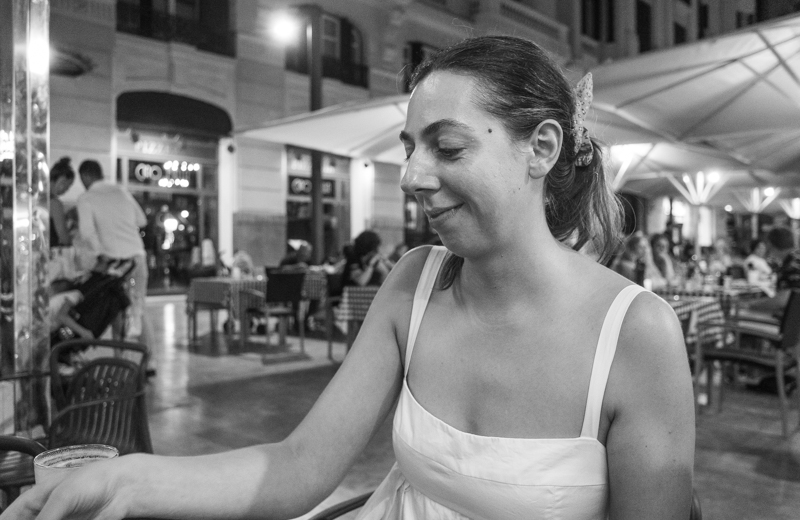 On Tuesday morning we flew to Edinburgh, picked up the rental car, and installed ourselves in a hotel in the centre. Then we ventured out on foot.
34_6
My wife is a bit unsure about traditional Scottish cuisine: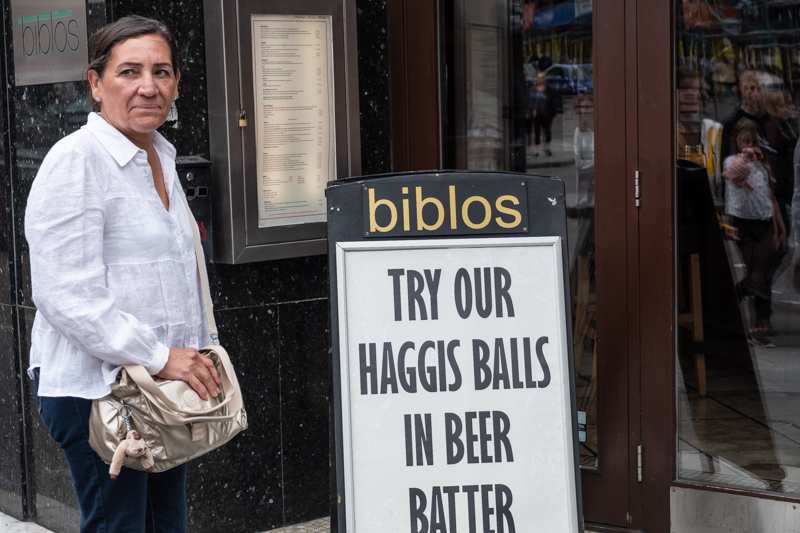 34_7
A nice initiative in the Blackwells bookshop. All the revenue (not just profits) from the sales of the books on the table will be donated to Ukraine aid: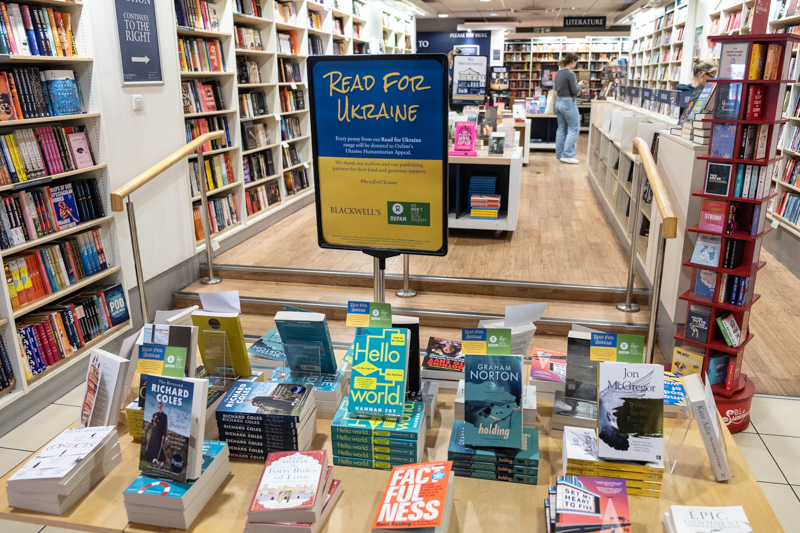 34_8
The garbage collectors in Edinburgh were on strike while we were there, and it showed: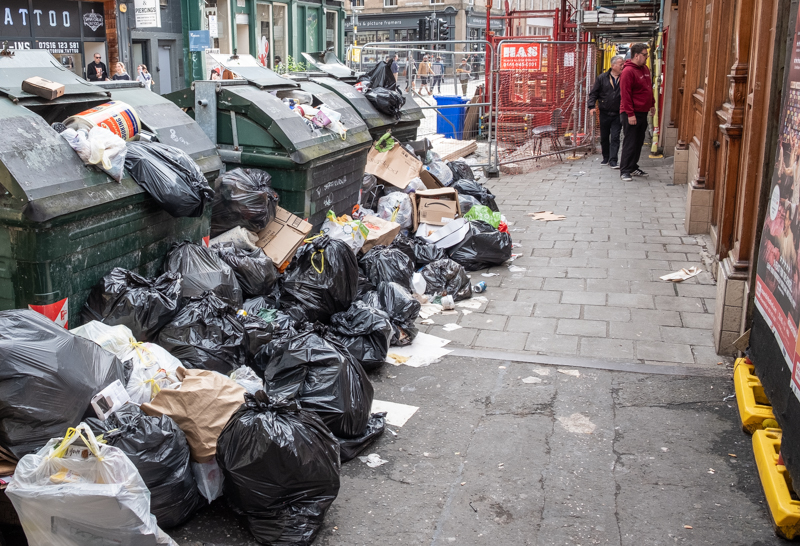 34_9
Funny poster, given the previous image: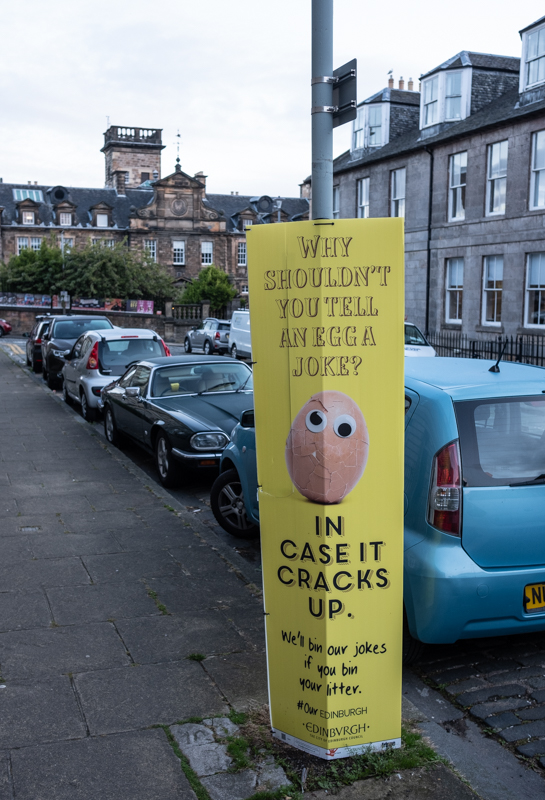 34_10
When planning the trip, we forgot to take into account the Fringe festival in Edinburgh. It meant that the hotel was considerably more expensive than those in Inverness and Glasgow and that the city was very crowded. But it also meant that we got a lot of free entertainment, since part of the festival consists of street performances: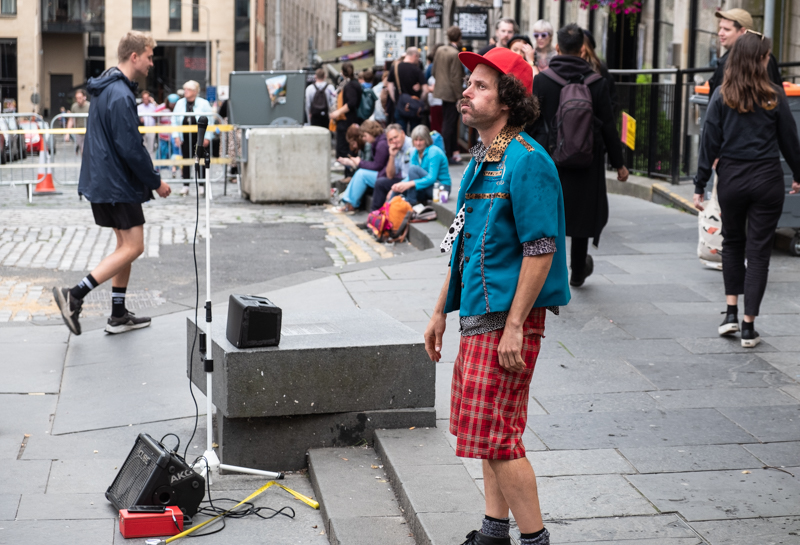 34_11
Everywhere there were people handing out promotional materials for the many performances all over Edinburgh: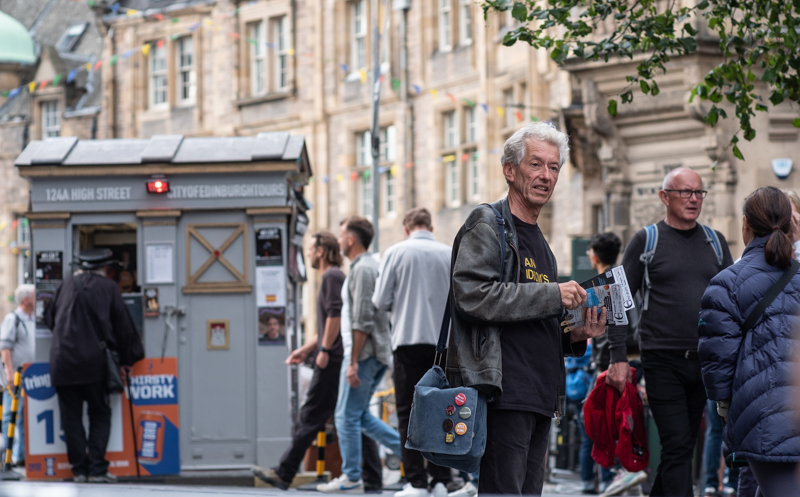 34_12
Since this was my wife's first visit to Edinburgh, we did some of the touristy things, especially walking the length of the Royal Mile, a long street that connects Edinburgh Castle (which unfortunately we could not visit, all the tickets having been sold for that day) to the Scottish Parliament at Holyrood. The Mile is lined with beautiful buildings and statues of famous Scots, including David Hume: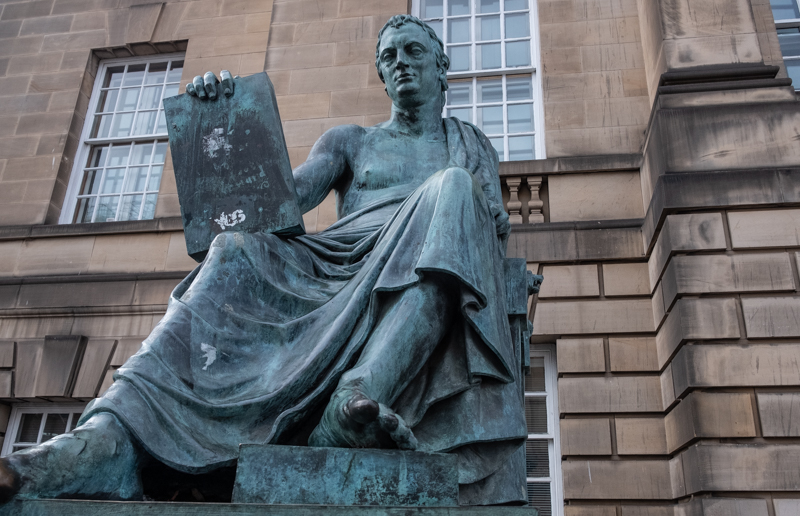 34_13
But I also enjoyed just watching the people. Here, tradition and fringe: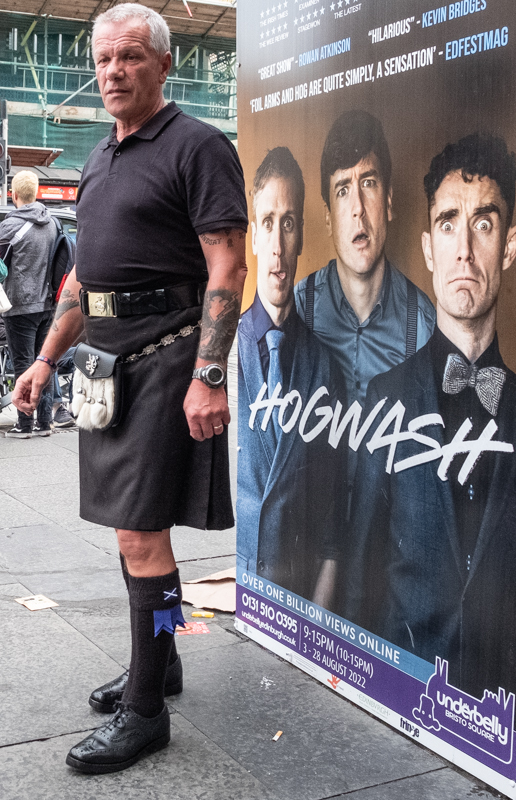 34_14
Animated conversation: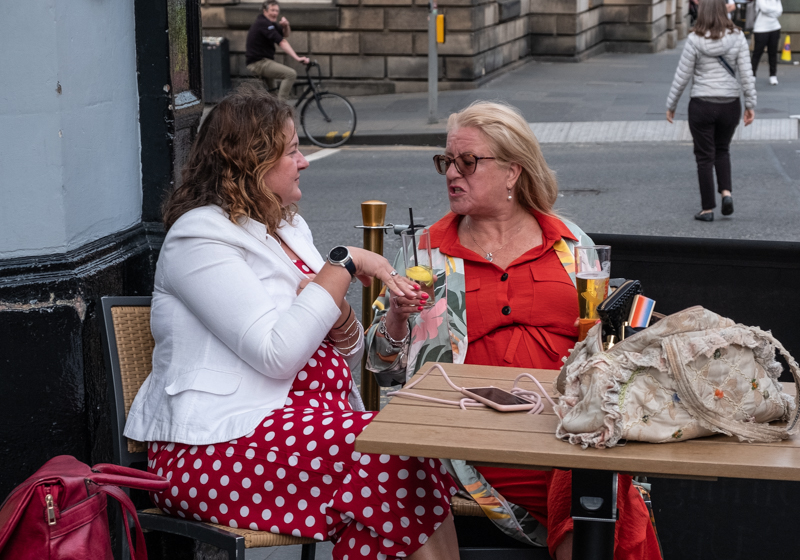 34_15
My wife loved the many giraffe sculptures scattered around Edinburgh. They are part of a project called Giraffe About Town, and will be auctioned off in late September to raise money for various conservation charities: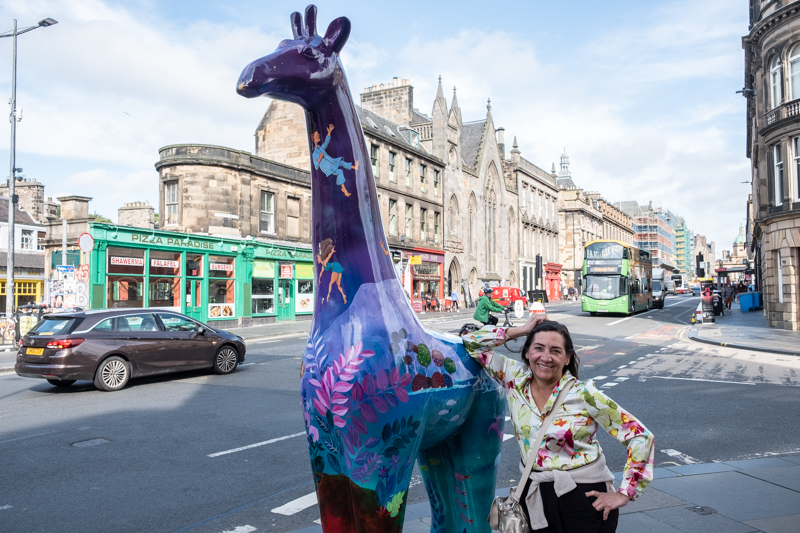 34_16
A cute Scottish dog, version 2022: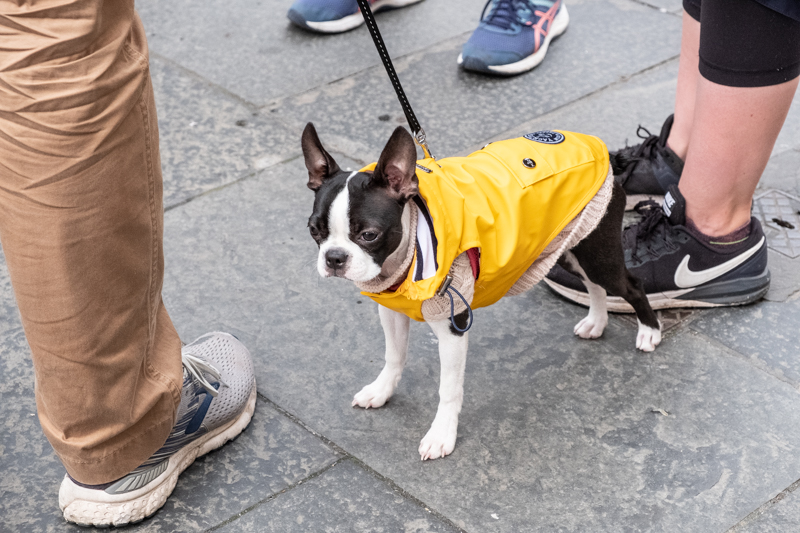 34_17
A cute Scottish dog, version 1872. Greyfriars Bobby was a Skye Terrier who spent the last 14 of his 17 years guarding the grave of his human. His story is obviously heartwarming, and he is buried just outside the same cemetery at Greyfriars Kirk as his owner. Needless to say, there are pubs and statues celebrating his life: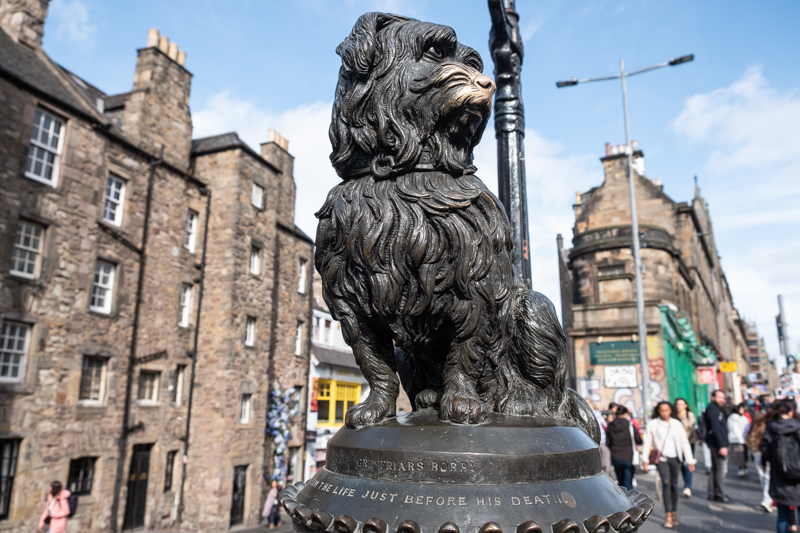 34_18
Detail, Greyfriars cemetery. Safe to say that the taste in gravestones is different today than it was 200-300 years ago: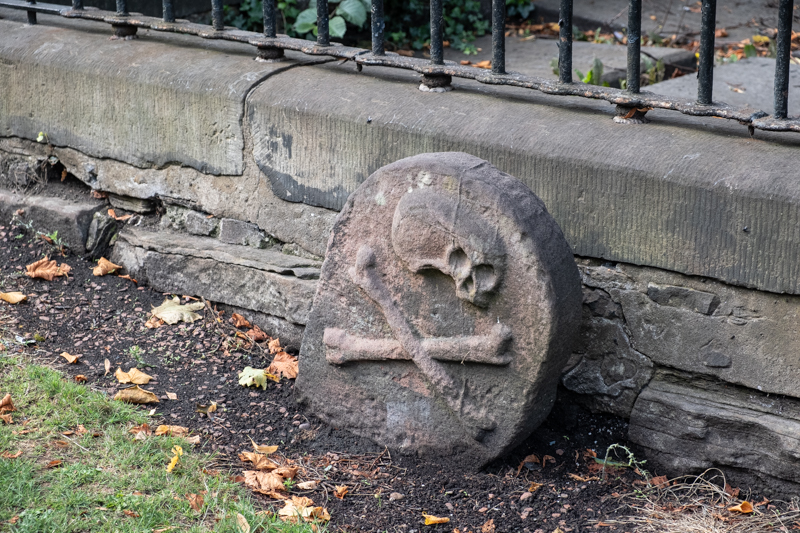 34_19
We walked around Edinburgh some more, passing some graffiti targeting Barclays, one of UK's biggest banks: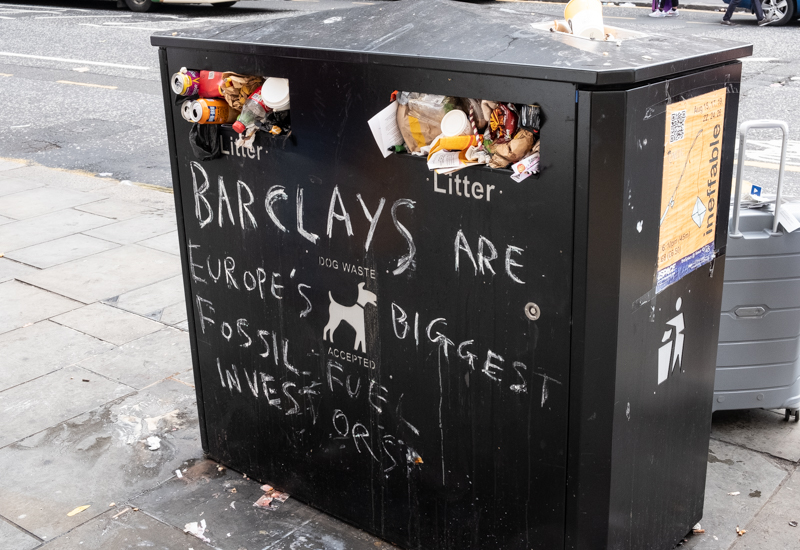 34_20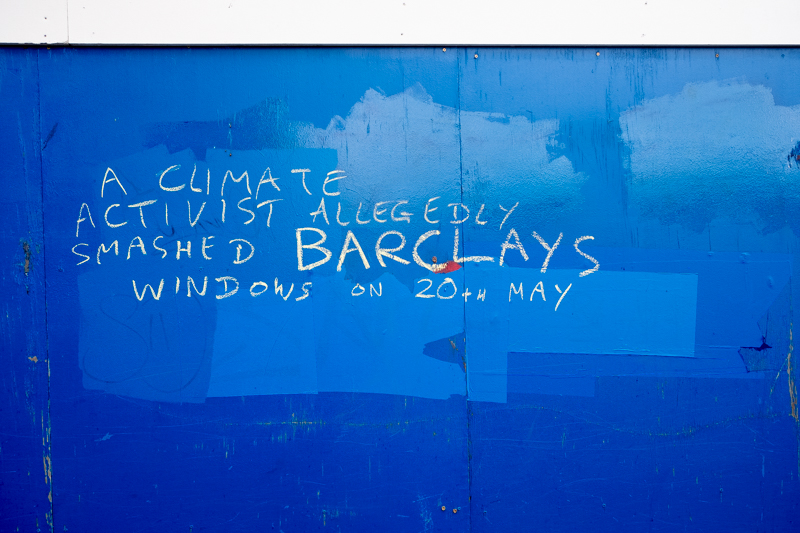 34_21
This is a bit rich in a part of the UK where the local dialect can be quite challenging to understand: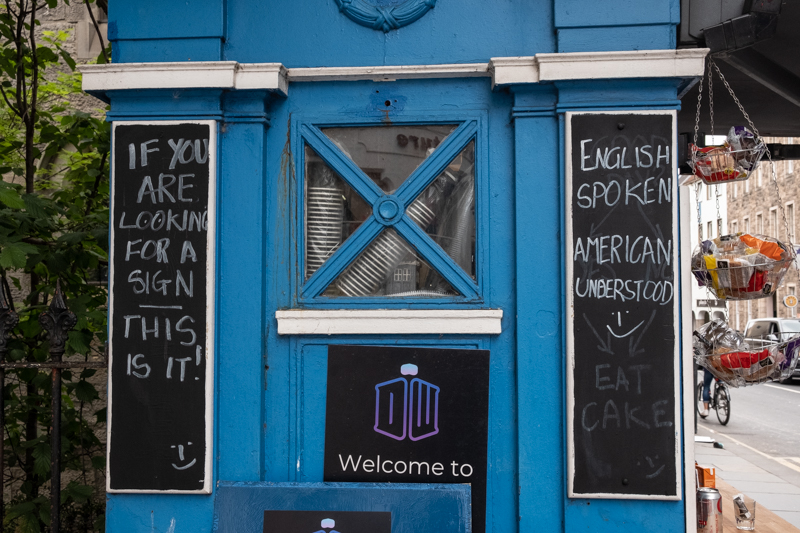 34_22
Around lunchtime on Thursday we drove to Inverness, about 250 km north of Edinburgh. This is the part of trip to which I was really looking forward. I have visited Scotland before, but not the Highlands. I love the Scottish landscape, and at one point I just had to stop at a lay-by along the A9 to have a look and take some pictures. Another driver had a similar idea, but she took it one step further and had a mini-picnic right then and there: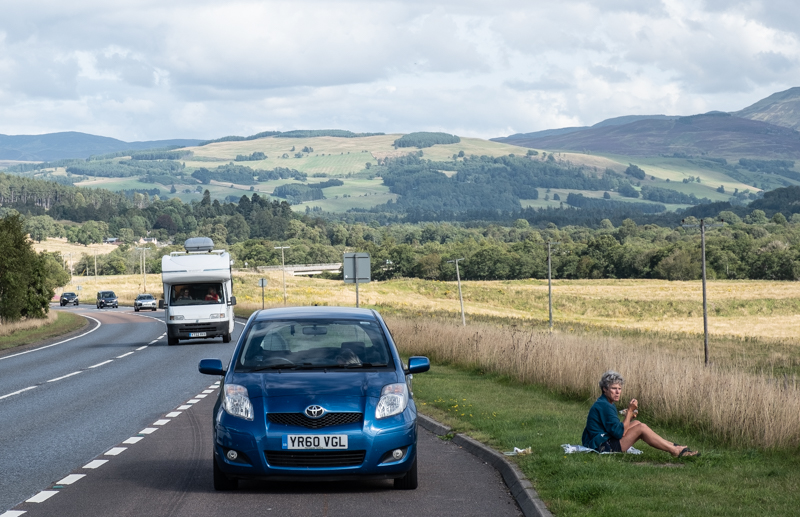 34_23
We arrived at our hotel in Inverness around 6 p.m., checked in and set out to explore on foot. Inverness is small, only about 50,000 inhabitants. But it is the largest city in the Highlands, and it looks bigger than it is. And then there is the natural beauty, given its location on the banks of River Ness: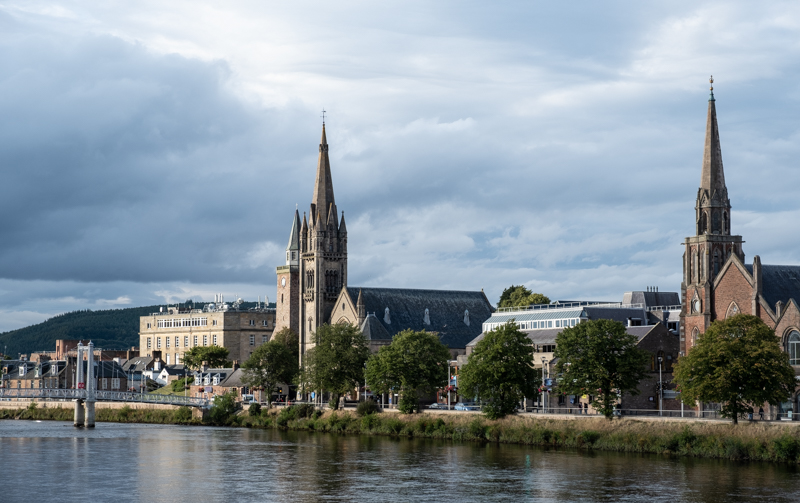 34_24
We had some drinks in this bar, and then an excellent dinner in a Jamaican restaurant (go figure!):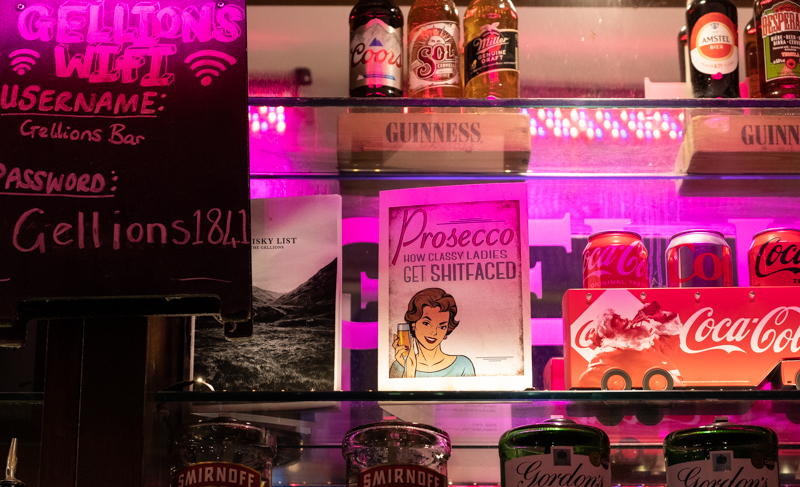 34_25
As is my habit, I woke up early on Friday morning and went for a long walk around the centre of Inverness. I walked down to the river and explored the area around the Greig Street Bridge over the River Ness: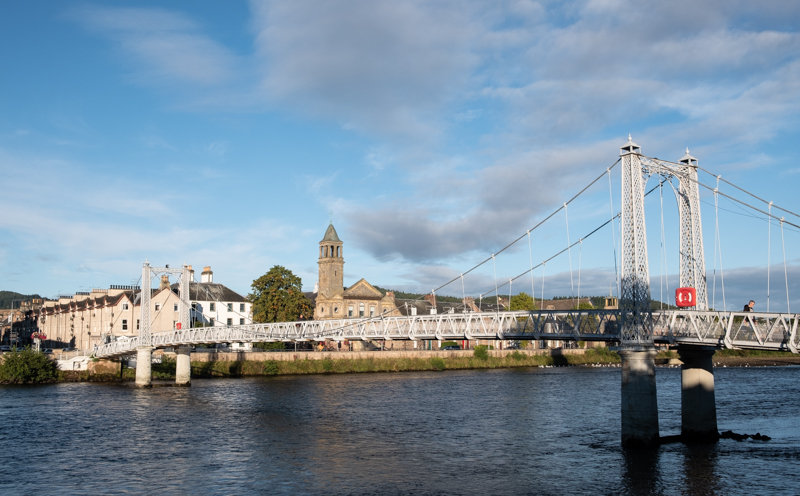 34_26
I walked across the bridge and photographed it with the sun in my back: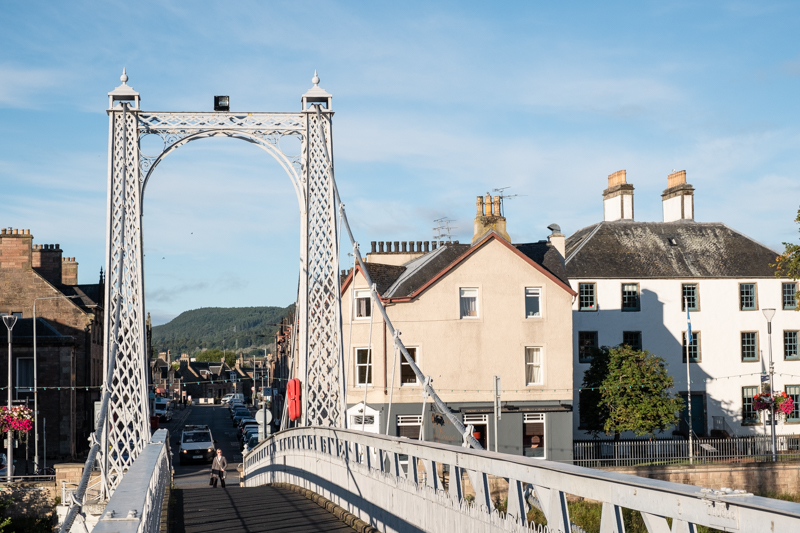 34_27
…and contre-jour: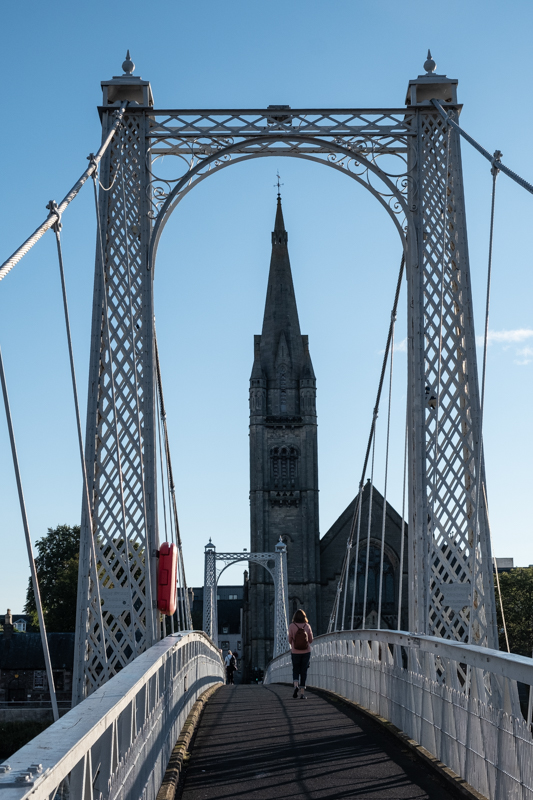 34_28
On King Street, a sculpture constructed around the trees: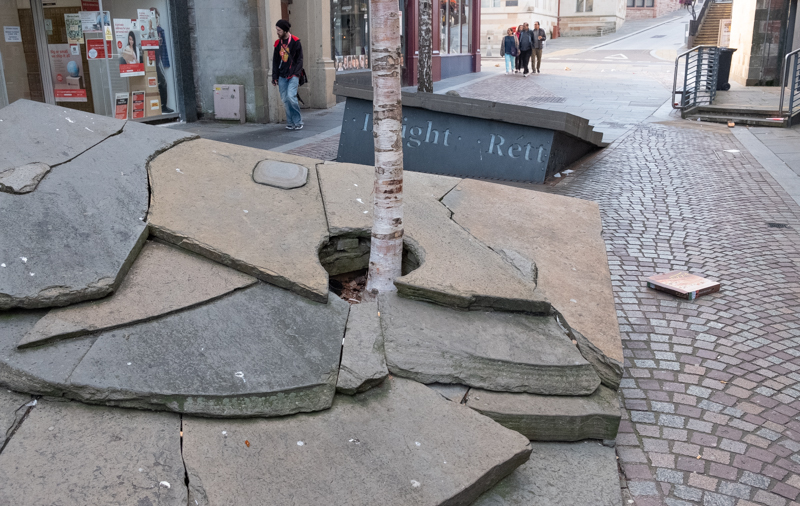 34_29
We checked out of the hotel and drove to a nearby town called Clansman Harbour from where we were going to take a boat cruise on Loch Ness. Near the car park, three Highland Coos were grazing. Lovely creatures, they are: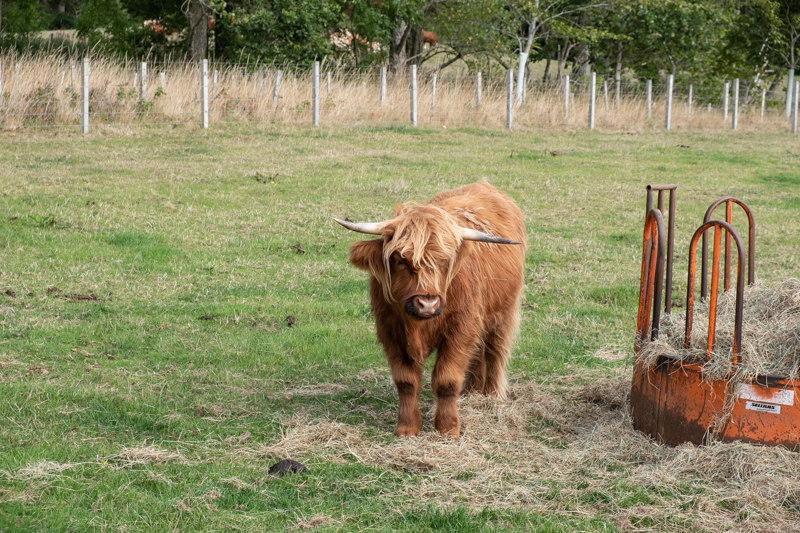 34_30
Waiting for the boat, we enjoyed the views already: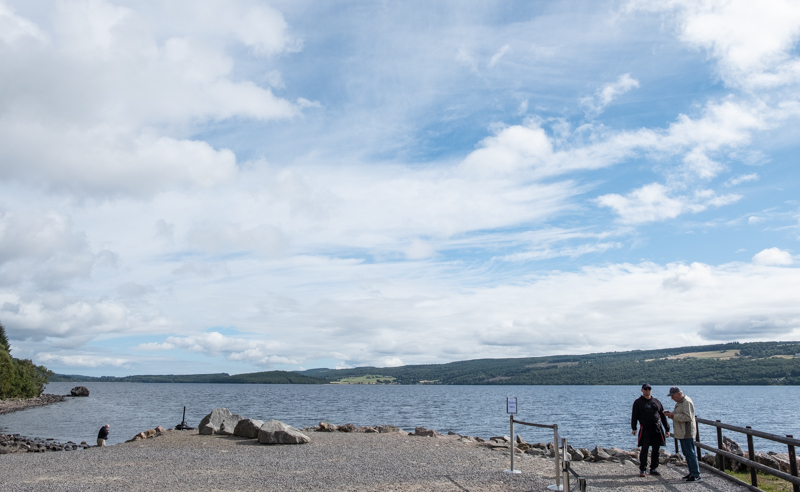 34_31
The views were even better from the boat: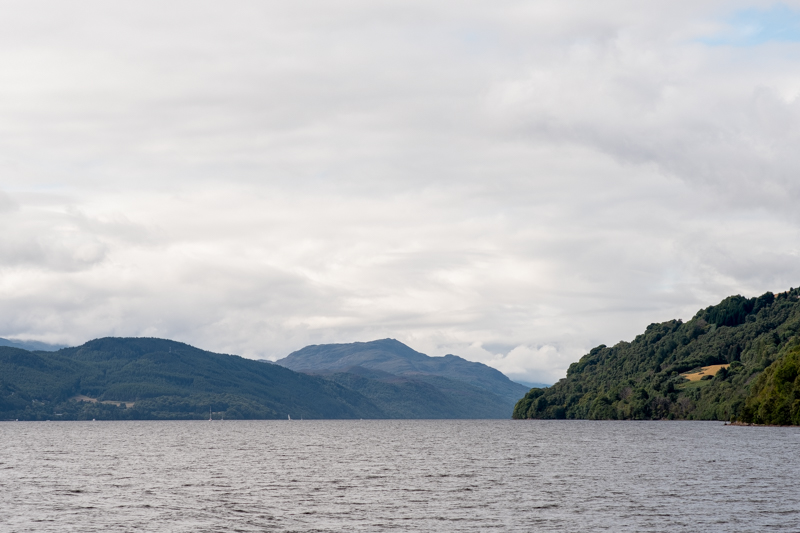 34_32
Clansman Harbour is on the western shore of Loch Ness, but I wanted to drive south towards Glasgow on the small roads along the eastern shore. So after the cruise we drove back to Inverness, crossed to the other side of the river, and drove south on a small road, B852. We stopped for lunch at a place recommended by Lonely Planet, Dores Inn, located in the village of Dores with a nice beach on the Loch: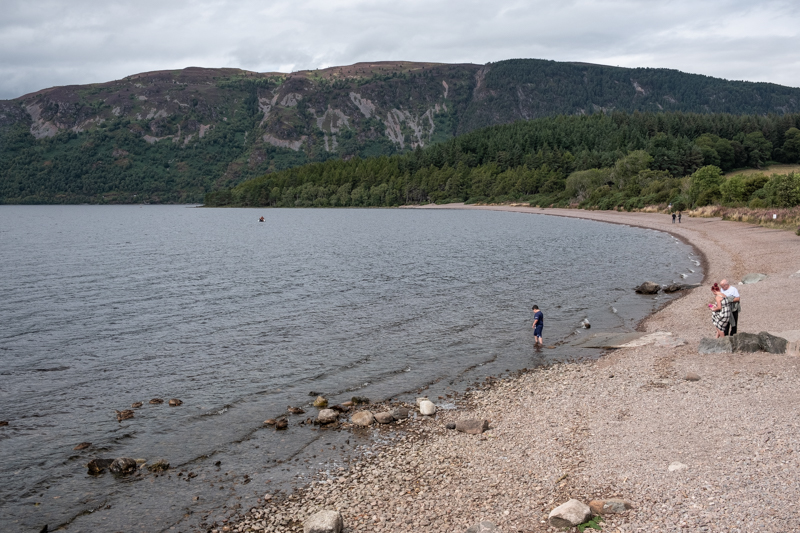 34_33
While we were having a pre-lunch beer in the beer garden of Dores Inn, a man arrived on bicycle, and was met by his wife, son, and dog for a family lunch: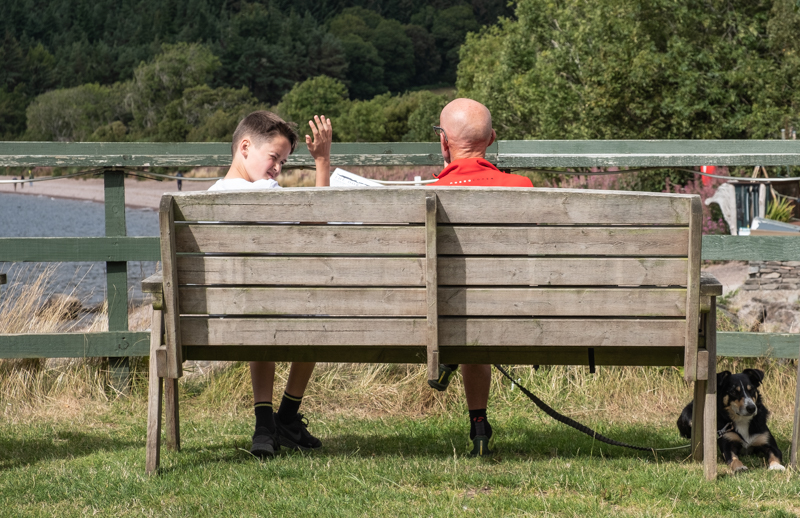 34_34
We then went inside this lovely inn: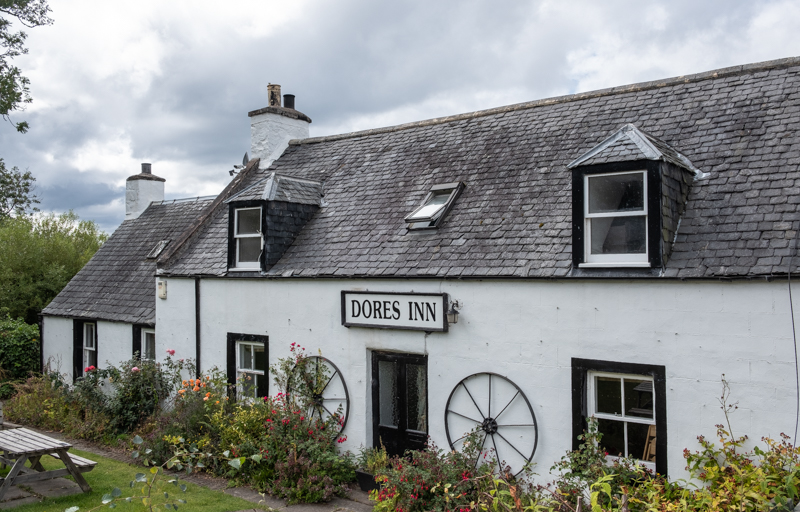 34_35
The food was excellent, here my fish and chips, a timeless classic: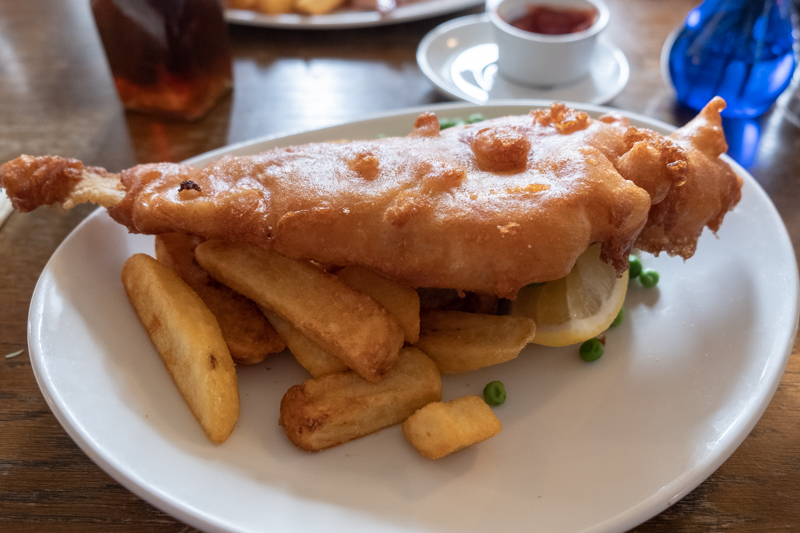 34_36
After lunch, we continued to drive south along the eastern shore of Loch Ness. The total distance from Inverness to Glasgow going on this route was 280 km, but it took many hours to cover on a narrow road that in many places was single-track, with lay-bys to allow passing cars. But the views were truly lovely. As we were approaching Fort Augustus, on the southern end of Loch Ness, I stopped for a picture: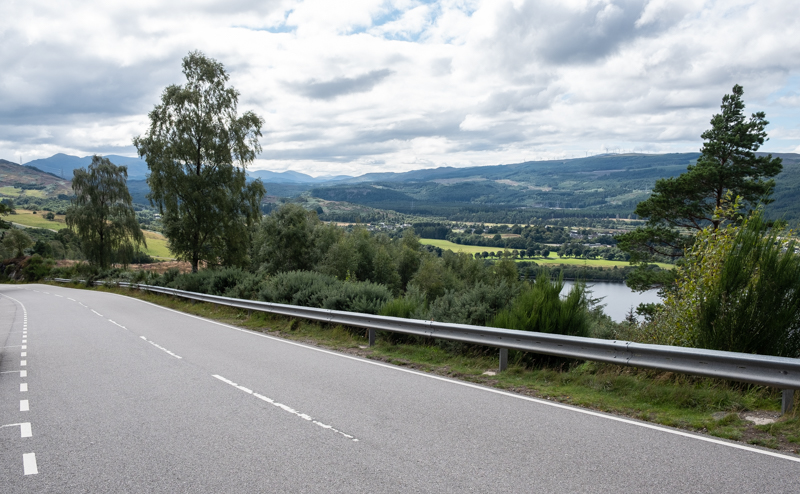 34_37
We arrived in Glasgow, found our hotel, and set out for an evening walk to get a feel for the city and to find some beer and food. While there was no garbage strike in Glasgow, the capacity was clearly insufficient to deal with Friday night crowds on Buchanan Street: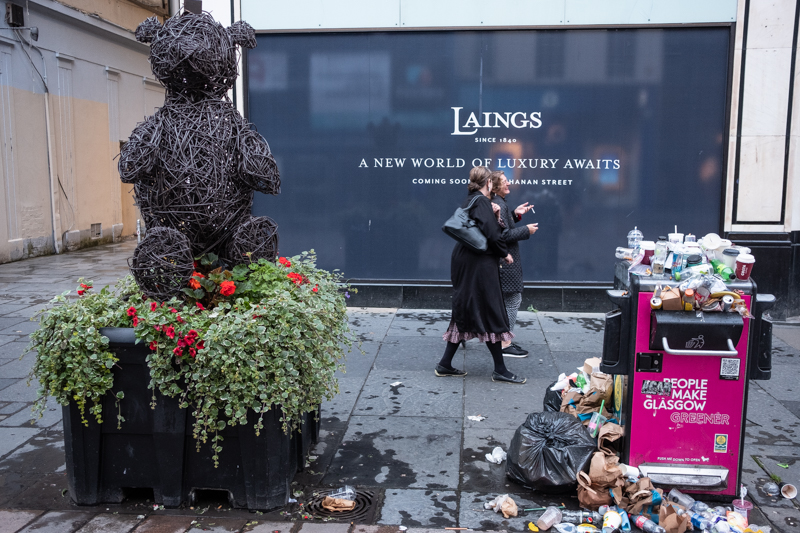 34_38
We sat down for a pint in a bar on George Square, Glasgow's central square: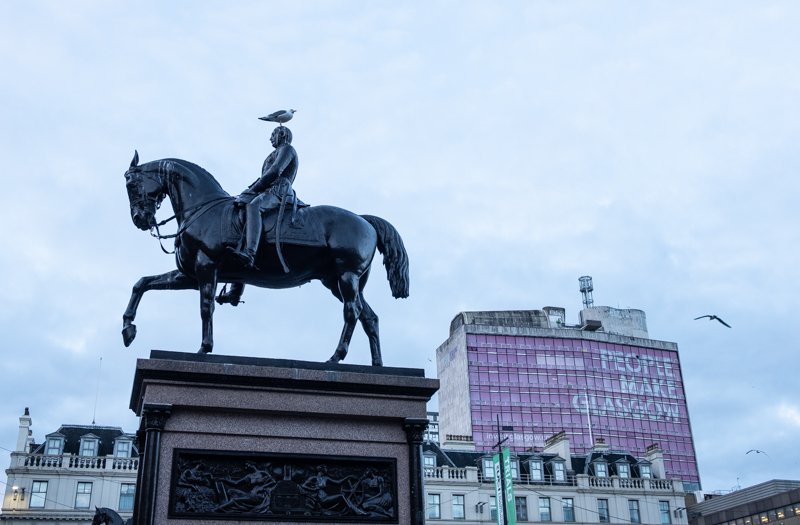 34_39
The City Chambers, nicely illuminated:

34_40
On Saturday morning, I walked down to the river Clyde to take in the morning light: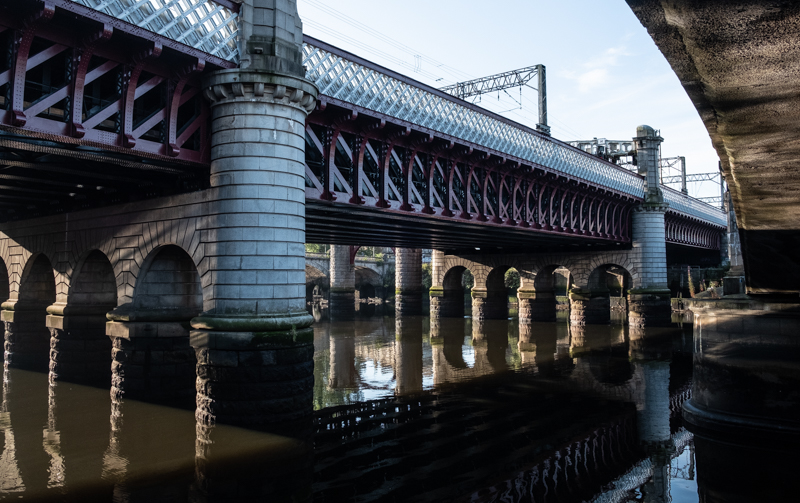 34_41
Later that morning, we walked to the Glasgow Necropolis, passing George Square again. The square is lined with statues of great figures from Scotland's past, first and foremost Sir Walter Scott on a tall column: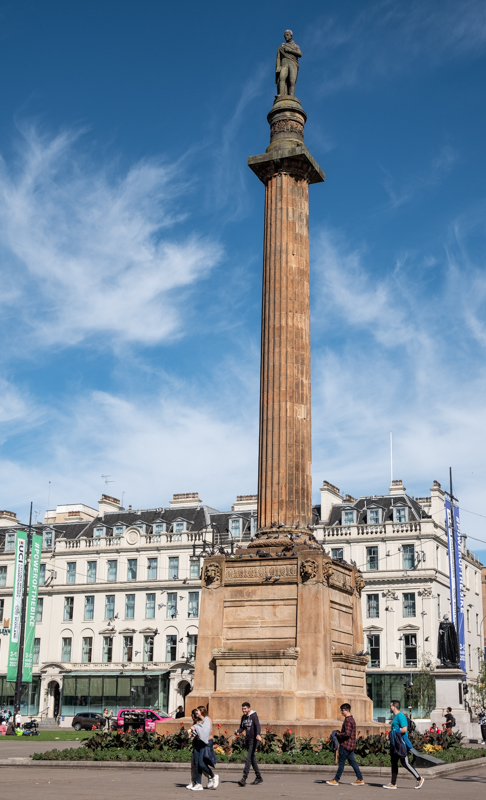 34_42
The great men of Scotland get no respect from the seagulls: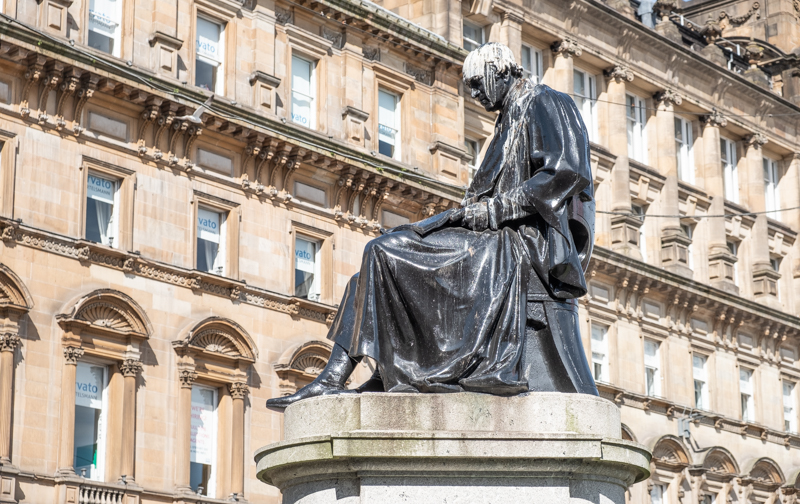 34_43
Our last photo from Glasgow, just before we reached our car, parked near the hotel–just a grab shot of a lady whose hair caught my attention while crossing the street: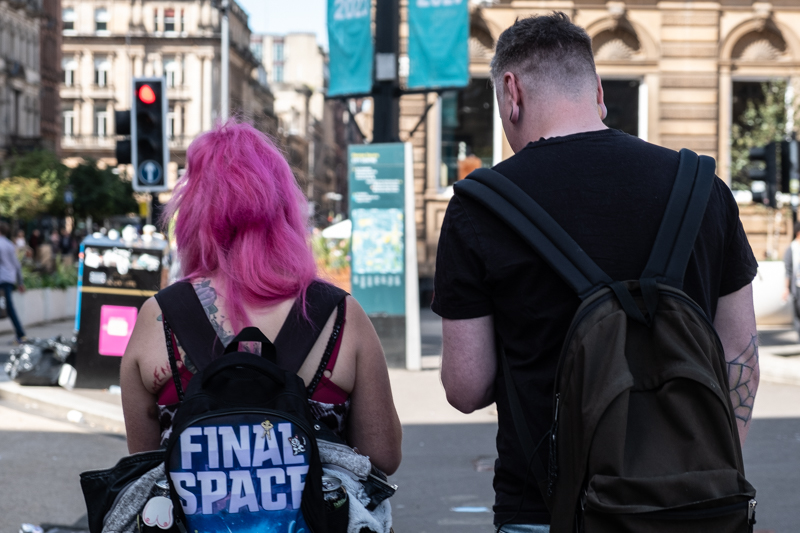 Afterwards, we drove from Glasgow to Edinburgh airport, returned the car and flew home.
34_44
Back home, I spent Sunday morning on my bicycle, cycling to Maigmó. As always, I took a brief break in the parking lot used by people who drive there to hike in the mountains: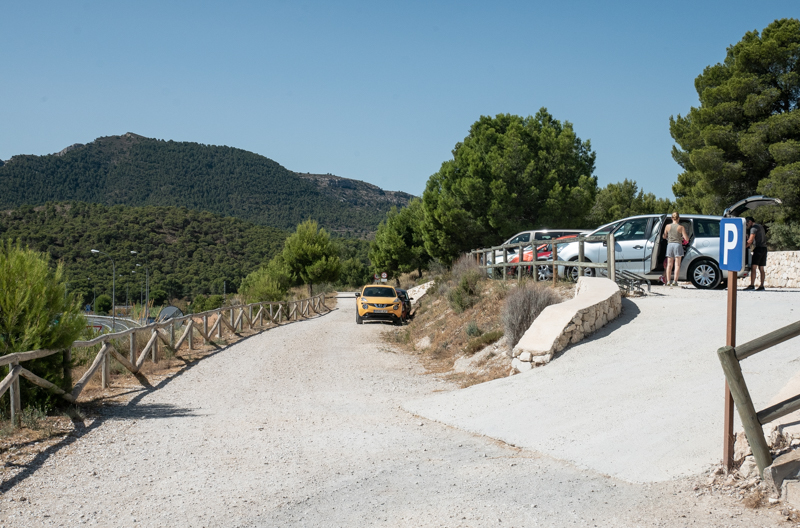 34_45
Then I rode home on the road that follows the A7 motorway back to Alicante: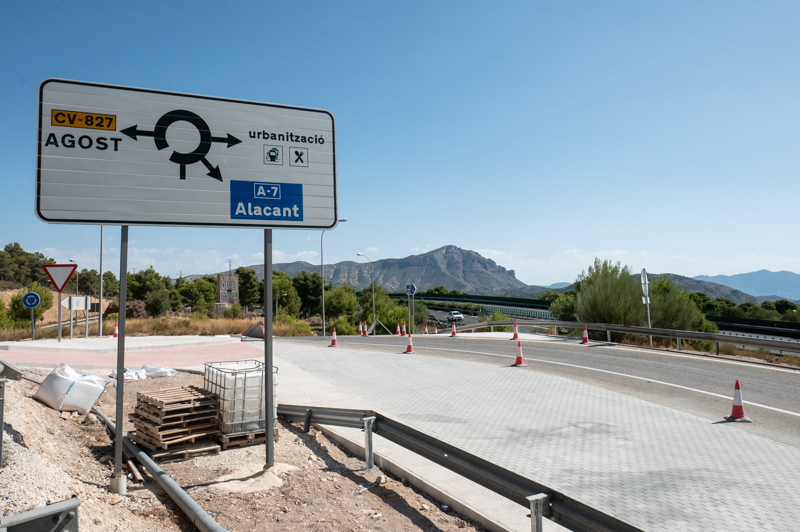 More photos from Scotland can be seen here.