I am travelling a lot this autumn, and the second week of November was no exception–just a few days after returning from Denmark, I was on a plane again, heading for Mannheim in Germany, this time for work. But I had a nice weekend and some time for cycling too.
46_1
On Sunday, after my usual bike ride, I walked to our local mercadillo, documenting the walk in the process, all of the 600 meters. This little road (called a "camino" in Spanish) leads from my house to the market: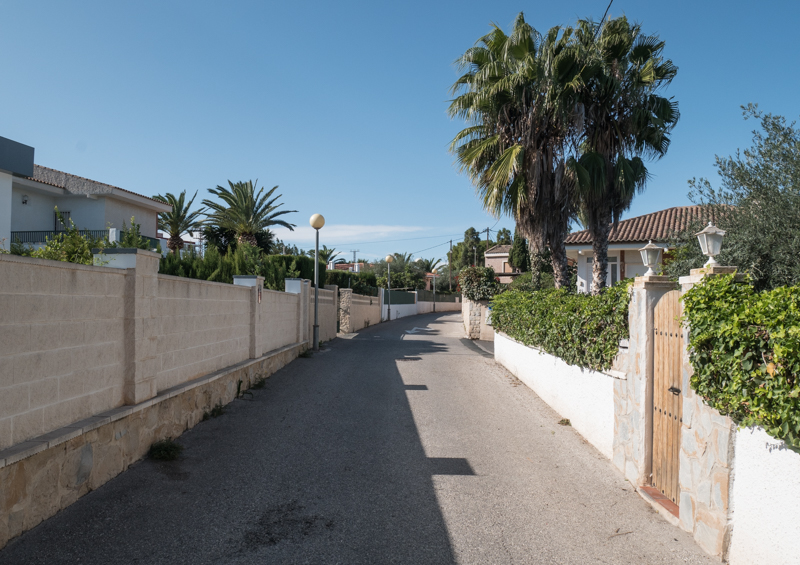 46_2
A sign explains that this road was once an irrigation canal: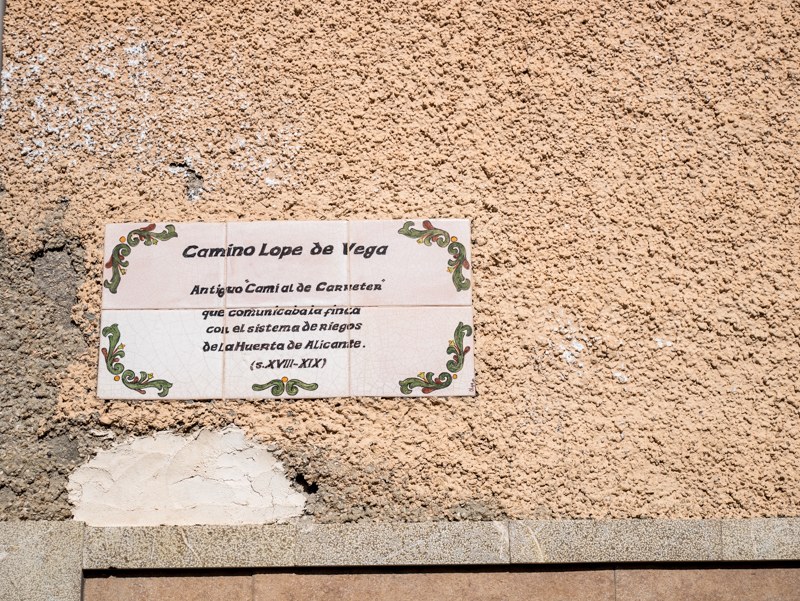 46_3
Sadly, my dog and cat are both in their respective heavens; if they were still with me I guess this might be their new vet: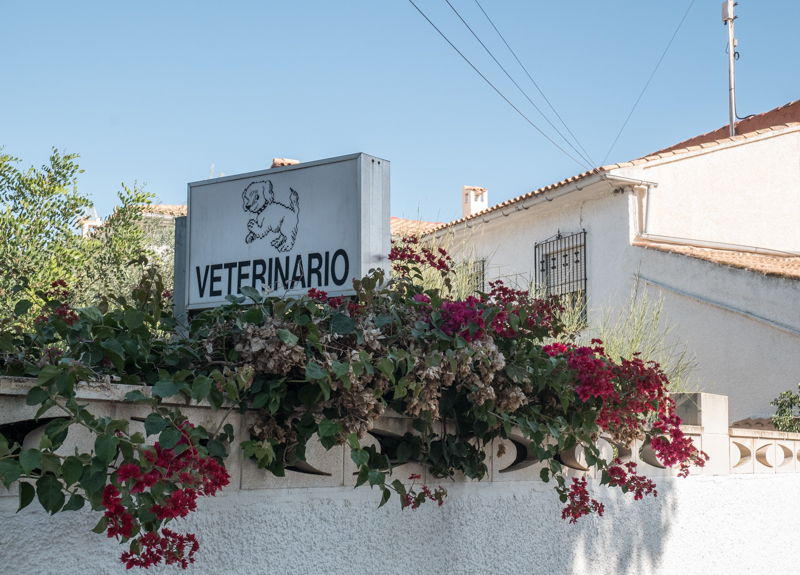 46_4
After a few minutes, I arrived at the market. It was around 2 p.m., and things were winding down: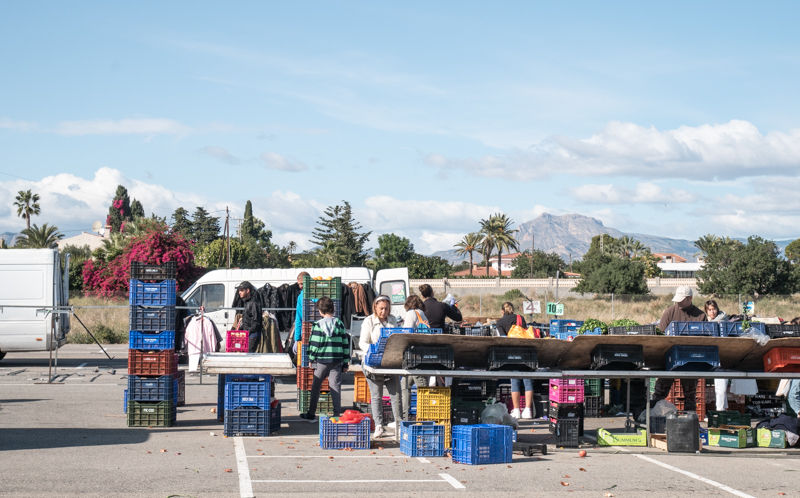 46_5
Some customers come on bicycle, especially some of the Dutch and German people who live here at least part of the year: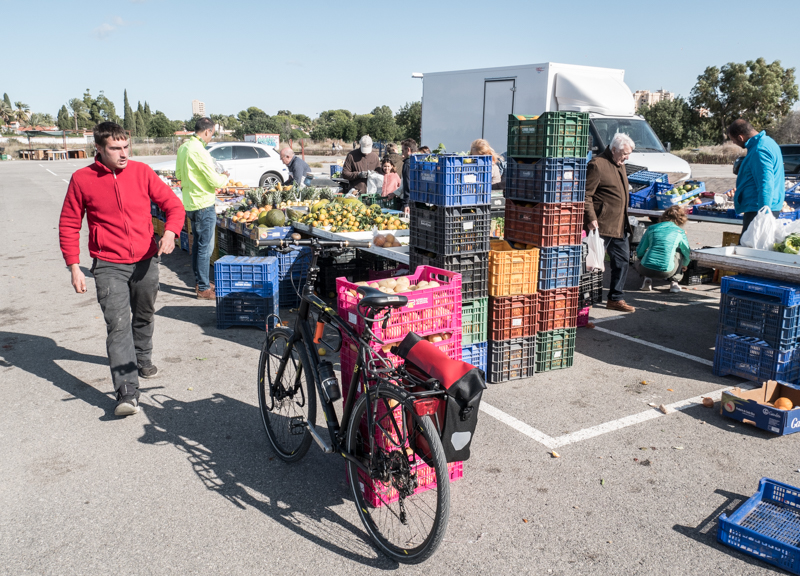 46_6
A vendor with his goodies: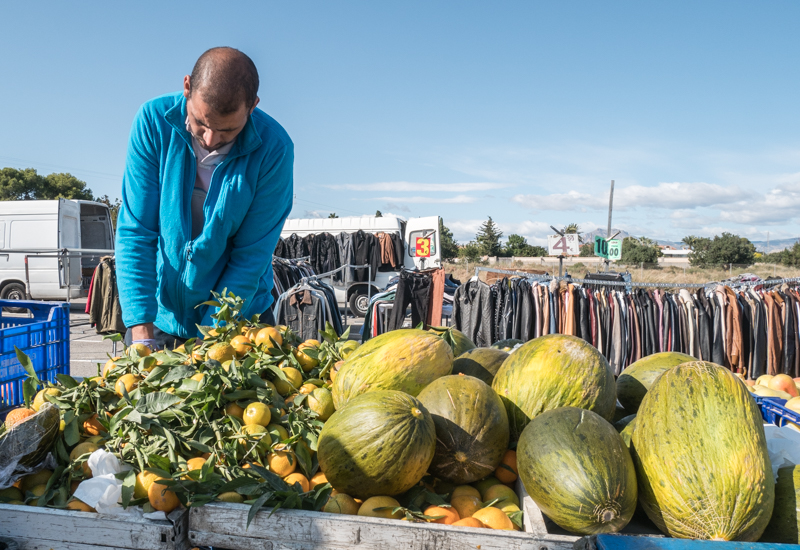 46_7
The last shoppers are making their purchases while the vendors are packing up: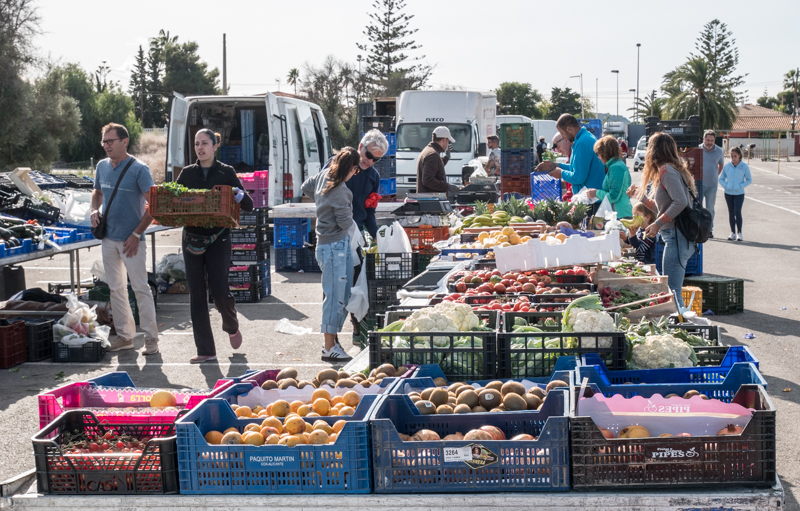 46_8
In the evening, I walked down our street towards the beach. Christmas is upon us: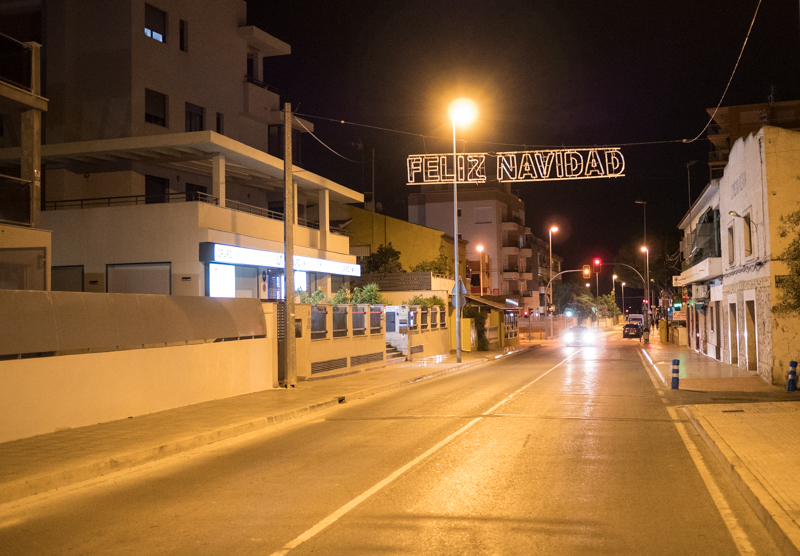 46_9
On Wednesday morning, the light on the beach was really nice. A man was walking his dog at the water's edge: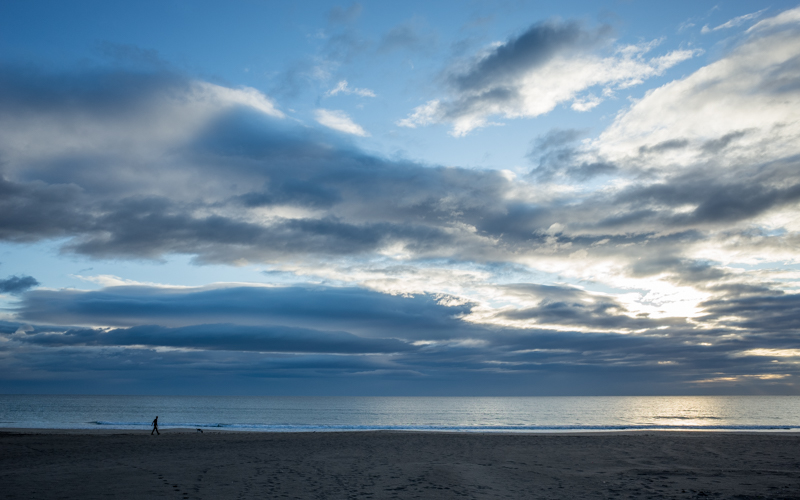 46_10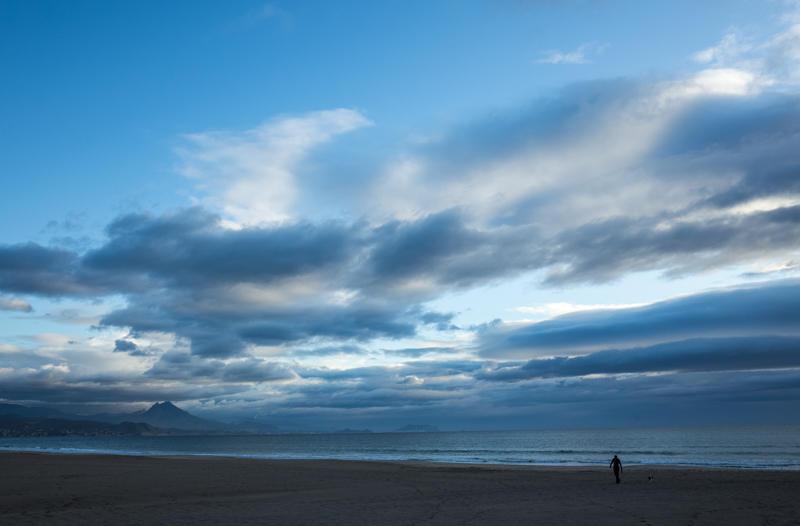 46_11
On Wednesday afternoon, I flew to Stuttgart via Barcelona and took a train to Mannheim, where I was going to speak at a conference on Thursday. I arrived in Mannheim in the evening; my hotel was right next to the town's best-known building, the water tower: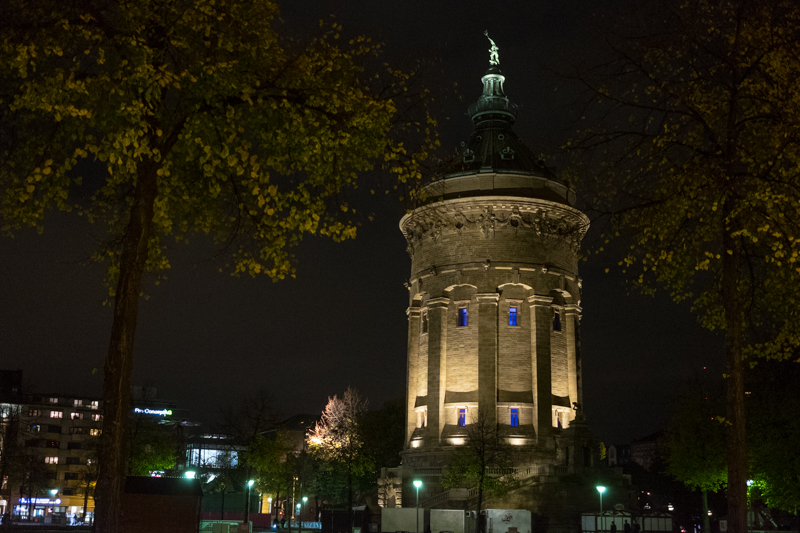 46_12
After checking in and hanging my suit in the closet, I walked towards a the Jungbusch neighbourhood, known for its many bars and generally lively nightlife. Along the way, I passed a square set up for the Christmas market. The loving couple was just a bonus: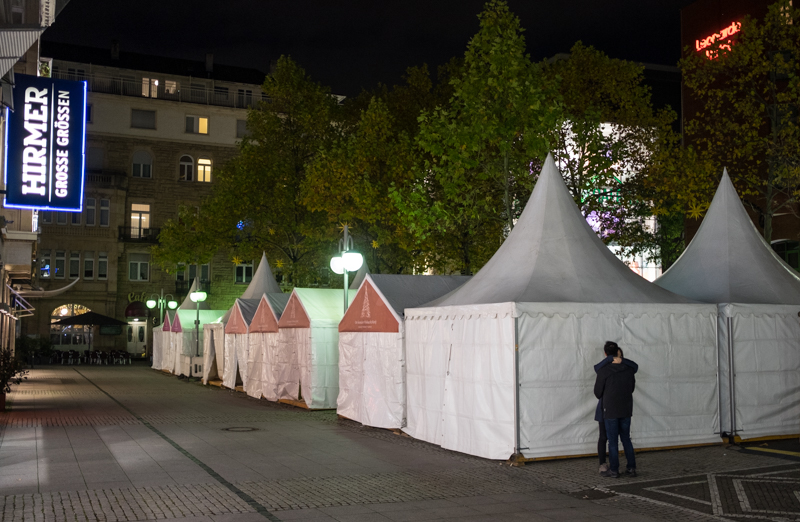 46_13
A laudable invitation:

46_14
My first stop was a craft beer bar called Taproom Jungbusch: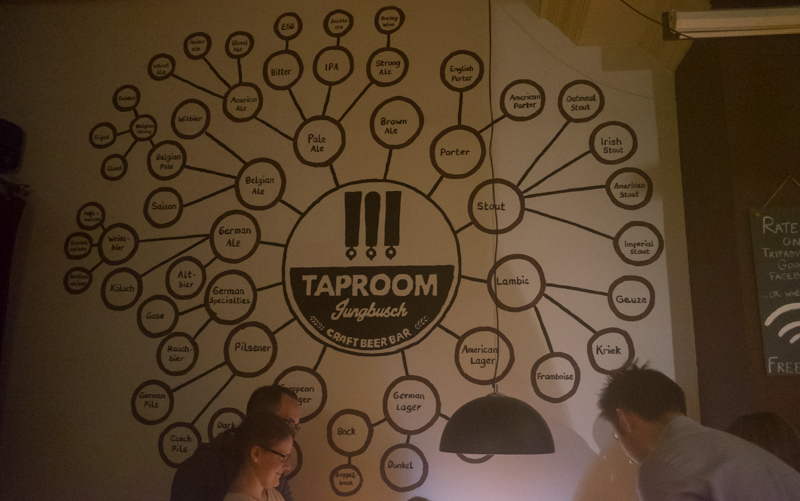 46_15
When you drink beer, a visit to the toilet is inevitable. At the Taproom, I was pleased to see that the local Liverpool FC supporters had been there: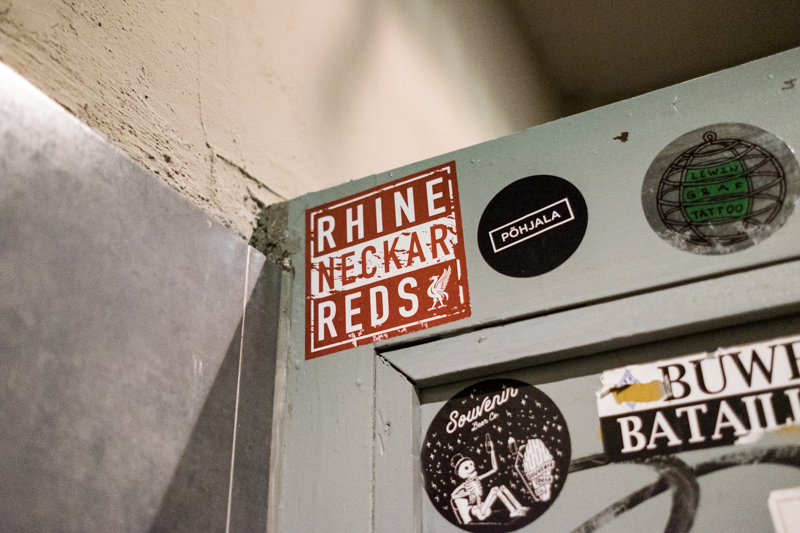 46_16
I woke up early on Thursday morning, as I usually do. Since the conference was starting only at 1 pm, I had plenty of time to explore Mannheim. I went for a long walk, starting with the Luisepark, a large park close to the centre: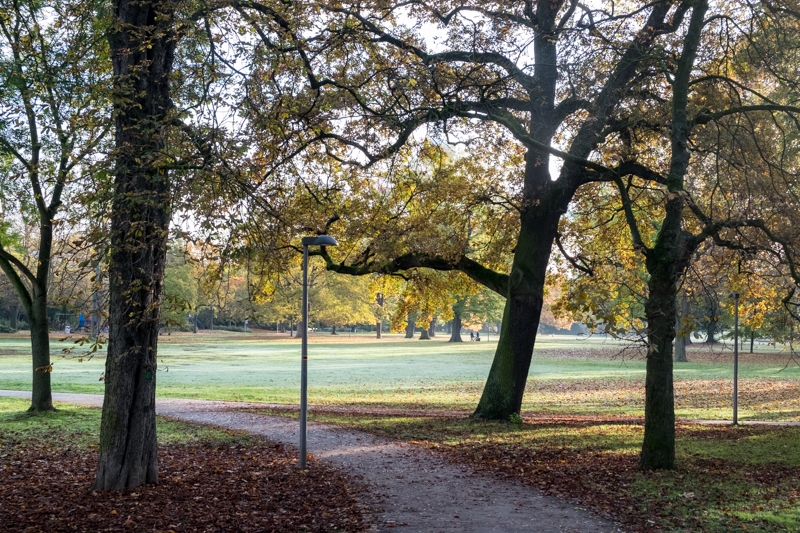 46_17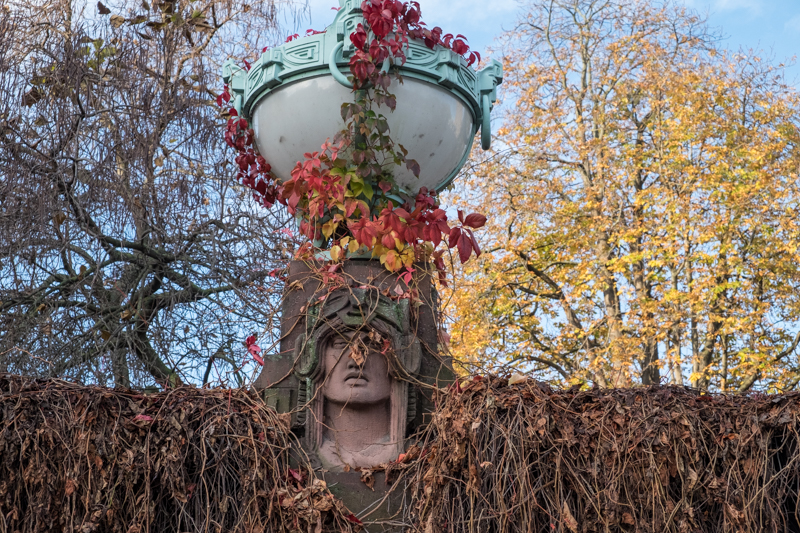 46_18
As always when I walk around, I was on the outlook for little details: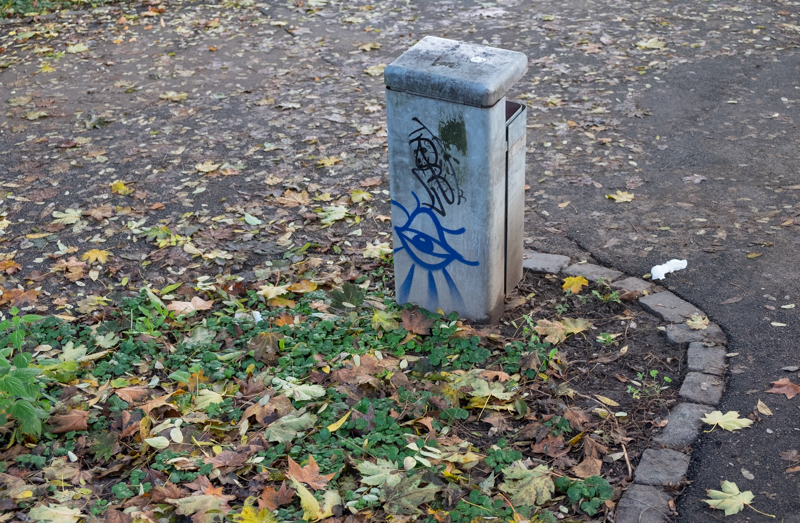 46_19
The battle of ideas 1–an anti-Communist sticker put up by the right-wing party Alternative für Deutschland: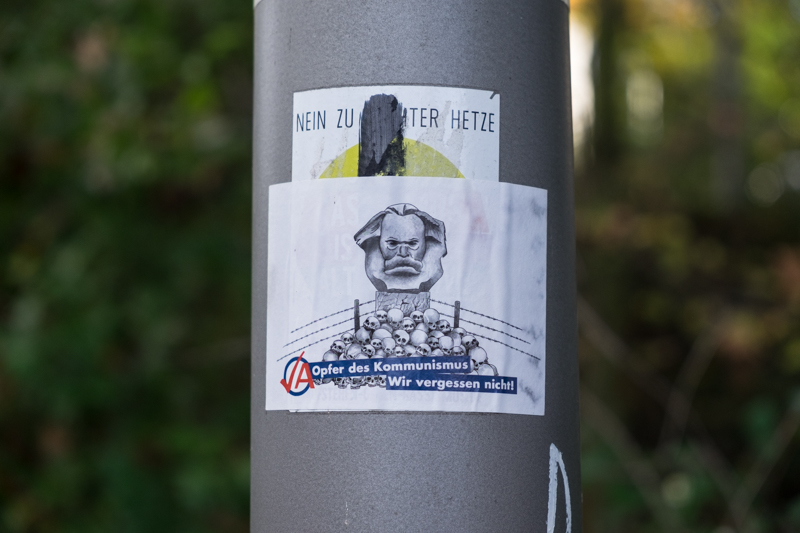 46_20
The battle of ideas 2–no to racism: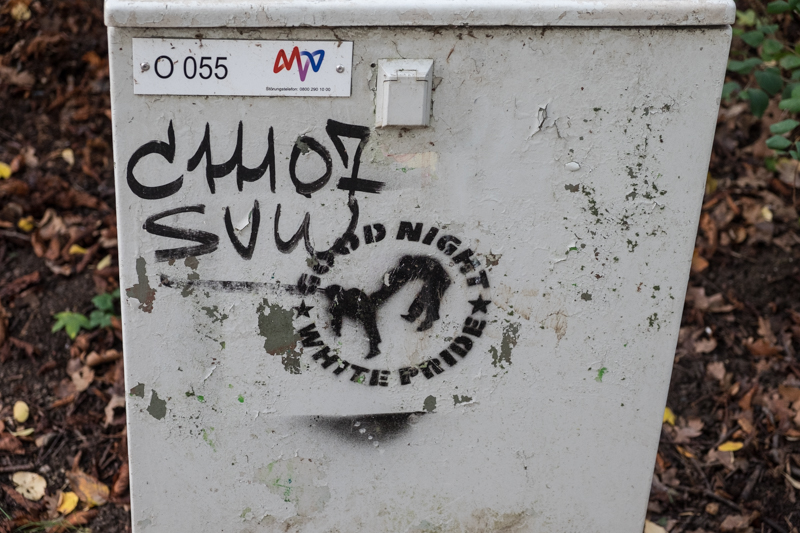 46_21
The battle of ideas 3–a left-wing sticker on top of a right-wing sticker, with the text "Nazi propaganda has been covered up here":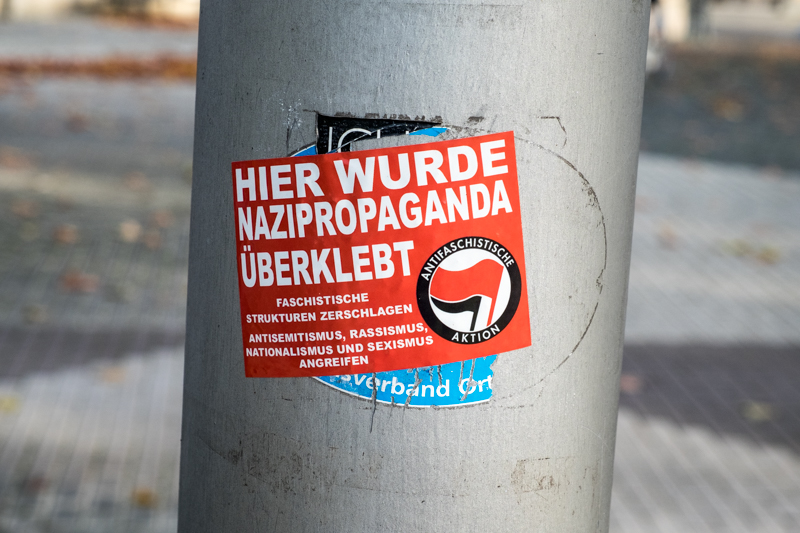 46_22
Autumn colours: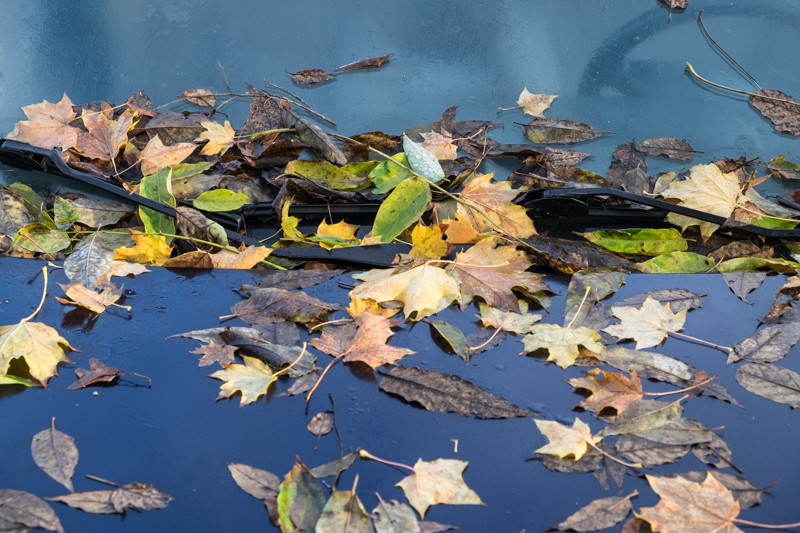 46_23
I crossed the Neckar river and saw this hospital with a large poster recruiting nurses; I saw similar posters at two other medical facilities in the city–a sign of a shortage, apparently: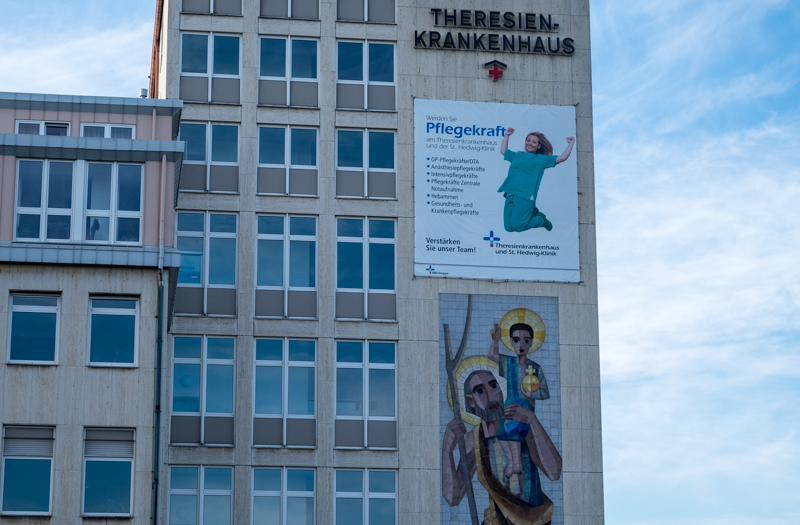 46_24
After crossing the river, I walked down this lovely path along the northern bank, called Theodore-Kutzer-Ufer: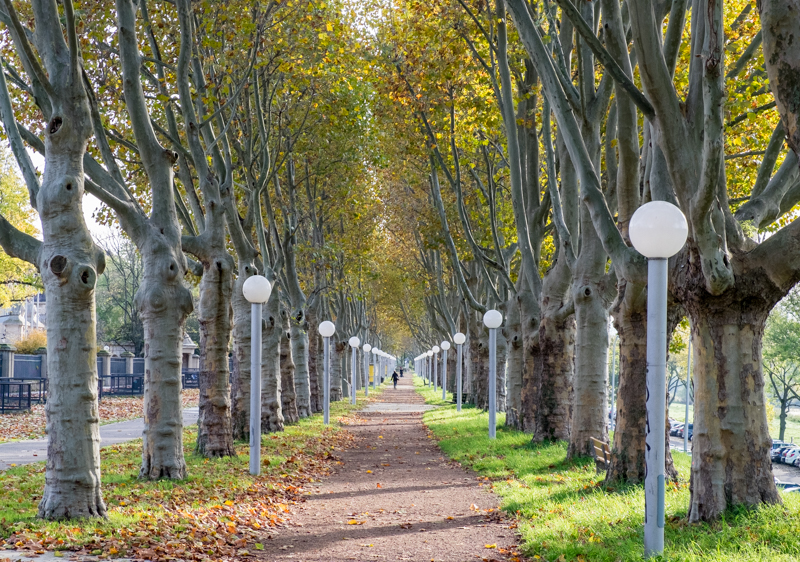 46_25
After about 20 minutes, I arrived at the gate of the Jewish cemetery: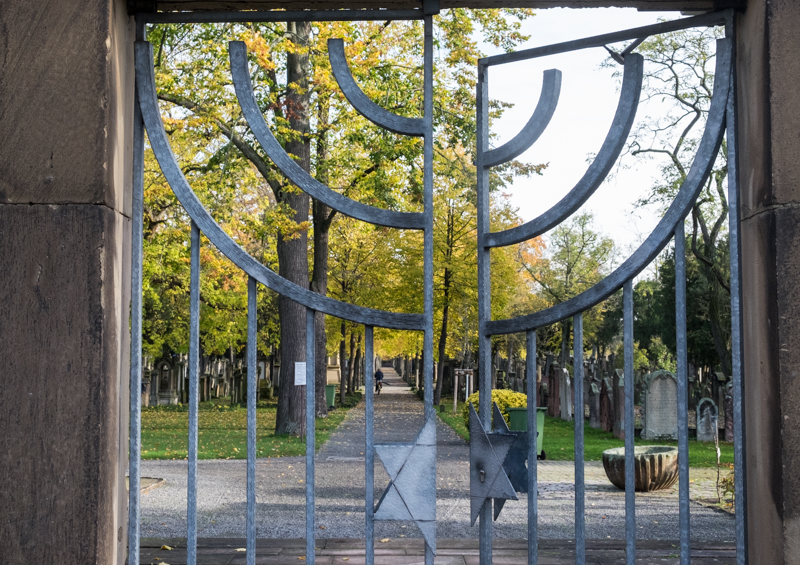 46_26
I went inside to have a quick look (I did not have a hat with me, so I did not want to linger too long). In 1938, the Jewish community of Mannheim was forced to sell its burial ground in the centre to the city for development, and the remains from more than 3500 graves were buried in a collective grave in the "new" cemetery (the old one had been used for 200 years until 1842). A memorial stands here today: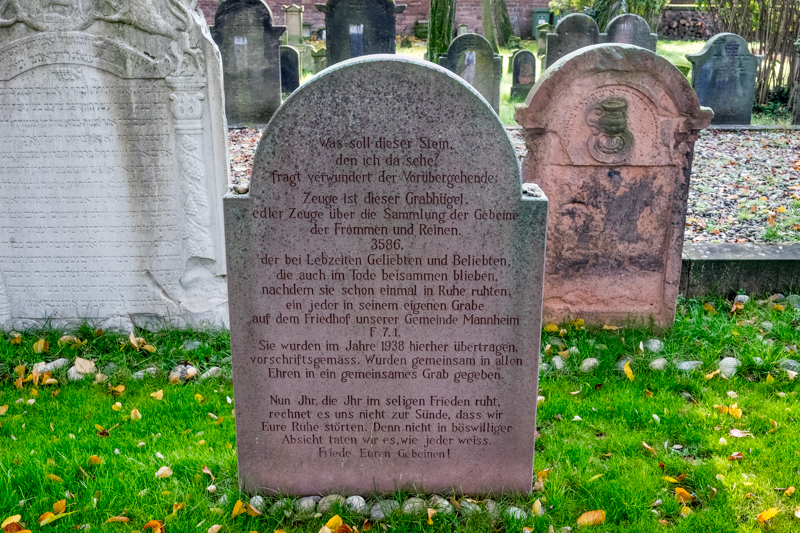 46_27
After visiting the cemetery, I took a tram back to my hotel. I had one more place to visit, the modern art museum right next to the hotel. Kunsthalle Mannheim turned out to be a real gem. Already the atrium was impressive: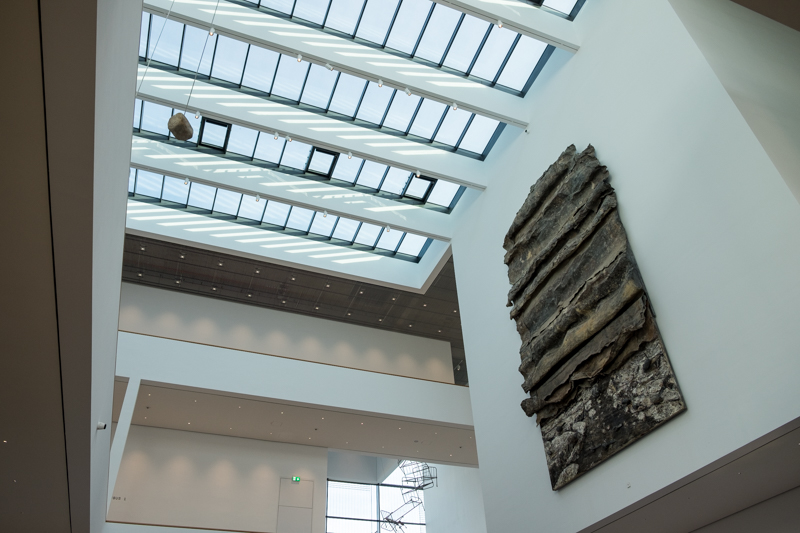 46_28
The Kunsthalle has a large collection of works by Anselm Kiefer: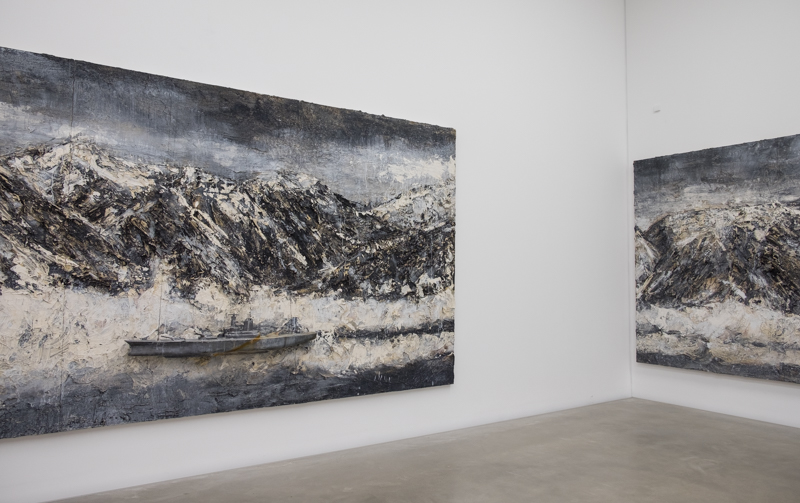 46_29
The modern part of the Kunsthalle, opened in 2017, is a work of art in itself: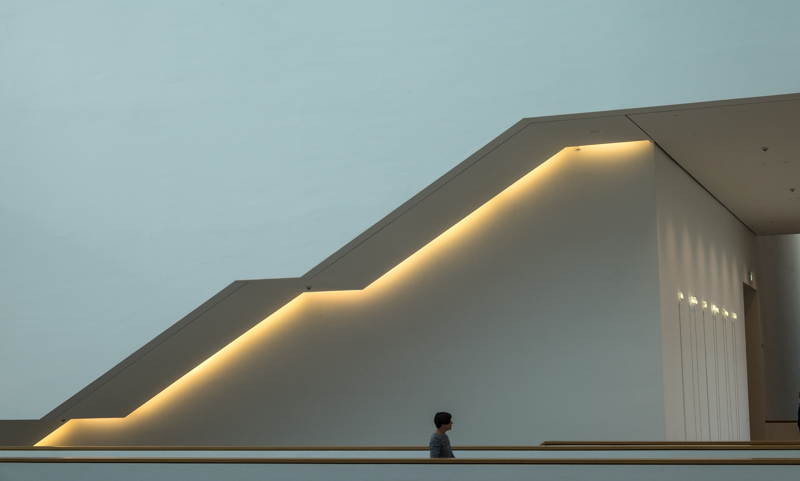 46_30
I spent the rest of Thursday participating at a conference at the University of Mannheim. On Friday morning I got up very early to catch a train to Cologne airport, from where I was flying home. The Mannheim Central Station was a short walk from the hotel: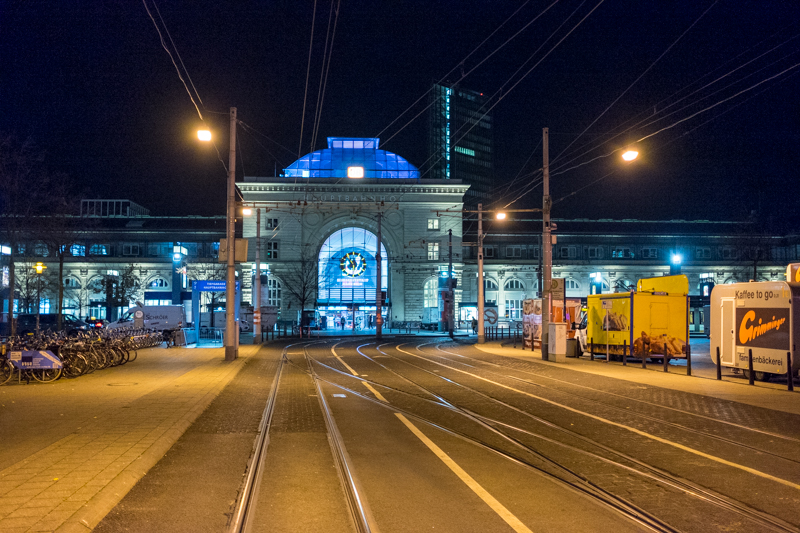 46_31
While waiting for my train, I was, as always, looking for images on the platform: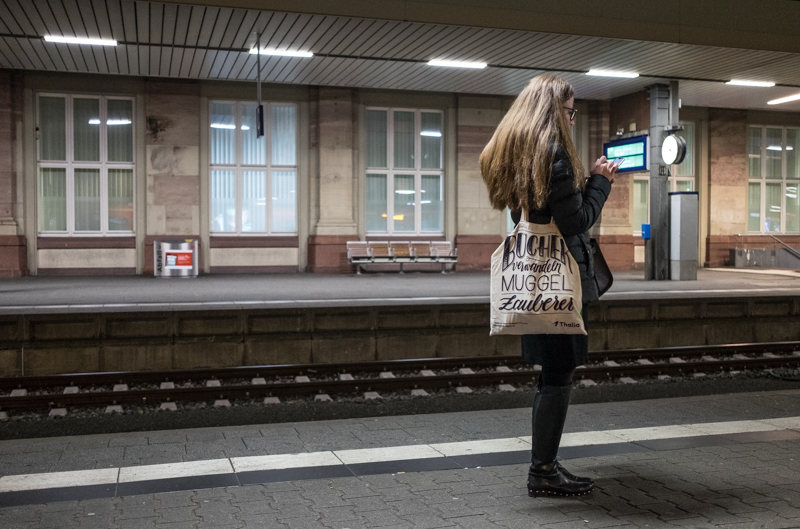 46_32
A couple of hours later, I was in the departure hall of Köln-Bonn airport. A piece of the Berlin wall is displayed prominently, with the three fateful years written on it (1933, the year Hitler came to power; 1938, the Kristallnacht; and 1945, year zero for Germany):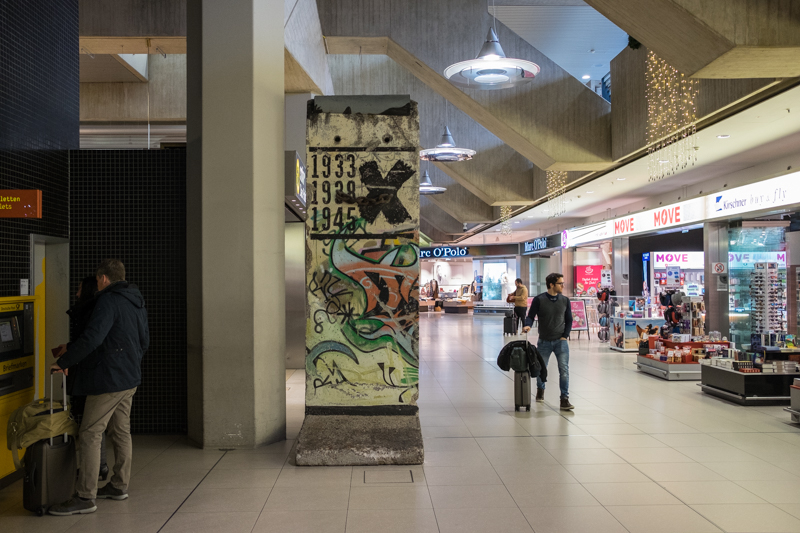 46_33
On Saturday morning, I was back on "my" beach:

46_34
And a bit later, back in Aigües on my bicycle:

More Mannheim images can be seen here.