All the pictures this week are from a very brief visit to London. I went there to attend an event in the City, starting at 5:30 p.m. on Tuesday afternoon, and followed by a dinner at the National Liberal Club (sadly, strictly no photography is allowed at that magnificent venue). I flew to London Tuesday morning and left Wednesday morning. All in all, I was in the city for about 22 hours. Since the trip was so short, I decided to minimize equipment, and so took just the Fuji X100 with me. The pictures are presented chronologically to give you a flavour of the pace of the visit.
18_1
I landed at Gatwick around noon, took the Gatwick Express to Victoria Station, and then the Tube to my hotel in Bloomsbury. On emerging from the Underground in the Goodge Street station, I noticed this fierce-looking bicycle courier and took my first picture. Like their New York brethren, London's bike couriers are a tough crew: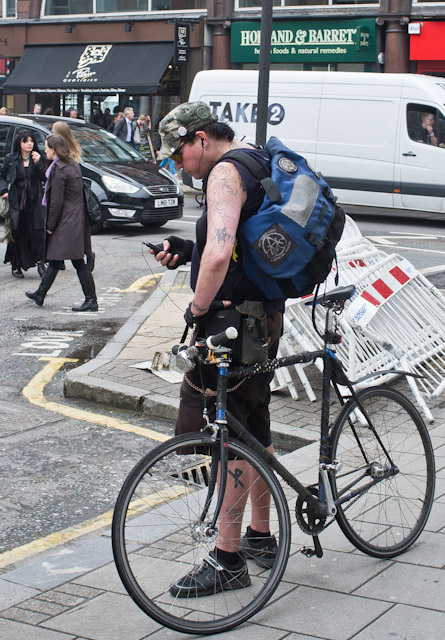 18_2
Walking to the hotel, I noticed funny window decorations on Chenies Street: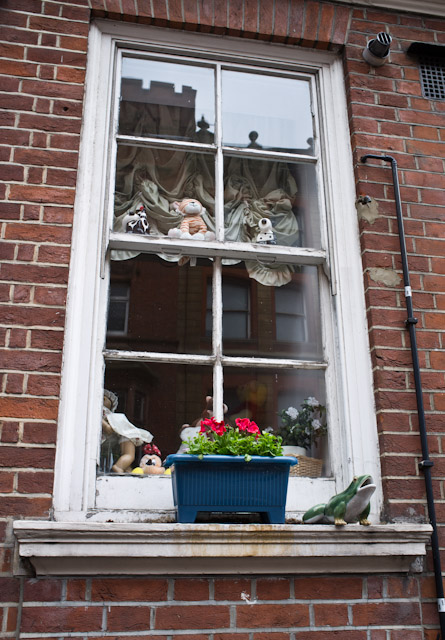 18_3
There are not many telephone booths left in London, but in those that remain, some traditions live on:

18_4
After leaving my bag at the hotel, I walked to the Tottenham Court Road station on the edge of the theatre district. I have never seen "We Will Rock You", but the statue of Freddy Mercury with Centre Point in the background looks impressive: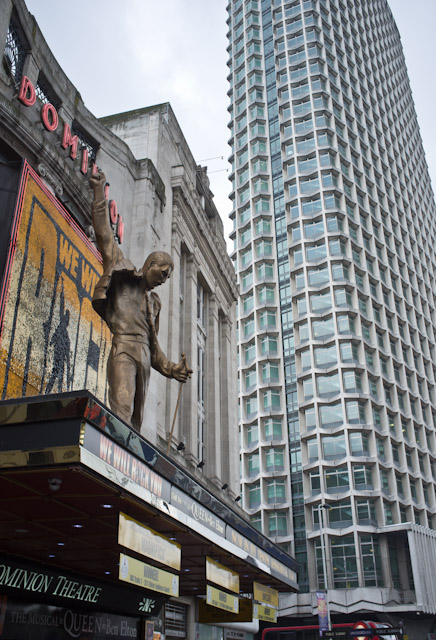 18_5
I was attracted by this very garish theatre kiosk: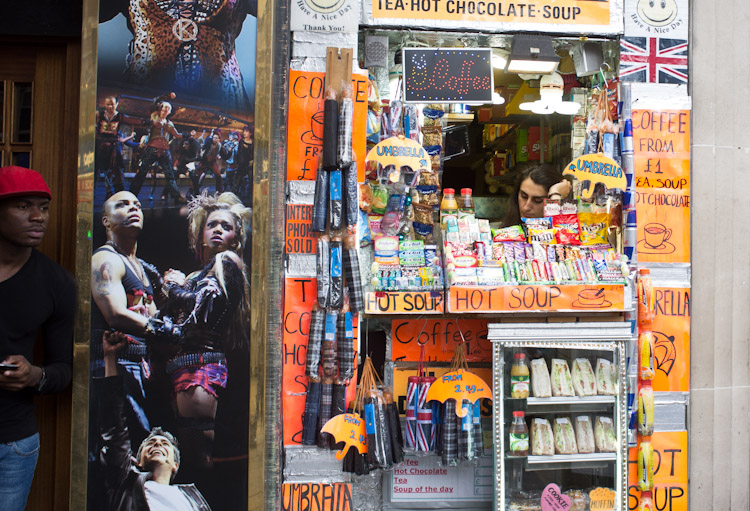 18_6
I then walked towards Oxford Circus. Oxford Street is already decorated in preparation for the celebrations of Elizabeth II's 60 years on the throne: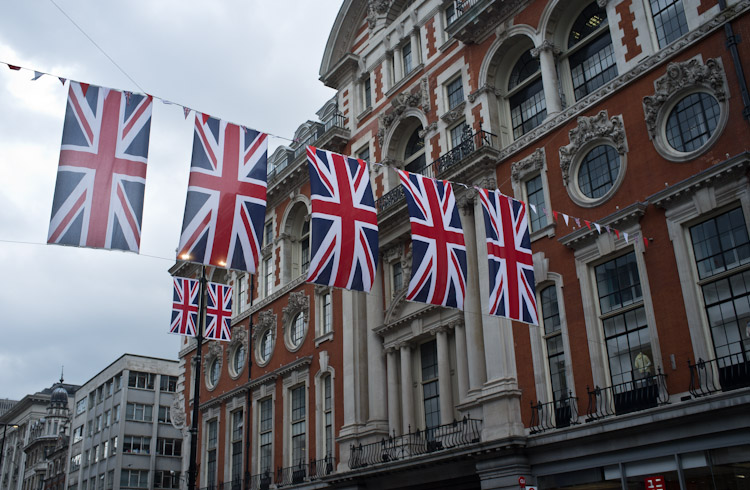 18_7
Around Oxford Circus, the local authorities have deployed roving tourist information staff, dressed in very traditional English manner–so traditional that one hardly sees people dressed like this nowadays: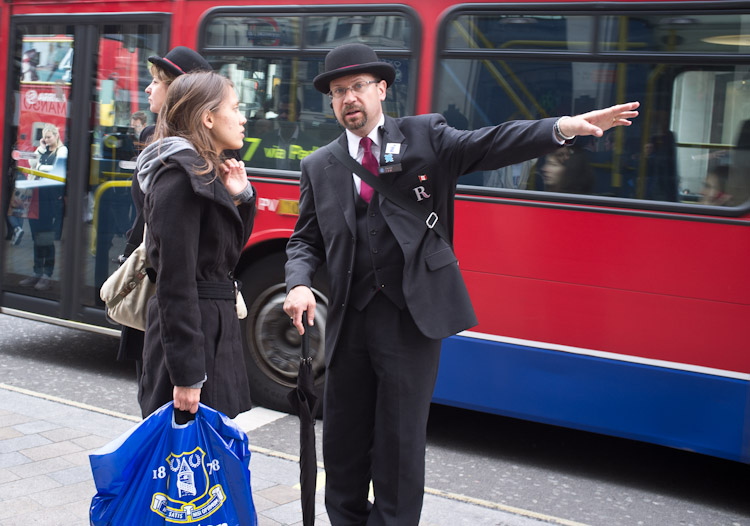 18_8
From Oxford Circus, I took the Tube to Pimlico. My main goal this afternoon was to visit Tate Britain. While I have visited Tate Modern many times, this was my first visit to Tate Britain. Walking from Pimlico along the river towards Tate Britain, I photographed Vauxhall Bridge. Not as well known as London or Tower Bridges, it is nonetheless pretty nice: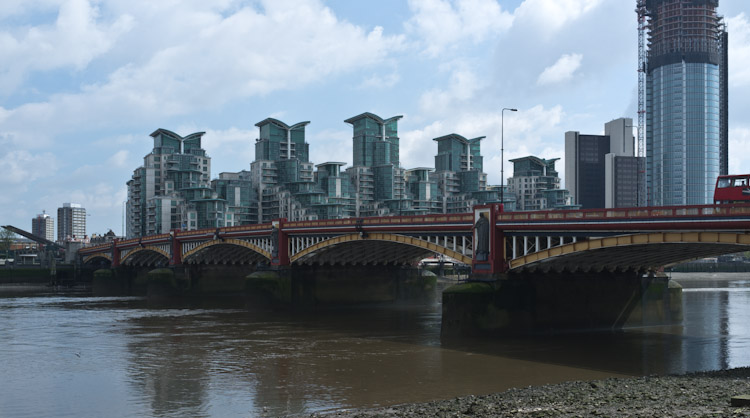 18_9
As I was walking towards Tate, it was evident that I was approaching a major art gallery:

18_10
A statue outside a posh apartment complex near Tate Britain:

18_11
Same statue, different angle: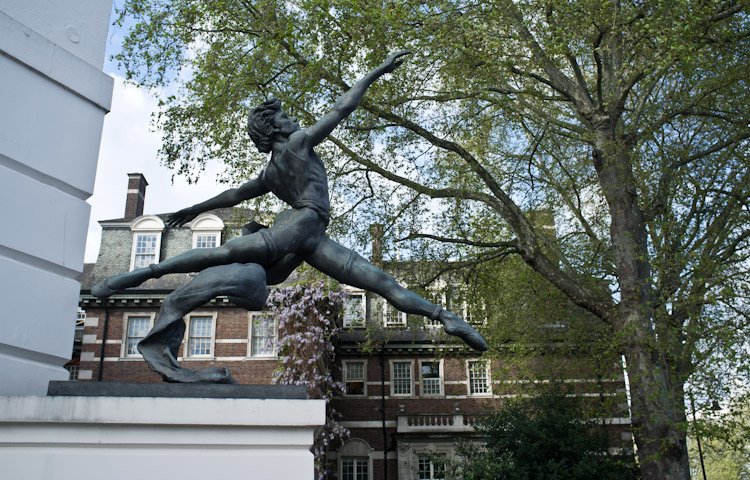 18_12
Traditional red London phone booth outside Tate Britain: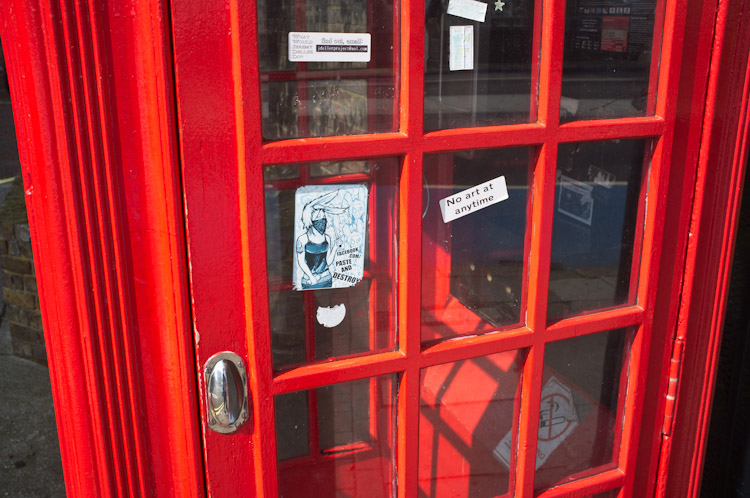 18_13
Once inside Tate Britain, I wandered around the Patrick Keiller "Robinson Institute" exhibition. Photography is allowed at Tate, as is drawing: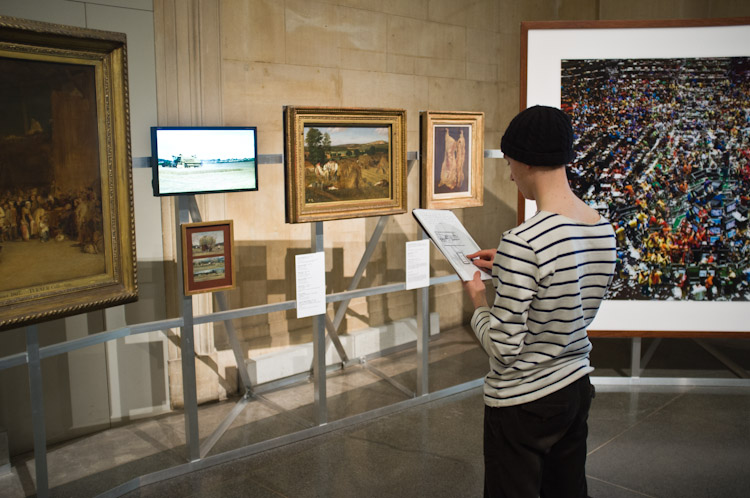 18_14
Another young artist at work: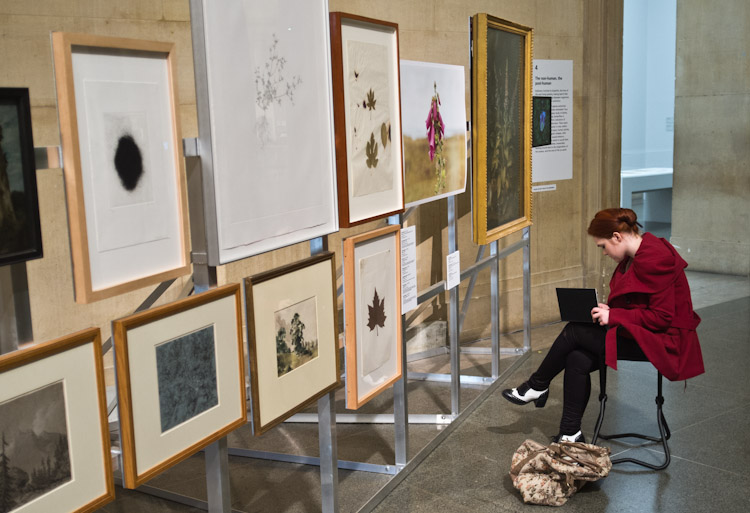 18_15
I wandered through the BP Galleries. I do not like oil companies, but the galleries BP sponsors at Tate Britain contain some really striking art: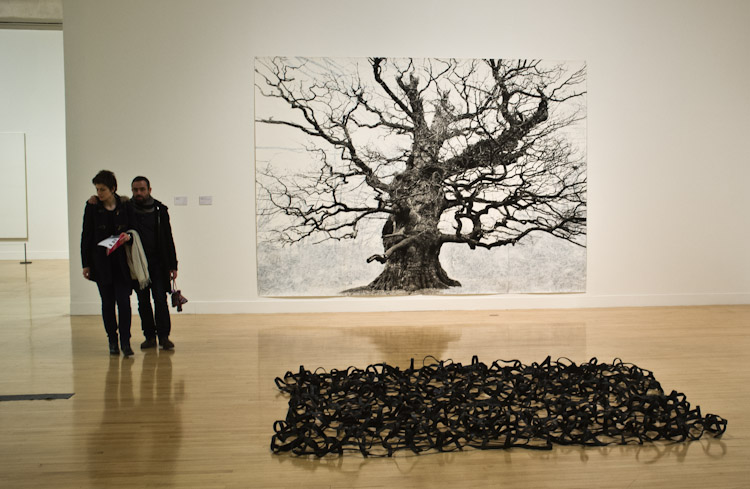 18_16
Painted and real: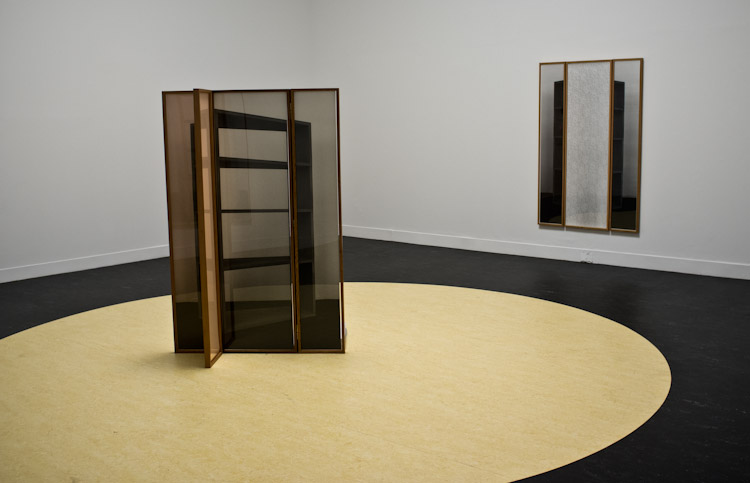 18_17
German generations meet: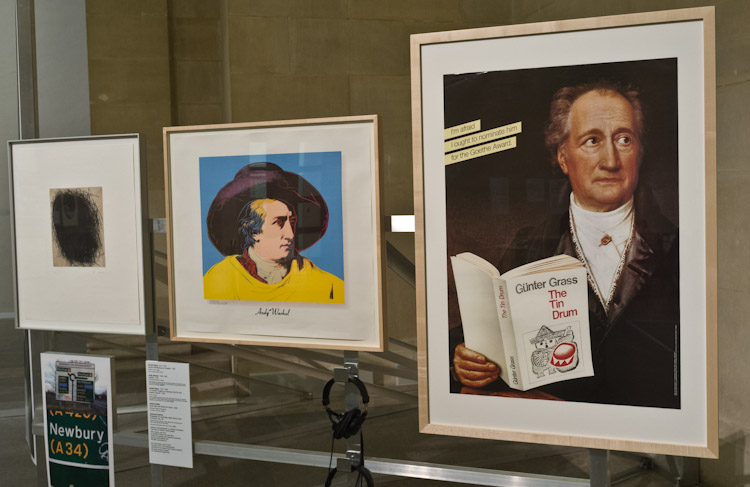 18_18
This colourful stairway leads to the lower level, where I was going to see the Picasso & Modern British Art exhibition: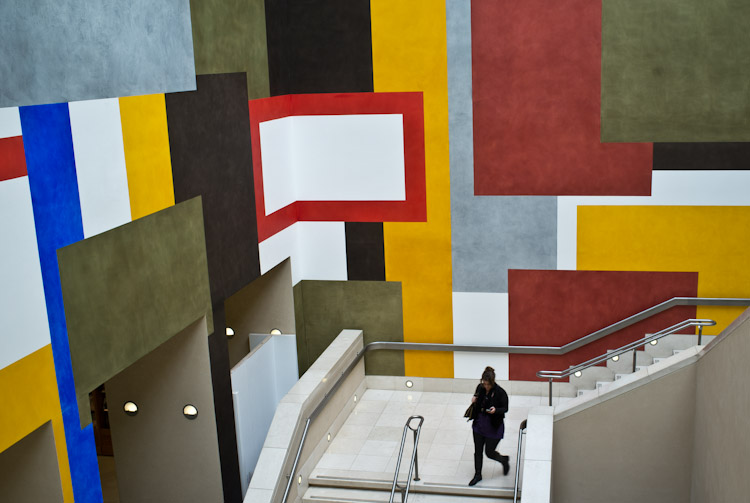 18_19
Colour coordination: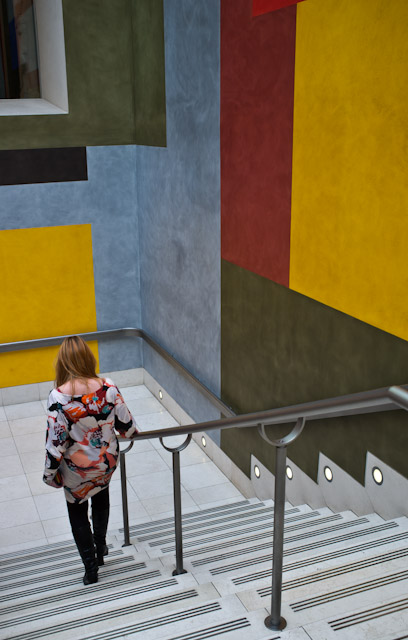 18_20
The "Picasso & Modern British Art" exhibition is fantastic. It documents Picasso's impact on British art, both through exhibitions of his own work, and, even more interesting, by juxtaposing Picasso paintings and drawings and those by major British 20th artists. And, as always, I was on the lookout for interesting fellow visitors: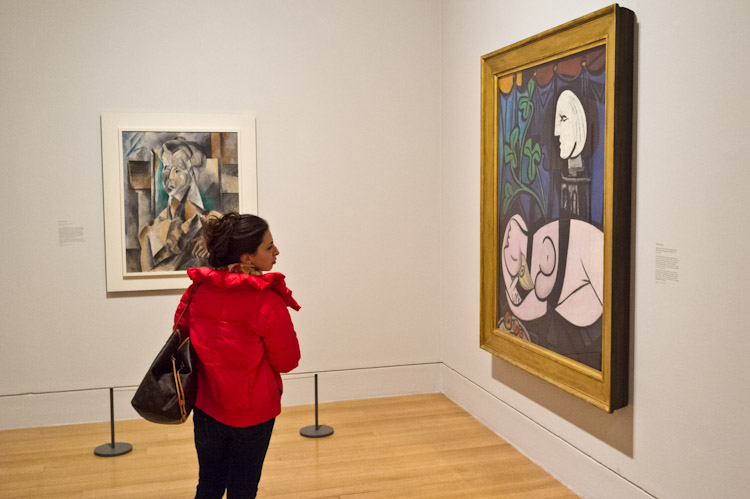 18_21
Henry Moore is one of the British artists influenced by Picasso. I looked at this Asian woman, and was attracted by the interplay of the little sculpture, the woman, her movement, and the shadows: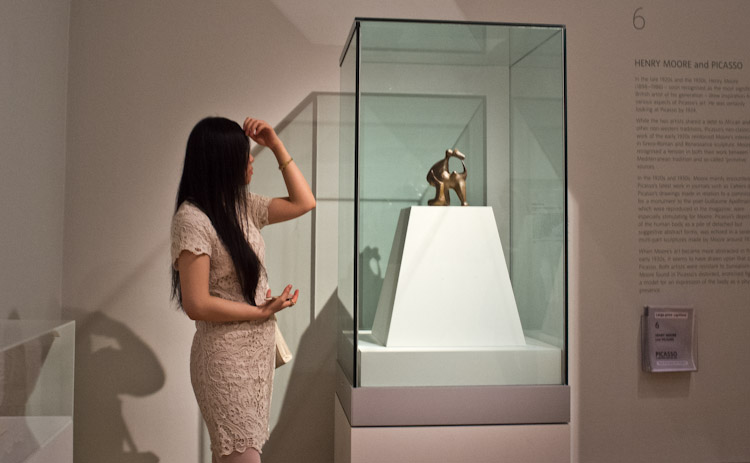 18_22
Concentration: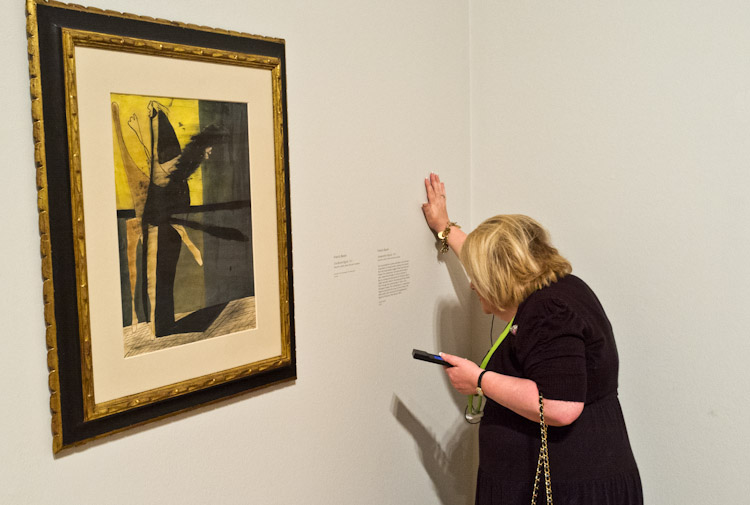 18_23
Full of impressions, I made my way out along this stairway with a reflecting wall: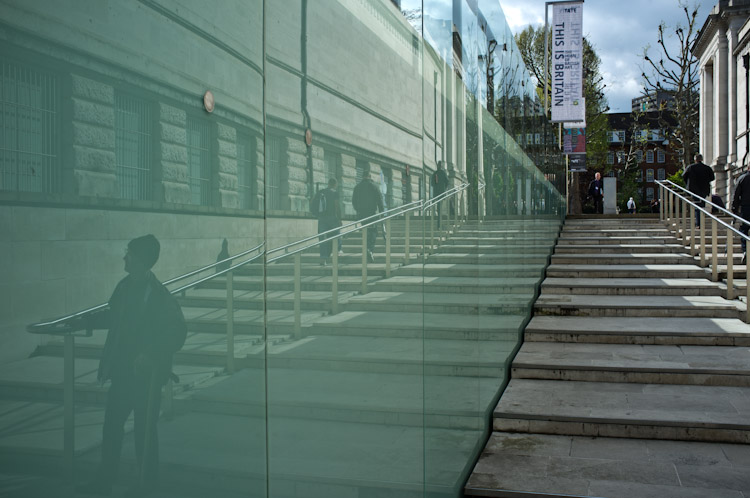 I then went to the business event, a seminar on IP economics hosted by a major law firm in the City. After the event, a group of us walked towards the National Liberal Club, where we were going have dinner.
18_24
On the way, we passed the Black Friar pub. It looked very tempting in the soft dusk light: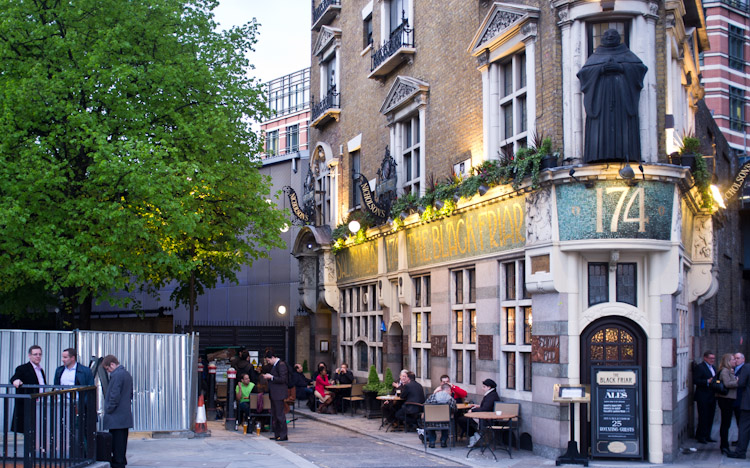 18_25
After dinner, I made my way back to Goodge Street to walk to my hotel. As I exited the Tube station, I noticed that one of London's landmarks, the BT Tower, looks pretty nice at night: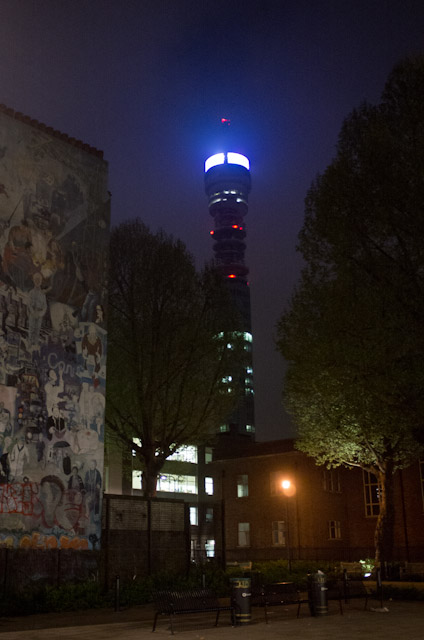 18_26
The next morning, I got up early, determined to spend a couple of hours walking around before heading for Gatwick and the flight home. My first goal was to return to the scene of the previous picture: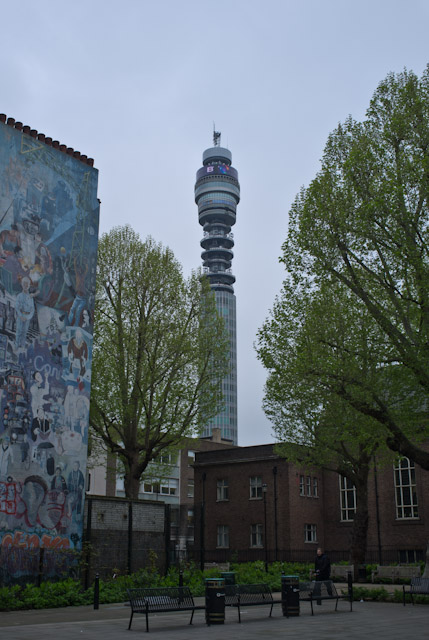 18_27
At the entrance to the Goodge Street station, a chubby Captain America was collecting money for some charity: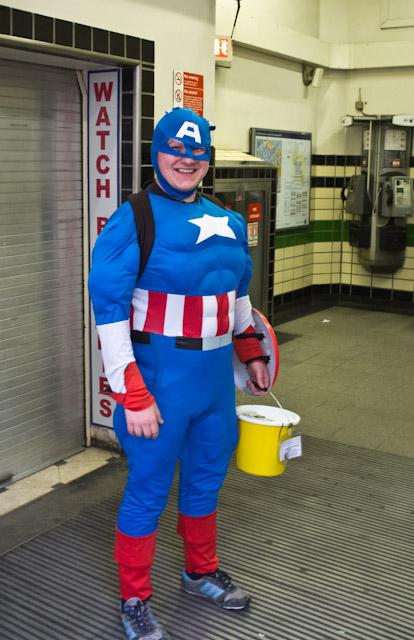 18_28
Near the hotel, a small war memorial, reminding us of the contribution Britain made to the salvation of the free world: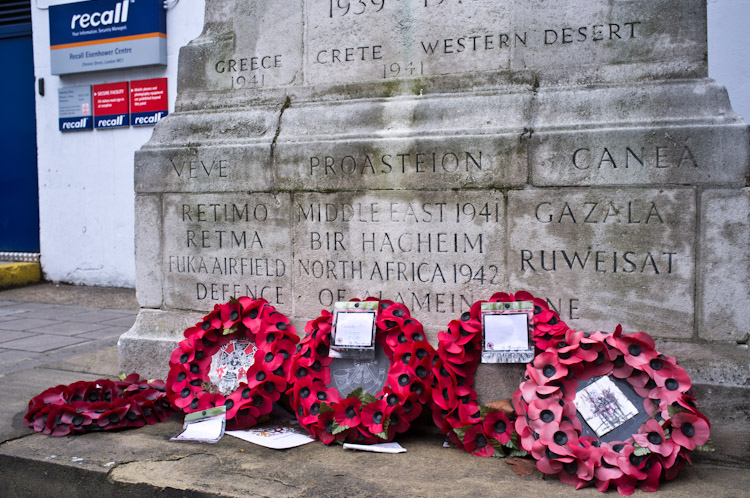 18_29
While walking along Tottenham Court Road, I met this friendly delivery man. He asked me about my Fuji and told me that he too was a keen photographer, and a Leica user to boot. A delightful man, debunking the myth that people in big cities are unfriendly: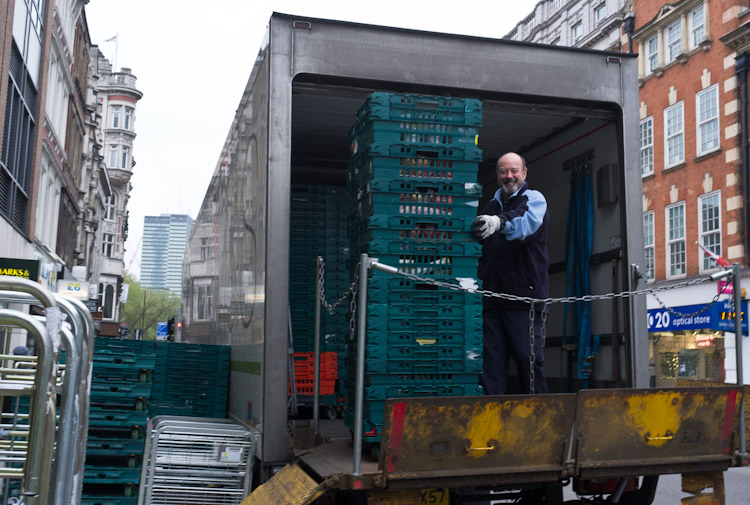 And then it was time to descend into the bowels of the Underground, go to Victoria and back to Gatwick…but I will be back. Every visit to London, however short, is a treat.