The main event last week, and the source for all but one of the images, was a trip to Cardiff, where my daughter had an interview at Cardiff Metropolitan University Wednesday afternoon. She has applied for the nutrition & dietetics programme, and because it is subsidized by the NHS, places are very limited and the candidates who pass an initial screen are interviewed in person. We are now keeping our fingers crossed, because Monica liked Cardiff a lot. The trip also allowed us to visit my son in Bath, so brother and sister could have a nice afternoon and evening together.
9_1
But first one of my many dog-walk pictures. This is one of the stray cats that live on the golf course. There are a couple of construction sites in our subdivision, so when the workers are not around, the cats take over: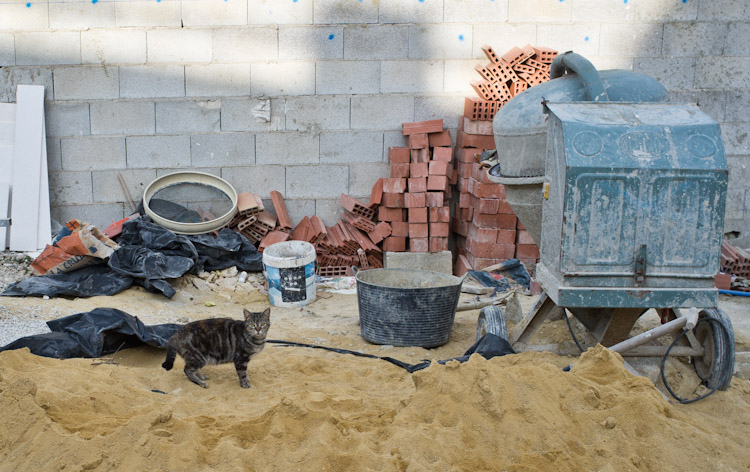 9_2
Here's another cat, but this one is in the backyard of the house next to my son's house in Bath: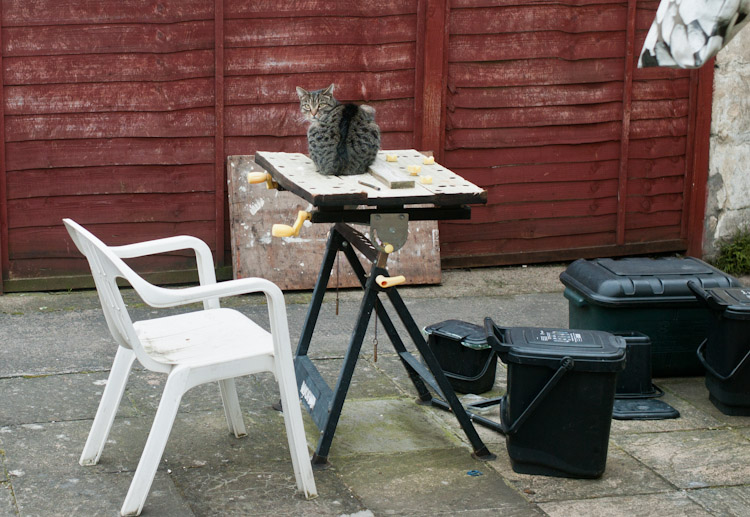 9_3
Here is Monica at Alicante airport Tuesday morning, while we wait for our flight to Bristol: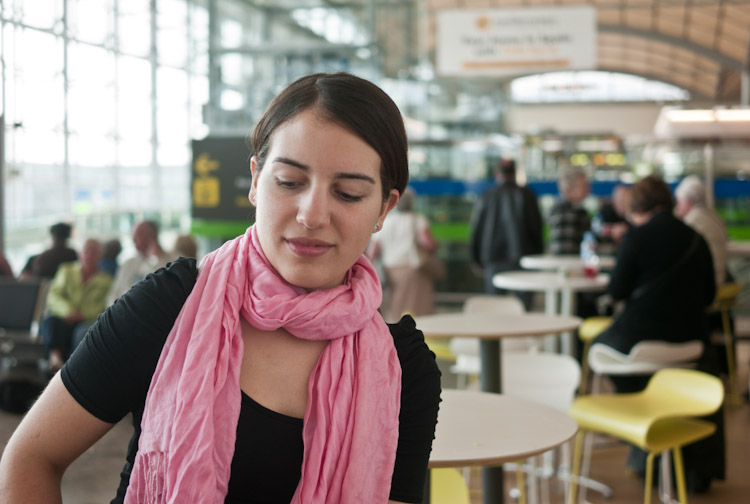 9_4
A bored airport employee. She is manning some kind of information stand, but I did not see anyone actually approaching her: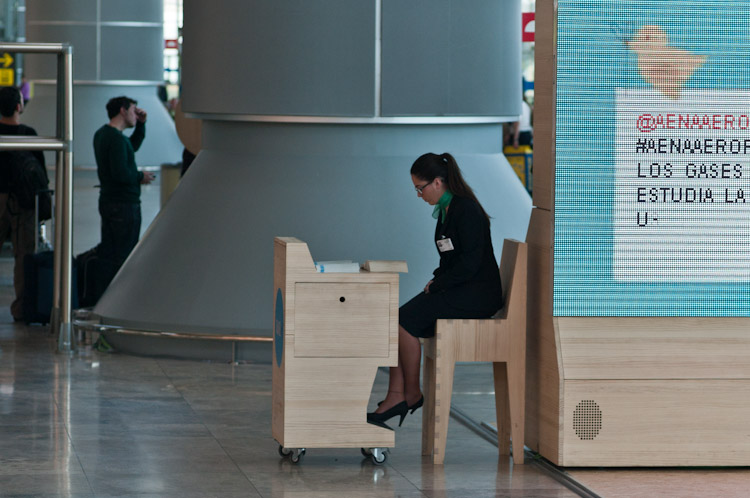 9_5
A fellow traveller to Bristol, with a Wales rugby scarf around his neck. Bristol is the main airport for much of eastern Wales, since there are more flights to and from Bristol than Cardiff: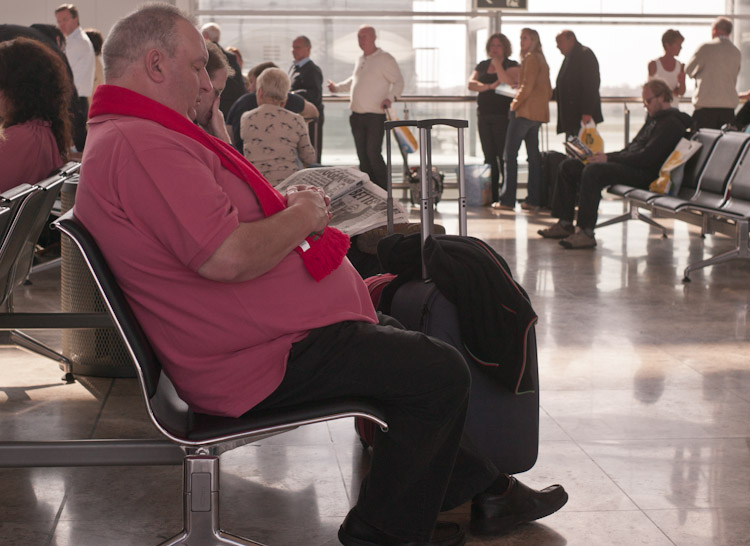 9_6
So we landed in Bristol, rented a car and drove to Bath where we were going to spend the night and drive to Cardiff Wednesday morning. After parking the car at our hotel, we walked around the city, had dinner, went to the movies and just enjoyed Bath. Here is an amusing scene–is the man calling his wife for permission to purchase?: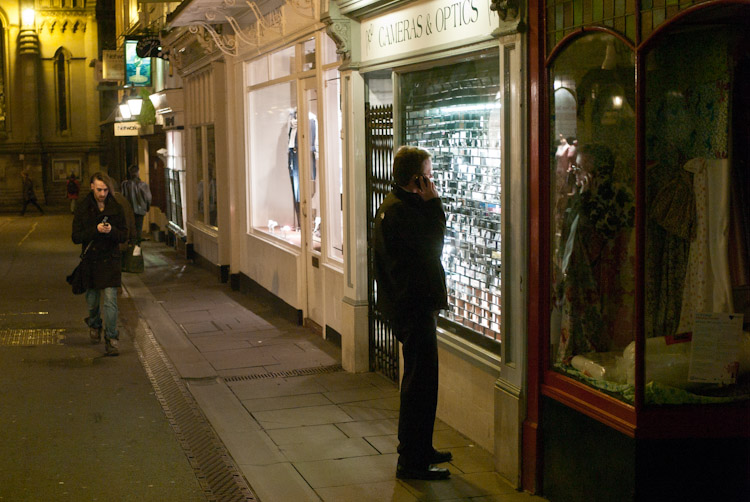 9_7
I love British advertising. It is much more creative than its American counterpart, probably because Britain is less prudish than the USA and so the creatives types have more of a free hand. Here is an example from a mens room in a rest area along the M4: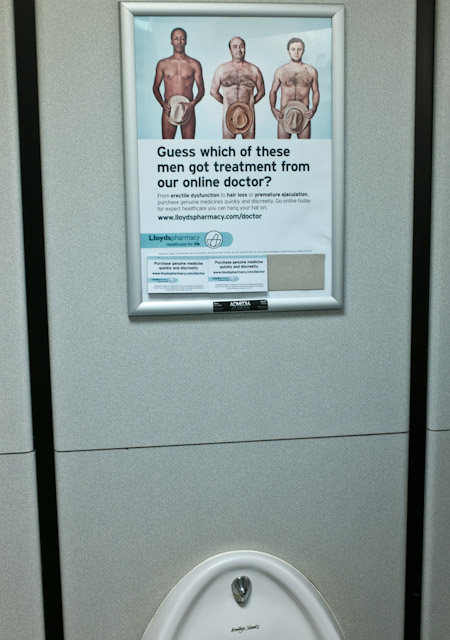 9_8
Another amusing play on words: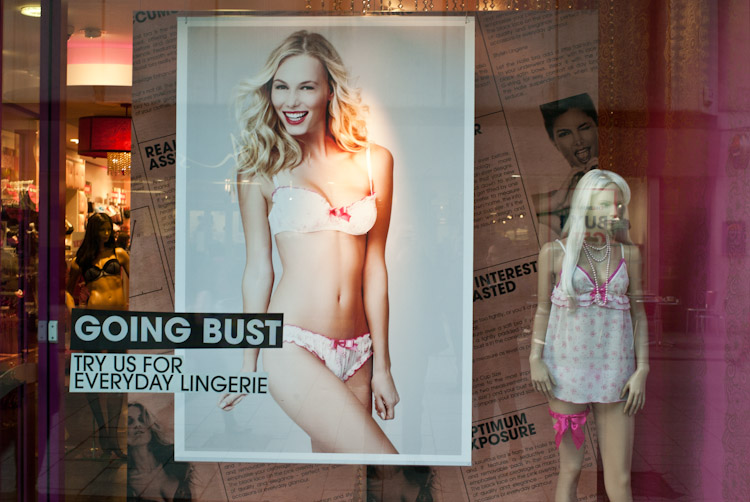 9_9
Wednesday morning. Monica is dressed smartly for her interview, and slightly nervous of course: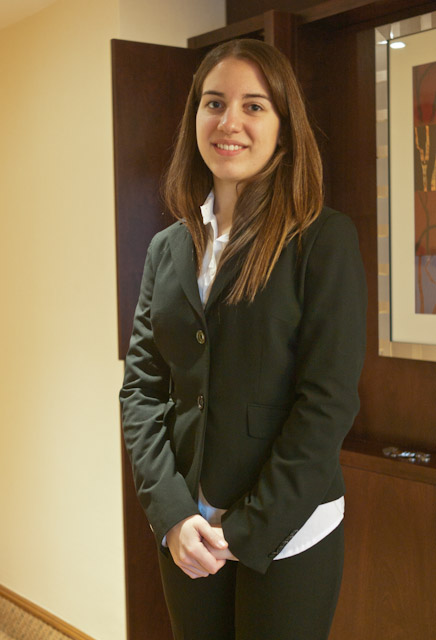 9_10
While Monica was attending an information session at the university and then had her interview, I met up with my ex-boss Peter, the former VP of our agency in Alicante and the man who hired me there back in 2007. He left the office in 2010 and returned to Cardiff, where he had lived most of the past 20 years. Peter and I went for lunch in this lovely pub in the countryside: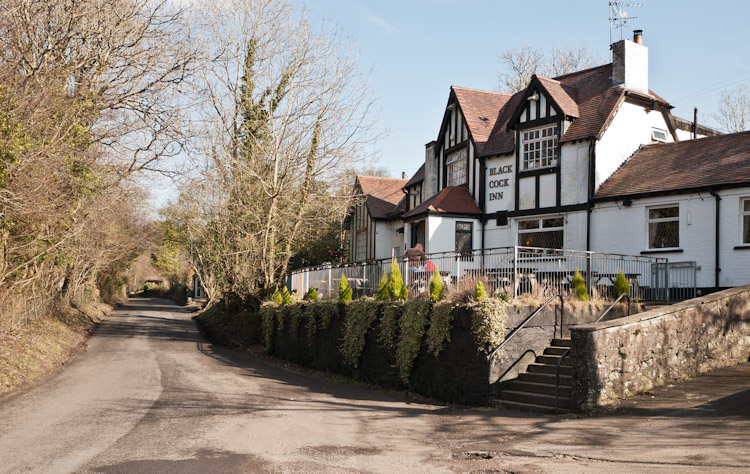 9_11
After lunch, we went for a brief walk in the lovely hills around the pub: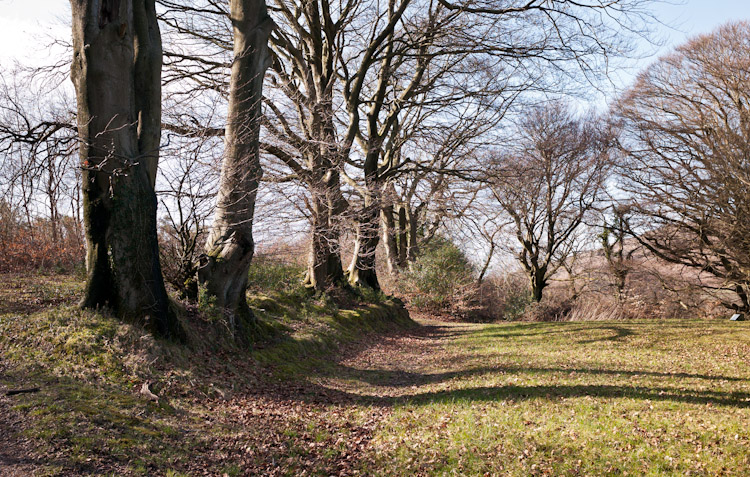 9_12
Pond in meadow. I love the Welsh countryside: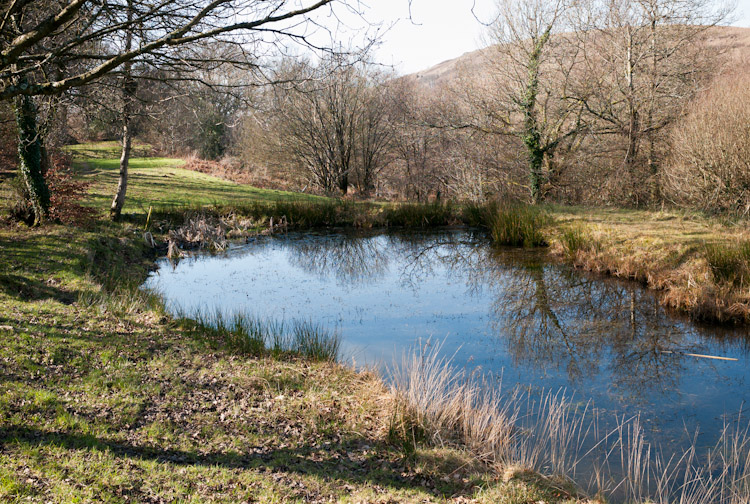 9_13
Even the signs prohibiting parking are polite here: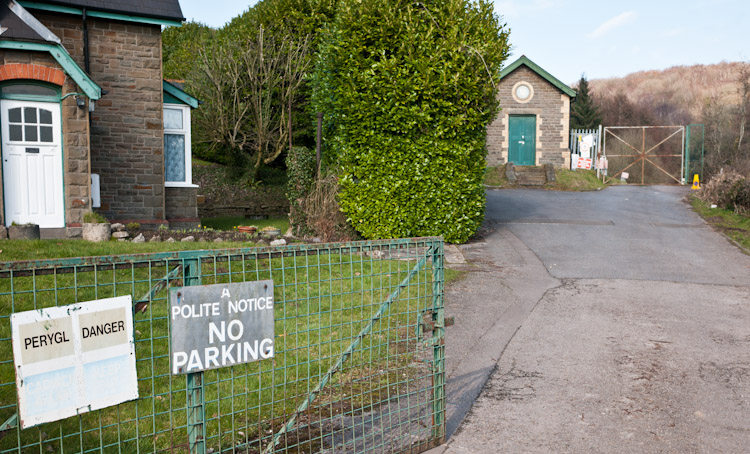 9_14
After Monica was done at the university, we drove into the centre of Cardiff and walked around in the mostly pedestrian shopping streets. In the window of the local Waterstone's I was amused to see Tintin in Welsh: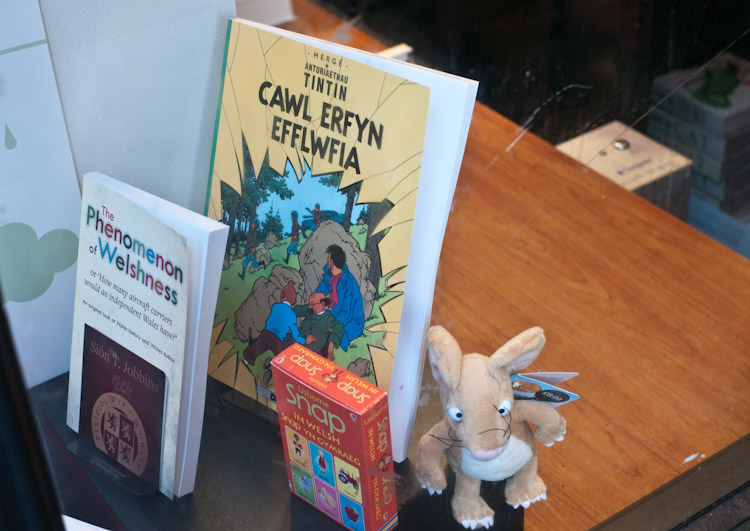 9_15
While Monica was browsing the shops, I was hanging around outside, just taking in the street life: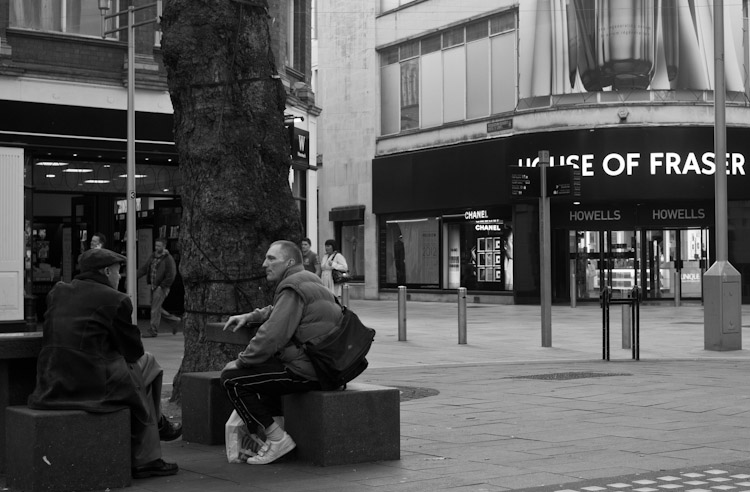 9_16
Like many port cities, Cardiff has its share of well-fed seagulls: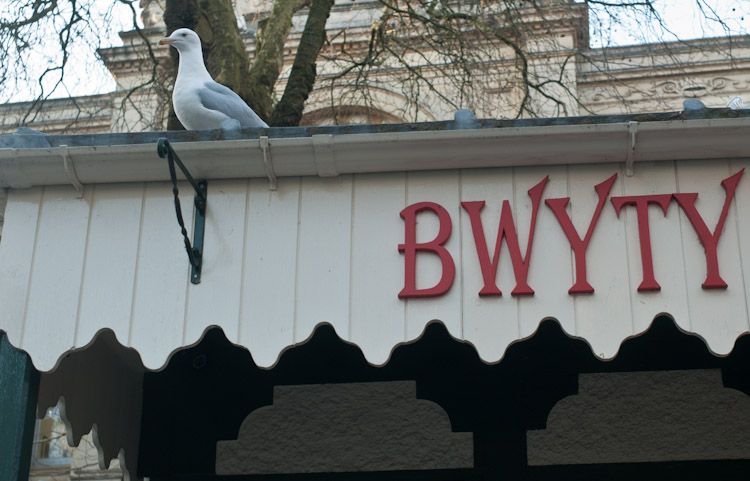 9_17
In truth, however, Cardiff is not that much of a port city these days. The main waterfront area, Cardiff Bay, is a thoroughly renovated place, where restaurants, galleries and the like have replaced the old pack houses: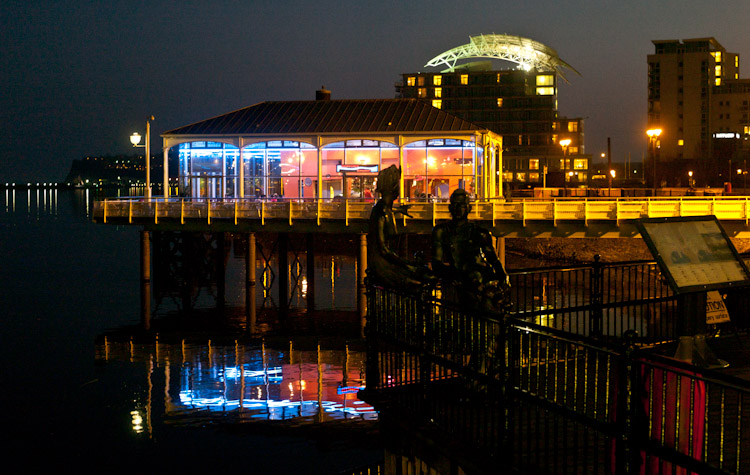 9_18
More Cardiff Bay at night:

9_19
After walking around for an hour or so, we settled on dinner at Wagamama: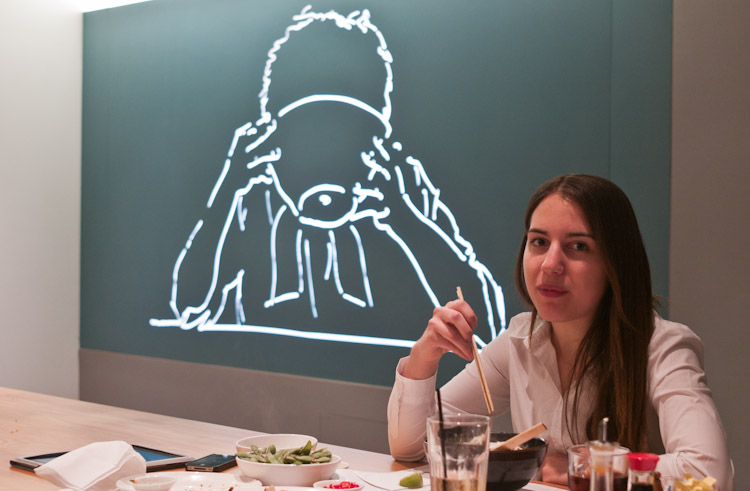 After this excellent dinner, we drove to Bristol, found our hotel near the airport and turned in for the night. The next day we flew back to Alicante early in the morning. And so ended a nice week. An offer of a place at Cardiff would make it a perfect week, but we will not know for a few more days.